This post may contain affiliate sales links. Please see my full disclosure policy for details
If you keep up with my on Instagram or Twitter, than you might recall my recent trip to downtown LA on a quest for some amazing bakeries. Whenever I am vacationing, I do my best to seek out local bakeries to try something new. Often times, I return with some new inspiration to take back to my kitchen. Well in the four years that I have lived in California, I have never explored very much in LA; uh, plus "LA" is all encompassing and huge territory to cover. I entrusted in my good friend Erin to take me on a bakery adventure to some of her spots.
I made the trek down on Saturday morning, drove through Hollywood, taking in "the sights" (hello, I am totally still a tourist) and meet up with Erin. We had an agenda and set out for our sugar high. I am doing this post a little in reverse and next week, I will tell you about the rest of our spots. Today is all about our lunch at Joan's on Third. Erin heard that Joan's was a great spot for lunch plus they had a bakery. Turns out, I am kind of obsessed with that place.
I had no idea that Joan's on Third was such an iconic spot to visit. Joan's on Third started as a catering company back in 1995. It wasn't until 1998 that the opportunity became available for Joan to expand the business into a gourmet market and café.
Fifteen years later, Joan's on Third is a booming eatery with a full menu of soups, sandwiches and salads, a large case of fresh made deli selections and a bakery packed with muffins, cakes, pies and more. Check out the size of those cream puffs!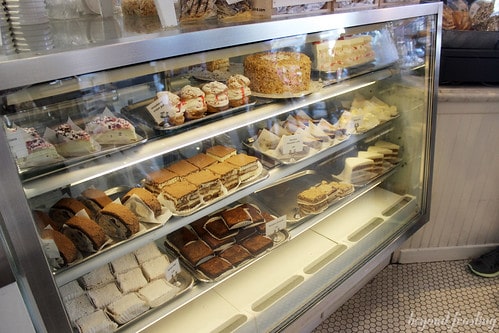 Upon walking into the restaurant, it was abundantly clear that this was a happening place. The tables were packed, people lined up for fresh salads at the deli counter and Prosciutto di Parma was carving fresh prosciutto samples and serving cold prosecco tasters. Have you ever had a slice of fresh prosciutto? Oh em gee.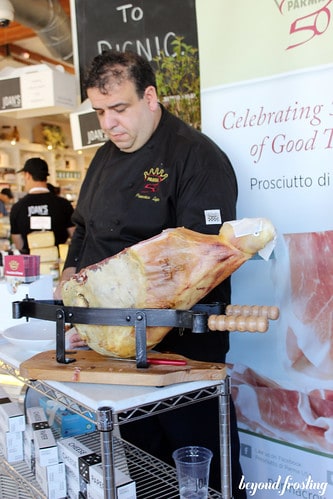 I immediately fell in love with the décor. The bright white interior is offset with a long antique wood table for a family style dining. The bakery is stocked with a variety of cake plates and a glass wall where you can peek in at the action in the kitchen.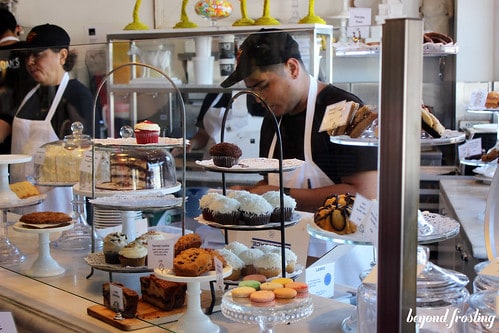 I headed to the bakery to seek out the goods. Eat dessert first right? I gawked over the cupcakes and strawberry shortcake. However, I was looking for some hearty food to offset my sugar consumption. While Erin ordered a Chinese Chicken Salad, I chose a pressed chicken sandwich with bacon, brie and caramelized onions on a French baguette. Oh my word, it was one of the best sandwich's I had ever had. Chicken and bacon sandwiches are a pretty stable part of my diet, but this sandwich was different. The warm brie cheese on the toasted baguette melted in my mouth with each bite. The caramelized onions added a bit of sweet with each bite. I washed my sandwich down with fresh squeezed lemonade. I was beyond satisfied with lunch.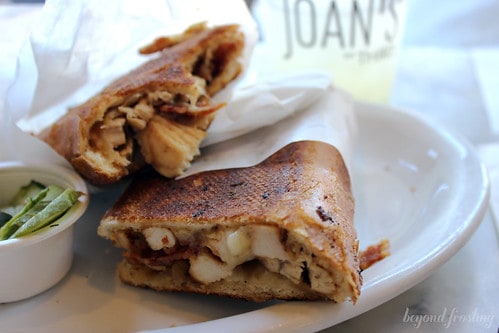 I had the opportunity to meet Joan herself and gosh, is she a doll. Since Joan was from New York, we discuss what all East Coasters discuss; our love for the fall season. Joan also introduced me to her daughter, Susie. Both of them were so sweet and made sure we were enjoying our experience. I couldn't pass up the opportunity to ask Joan what I should be ordering from the bakery now that my lunch was finished. She filled me in on treats they had to offer, but she raved about the specialty ice cream they served.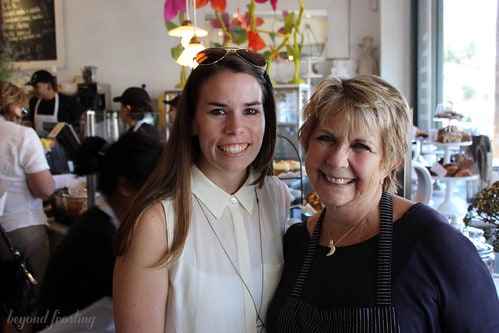 Joan's on Third serves Salt and Straw ice cream. Salt and Straw is a Portland, Oregon based company who has won numerous awards for their hand made ice cream. Salt and Straw uses all natural dairy with local and organic ingredients. Joan's serves six flavors: Meyer Lemon Buttermilk Custard with Blueberry, Sea Salt Ice Cream with Caramel Ribbon, Almond Brittle with Salted Ganache, Chocolate with Gooey Brownies, Coffee and Bourban and Cinnamon Snickerdoodle. I wanted to dive into the case and eat it all. We decided that since it was "Salt and Straw", we should try the Sea Salt ice cream with the caramel ribbon. It did not disappoint. Each bite was smooth and creamy with a hint of sweet from the caramel. Thanks for the tip Joan!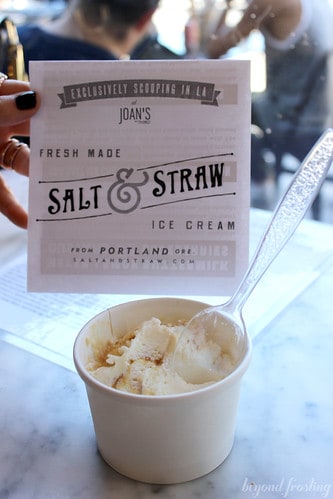 No trip to LA is complete without a celebrity sighting right? While Erin and I were stuffing our faces, we suddenly hear a man belting out some tunes about 3 feet away from us. I instantly turned around to see Richard Simmons interacting with the staff and patrons. I was slightly shell shocked. As Susie explained that Richard often makes visits to Joan's on Third, he seems to enjoy the opportunity to exercise his vocal cords. While I was chatting with Joan and Susie, Richard stopped to say goodbye and thanks Joan on his way out. I shyly told Joan I was so embarrassed because I really wanted to take a picture with Richard. "Oh he would LOVE it" Joan exclaimed. She immediately took off to flag him down while Susie watched over our seats and our lunch. Thanks so much ladies, my first celebrity photo in the bag!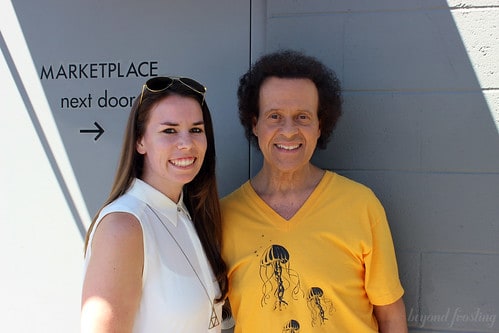 My experience at Joan's on Third was nothing short of amazing. From the atmosphere to the food and the company, it felt like a once in a lifetime experience. I enjoyed every minute and I am so grateful to have had the opportunity to speak with Joan and Susie. I only wished I lived closer so I could eat that sandwich on the regular. I wanted to take the whole bakery case home with me, but I still had many visits ahead of me. Thanks to Joan, Susie and the rest of their staff for showing us such a good time. Stay tuned next week to hear about the rest of my trip.