This post may contain affiliate sales links. Please see my full disclosure policy for details
Happy Friday! Remember last week when I told you about my trip to Joan's on Third? Well that was just a part of my LA Bakery tour. There was a whole lot of other dessert tasting going on that day. Allow me to take you along on my dessert bliss. Looking back at these photos is pretty fun for me, because everything was so new. Erin is my dessert buddy; we bring each other desserts all the time. We were also celebrating a new chapter in her life. She recently resigned from her job and is now traveling Europe for the time being. Jealous!
Our first stop of the day was at Frosted Cupcakery , which was close to her house. Frosted offered a wide variety of flavors and some usual ones as well, like an orange cream cheese. My goal for the day was to try different flavors, so no chocolate, vanilla or red velvet. I opted for a Gluten-Free Mango with Pineapple Cream Cheese. This was probably exactly the opposite of what I would normally get, but I don't usually see this type of flavor in a gluten-free option. I was pleasantly surprised by how moist the cupcake was, but I could not really taste the mango. The frosting was my favorite part. I was also totally in love with their little cupcake toppers!
Our next spot was a mission. We were on the hunt for a CRONUT! Erin had found a spot near the fashion district in LA called Semi-Sweet Bakery. We were on a race against the clock because the next batch was coming out of the oven at noon and we knew they sold out quick. We lucked out and got some of the last cronuts from the batch. A cronut is basically a deep fried croissant. It was slightly crispy on the outside and soft in the middle. It was my favorite treat of the day, especially because it was warm and fresh. It was worth the drive to find it!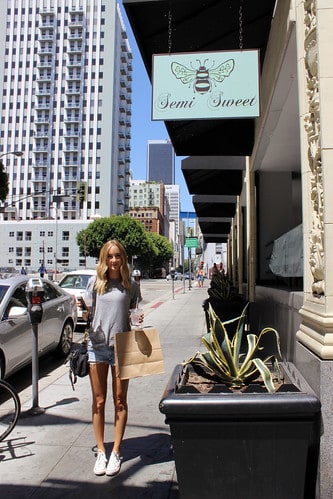 We trecked through the fashion district to our next stop, Bottega Louie. This place was huge. They had a full restaurant (that was packed) attached to the bakery which featured three very large cases of decadent European desserts. The real show stopper for me were all the Macaroon displays. I am not a fan of Macaroons but I am in love with the wide variety of colors you can make them in. If you like Macaroons, this is a must visit. I opted to try a Beignet, which was quite different from what I expected.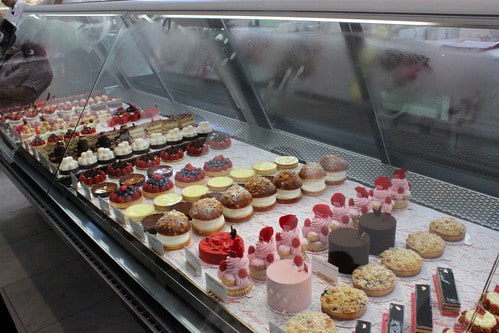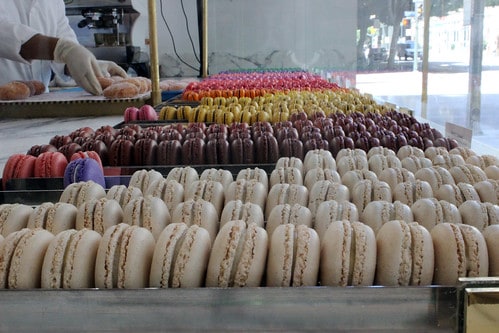 On our way back across town, we stopped at the famous BabyCakes Bakery. BabyCakes offers a different type of dessert. Their desserts are all-natural, organic and allergen-free. They are wheat, gluten, vegan, dairy and soy free and they also do not used refined sugar wherever possible. I was really impressed by how many desserts they offered for the size of their store front. From cupcakes to donuts and cookie and brownies, they had it all covered. I went a little big here, because I have heard how good everything is and it is rare that you find allergen-free desserts. I got a coffee donut with an espresso glaze, a chocolate chip cookie, a princess brownie and a carrot cake cupcake. I was really impressed with the frosting and the carrot cake cupcake. It was filled with spices, and one of the most different carrot cake cupcakes I have ever had. It certainly was not lacking any flavor!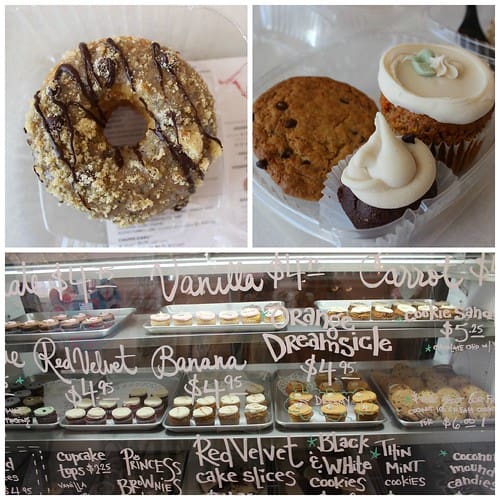 We hopped back in the car and drove to Joan's on Third for lunch. You can read about it here, it was quite the eventful lunch! After lunch, we had one final stop at Milk LA for some ice cream. The line was out the door and only got worse behind us. Granted it was hot, it was pretty clear that this was the spot! I was really impressed by their offering of ice cream sandwiches, bakery goods and their ice cream. I couldn't stomach an ice cream sundae or a milkshake, so I opted for an Ice Cream Cookie Sandwich. I got two chocolate chip cookies with a blueberry crumble ice cream inside. We only took a few bites, but the ice cream was so amazing. I was particularly impressed with the crumble in the ice cream and I would have taken home a whole pint if I didn't have a two hour drive home!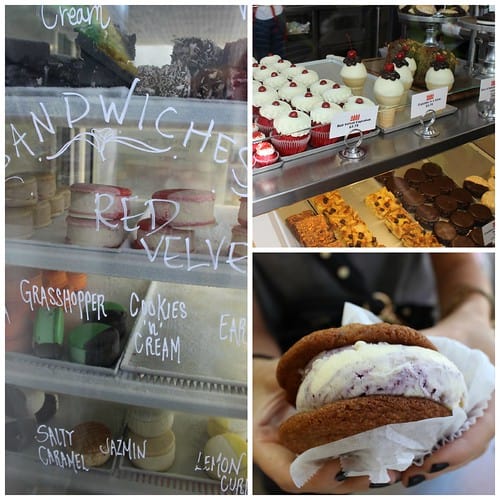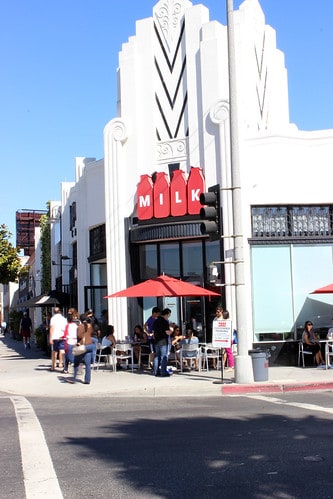 After the last stop, I had no more room in my stomach and was on a total sugar high. There is no doubt in my mind that I hadn't even scratched the surface of what LA has to offer for bakeries. So my next trip will be focused in another area of LA with a whole new list of bakeries. I would love some suggestions! Happy weekend everyone!