This post may contain affiliate sales links. Please see my full disclosure policy for details
Hey there! Did you notice anything when you came to visit today? I am officially on a self-hosted blog under a new domain name: beyondfrosting.com! I admit, that I am super nervous about it, and let's be honest, I really know nothing about the technical side. I enlisted the help of a fellow blogger, Katie of Clark Condensed who put up with my thousands of questions and made the switch for me. I am so grateful! Next month, I will be launching a whole (and much needed) re-design so stay tuned!
Finally the weekend is here!! My weeks are continuing to get crazier and crazier as I head into my busy season. I yearn for the weekends and to sleep in. That is what I am doing all weekend. We have no plans as of yet and I couldn't be happier about it! Plus, it's super hot here. It's been a pretty mild summer for us and all of the sudden, bam, it's super hot. It not very conducive for the baking that I planned to do this weekend. So I am giving you some no-bake dessert ideas for this holiday weekend. Hope you all enjoy a nice long weekend. Welcome September, I am so happy to see you.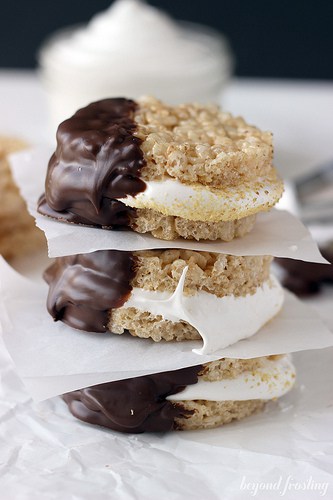 Salted Caramel Ice Cream Brownie Bites
Chocolate Mousse Shortbread Parfaits