This post may contain affiliate sales links. Please see my full disclosure policy for details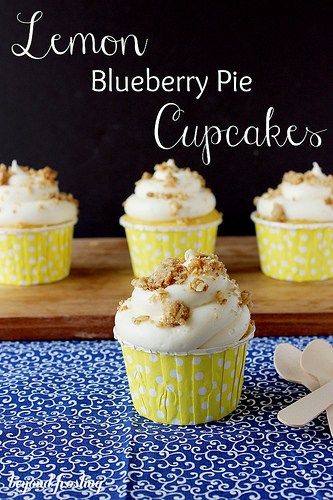 Ah, vacation. Yes, I am on vacation for a whole week. This summer has been a busy one with lots of traveling but not really for vacation purposes; I don't count weddings as vacation. So yeah. I am at the lake for a week trying to bronze my embarrassingly white legs, wakeboarding and eating of course. Speaking of eating, how about some cupcakes?
Perhaps one of the best summer treats is a slice of pie with a big ol scoop of ice cream. Today I combined two of my favorite desserts: pie and cupcakes. These are Lemon Blueberry Pie Cupcakes with a oatmeal crust crumble. I mean, the best part of the pie is the crust for me so I couldn't forget that.
The lemon cupcakes contain an extra bag of lemon pudding mix for added flavor. Once cooled, the blueberry pie filling is added to the middle and topped with a lemon infused cream cheese frosting. I sprinkled it with the oatmeal crumble. Lemon and blueberry is such a great combination. The sweetness of the blueberry and tartness on the lemon balance each other out. For this recipe, I chose to use canned Lucky Leaf blueberry pie filling.
There are a few steps involved in making these cupcakes, so I recommend giving this a quick read through before you begin. You can do the oatmeal crumble immediately after the cupcakes come out of the oven since your oven is already hot.
I don't normally use canned pie filling; I did for this recipe for convenience. I cooked the pie filling on the stovetop. While the cupcakes are baking you can prepare the pie filling.
Are you still with me? I know that's a lot of steps but really it isn't TOO difficult, right? It's time to assemble the cupcakes.
First, hollow out the center of your cooled cupcakes. I usually don't go all the way to the bottom of the cupcake because you need the bottom to hold up the pie filling. Spoon pie filling into the center of your cupcake; fill completely. Top with cream cheese frosting and oatmeal crumble.
Since its summer and all, you will want to keep your cupcakes refrigerated after you frost them to prevent the cream cheese from going bad. I would not recommend serving these at an outdoor party where the cupcakes are going to be sitting in the heat for any length of time.
Print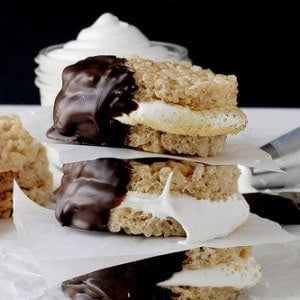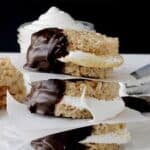 Lemon Blueberry Pie Cupcakes
Author:

Prep Time:

30 minutes

Cook Time:

15 minutes

Total Time:

45 minutes

Yield:

24 cupcakes
Description
Lemon Blueberry Pie Cupcakes are moist lemon cupcakes loaded with sweet Lucky Leaf Blueberry Pie Filling. These easy treats are topped with a tangy lemon cream cheese frosting and a buttery oatmeal crumble.
Ingredients
For the Lemon Cupcakes:
1

Box Lemon cake mix

1

Pkg Instant lemon pudding mix

1/2

C Oil

3

Large eggs

3/4

C Non-fat sour cream

1 Tsp

Pure vanilla extract

1 Tbsp

Fresh lemon juice

1

Can Lucky Leaf Blueberry Pie Filling
For the Cream Cheese Frosting:
1

C Unsalted butter at room temperature

2

pkg Cream cheese, softened

3

–

4

C Confectionary sugar

1 tsp

Pure vanilla extract
Zest from

1/2

a lemon
For the Oatmeal Crumble:
1/2

C Butter (softened)

1/2

Light brown sugar

1/2

C All-purpose flour

1/2

Oatmeal
Instructions
For the Cupcakes: Preheat the oven to 350°.
Combine lemon cake mix with dry pudding mix in a medium-sized bowl. Add eggs, oil and sour cream. Mix on medium speed just until combined. Add vanilla extract and lemon juice and continue mixing until incorporated.
Line a muffin pan with cupcake liners and fill 2/3 full of batter.
Bake at 350° for 12-15 minutes. Check for doneness by inserting a toothpick in the middle of the cupcake. If the toothpick comes out clean, your cupcakes are done. Allow cupcakes to cool for five minutes before transferring to a wire rack and cool completely.
Cream cheese frosting: allow cream cheese and butter to come to room temperature. Combine in your stand mixer and beat on medium speed until butter and cream cheese are blended together.
Slowly add confectionary sugar one cup at a time, beating well after each addition. Add vanilla extract and lemon zest last.
Beat until desired consistency. Add additional powdered sugar for a thicker frosting.
Refrigerate for at least 30 minutes for cream cheese to stiffen.
For the Crumble Leave oven heated at 350°.
Combine all ingredients in a medium-sized bowl. Use a pastry cutter or fork to cut the butter into the other ingredients. You want to create smaller chunks by breaking up the butter and coating it with the other ingredients.
Line a large baking sheet with a baking mat or parchment paper. Spread crumble evenly over baking sheet.
Bake for 10-13 minutes until it just starts to turn a light brown. Remove and allow to cool. Crumble will harden as it cools. Break apart larger pieces and set aside. You can make this a day ahead of time if you prefer.
To assemble: to remove the centers using a cupcake corer, a melon baller or a knife. Fill each one with 1 heaping tablespoons of the pie filling. Top with cream cheese frosting and a sprinkle of oatmeal crumble.
Category:

Dessert

Method:

Baked

Cuisine:

american
Keywords: cupcakes with lemon, cupcakes easy, lemon cream cheese frosting