This post may contain affiliate sales links. Please see my full disclosure policy for details
This Low-Fat Funfetti Cheesecake Ice Cream Pie is the perfect guilt-free dessert. It is made with a reduced-fat pie crust and a nearly fat-free funfetti cheesecake ice cream.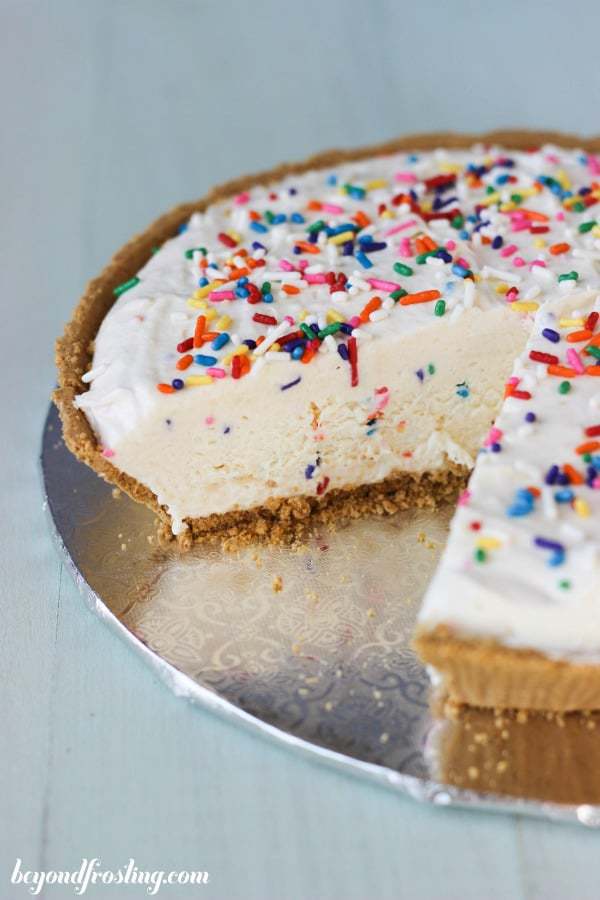 You guys, I have been chomping at the bit to share this recipe with you since I made it. This Low-Fat Funfetti Ice Cream Pie is by far one of the best tasting "skinny" recipes I have done.
It is NEARLY fat-free. The only bit of fat comes from the vanilla cake mix and a little bit from the graham cracker crust.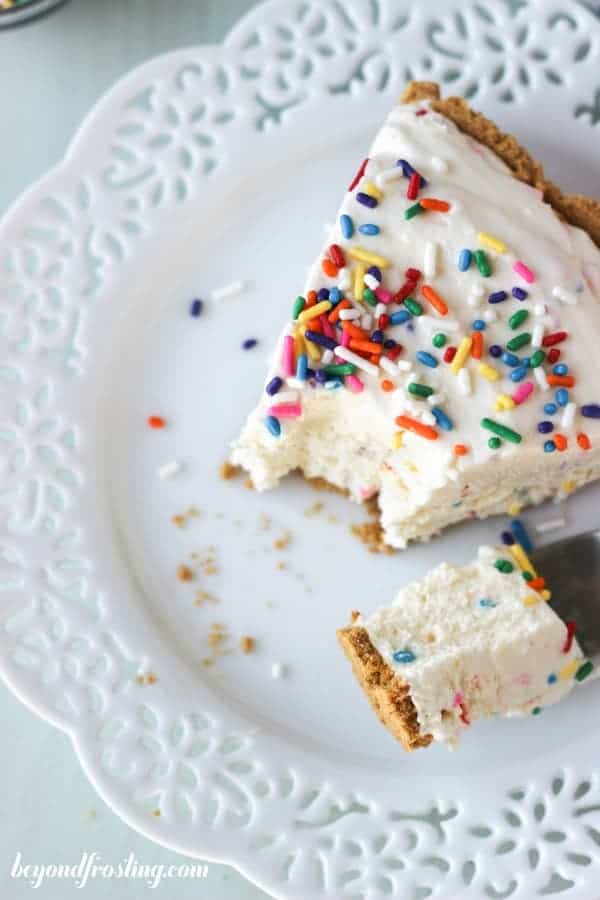 Low-Fat or Fat-Free Ingredients
I found a reduced- fat, pre-made graham cracker crust at my local grocery store. If you are unable to find one, I would suggest to make one with a box of reduced-fat graham crackers and a little bit of melted butter.
Low-Fat cream cheese– normally I wouldn't use this in a recipe but it's perfect for this ice cream base
Fat-Free, Sugar-Free Instant Cheesecake Pudding– if you can't find the cheesecake flavor, then look for vanilla
Fat-free sweetened condensed milk- using fat-free saves a TON of calories. I used Eagle brand and it has a green label.
Fat-Free Cool Whip I like much better than the sugar-free version
The only ingredient that isn't reduced, low or fat-free is the vanilla cake mix in the filling oh and the sprinkles
When frozen, they create a wonderful ice cream. I really like the hint of cream cheese flavor, I've mentioned that cheesecake is my most favorite dessert.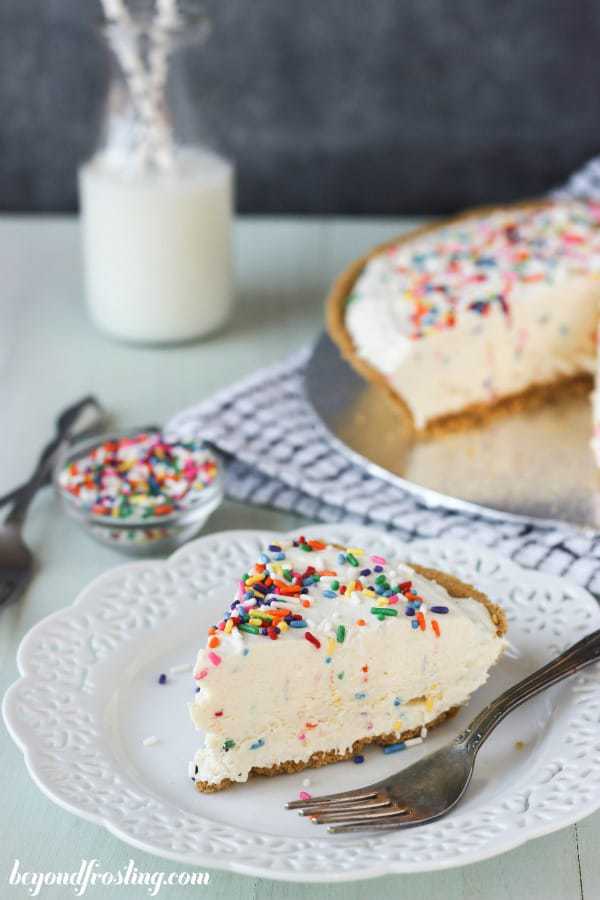 Heat treating the raw cake mix
It's important to note that updated information from the CDC advises against eating raw flour. Therefore, if you want to heat-treat the cake mix prior to using, I recommend that steps
I followed the method used by Epicurious. The cake mix is baked at 350°F for 10 minutes
I recommend placing a piece of parchment paper or a silicone mat on the baking sheet, which will allow you to transfer it to your bowl a lot easier.
Halfway through the baking, stir the cake to break it up.
When it's done baking, allow it to cool and then pour it through it through a fine mesh sieve. The cake mix gets a little clumpy as it toasts, and you'll want to break that up, so it easily incorporates into the ice cream base

10 Minutes or less to prepare the ice cream filling
It is important to build this recipe in the order listed because you don't want to end up with a lumpy filling.
The cream cheese must be whipped first until it is completely smoothed.
Once it has been whipped then you can add the sweetened condensed milk and the pudding mix and the cake mix. You need to be sure to blend this well until everything is smooth.
The Cool Whip will be added second to last, and followed finally by the sprinkles.
AlI you have to do is throw this pie in the freezer for a couple hours and then try not to eat the whole thing, it will be difficult.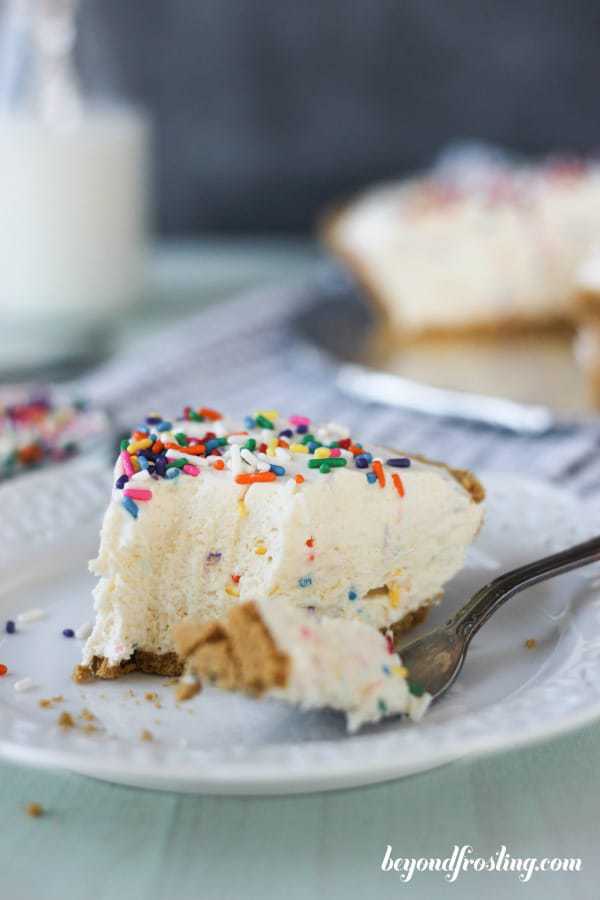 When I was photographing this recipe, I almost couldn't stop eating it. At the time I was not sure how many points (WW) this recipe was. So I actually DID stop myself; I was amazed. I went to my computer and entered the recipe in my Weight Watchers app to determine the points by the slice. I was kinda proud of myself, because I was ready to devour the whole pie!
Weight Watcher Freestyle Points: For the whole pie is 123 points. So if you cut smaller slices, and get 10 slices instead of 8, it is 12 points a slice. If you only slice it into 8 pieces, then it will be 15 points a slice.
If you'd like to further reduce the points, make this into ice cream popsicles instead and ditch the crust! That way you can divide the total points by the number of popsicles. This is a much easier way to control the portion size and also reduce the points. I promise though, this dessert is worth it!
Follow Beyond Frosting:
Facebook | Twitter | Pinterest | Instagram
Print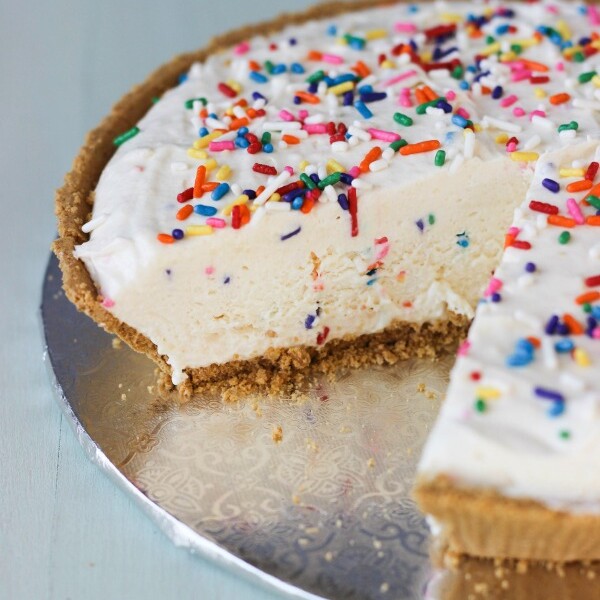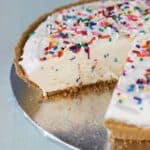 Low-Fat Funfetti Cheesecake Ice Cream Pie
Author:

Prep Time:

15 minutes

Total Time:

15 minutes

Yield:

10 slices
Description
This Low-Fat Funfetti Cheesecake Ice Cream Pie is the perfect guilt-free dessert. It is made with a reduced-fat pie crust and a nearly fat-free funfetti cheesecake ice cream.
Ingredients
1

Reduced-fat prepared graham cracker crust

4 ounces

fat-free cream cheese, softened

1

can (14oz) Fat-free sweetened condensed milk

1

pkg (3.4oz) fat-free sugar-free instant cheesecake pudding mix (or vanilla)

¼ cup

dry vanilla cake mix

8 ounces

fat-free Cool Whip

¼ cup

sprinkles
Instructions
Beat cream cheese on medium speed until light and fluffy.
Add the sweetened condensed milk, the dry pudding mix and the cake mix. Beat until very well blended.
Next, add the Cool Whip last and beat until mixture reaches a smooth consistency. Fold sprinkles into batter. Reserve some sprinkles for the top of the pie.
Pour the filling into prepared pie crust. Freeze for 4-6 hours until firm. Remove pie from the freezer 20 minutes before serving in order to allow it to thaw slightly for easy cutting.
Notes
Weight Watcher Freestyle Points: For the whole pie is 123 points. So if you cut smaller slices, and get 10 slices instead of 8, it is 12 points a slice. If you only slice it into 8 pieces, then it will be 15 points a slice.
If you'd like to heat-treat the raw cake mix: bake 350°F for 10 minutes. I recommend placing a piece of parchment paper or a silicone mat on the baking sheet, which will allow you to transfer it to your bowl a lot easier. Halfway through the baking, stir the cake to break it up. When it's done baking, allow it to cool and then pour it through it through a fine mesh sieve. The cake mix gets a little clumpy as it toasts, and you'll want to break that up, so it easily incorporates into the ice cream base
Category:

ice cream

Method:

No-Bake

Cuisine:

American
Recipes from my friends:
Skinny Frozen Peanut Butter Pie from Crazy for Crust
Healthy Fudge Brownie Bites from Averie Cooks
Skinny Mini White Chocolate Cheesecakes from Food Faith Fitness