This post may contain affiliate sales links. Please see my full disclosure policy for details
These ultra-refreshing Green Juice Smoothies are easy to make in advance for your convenience! They use a bulletproof combination of fruits and veggies to give you tons of nutrients while still achieving an amazing flavor.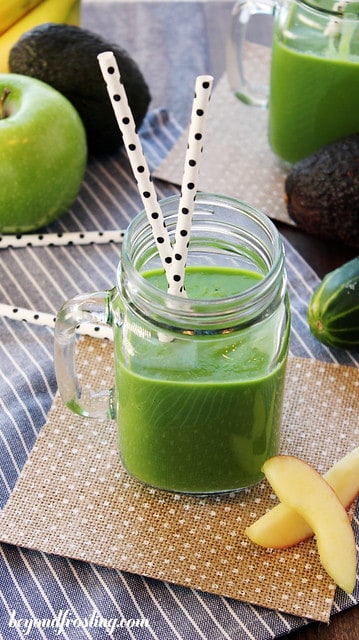 Healthy Green Juice Smoothie Recipe
I know, I know. ANOTHER green juice recipe. There are hundreds of them out there. Well guess what, this one is awesome because you can make a large batch that will last you for a couple days. Who has time to make a smoothie every morning? Not me!
I am committed to keeping my healthy lifestyle going and hopefully sharing what works for me will help to inspire you to try something new or help keep you on course.
I was the first person to say that green juice was not for me. In fact, I turned my nose up at it for quite some time. But when I finally tried it and it wasn't even bad. Now, I even enjoy it! When my boyfriend talked about making green juice at home, I didn't even believe he would stick with it. Well as soon as I said that, he was determined to prove me wrong.
After wasting $5-10 a day on store bought juices that were filled with sugar, we purchased a Vitamix and started making our own. I have used both a Ninja and a Vitamix, and although I prefer a Vitamix for juices, this can certainly be made in any type of large blender.
Let's talk about what's inside.
I prefer spinach over kale. I find kale to be more grainy. We have also had weeks where we mixed in both together, which isn't so bad.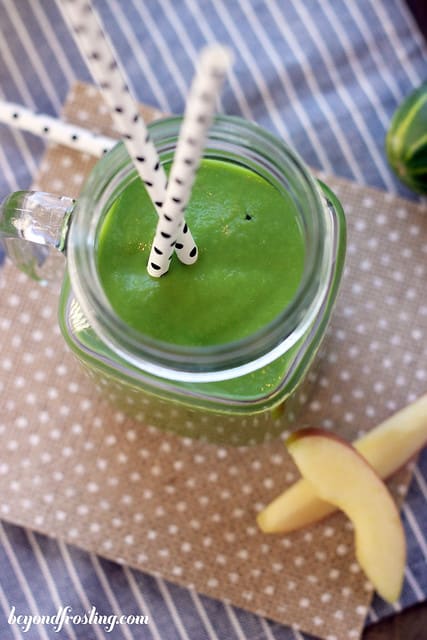 How to Make Green Juice Smoothies
I add about one cup of water to the bottom of the blender. This helps the smoothie from being too thick, but it also helps the ingredients mix up better.
I make my smoothies with spinach, cucumbers, avocado and green apples. Sometimes we add green grapes for a little added sweetness.
The cucumber adds more vegetables without effecting the taste. It is important to try and have this be more vegetables than fruit due to the natural sugars in fruit.
Adding the avocado to this juice also helps make the consistency more like a smoothie. The avocado also helps this juice to be more filling, so that it will stick with you for longer. The only reason I call this a smoothie over a juice is because the consistency the avocado adds.
The green apple is a little more tart than other apples, which is why I prefer it in this smoothie. Really you can substitute it for any type of apple!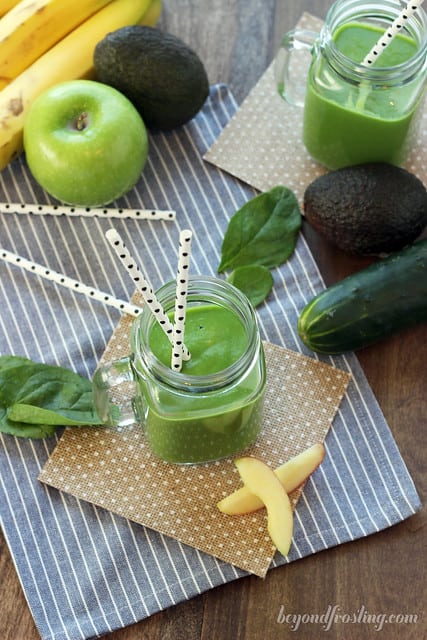 I have tried adding bananas and pineapples. Both work well. My boyfriend doesn't like bananas, so we usually don't add them. I stopped adding the pineapple because of the extra sugar. However, I also learned that pineapple doesn't combine well with some of the other ingredient in the juice. This means that it is harder to digest when you have ingredients that don't mix well.
I tried adding a half stock of celery. Yuck. I can't stand the taste. One time I even tried adding carrot, but the green juice turned a bit brown. I wasn't over the moon about the taste either.
My sister is a nutritionist and has her own blog called Raw Wellness. She does personal training, certified nutrition consultation and she is a yoga instructor. Have I mentioned that we are pretty much the opposite of each other? Side note, I've never done yoga.
She provided me with this food combining chart which tells you which foods do not mix well for digestion. Which hello, equals our bodies not feeling well. I will be honest, I don't abide by this as much as I should, but it's really helpful for me to reference when I creating my juices at home.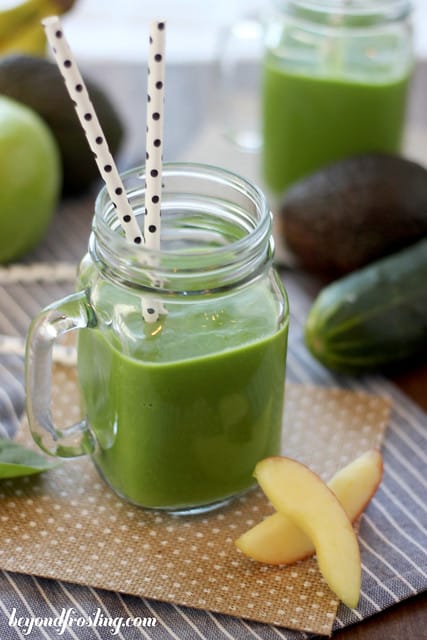 Why I Love This Recipe
My recipe makes about 48 oz. That is enough for 4 green juice smoothies. I usually have a glass of juice in the morning on the way to work before I east my breakfast. It is a great way to get your greens back into your diet without having to eat ANOTHER salad.
With this recipe, I find myself making juice every 2-3 days instead of every day. Seriously, I can't be bothered to make this every morning. It takes a mere 10 minutes from start to finish (including washing the dishes), but trust me when I say that I would rather sleep for 10 more minutes. Sometimes it seems like such a task to make the juice, but I am always happy to have it on hand. If I am super hungry, I might even try a glass before a meal to avoid overeating.
In terms of Weight Watcher Points, you have to determine the points based on the ingredients you choose and how many ounces you get from your recipe. Even though the ingredients are zero points (except the avocado), this juice will have 2-3 points. I called Weight Watchers because I was confused as to why when I make this as a "recipe" it has points, but if I just put them on my tracker, they would be zero points. The way they explained it to me, when you combine certain foods together, it changes the reaction of the foods, thus, equaling points.
For me, I am just happy to get the added nutrients. Sure it adds to my daily points, but they are healthy and good for you points. Bottom line, don't fear the green juice! Play around with it until you find something that works for you!
Print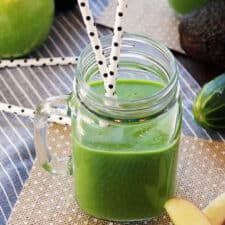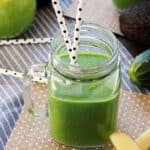 Make Ahead Green Juice Smoothies
Author:

Prep Time:

10 minutes

Cook Time:

0 minutes

Total Time:

10 minutes

Yield:

4
Description
These ultra-refreshing Green Juice Smoothies are easy to make in advance for your convenience! They use a bulletproof combination of fruits and veggies to give you tons of nutrients while still achieving an amazing flavor.
Ingredients
1

C Water

2

C Spinach leaves

1

Medium Cucumber, peeled

1

Avocado

2

Green apples
Handful of green grapes (optional)
Instructions
Add 1 cup of water to the bottom of the mixer.
Fill blender with about 2 cups of spinach.
Peel cucumber and cut into fourths. Place on top of spinach.
Spoon out avocado and discard shell and pit. Add to the blender.
Slice apples into quarters and discard the core. Add to the blender.
Place grapes on top of blender.
Combine all ingredients in your blender. Blend at a high speed until smooth. Add additional water if you have trouble blending.
Notes
Store in a airtight container for up to 4 days.
Category:

Drink

Method:

Blender

Cuisine:

American
Keywords: green smoothies, green drink, spinach smoothie
More Skinny Recipes to Try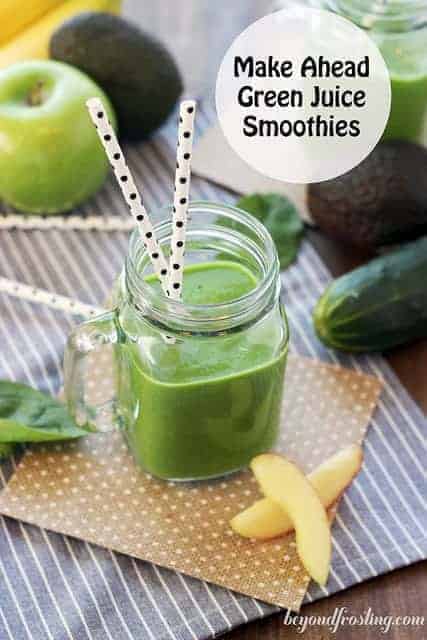 Keep up with all the happenings. Follow Beyond Frosting: