This post may contain affiliate sales links. Please see my full disclosure policy for details
This is an easy recipe for freshly whipped, homemade Marshmallow Frosting made from pillowy Swiss meringue flavored with a hint of vanilla. You're going to love piping this delectable meringue frosting over all your favorite cupcakes and cakes!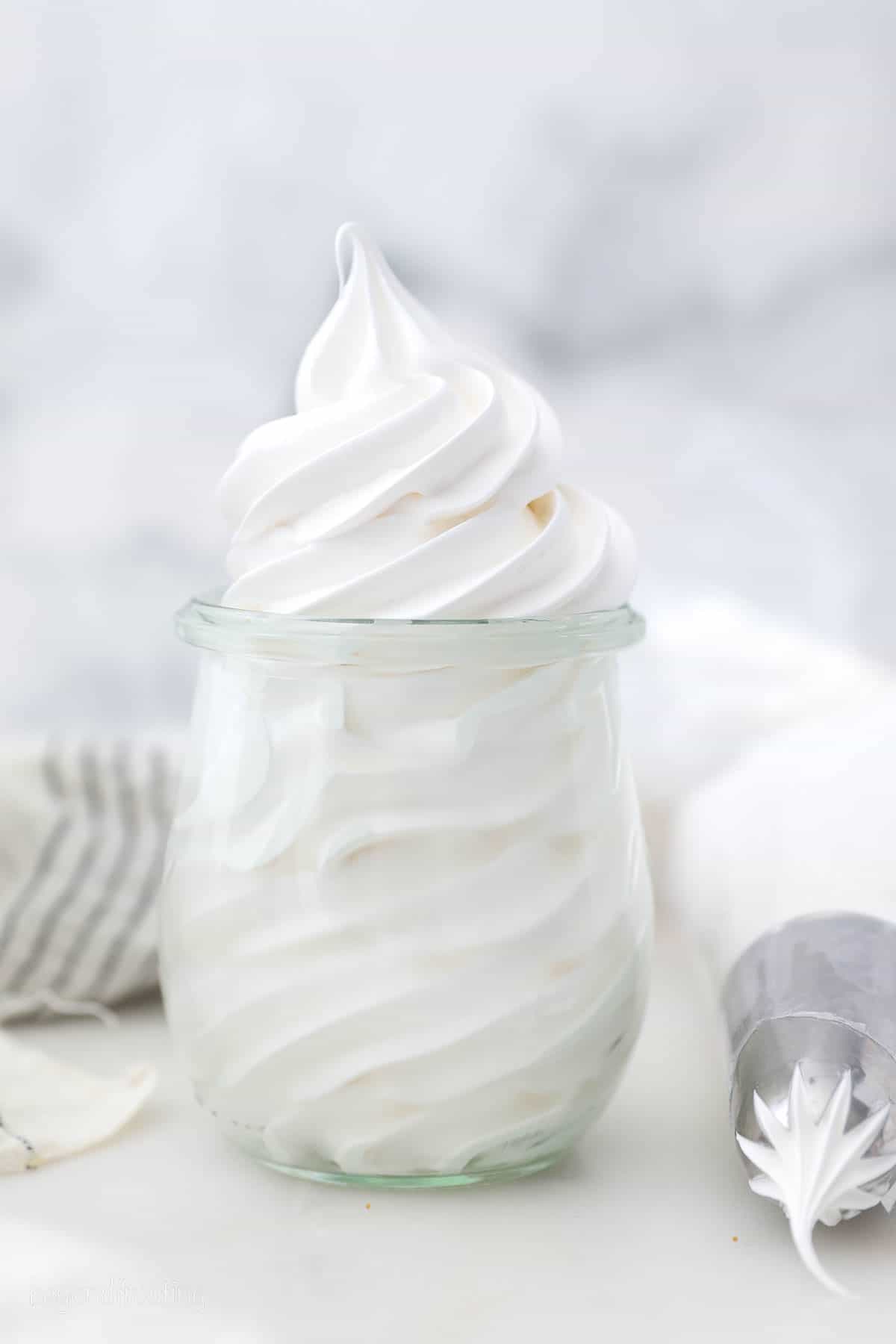 Easy Marshmallow Meringue Frosting
This is a classic recipe for bright white, silky marshmallow frosting that I'll come back to again and again. It's ready in under 30 minutes and is just as perfect for piping onto Easter cupcakes as it is for decorating Christmas cakes. Easy, versatile, and show-stopping is the name of the game, here!
With a few minor tweaks, I've adapted my recipe for Swiss Meringue Buttercream into this lighter style of frosting that's made with cream of tartar. I promise you'll love whipping up batches of this pillowy meringue frosting. With a bit of vanilla added, it tastes just like a fluffy marshmallow! And especially when you lightly toast the top.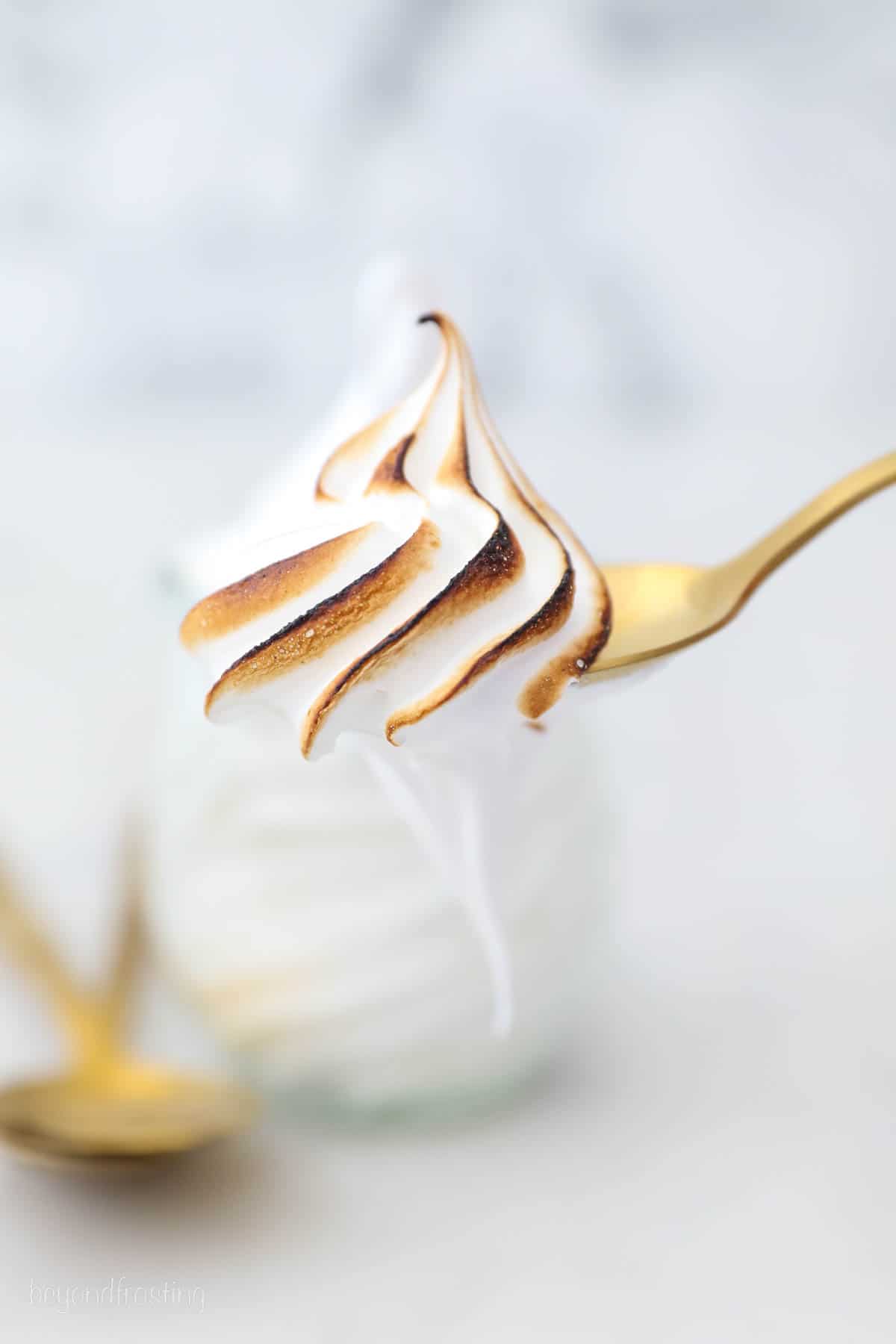 4 Ingredients Needed
This Swiss meringue-style frosting recipe keeps it super simple, with only 4 ingredients! Below is a quick overview, with the full details available in the recipe card further down.
Egg Whites – You'll need only the whites from 4 large eggs. Egg whites whipped with sugar form the basis of your meringue frosting. (Hot tip: Use the 4 leftover yolks to make Homemade Cheesecake!)
Granulated Sugar – I recommend using regular white, granulated sugar for dissolving into the egg whites.
Cream of Tartar – Another key component to this fluffy marshmallow frosting. Cream of tartar stabilizes the egg whites to help them stiffen, resulting in a glossy, pillowy meringue.
Vanilla – Pure vanilla extract gives the frosting the best, authentic flavor. I highly recommend it over imitation vanilla!
Should the egg whites be cold or at room temperature?
The egg whites will be easier to separate if the eggs are cold. However, they'll be easier to whip if they're at room temperature. For this reason, I like to separate the eggs while they're cold from the fridge, then let the whites sit and warm up for a few minutes.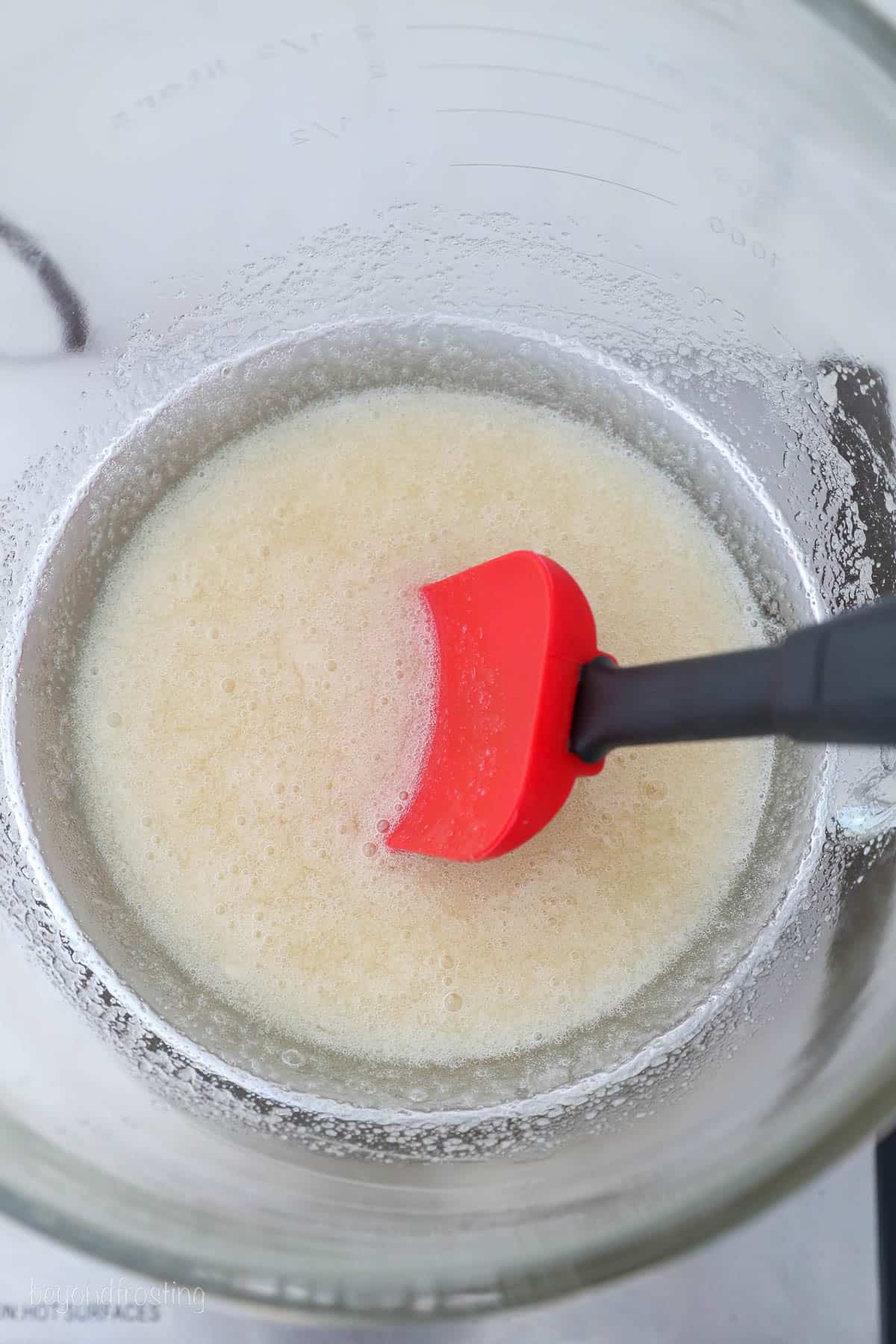 How to Make Fluffy Marshmallow Frosting
If you've ever been intimidated by the thought of homemade meringue, don't be! This whipped marshmallow frosting comes together in 3 simple steps:
Combine: You'll start by combining the sugar, egg whites, and cream of tartar in a double boiler over medium heat.
Heat: Stir constantly while the mixture heats. The sugar should dissolve once the egg whites reach 140°-160°F (a candy thermometer attached to the side of the bowl is helpful for this). Rub a small drop of egg whites between your fingers – it should feel smooth and not gritty.
Whip: As soon as the sugar dissolves, move the bowl to your stand mixer and beat the egg whites using the whisk attachment. Start on low and after a few minutes, increase the speed gradually. Continue to whip the frosting for another 5-10 minutes, adding the vanilla extract just as the frosting turns white. Once stiff peaks form, your marshmallow frosting is ready for piping! This fluffy meringue frosting is best to use immediately. See below for easy ways to use it.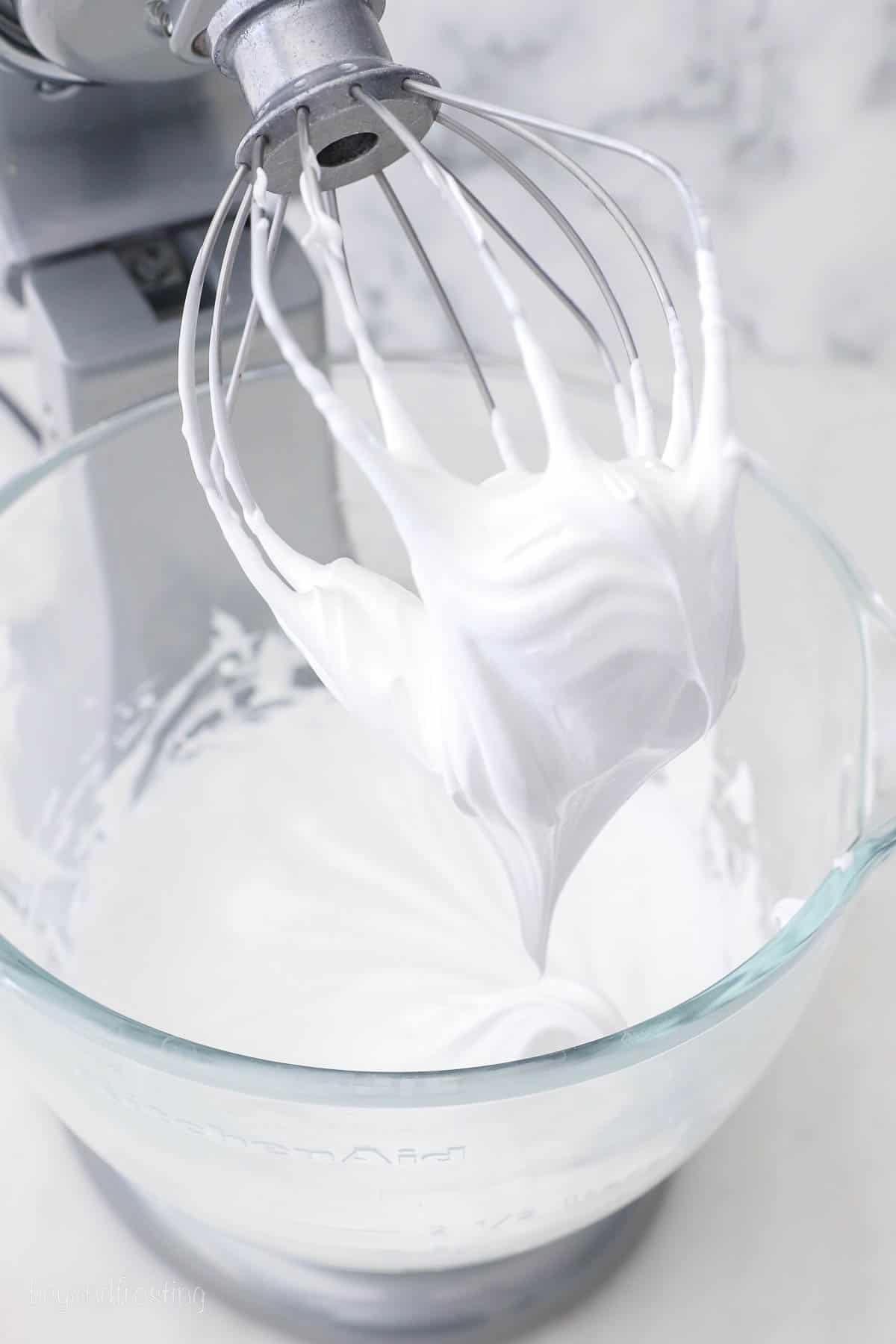 Tips for Success
Here are my tips for getting the absolute best out of your homemade Swiss meringue frosting:
Use your marshmallow frosting right away. It's worth repeating, but marshmallow meringue is at its best on the day it's made. However, baked goods that you've frosted can be stored for another day or two (see below for more storage tips).
Give the bowl of your stand mixer a wipe with white vinegar, to make sure it's 100% free from grease before you start. The same goes for the whisk attachment. Grease and meringue don't mix!
Don't scramble the eggs. The water beneath the bowl with the egg whites and sugar should be simmering, but not touching the bottom of the bowl. Overheating can cause the eggs to scramble.
Beat the meringue into stiff peaks. This can take several minutes, so hang in there! You can test if your meringue is ready by running a knife through it. The shape should hold without caving.
The frosting will need to cool before you pipe it. The mixing bowl should be cool to the touch. If you pipe the frosting while it's still warm, it will wilt.
For a toasted marshmallow effect, lightly toast the top of the marshmallow frosting with a kitchen torch.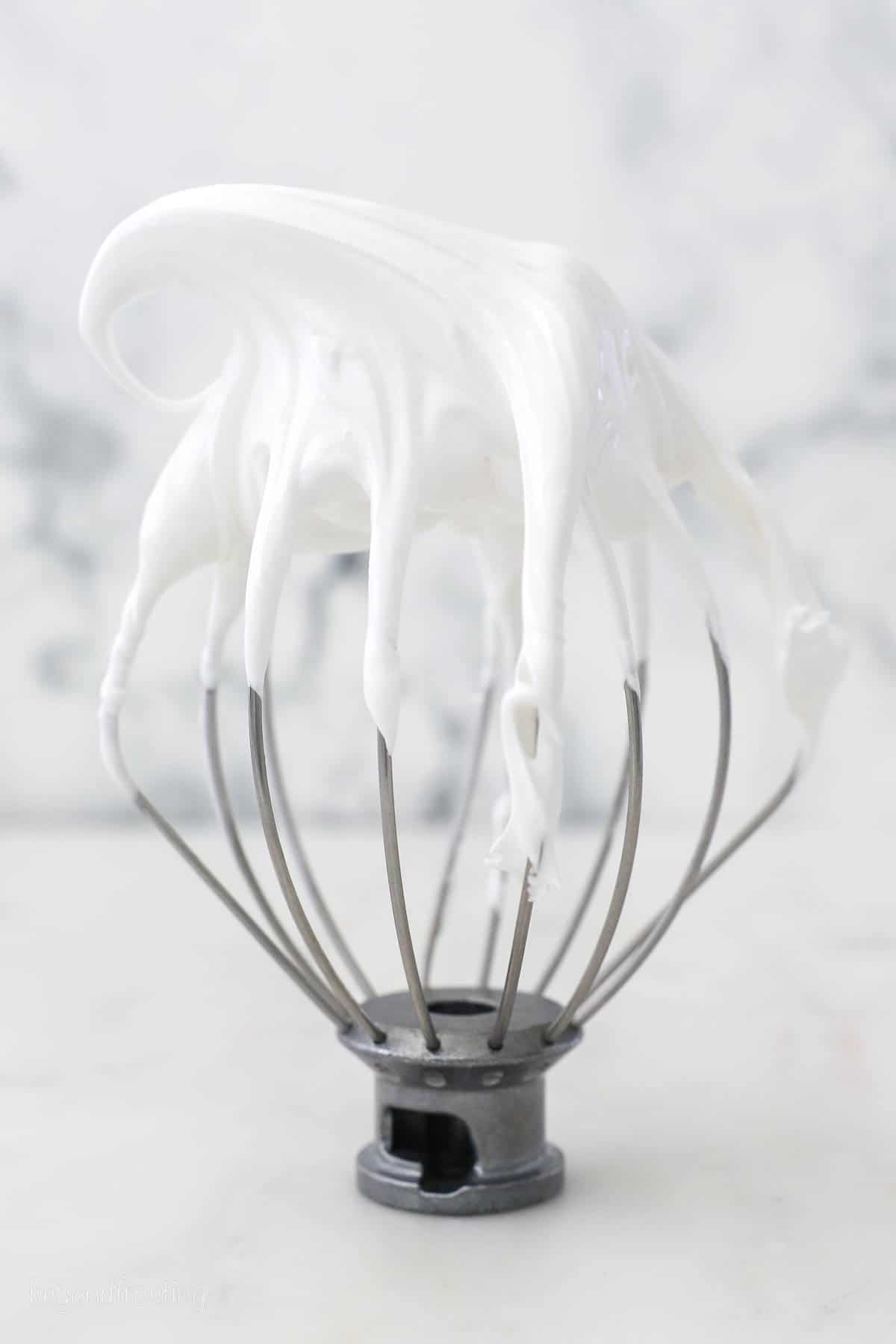 Common Questions
How do I get the meringue to stiffen?
This is where the cream of tartar comes in, so don't skip it! Adding cream of tartar to the egg whites speeds up the whipping process and stabilizes the frosting.
Can you beat meringue too long?
Yes, so be sure to beat the frosting just until you reach stiff peaks (see the tips section above). Overmixing can cause the frosting to become grainy.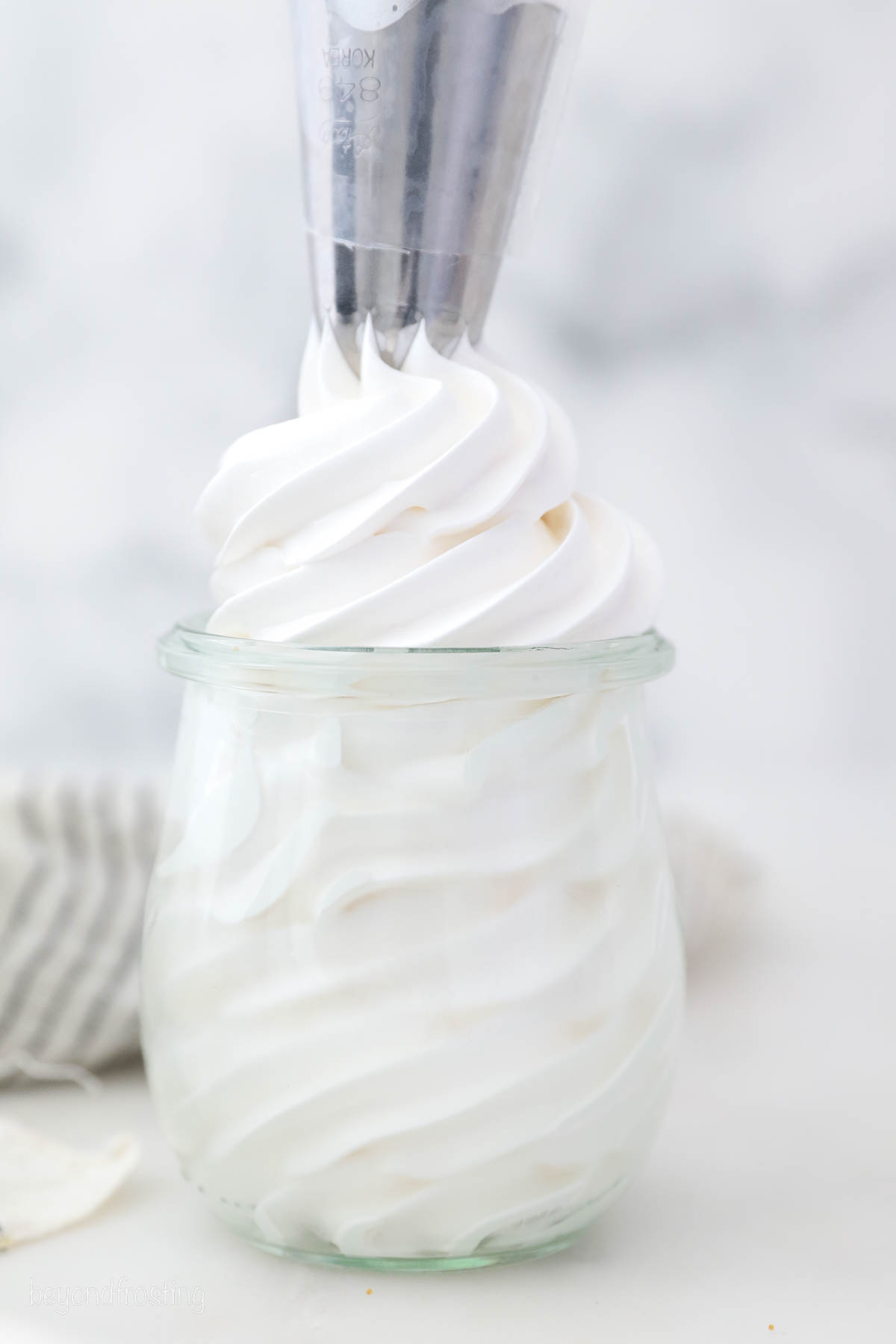 Ways to Use Marshmallow Frosting
This silky, glossy marshmallow frosting is perfect for piping! You can use a piping bag with your tip of choice, or a freezer bag with the corner snipped off to create rosettes, swirls, and more.
Here are just some ways to use your homemade marshmallow frosting: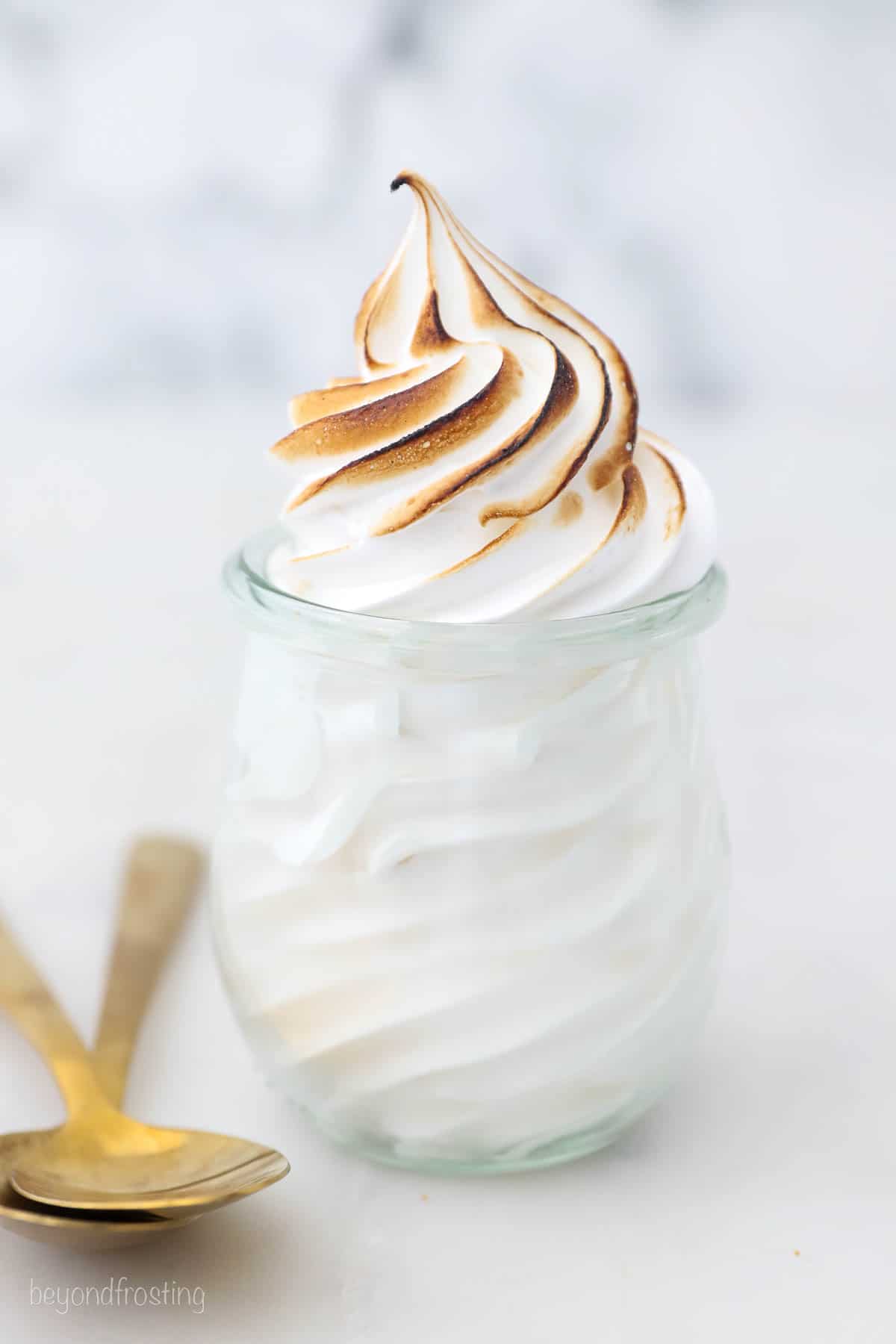 Storing Homemade Frosting
This marshmallow Swiss meringue frosting is always at its best on the day it's freshly whipped. However, frosted cupcakes and cakes can be kept refrigerated airtight for up to 1-2 days.
If you're looking to get a headstart on a batch of cupcakes, you can always make the cupcakes ahead and store them unfrosted and airtight in the fridge. This marshmallow frosting is so quick and easy to make, you can do it right before you're ready to frost your baked treats!
Can Marshmallow Meringue Be Frozen?
Unfortunately, no. The egg whites in the meringue frosting don't hold up well when frozen. They tend to thaw into a rubbery, soggy texture.
Print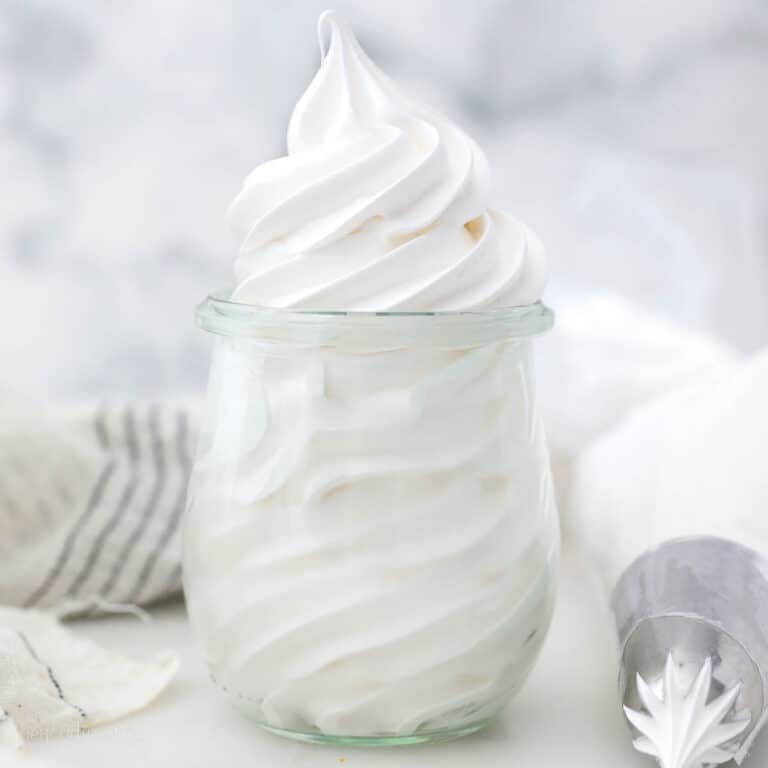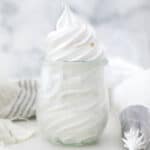 Marshmallow Frosting
Author:

Prep Time:

15 minutes

Cook Time:

10 minutes

Total Time:

25 minutes

Yield:

4 cups
Description
Freshly whipped, homemade Marshmallow Frosting made from pillowy Swiss meringue flavored with a hint of vanilla. Perfect for piping onto your favorite cupcakes and cakes!
Ingredients
4

large egg whites

1

cup (190g) granulated sugar

1/4 teaspoon

cream of tartar

1 teaspoon

vanilla
Instructions
Combine sugar, egg whites, and cream of tartar in a bowl with a candy thermometer attached. Set the bowl over the top of a pot with 1 ¼ cups water covering the bottom. Place over medium heat.
Stir constantly with a whisk until the mixture reaches 140°-160° The sugar should be dissolved in the egg whites. You can test this by placing a drop on your fingertips and rubbing them together to ensure it's completely smooth.
Immediately place the mixing bowl on your stand. Using the wire whisk attachment, beat the eggs white on low for 2 minutes, then increase to medium-high. Beat for another 5 minutes (the frosting should have turned white and the body of the meringue starts to form). Add the vanilla extract and increase the mixing speed to high, beat for another 3-5 minutes until the bottom of your bowl is cool to the touch and your meringue has stiff peaks. Use immediately.
Equipment
Notes
Marshmallow frosting is best if used immediately.
Before beginning, wipe down the inside of your stainless-steel bowl with vinegar to remove any grease, as just the slightest bit of grease can make a meringue flop.
The key to making a meringue frosting is to beat it until stiff peaks form. What does this mean? Basically, if you run a knife through it, the shape will hold and not cave in on itself.
Make sure that the frosting isn't warm when you pipe it, otherwise, it won't hold its shape.
Use a kitchen torch to lightly toast the marshmallow.
Category:

Frosting

Method:

Stovetop

Cuisine:

American
Keywords: swiss meringue, vanilla frosting, homemade frosting
More Homemade Frosting Recipes