This post may contain affiliate sales links. Please see my full disclosure policy for details
This Mocha Oreo Poke Cake is a mocha chocolate cake with a chocolate & coffee pudding filling and it's topped with a mocha Oreo whipped cream.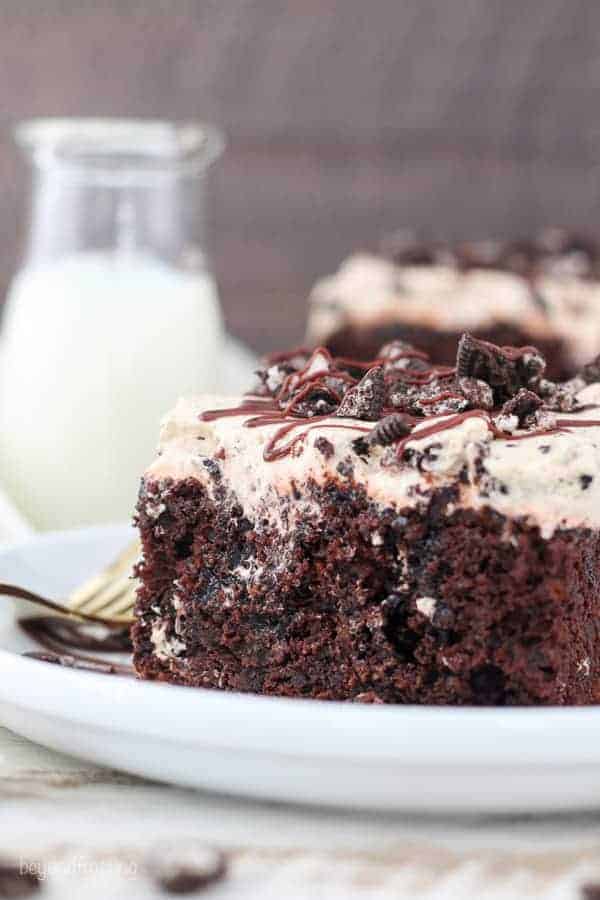 If you love coffee, this cake is for you! I've packed coffee flavor into the cake, the filling and the topping of this Mocha Oreo Poke Cake. This is a mocha chocolate cake with a chocolate & coffee pudding filling and it's topped with a mocha Oreo whipped cream.
Poke cakes are one of my favorites to make because there's so many flavor combinations, and they are generally quick and certainly much easier to make than a layered cake. These are party staples in my house and I particularly like that they can be made in advance so I don't have to worry about preparing a dessert when there's so many other things going on.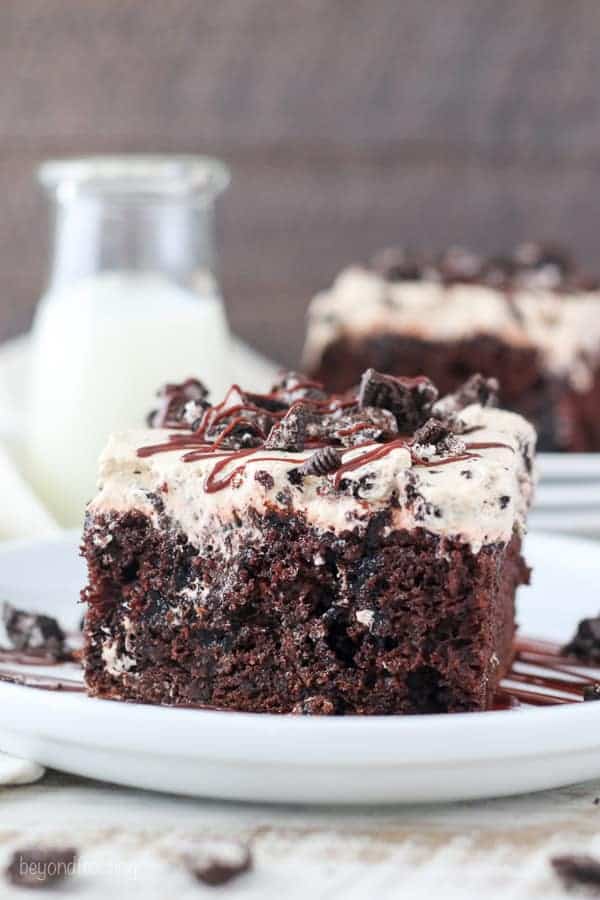 If I'm in a pinch, I always grab a box of cake mix for these types of cakes because it's just more convenient and I find that there is a lot you can do with a cake mix to change and alter the ingredients to achieve your desired result. I've done the same thing for the mocha chocolate cake.
First, I swapped out the water for brewed coffee. I've also added chocolate pudding mix as an additional dry ingredient. I know that some cake mixes say there is pudding in the mix, but I still add an additional package anyway. Then I've also added sour cream, vanilla extract and espresso powder. With the additional ingredients, you'll find this recipe requires a little extra time in the oven.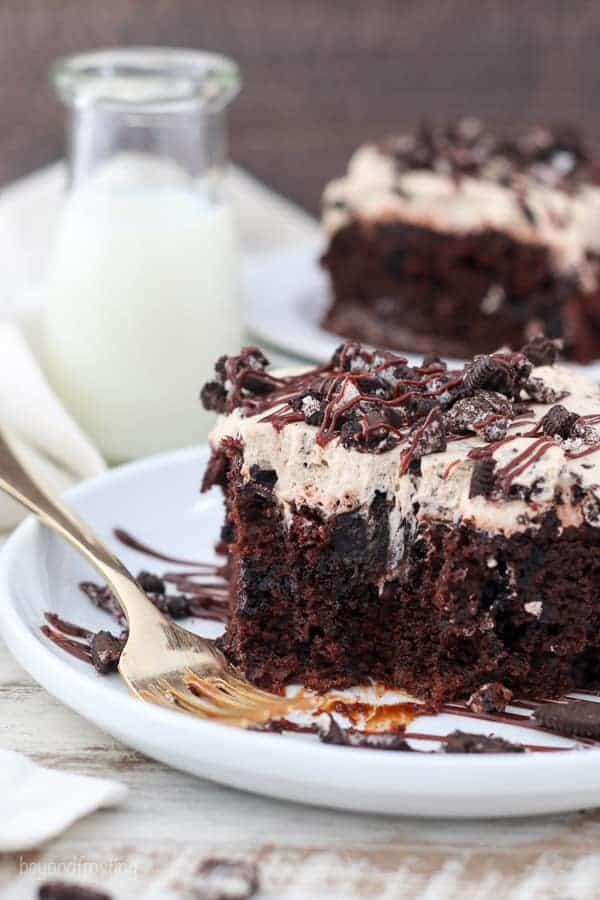 For this Mocha Oreo Poke Cake, I've used a combination of brewed coffee and espresso. I've found that it's best to use brewed espresso for the Mocha Oreo whipped cream because it will give it the best flavor. It not overly strong, but just a nice subtle coffee flavor. You can find espresso powder in the coffee aisle at your grocery store. It easily dissolves in hot water and helps add a stronger coffee flavor.
I particularly love this mocha Oreo whipped cream. Anytime you're adding Oreos to whipped cream, you know it's going to be good. The Oreos get nice and soft give them a cake-like texture. I definitely swiped a few bites of this whipped cream off the top of the cake. It really is best though when you get a fork full of cake, the pudding filling and the whipped cream topping. Good thing I didn't have to share this cake!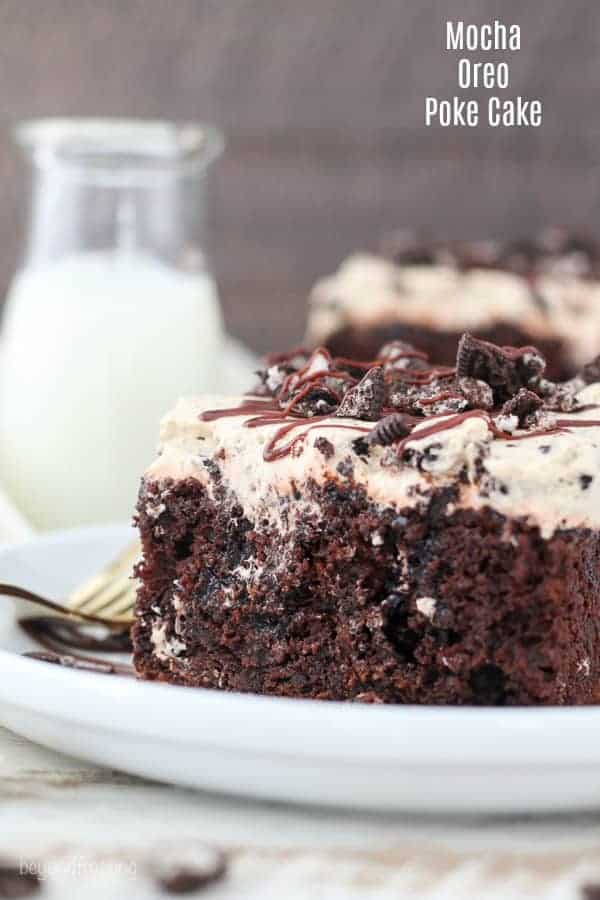 Follow Beyond Frosting:
Facebook | Twitter | Pinterest | Instagram
If you love no-bake recipes, be sure to check out my cookbook, No-Bake Treats!
You might also like:
Oreo Dirt Poke Cake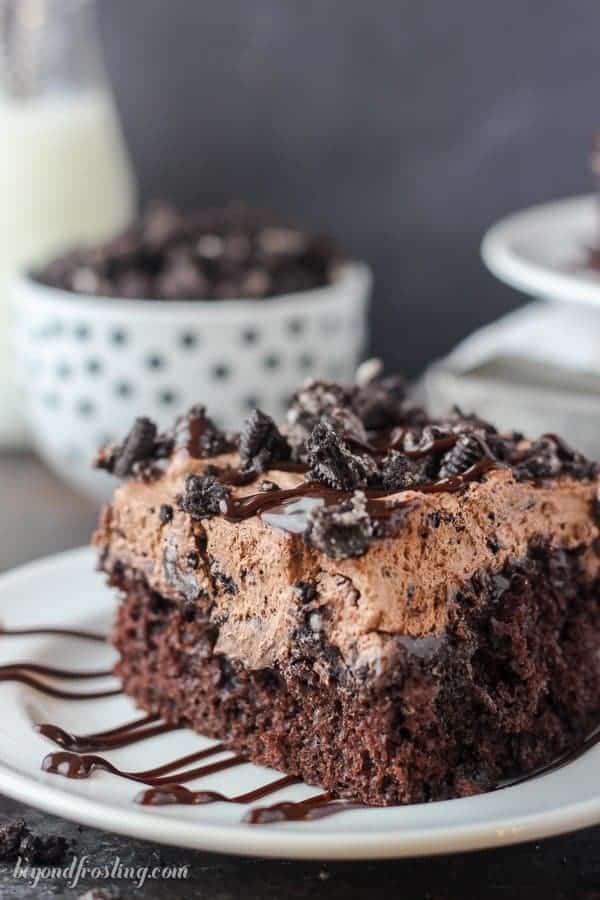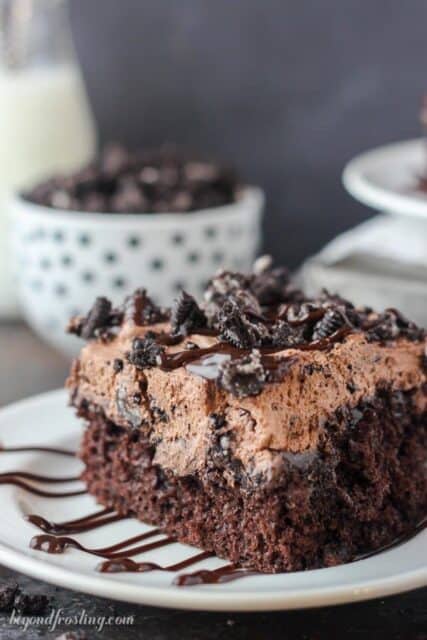 No-Bake Chocolate Oreo Mousse Pie