This post may contain affiliate sales links. Please see my full disclosure policy for details
I feel like my trip to Vietnam was a lifetime ago. Since I got back I have been so stinking busy. For this month's mixer, I thought I would share some more with you guys about my trip to Vietnam and Hong Kong. It's a little bit of a long post, but I hope you guys enjoy!
During my recent reader survey, one of you (Hey there!) asked me about what I did for my full-time job. So here's a peek into my work! I am an apparel developer for an action sports brand. What that means is I work with our factories to produce garments. I take the designs from the design department and bring them to life. I work with vendors in North and South America and also in Asia.
It has been six years since I did a trip like this. Although I have been to China half a dozen times, this was my first time going to Vietnam and even Hong Kong. I was excited to have the opportunity to travel again and learn a bit more about technical outerwear. The night before my trip I started getting nervous about the flight. Would I be able to handle a 14 hour flight again? Would I like the food in Vietnam? Was I going to be able to handle the heat and humidity?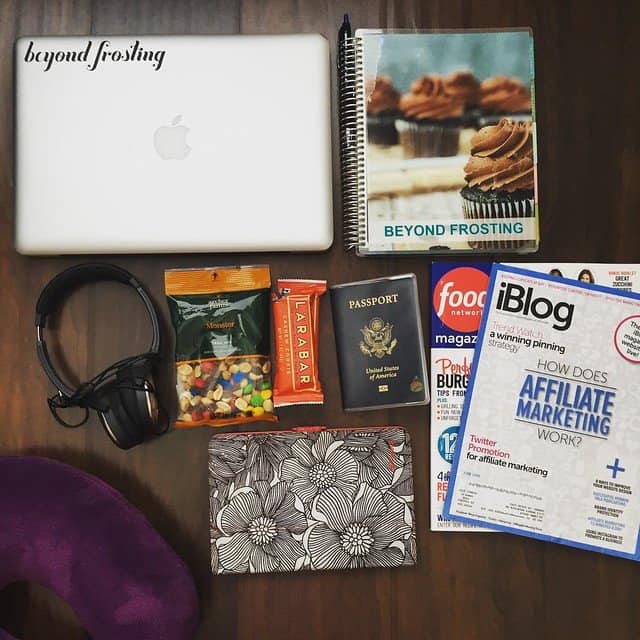 After a minor emotional freak out before we took off, I sipped on a couple glasses of wine and mellowed out. I hardly slept the whole flight, which was really unusual for me, but everything turned out ok. I have to have aisle seats because I get up frequently to walk around and stretch on those long haul flights. Also, there was free wine, so yeah.
My schedule was JAMMED packed. I traveled through 6 different airports, which meant I was flying every other day, and never spent more than 2 nights in the same place. My trip was only 9 days long, including travel to and from the US. This is kind of how the trips to Asia go. You have a lot to get done in a short amount of time, and often have to visit more than one or two locations.
I flew into Hong Kong to meet with my factory manager, and our quality control manage and spent the night near the airport. I was up early the next morning to catch a flight to Vietnam.
My first stop was in Hanoi. We got straight off the plane and had to drive 3 hours to the factory. That's the other thing about traveling in Asia, nothing is usually close by. Most of my photos are taken while driving! We spent one day in this factory, checking on the production, fixing any issues and ensuring the factory was up to speed on our needs.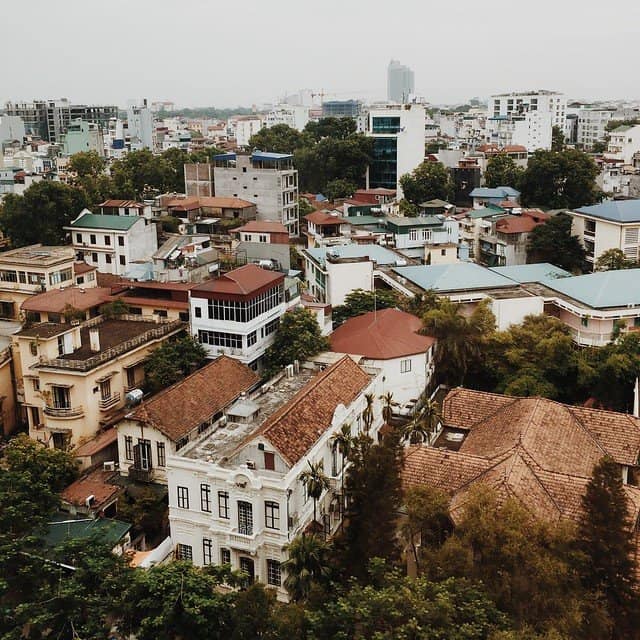 I spent a lot of time in the car, and observing the countryside. I was constantly comparing things to China, since that was all I knew. I was shocked at the lack of people driving in the country, and lack of people in general in the country side. It seemed very underdeveloped in most of the villages we traveled through. There were not a lot of shops, but instead, people had tents sent up with tables and chairs were they served food. I asked tons of questions, I wanted to know everything! Vietnam is far less populated in most areas, and the infrastructure is still being established in some parts of the country.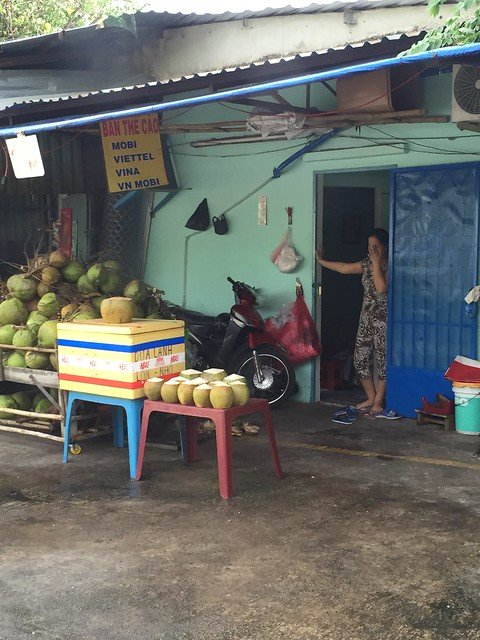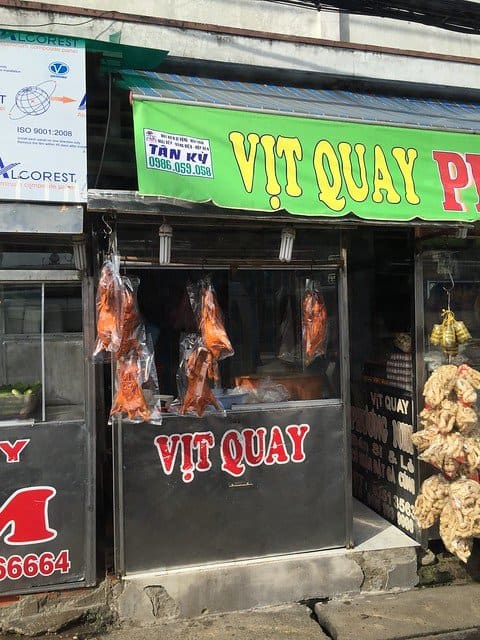 The farm land was pretty amazing. There were rice fields everywhere. There was also random cattle, sometimes just hanging by the side of the road. They use cattle for farming, but I couldn't understand how they were just roaming free next to the highway.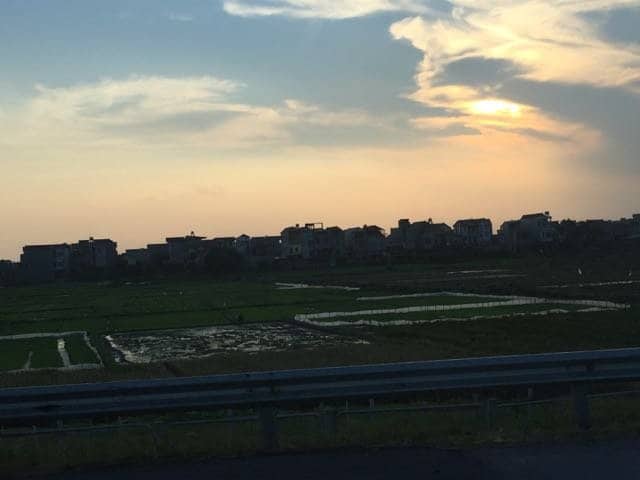 There were random graveyards all over the place, with the most gorgeous headstones. They are dotting the highways in the countryside. Sometimes only two or three and sometimes quite a bit more. I was also in awe of the buildings. They were tall and narrow. They told me it was because often times, people cannot afford to build large homes, so as they save their money, they continue to build up instead of out, finishing their homes in stages.
That firstday was so long. We worked until 7:30 and then had a 2 hour drive back to the hotel. I spelt the whole time and pretty much crashed immediately. The next day, we went to Northern Hanoi to a different factory. It seemed a bit more remote and located right in the village. It really was a gorgeous ride, full of lush green mountains. I had no idea Vietnam was so green!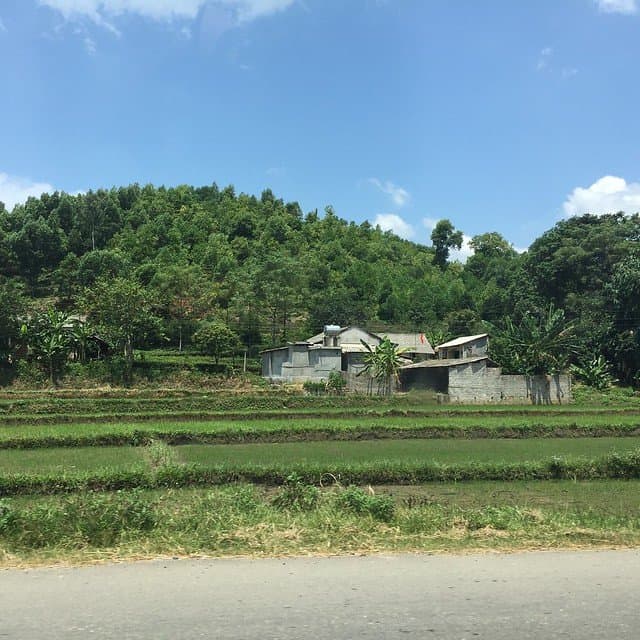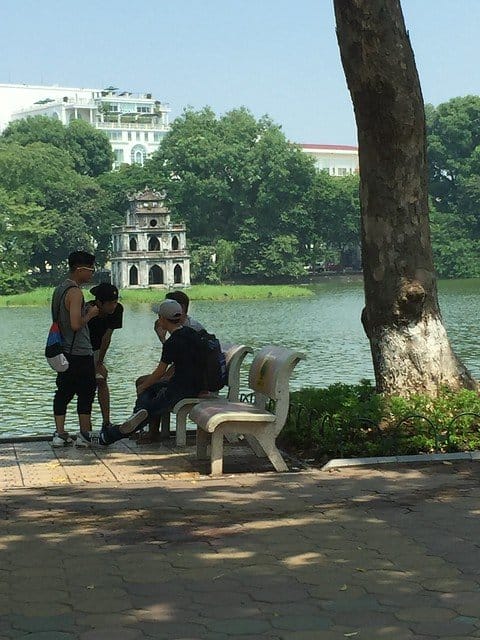 One of the big difference between the factories in China versus Vietnam is that Chinese factories usually have dormitories. People travel very far for work, so they stay at the factory during the weeks and go home during the holidays. In Vietnam, most of the people are local, so there is no need to provide housing. I think it is safe to say the primary means of transportation in Vietnam is either by motorcycle or bus.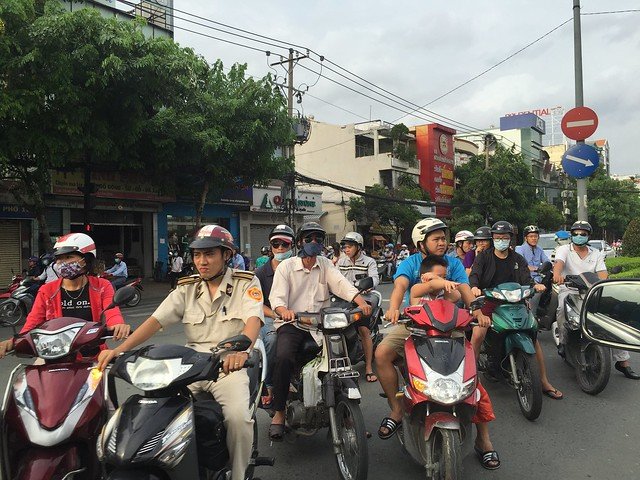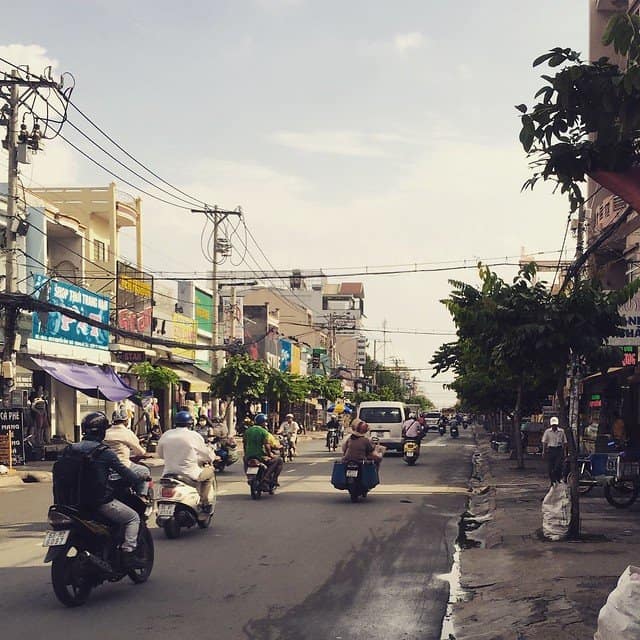 Before I knew it, I was on another flight to southern Vietnam to the city of Ho Chi Min. Ho Chi Min was a completely different experience than Hanoi. The city is much more developed. There are people EVERYWHERE! Seriously, everywhere. It reminded me of NYC. And the motorcycles, oh my gosh, they are out of hand. They outnumber cars like crazy. Although the roads have lines, and stop lights and such, there is a serious lack of right of way, which is something I am used to in China. I felt like I was constantly in a game of Frogger. I took so many photos of the traffic because I just couldn't believe it.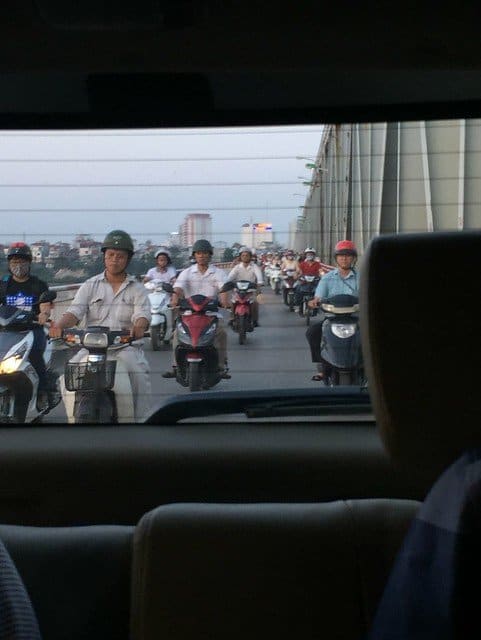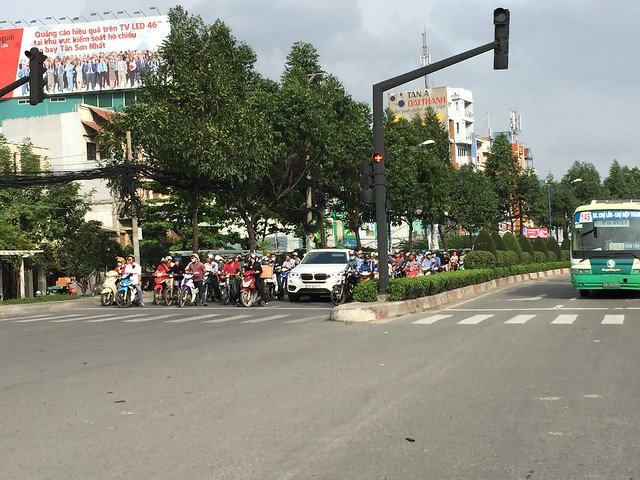 The factories in Ho Chi Min were much closer, and located only 20-30 minutes along the outside of the city. They were also far bigger than the ones in Northern Vietnam. We did finish up a bit early one day, which allowed me to explore the downtown area a little bit. We drove around, a LOT. I saw gorgeous building, like the Opera house and the capitol building, churches and military universities. We did a little bit of shopping as well.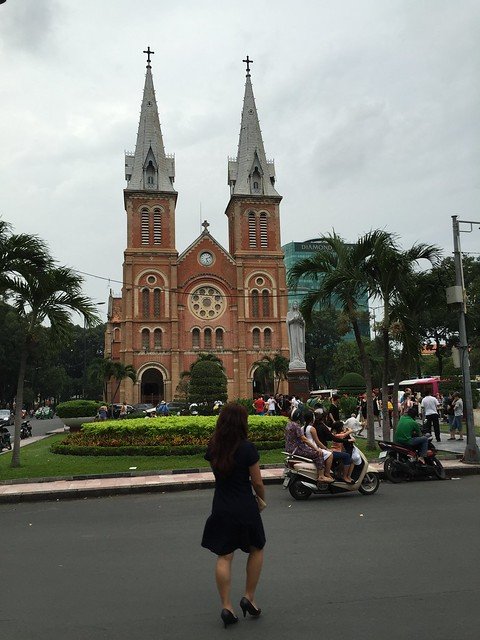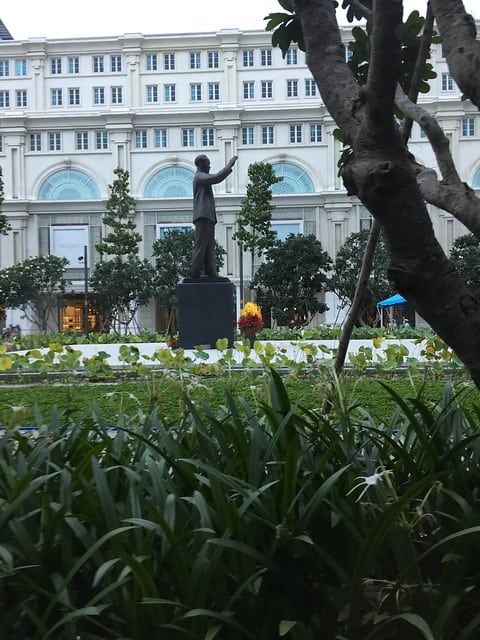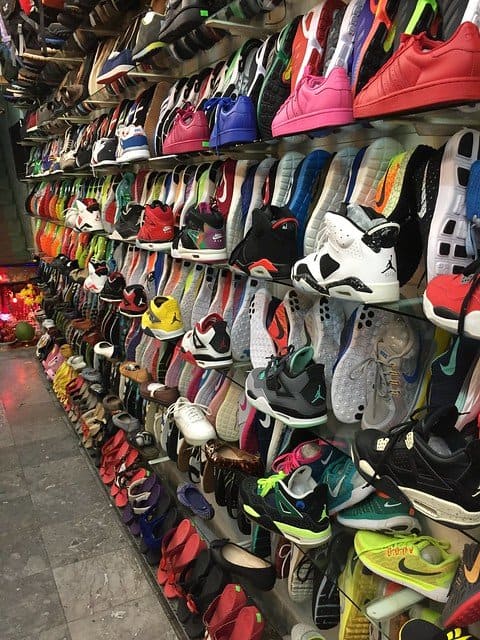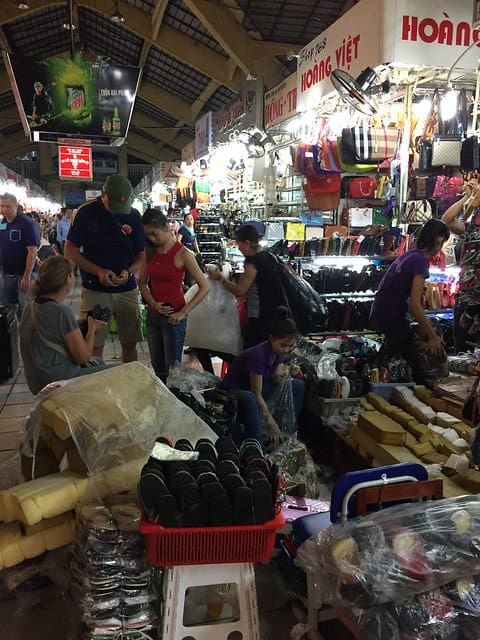 After several nights of Vietnamese food, I was craving "western food". We ended up at this French Bistro called The Refinery. The setting was gorgeous, in an older building with a beautiful courtyard. I enjoyed the meal more than anything! I had creamy baked potato soup, homemade pasta alfredo with chicken, and a couple glorious glasses of wine. Seriously, I have never had Italian food like that before.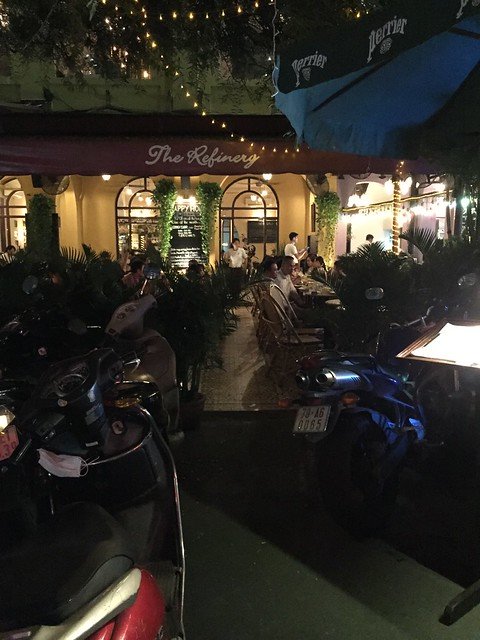 I insisted on buying desserts for everyone. The dessert menu looked insane. I ended up ordering chocolate mousse, pears poached in spiced wine with homemade vanilla ice cream and a roasted banana tart with chocolate and vanilla ice cream. I was pleasantly surprised they all enjoyed dessert as much as I did.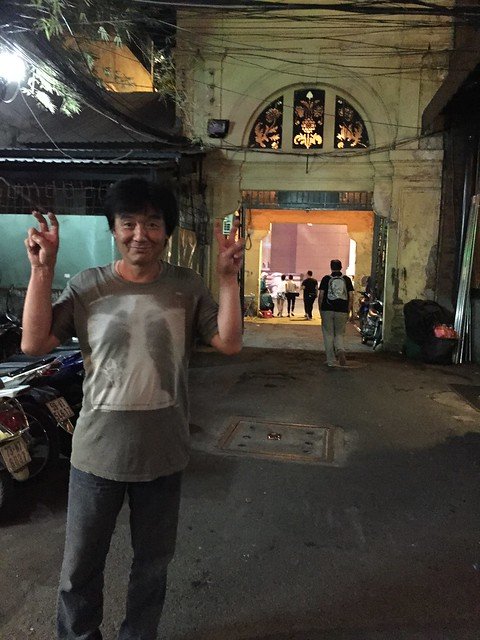 By the time I finished up on Friday, I was so ready to get back to Hong Kong. I knew the work week was over and I was one step closer to coming home. Overall, I didn't enjoy the food in Vietnam as much as I do in China. They do not eat nearly as many vegetable there. I did not end up trying any Pho. It was so freaking hot everyday, I could not imagine eating a hot soup. I mostly stuck to shaved beef with fried noodle and rice. One of the meals I enjoyed most was in Hanoi. This restaurant had a dozen different stations, all offering a menu based around the speciality items from locations all over Vietnam.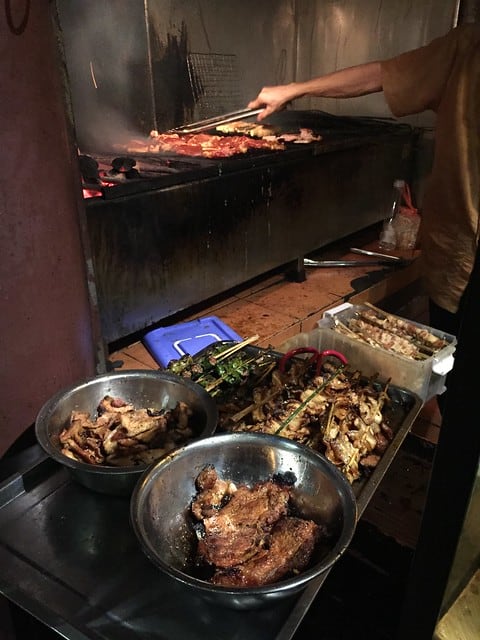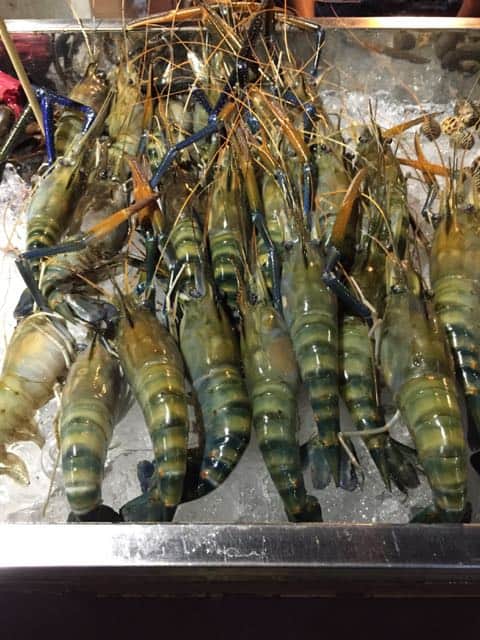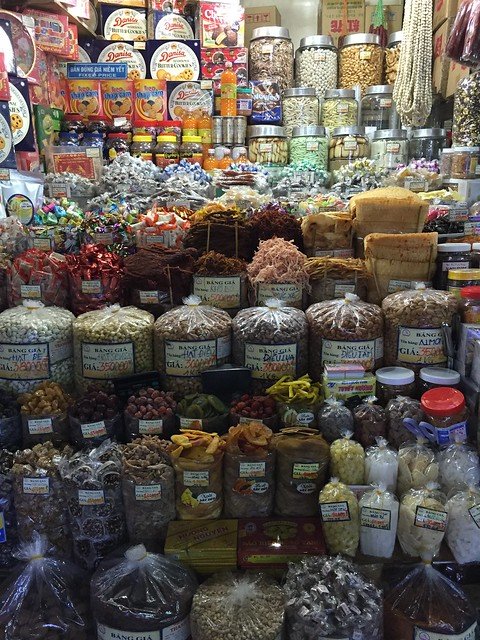 Breakfast time was the best though. Most hotels serve both traditional local breakfast and also "western breakfast". I usually load up at breakfast, because you never know what lunch will entail. I did fall in LOVE with Vietnamese coffee, iced of course. I had probably 2 a day everyday. It inspired my Vietnamese Coffee Milkshake.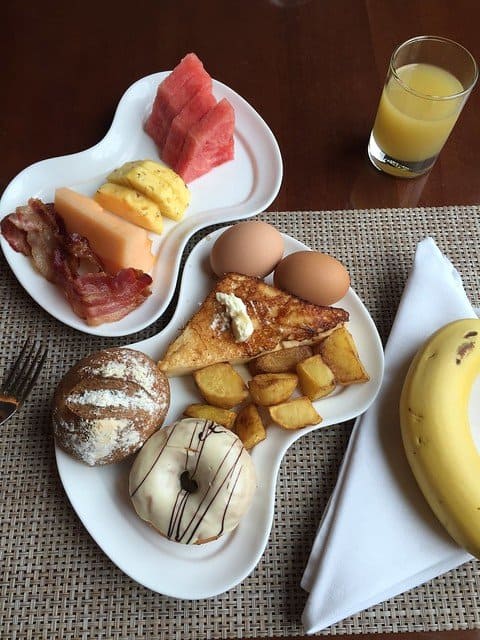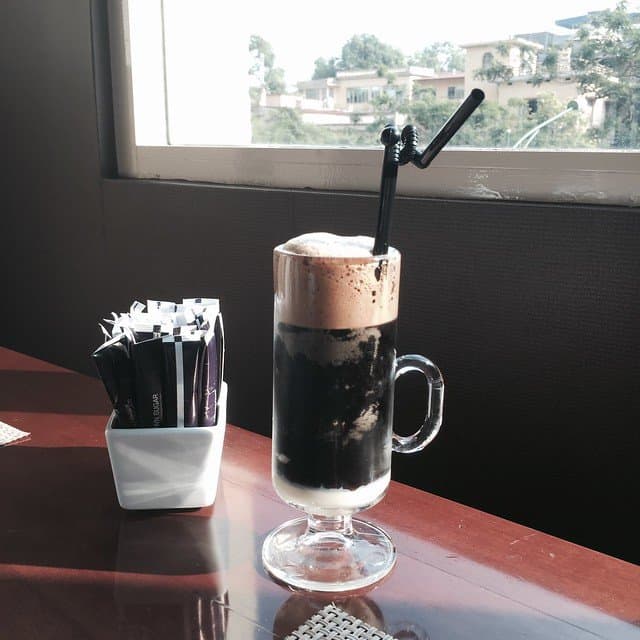 By the time Friday came, I was ready to head back to Hong Kong. I knew work was over and It had been a long week. I also had a fun day ahead of me on Saturday. We arrived very late Saturday night, I think I made it to the hotel around 12:30pm.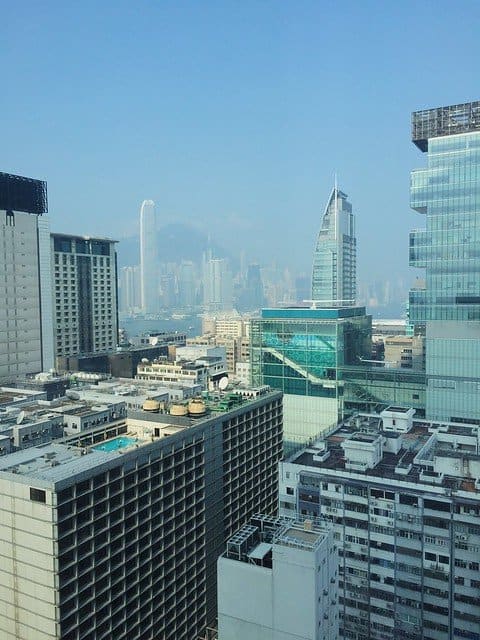 Saturday I slept in and ate breakfast at the hotel. My factory manager, who lives in Hong Kong picked me up and we met up with his wife and baby. Both of them attended collage and lived in Canada for many years, so it was really easy to connect with them. Our first stop was the Stanley Market area. We walked through the tourist market, shopping for souvineours and then headed to lunch.
I don't know much about Hong Kong, but I definitely want to go back! The mountains on Hong Kong island offer the most dreamy view! There is also a big beach culture on Hong Kong island, who knew? The beaches were gorgeous! Down where we were was the location of one of the Dragon Boat Festive. The area is also very westernized.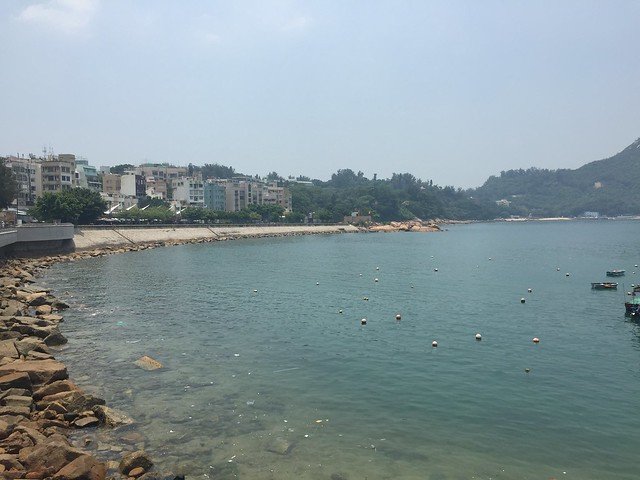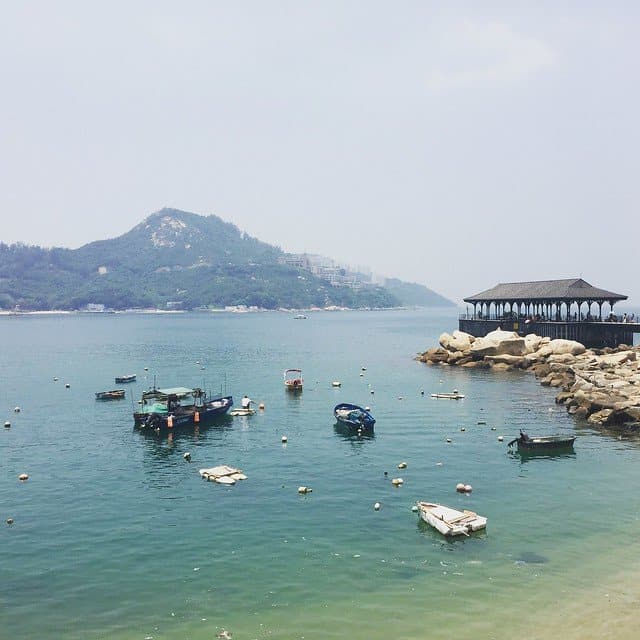 After lunch we did some shopping. At first I thought I would buy something typical like a bag or jewelry, which was usually what foreigners buy in Hong Kong. Although I will admit, I am not much of a label person, so I wasn't really interested in it. Instead I actually brought home quite a food props. HA! So typical. I found some really cool stores that reminded me of Urban Outfitters, but more home goods and less clothes.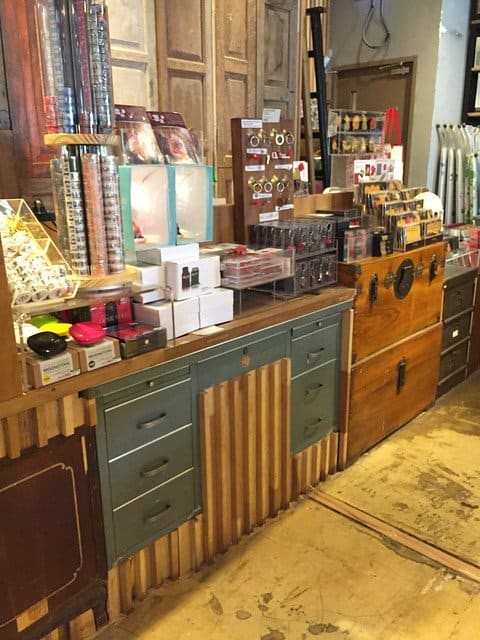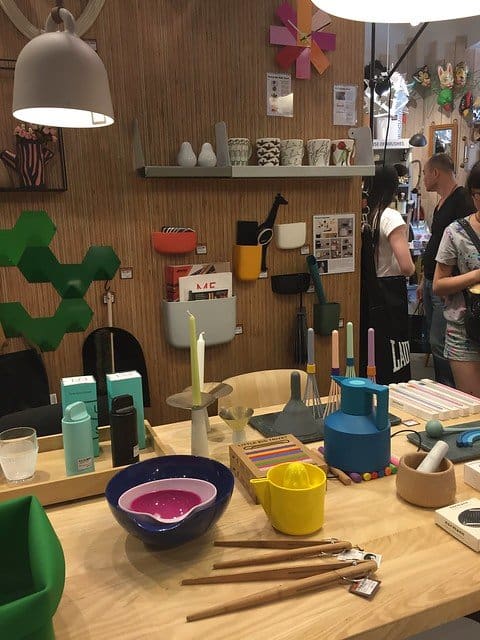 From Stanly Market, we headed to a different part of Hong Kong Island where there was much bigger stores and more mall-like settings. We happened to walk by this little kitchen supply store that was all SUPER cheap, but looks like stuff you would find in Anthology, World Market or Crate and Barrel. At this point, I was wondering why I didn't bring a second suitcase haha. I limited my selections to a few plates and bowls and I was very excited about my purchase. How could you not buy every bowl and plate when they were $2-3 each?!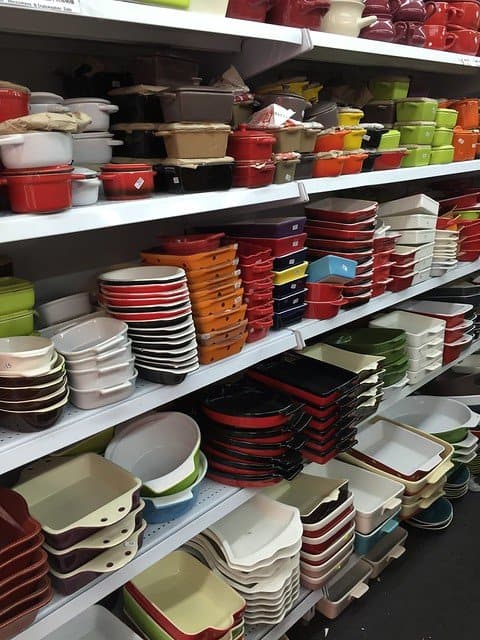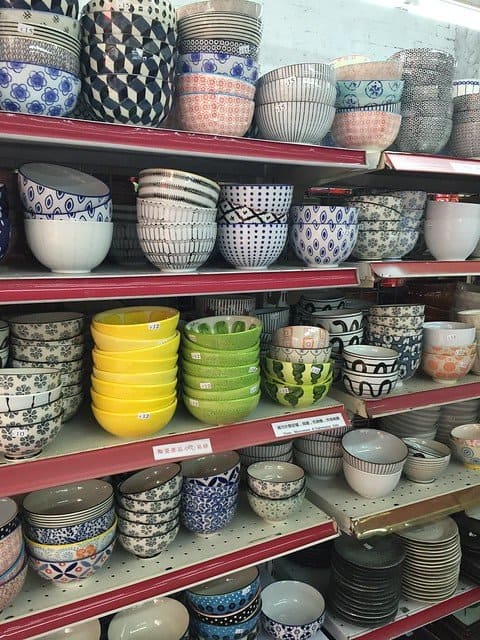 At this point in the afternoon, it was time to part ways. My friends were actually leaving for a long vacation in Canada the next day, so they needed to get things in order. I took a ferry back to Kowloon and found my way back to the hotel to drop off my purchases. It was late afternoon, but I had so much more to do! I headed back out to look for some dessert spots and do more shopping.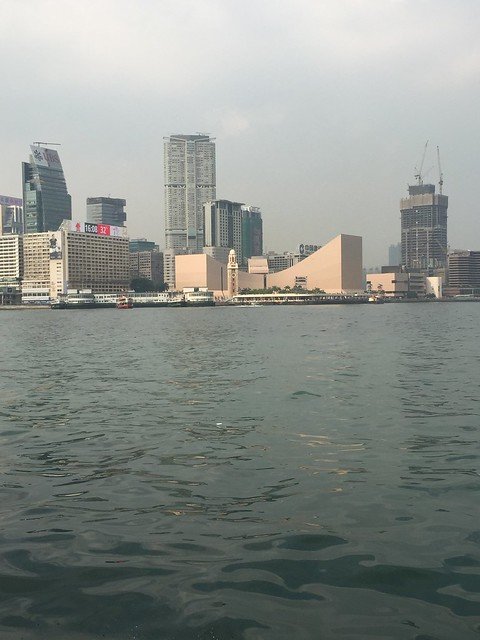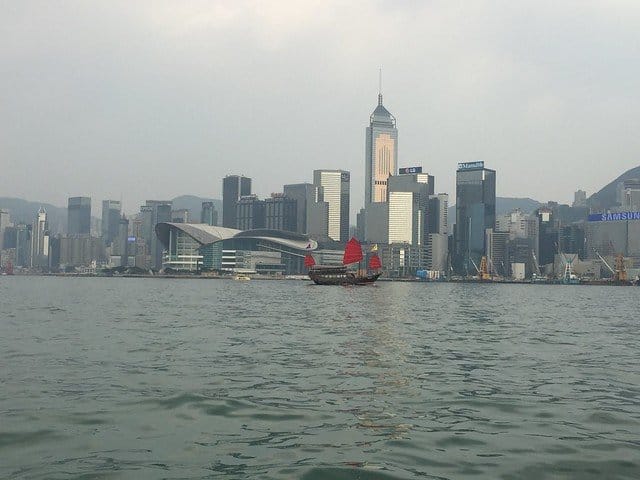 The desserts in China are always so pretty, especially the mini cakes. I enjoyed a maple custard filled sponge cake, some macaroons, and a yogurt from Smile Yogurt which was in the K11 mall. You guys, this dessert was like artwork. It was almost to beautiful to eat. I thought I was biting into a vanilla ice cream, but it turned out to be tart flavored, kinda like Pink Berry. It is worth a visit for sure!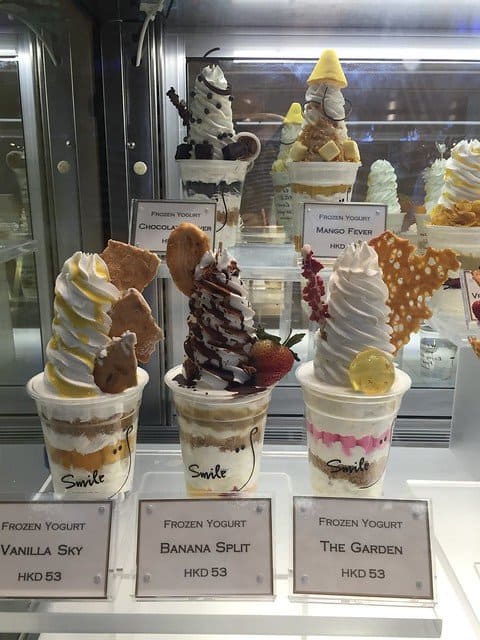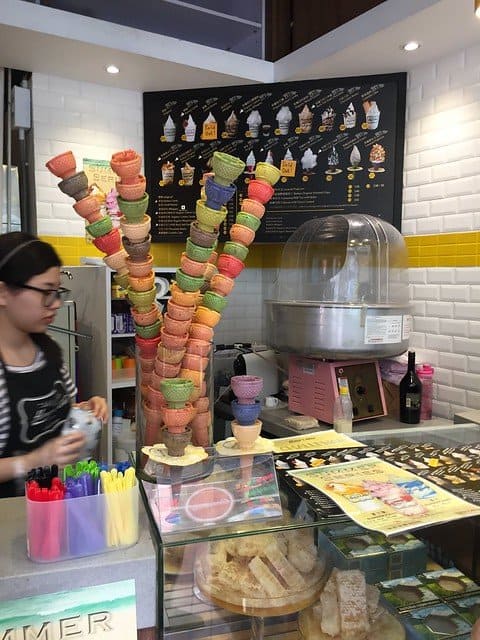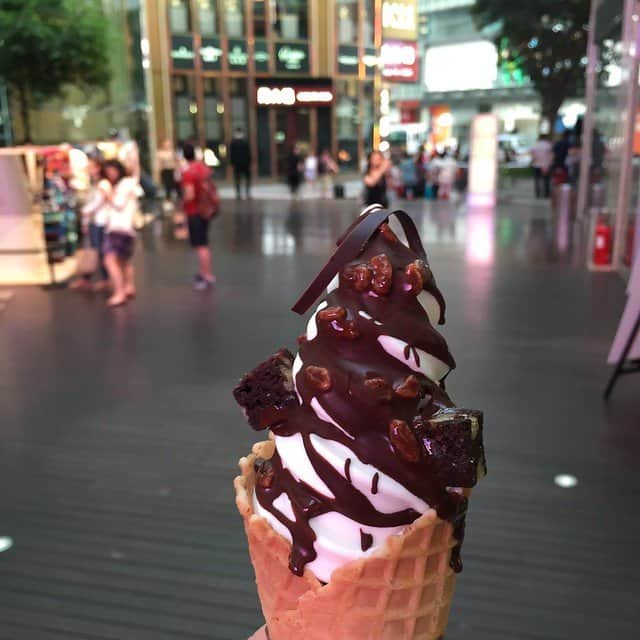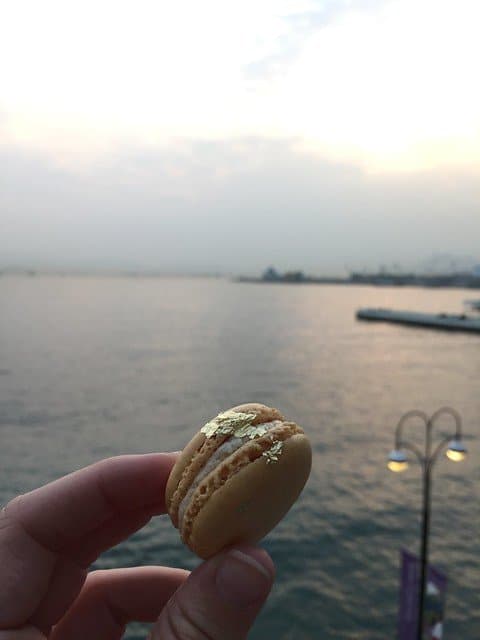 I was such a tourist, snapping photos of everything. Of course, the only spot I ended up buying clothes at was H&M, where I found a $10 shirt I couldn't pass up. It was a great afternoon to just walk around and see the different types of stores and also to see what the "western" stores carried.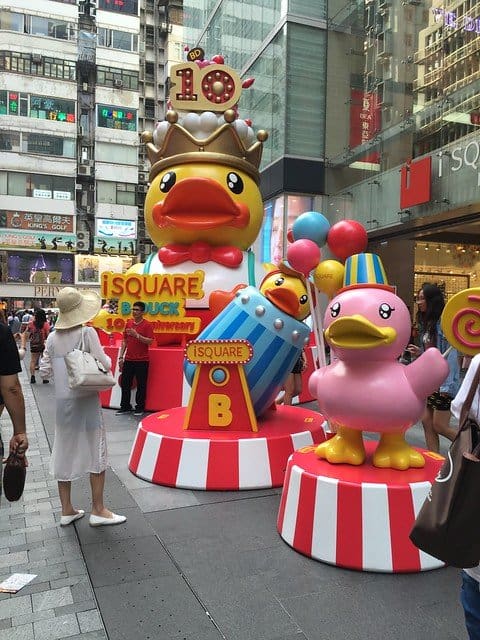 For dinner, I knew I wanted to get Din Tai Fung, which is a somewhat famous dumpling house. They now actually have 2 locations in LA and one in Orange Country. I have been there a couple times in the US, and the wait is usually over an hour, sometimes two, but it is SO worth it. I decided to get take out, and head back to my hotel. I got #allthethings and enjoyed it with a bottle of wine I picked up at the market. As mom would say, it's cheaper than the mini bar.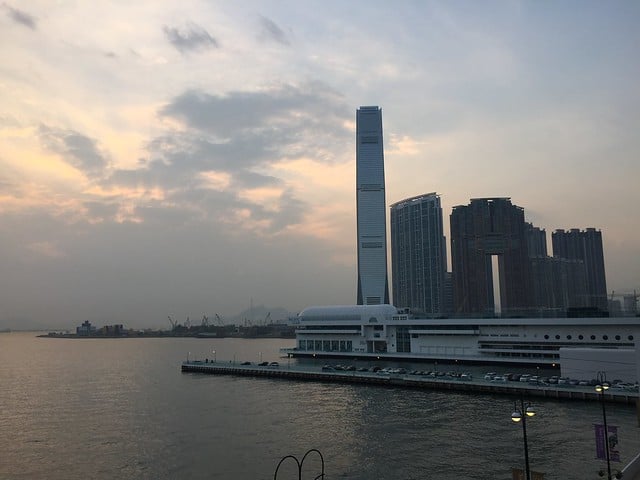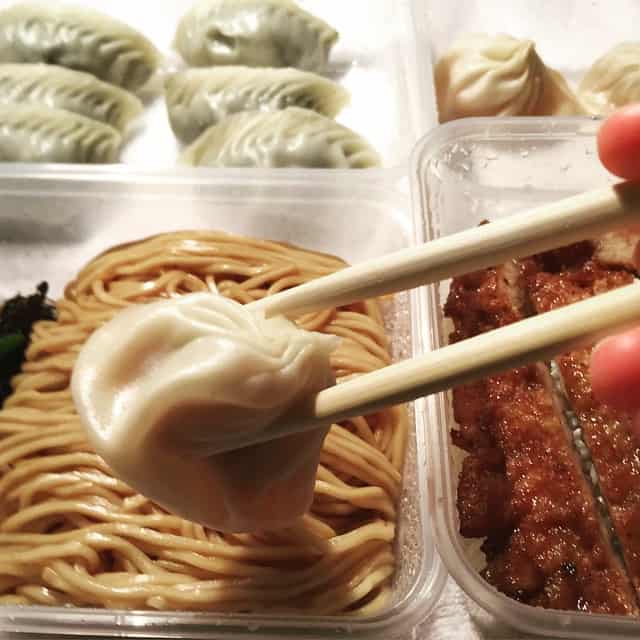 I was up and out early Sunday morning. On the way home, I had a stopover in Tokyo, which broke up my flight quite a bit and was much more manageable. Again, I hardly slept, but I think it was because I was excited to be coming home. Which also meant that I fell asleep as soon as I got home at 3pm. The jet lag is real. It took me about 3-4 days to readjust, but luckily I only had one night when I woke up at 3am for a few hours.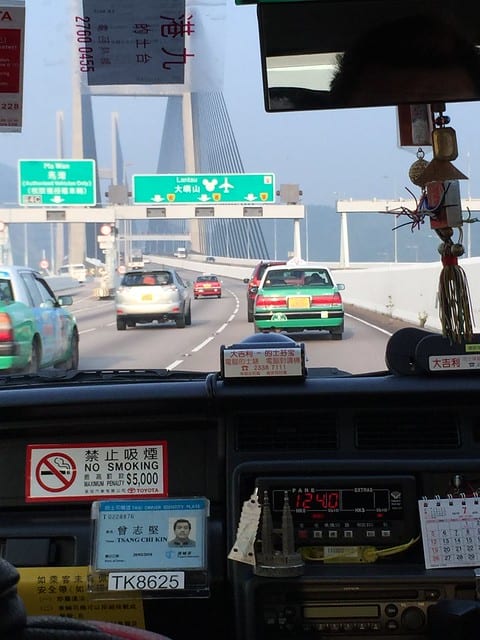 I feel pretty fortunate to be able to have these travel experiences and the opportunity to see different parts of the world. Every trip is eye opening and a chance for me to learn a bit more about another culture. Although I am happy to stay put on this side of the pond for awhile!