This post may contain affiliate sales links. Please see my full disclosure policy for details
It's been awhile since I stopped in for my traditional monthly mixer. The truth is, this past month has been one of the craziest months ever. It started off with a quick trip to Las Vegas followed by our Santa Barbara Foodie Escape and three days later I was off to Chicago for the Wilton Sweet Up event. As if that were not enough, last weekend I made desserts for my friends wedding of 200 people. After the wedding I slept for most of the weekend and I am not even sorry about it.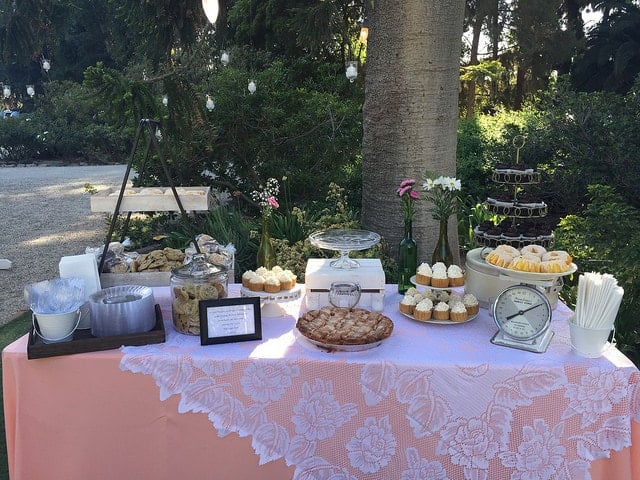 I can't remember the last time I updated you guys on my weight loss plan for 2015. The truth is, there hasn't been much to update you on. I hit my initial goal to lose 7 pounds before I went to Disney World at the end of February. I kinda just thought that things would keep naturally progressing the way they were. Well I was wrong. The weight loss just stopped and I've been about the same ever since.
Needless to say, it's frustrating, but I can't say that I have been doing everything possible to continue to lose weight. With all the traveling and late hours at work, my meal planning has kinda been thrown out the window. My exercise is far less consistent than it was before and I need a swift kick in the butt to get back on track.
Finally last week I decided that I was going to do a cleanse. My crazy month of April has passed and I needed to hit reset on myself. My cleanse is the same one I did in January where I basically avoid everything but water, fruits, vegetables and nuts and a little bit of protein. I have to say it has been much easier the second time around, but I am looking forward to a little break on Saturday!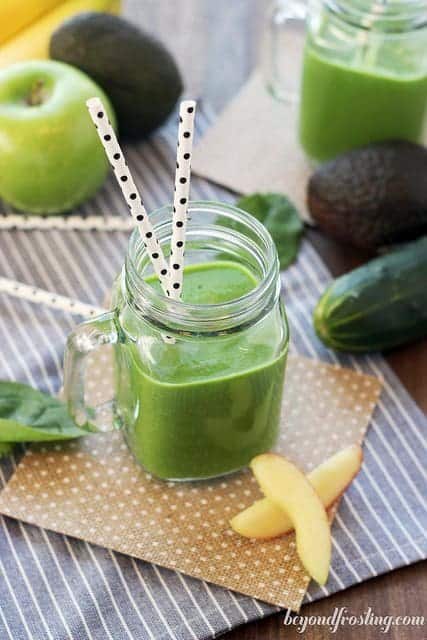 Make Ahead Green Juice Smoothie
This month is my birthday, which will be here before you know it and then we are spending a quick weekend in Portland!
Since you have already heard about my Santa Barbara Foodie Escape and my Wilton Sweet Up Trip, I would like to tell you a little bit about our quick trip to Las Vegas.
I am the first one to admit I do not like going to Vegas. I hate the smoking, the crowds of people and the over consumption everywhere. However, as I grow older, and as such begin to feel "old" in Vegas, I have really come to enjoy the culinary adventures that the city has to offer.
Whenever I tell people that my boyfriend and I fly to Vegas for less than 24 hours, they look at me like I am crazy. However, it such a quick trip from LA that it actually quite easy to do. We leave around lunch time and get back around the same time the next day.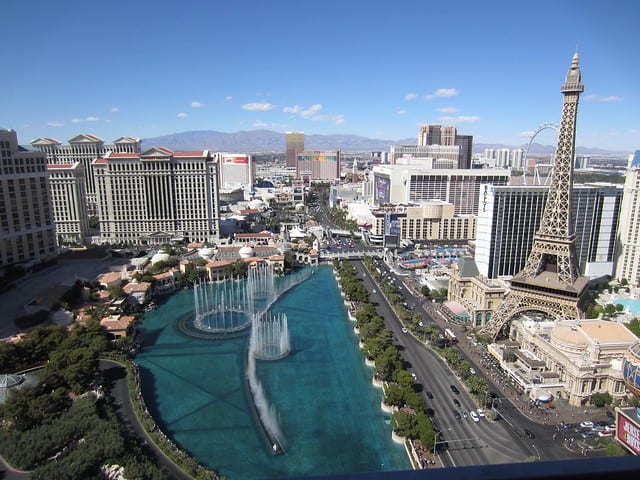 During our last trip to Vegas, we stayed at the Cosmopolitan Hotel when we went to go see The Strokes concert. My boyfriend has this thing about taking me to concerts that are no where near close to our house. Once, we drove 9 hours (one way) to Davis, California to see The Postal Service play. Here we are again flying to Vegas for another concert. This time it was Ratatat. They were playing at the Cosmopolitan Pool for an evening show.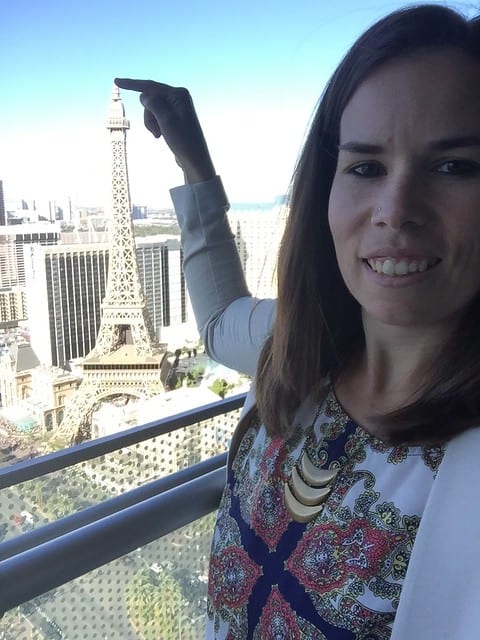 We seriously fell in love with this hotel the last time we stay. Our hotel room was one of the biggest rooms we have ever stayed in and offers gorgeous views of the stripe. During the week, the rates are quite reasonable there. This time around, the hotel upgraded us for free. Most people don't spend a lot of time in their hotel rooms when they travel to Vegas, but for us, it is a nice opportunity to sit back and relax before our night out on the town.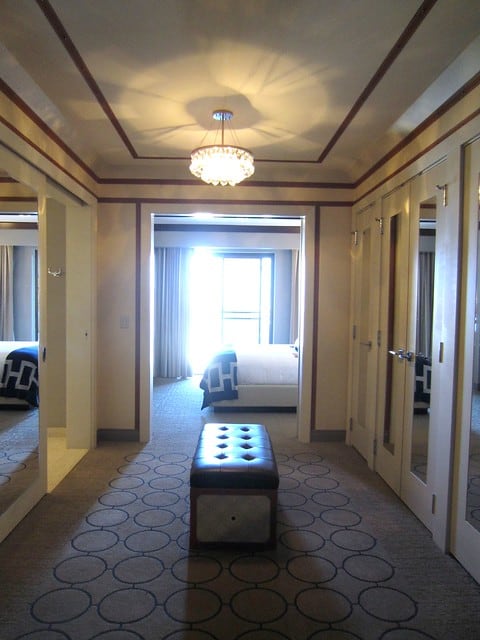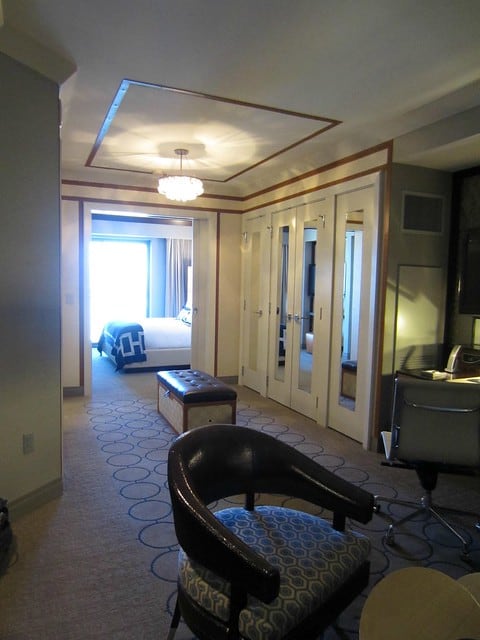 We visited our favorite restaurant Holsteins for lunch when we arrived to the hotel. I am not exaggerating when I say that we have talked about this restaurant since we went the last trip. The menu is next level. The burgers are creative, the appetizers are out of the ordinary and the boozy milkshakes are the icing on the cake. They also have some of the best fries I have ever had!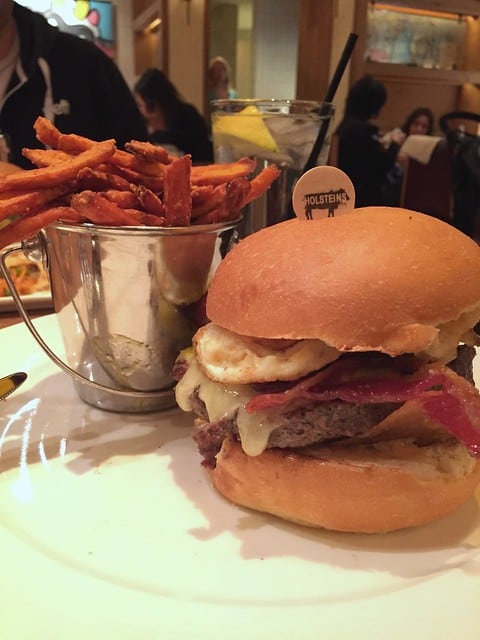 This time around I decided to go big with the boozy shake. I can't remember exactly what it was called but it has bourbon, bacon and maple ice cream and it was pretty much the best thing ever! I even asked my boyfriend to try it and he said it was pretty good, which is kinda a big deal. He doesn't like all that fancy stuff. I was also in love with my chocolate covered bacon with sprinkles. It's like they looked into my soul with this milkshake.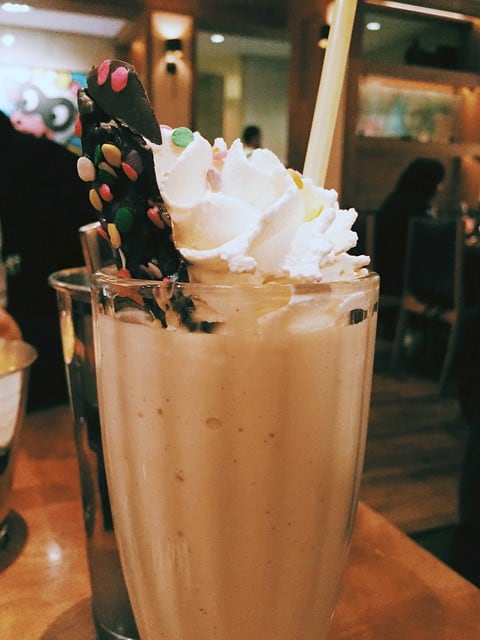 After we stuffed our faces we decided to hang out in our room for a bit and decompress. Later in the afternoon we took a walk down the stripe and stopped in at the Las Vegas Creamery to try one of their ice cream sandwiches. We enjoyed a couple bites but they were out of the standard size so we had to get the jumbo. This thing was massive, at least the size of my hand!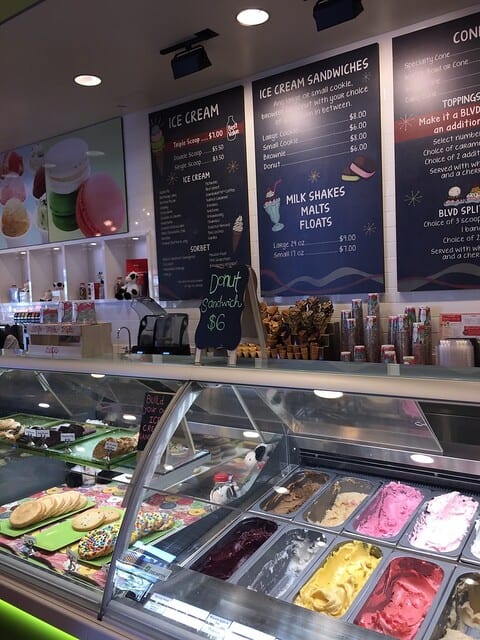 Then we found ourselves at the Shake Shack. I know you are probably thinking, WHAT, more food? In the words of my friend Lindsay, "we prepare for events like this". You see, I couldn't pass up the opportunity to try Shake Shack!
We ordered a cheeseburger, fries and I got a cup of their weekly custard, which was brown sugar flavor. Here is my honest opinion (mind you I took only a couple bites of each thing). The burger was ok, not life changing, but I would eat it again. The fries I could take or leave. The brown sugar custard was incredible and I wish I had room in my stomach to eat it all. Seriously, the custard is a must try.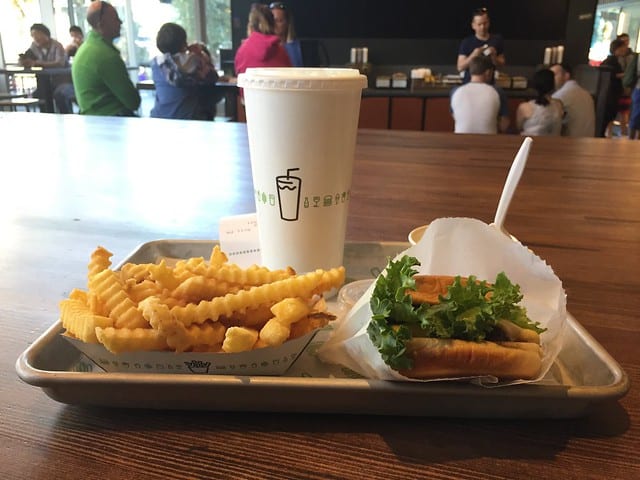 We dragged our butts back to the hotel and again, relaxed because it was actually getting close to dinner time. The Cosmopolitan gracious invited us to eat at the buffet Wooden Spoon. I have to admit, I didn't have the biggest appetite but I had heard good things about this place, so I was excited to try it!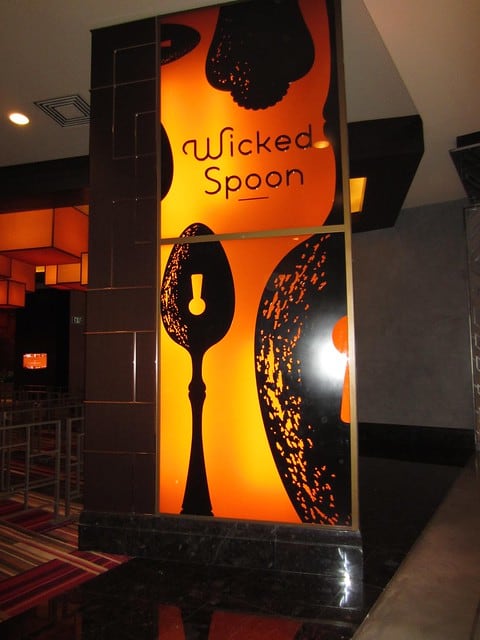 What I loved about the Wooden Spoon was that everything was served in individual portions. First of all, everything that is mini is almost always better. I also love that I didn't have to share a serving spoon with a gazillion other people who were also eating the buffet. They also offer a happy hour (from 5-7 I think!) where the drinks are only $5. Now if that isn't a deal in Vegas, I don't know what is!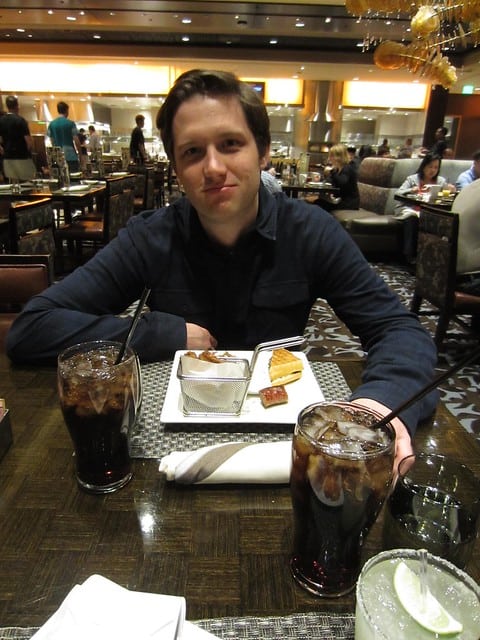 This buffet offered everything from Asia Food to comfort food. They even had a carving station and a made-to-order fresh seafood station. Of course I was excited about the dessert bar! They had the most gigantic chocolate covered strawberries (my favorite) and an assortment of other treats, plus a gelato bar! Hello, can we say sugar overload?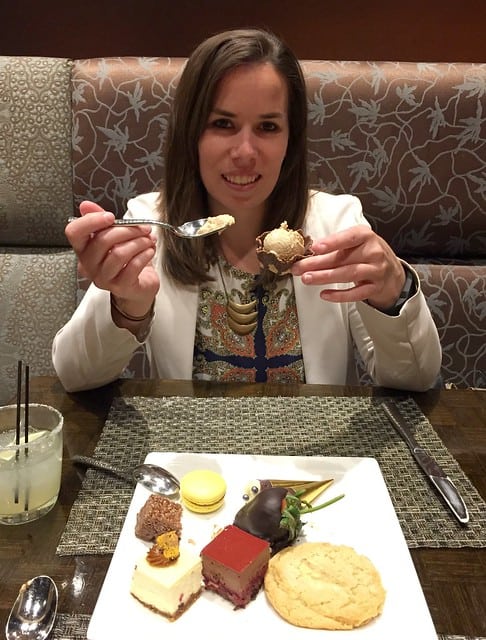 Well after all that eating, it was nearly time to go to the concert. We freshened up and headed down to the pool for the show. It was really cool because they actually drain about half the pool for an outdoor show. It was standing room only but there was plenty of space. They also leave out many of the beach chairs, so you could sit and relax on the sides of the stage. They also had a taco guys selling street tacos for $3. Yes, I ate a taco, and it was fantastic. Whoever thought to serve street tacos at a concert is just a genius.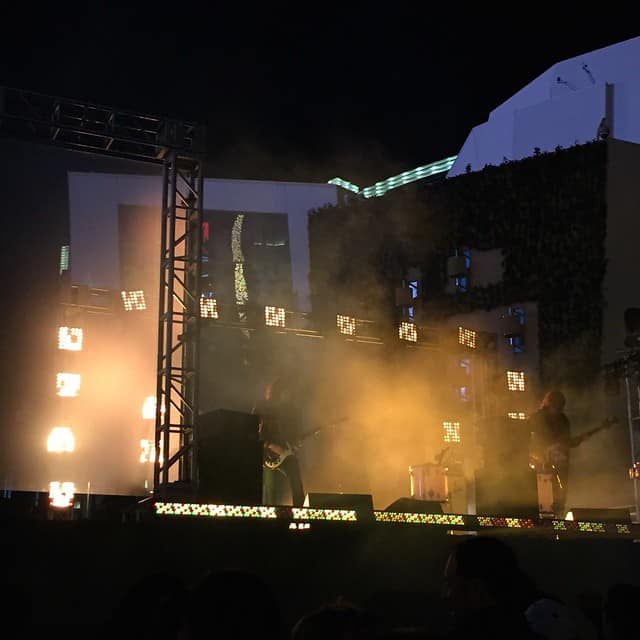 We were pretty much spent after that, but I couldn't leave without trying my hand at a little roulette. I usually have pretty good luck and in fact, last time I think I made about $75. I am extremely frugal with my gambling. I decide before I start how much I am willing to spend, and if I lose it, oh well, I am done. Unfortunately, that was the case this time. It was time for bed anyway!
Even though we packed so many things into our 24 hour trip, it was really nice to get away and spend some quality time together enjoy the things we love: food and music. For 24 hours I am not worried about work, or my email, or anything blog related. It is a nice little break! I am secretly hoping that there will be another show we can go to at the Cosmopolitan. I feel like after staying there twice now, it will be hard to stay anywhere else! A huge thank you to the Cosmopolitan hotel for making this trip extra special!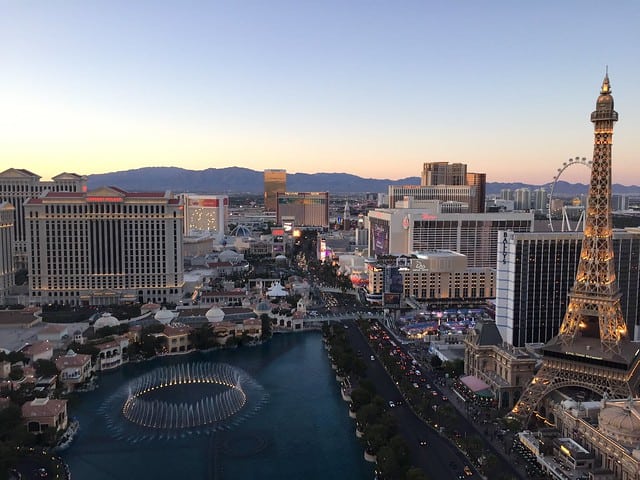 So that's about all for this month. I am already looking forward to our trip to Portland later this month. I have never been, so I need you to tell me ALL THE SECRETS and spots to eat. We only have two days! That all for April, see you soon!
Disclosure: We paid for our hotel room but received an complimentary upgrade. We were also treated to dinner at the Wooden Spoon Compliments of the hotel.