This post may contain affiliate sales links. Please see my full disclosure policy for details
I have been wanting to share this type of post for quite some time now. I know you guys come here for the recipes, and probably don't care to much about what I have going on outside of my sugar filled treats, but I like to think that some of you might. So this my Monthly Mixer post where I recap what's been going on lately.
Let's start with last night. I've been working like crazy, I'm exhausted. Let's face it, who's not exhausted? I come home to bake cupcakes for a work party today, mind you it's about 9pm and I am fading fast. I go to soften my butter in the microwave, and instead of hitting 11 seconds, I hit 11 minutes. I turn my back for a second and then realize my microwave hasn't stopped. I had a plate of melted butter. Without even thinking, I removed the butter from the microwave and spilled it ALL OVER my stove top and kitchen floor. My housekeeper just came yesterday too. Major fail.
As I am finishing my frosting, my boyfriend come into the kitchen and says, why is the vacuum out? Two words. Powdered sugar. End of story.
I have been a little light on recipes this month. There comes a time when you know you need to take a step back and take care of yourself. This month was just that for me. I promise I will be coming back strong with some awesome summer posts for you! Here is what I shared this month.
Peanut Butter Cup Cheesecake | Gluten free Lemon Raspberry Muffins | Cookie and Cream Cookie Cake | Raspberry Cheesecake Eggrolls | Oatmeal Cream Pie Ice Cream Pie | Circus Animal Cookie Dough Bars | Salted Caramel Hazelnut Ice Cream | Circus Animal Frosting
Monday was my 28th birthday. I celebrated with things like Patron margaritas, the top 3 best cinnamon rolls I've ever had and new clothes. Some of which you can see on Instagram.
Speaking of new clothes, after attending the BlogHer Food conference in Miami, I finally took the plunge and signed up for Stitch Fix. If you follow a lot of blogs, you may have already heard of it. Basically, you sign up for a monthly or bi-monthly service. A personal stylist hand picks 5 items to ship to you that range in price for the terms that you set. You decide if you want to keep them or return them. They provide you with a pre-paid envelope to ship back unwanted item. There is a monthly service fee of $20, but if you decide to keep something that month, it goes towards your purchase. We'll see how it goes. My first shipment is in July. Since I have no idea how to style clothes, I am looking for a little help here! Speaking of, did I mention I love stripes? 3 out of 4 clothing items I got for my birthday were stripes.
How many times have you heard about my trip to Miami now? Just a few 🙂 In case you missed it, you can read about it here. I wouldn't mind spending another long weekend there with my blogging friends!
Upon returning from Miami, all I wanted to do was go to bed. I slept maybe 15 hours in 4 days. Instead, I rallied to the local Strawberry Festival as soon as I got home. I did the opposite of what I intended to do, and stuffed my face with things like strawberry pizza, strawberry shortcake, strawberry crepes, tacos and chicken fingers. The rest of the week, I ate salads for every meal. So we're good here right?
Occasionally, I mention in my post about recipe fails. While I tend not to share them, I had a disheartening fail this past weekend and I am back to the drawing board. All would appear to be fine in this below photo, it's because I have already discarded 1/3 of it. However, due to lack of structure, as soon as I removed the springform casing, the sides basically collapsed and I couldn't get a single clean slice. I dumped 75% in the trash, ate 5% of it and gave the rest to my taste testers. Worst part is, it tastes amazing! Sit tight for this one.
I've been trying to make it a point to step away from my computer on the weekends and spend some quality time with my loved ones. We've have been keeping ourselves pretty busy this month! Our neighborhood had a "hamburgers and hops" event. More hype than anything else, so we left and got pizza instead, but it was nice to be outdoors and have a few daytime cocktails.
Buying yourself birthday presents is totally a thing. So when I saw this big guy on sale at Costco, I couldn't rest. I love my Kitchen Aid 5 quart artisan series mixer, but sometimes I feel it doesn't have enough power for my needs. Needless to say, my new toy does the trick.
Country Living and Cosmopolitan both shared a couple of my recipes in this Unexpected Cake Mix recipe post. Look for my Cake Batter Whipped Cream and my Key Lime Cheesecake Cookie Cups.
Be sure to stop by Chef-In-Training and check out my monthly post. This month I shared Almond Joy Ice Cream Cupcakes.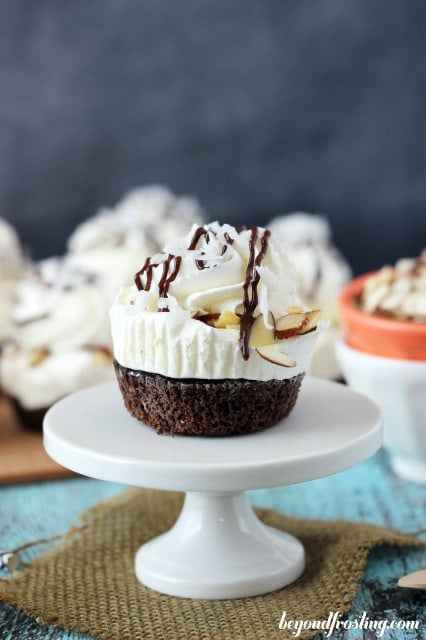 This week on Pinterest, I am obsessed with this "Donut Sprinkles" made with Cheerios.
Since summer is coming, be sure to follow my Summer Eats and Ice Cream boards.
I am totally crushing on Blueberry Cheesecake Ice Cream with a side of Butterfinger Pudding Pops. However, first I have to make this gorgeous no-bake Strawberry Milkshake Cheesecake! Considering I am trying to loose weight, I should probably opt for these Zucchini-Marinia Dogs instead! Next time we have Mexican night, I am rooting for these Baked Salmon Taquitos.
Thanks to my editor/sous chef/ taste tester/ overall amazing boyfriend for coming up with the title of this series and putting up with my constantly messy kitchen.
Here is a little sneak peak at what's coming up this month. Hint, they are frozen.
Thanks for stoping by for my monthly mixer!