This post may contain affiliate sales links. Please see my full disclosure policy for details
These No-Bake Spiked Chocolate Parfaits are the ultimate boozy dessert idea! Guests will love them, and you'll love how easy they are to make!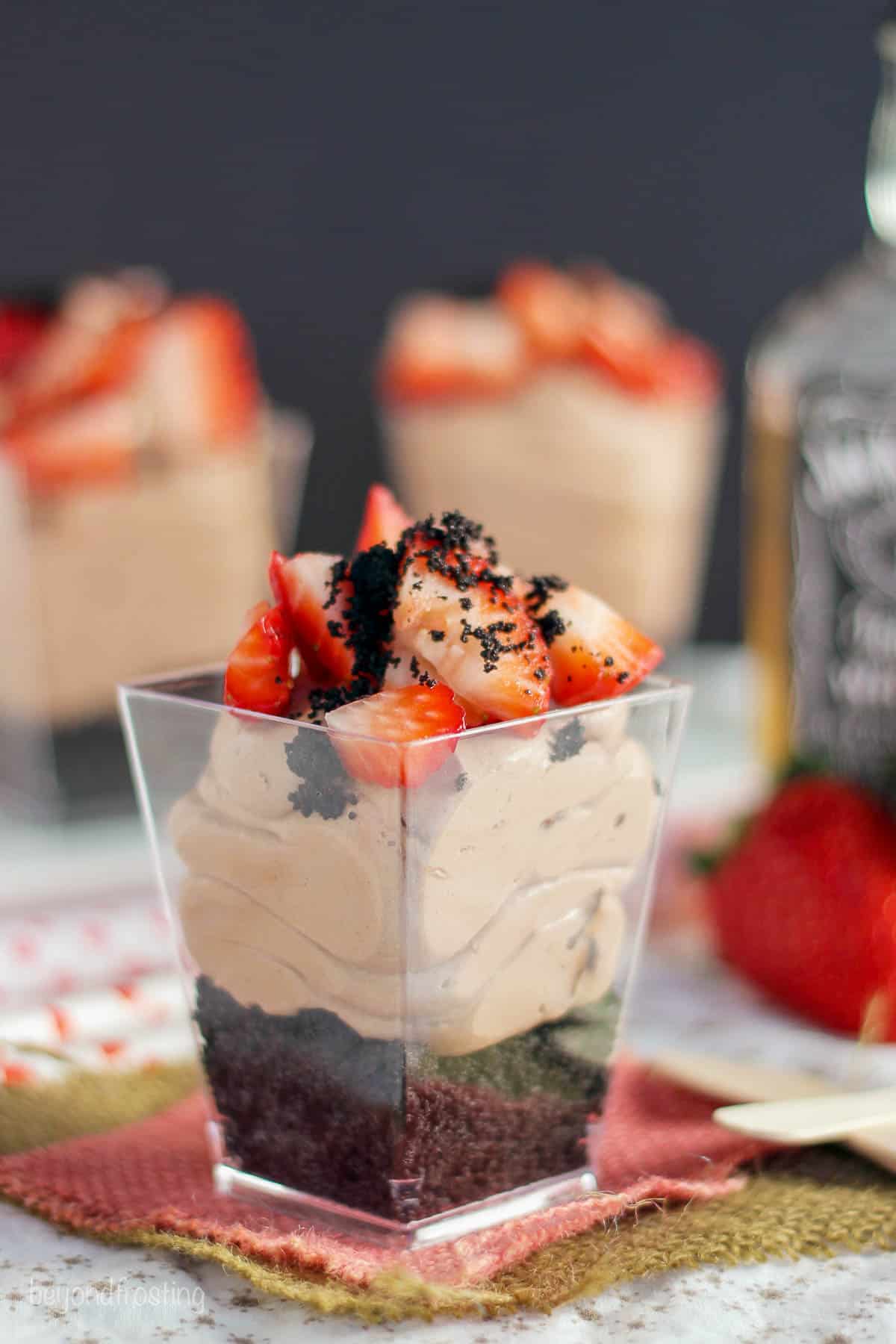 While some parts of the country are experiencing some very snowy and very frozen weather, we are experiencing a drought and much warmer weather than usual. I am sure there are only a handful of people complaining about this, but I want some dang snow! It's like spring skiing on the mountain and while I love to ski in warm weather, it's really killing my winter vibe. We don't get a lot of weather out here, so for this east coast girl, I welcome the change in the winter. End rant.
Dear Weather Man, Please send snow. Thanks, xoxo.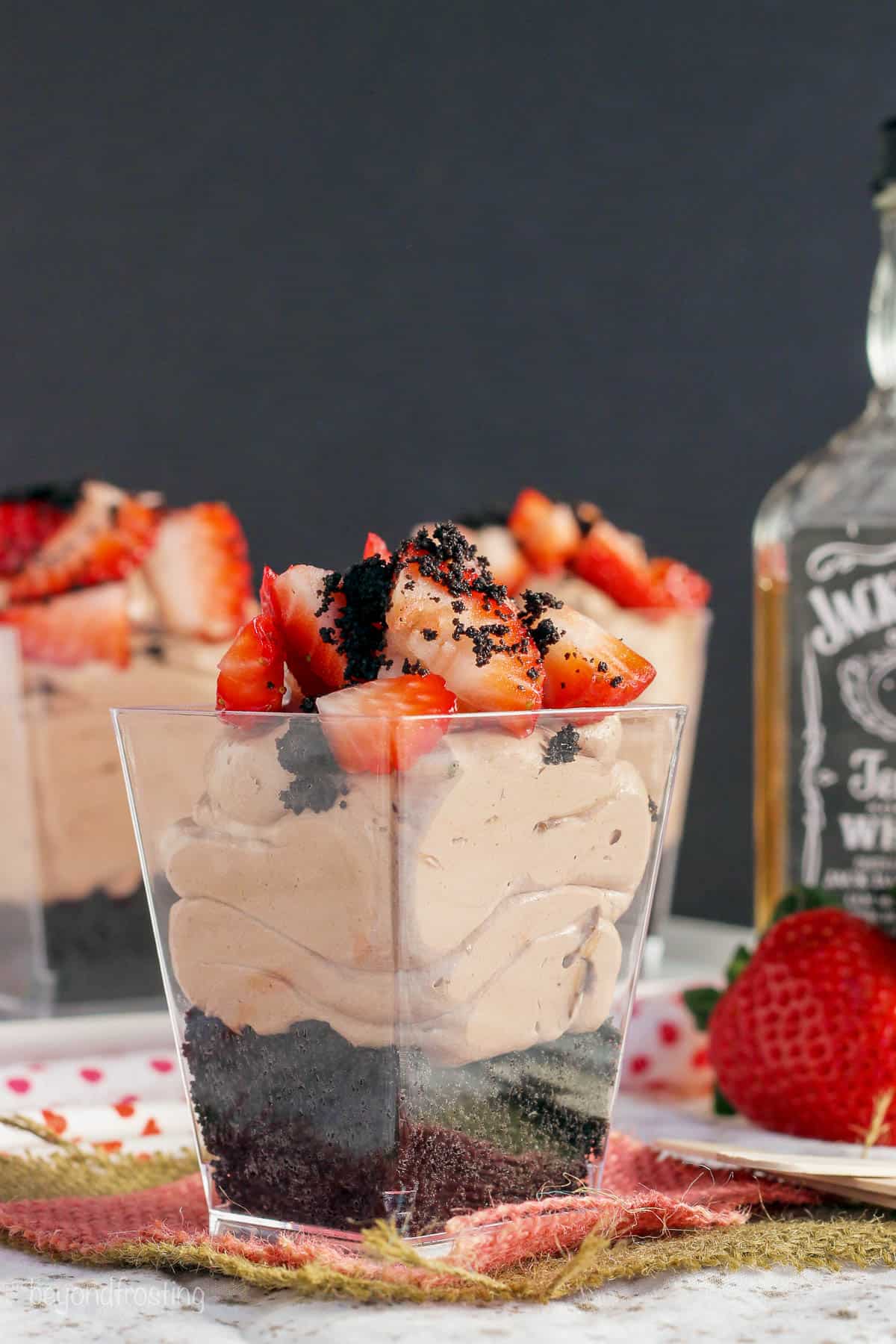 Earlier this week, I asked some Facebook fans about Valentine's Day. December 26th, Valentine's Day product hit the shelves at our local stores. I feel like we need a bit of time to recover from the holiday rush. So while my everyday self isn't even thinking about Valentine's Day, my blogger side is wondering when I should part posting Valentine's Day recipes. I met myself in the middle, and will just be posting some chocolate recipes in the interim.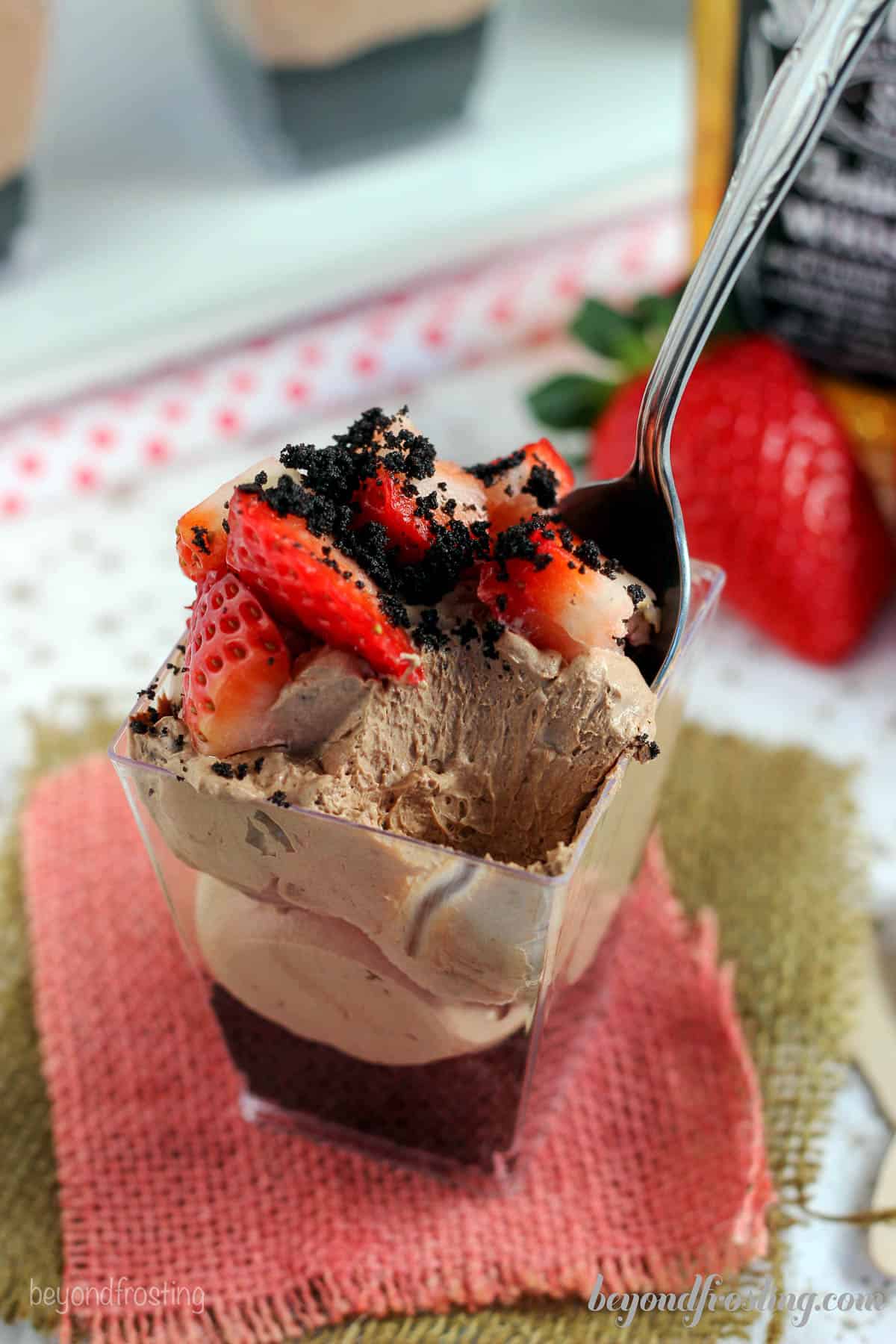 Speaking of chocolate, I mentioned that I baked a TON of recipes over my holiday break. These No-Bake Spiked Chocolate Parfaits were a cross between a truffle and a no-bake cheesecake. Since I just made a No-Bake White Chocolate Mimosa Cheesecake last week, I decided to do parfaits cups for this recipe. I love parfait cups, because there isn't a whole lot of clean up, assuming you get disposable cups!
You can serve them on a pretty platter. These Spiked Chocolate Parfait cups are made with a whiskey-infused chocolate combined with a cream cheese and Cool Whip mixture. I love the color added by the strawberries as well.
Print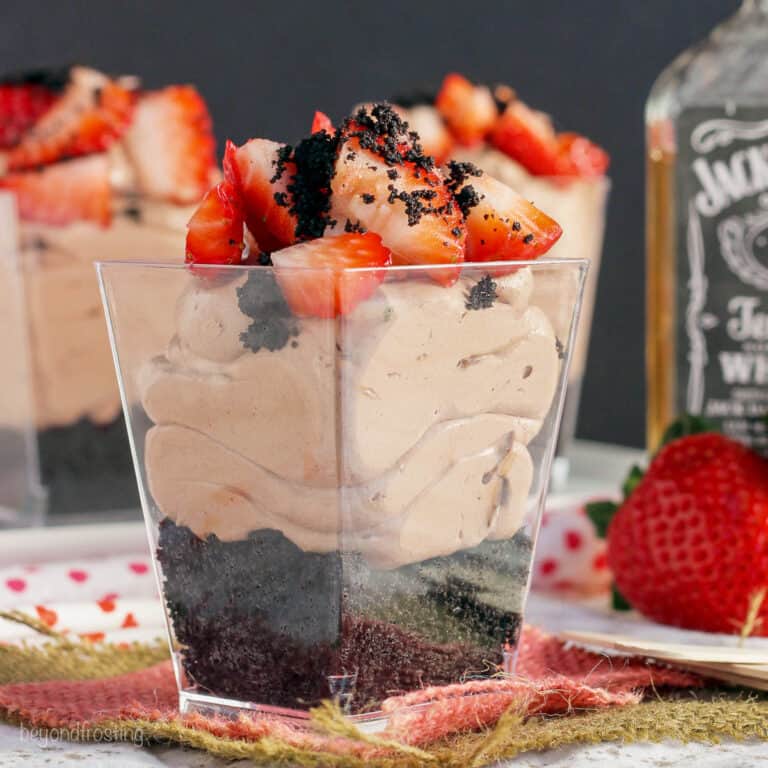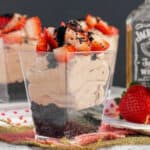 No-Bake Spiked Chocolate Parfaits
Author:

Prep Time:

15 minutes

Total Time:

15 minutes

Yield:

12-14 parfaits
Description
These No-Bake Spiked Chocolate Parfaits pack a punch thanks to the addition of whiskey!
Ingredients
12 oz

Dark chocolate chips

1

C Heavy whipping cream

1/4

C Whiskey

1

pk (8oz) Cream cheese

1

Container (8oz) Cool Whip

2

C Oreo crumbs

1/4

C Unsalted butter, melted

10

Strawberries, sliced
Instructions
In a small saucepan, heat heavy cream over medium-low heat just until bubbling. Stir to prevent the cream from burning.
In a heatproof bowl, place dark chocolate chips in the bowl and pour heated heavy cream over top of the chocolate. Allow to sit for 10 minutes until the chocolate has melted slightly. Whisk until smooth. If the chocolate is not all melted, microwave the chocolate mixture in 15-20 second increments in the microwave.
Add whiskey and stir into melted chocolate
Allow mixture to cool and refrigerate until slightly firm. I cooled in the fridge for about an hour.
In a mixing bowl, combine chocolate mixture with cream cheese. Beat until mixture is smooth. Add Cool Whip and continue to beat until well incorporated. Set aside.
Use a food processor to grind up Oreo cookies into a fine crumb. Note that I did remove the white filling from the Oreos and just used the cookie part.
In a microwave-safe bowl, melt butter for about 30 seconds.
Combine melted butter with Oreo crumbs and mix thoroughly. If the mixture still feels too dry, add an additional tablespoon of butter and pop back in the microwave for 15 seconds.
Wash, dry and dice strawberries into small pieces.
Assemble your parfaits by adding two tablespoons of the Oreo crumbs into the bottom of your parfaits. Follow with about 1/4 cup of the chocolate filling and top with strawberries. Garnish with additional Oreo crumbs.
Category:

Dessert

Method:

Refrigerator

Cuisine:

American
Keywords: no bake dessert, easy dessert recipes, chocolate parfait