This post may contain affiliate sales links. Please see my full disclosure policy for details
Celebrate with these Patriotic Rice Krispie Treat S'mores. Red and blue Rice Krispie Treats smothered in marshmallow frosting and dipped in chocolate. Finish them off by rolling in graham crackers.
As a member of the Wilton Treat Team, I created content with Wilton products. I am compensated for my work. I only work with brands I know and love. As always, my options are all my own.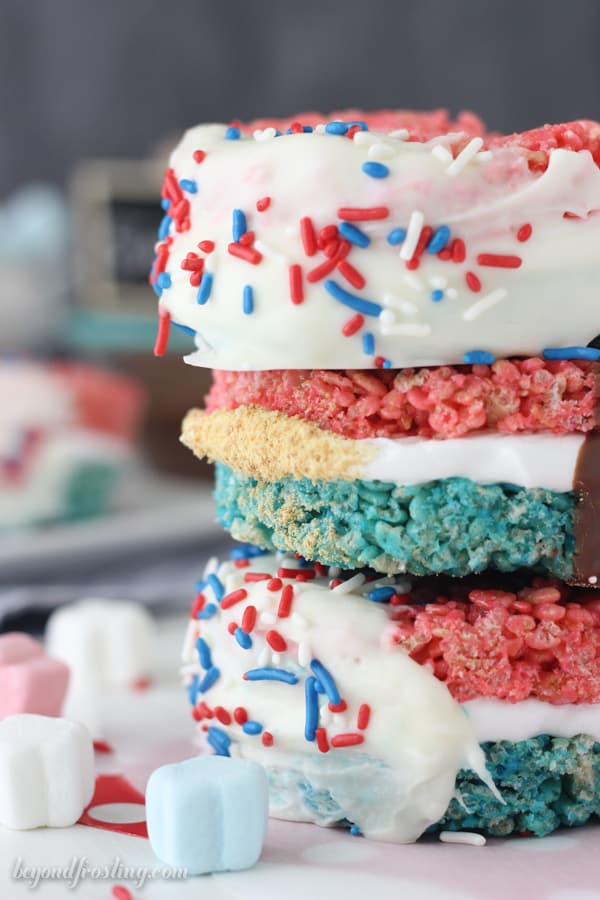 Something terrible happened this weekend: my microwave stopped working. I know, the horror, right? The heating element doesn't work, so essentially it is useless. The first thing that came to mind was, "but how will I melt my butter?" This is what I like to call a "food blogger problem". I hope we are able to get it fixed quickly, but from what I read, it's not a cheap repair. Has this ever happened to you?
Since next weekend is memorial day and all, I thought I should bust out my red, white and blue with these Patriotic Rice Krispie Treat S'mores. The idea came to me when I driving home earlier this week.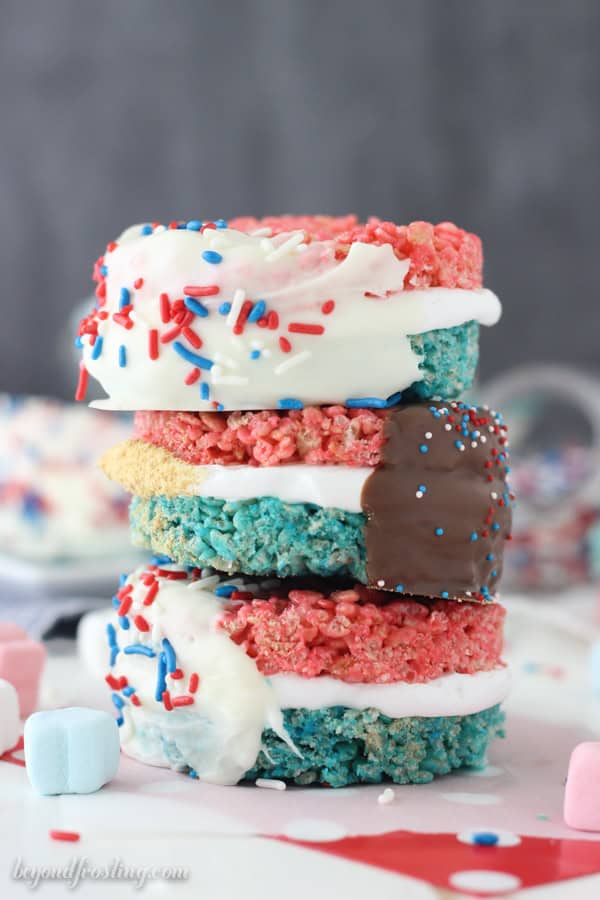 This recipe was also a great way for me to play around with the Wilton Color Right Performance Color System. I had the opportunity to test this product during the Wilton Sweet Up event last month. The Color Right system is a new product from Wilton. It is a very concentrated coloring gel, meaning that it will not thin out the consistency of the product that you are coloring (i.e. frosting).
It also comes with a color matching system that suggests how many drops of each color to add, so that you can mix the same color every time you try! I know that I find it frustrating when my frosting comes up short and I have to recolor more, it's so difficult to get the same color twice! The other thing I love about this system is it gives you tons of different color options to mix together. As much as I love the color wheel, I am not very good at using it!
This time I used the Color Right to color my melted marshmallows to help me make the red and blue Rice Krispie Treats! Since I had to do each color separately, I washed out the pans between uses. I melted the marshmallows the same way I always do, and then at the end, I added a few drops of the Color Right gel and stirred until it was well incorporated. Who doesn't love an electric blue Rice Krispie Treats?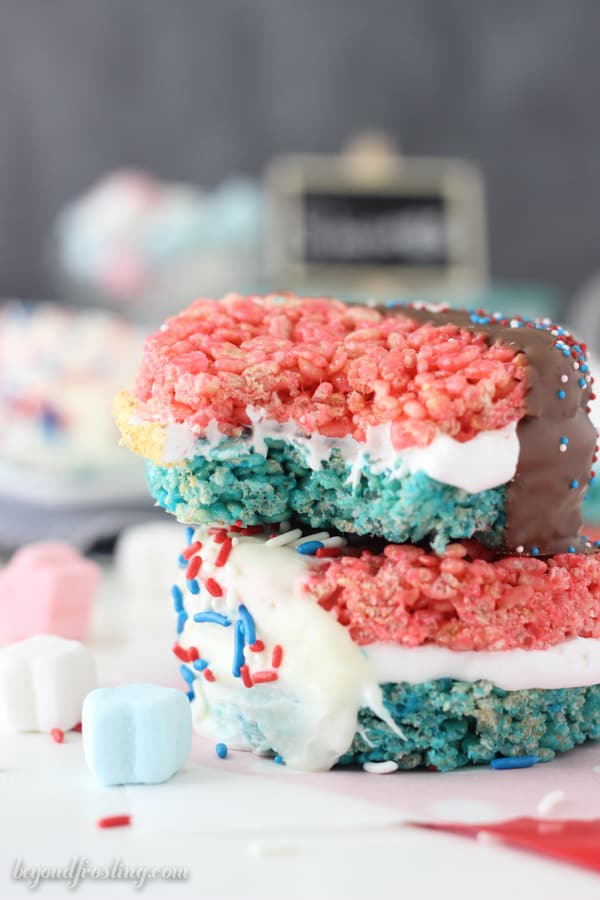 To make the Rice Krispie Treats extra thin, I used a 12" by 17" Jelly Roll Pan that was lined with parchment paper. I took the back of my spatula to spread and press out the Rice Krispie Treats into thin sheets, less than a ½" thick. Then I let them sit until they became a bit more firm.
It's always helpful to have a circular cookie cutter. A couple years ago I purchased the nesting circular cookie cutter set. I use these all the time! You should get 12 Rice Krispie circles out of each sheet of Rice Krispie treats, so that you can use one of each color for the S'mores.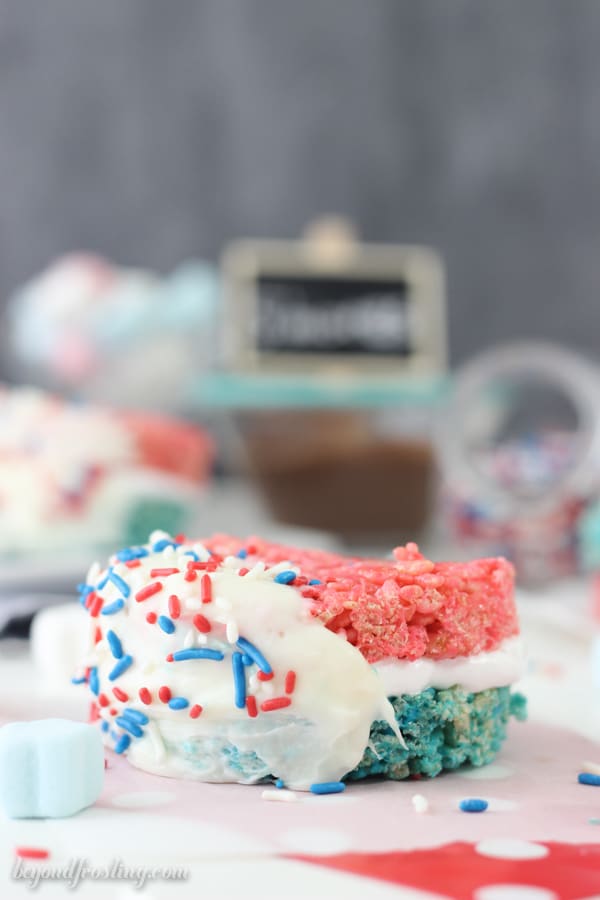 For the marshmallow frosting, I made a traditional marshmallow frosting with egg whites, sugar and corn syrup. The recipe I always use is from my friend Lauren over at Climbing Grier Mountain. However, any marshmallow frosting recipe will do. All you need to do is pipe the frosting on one side of the Rice Krispie Treat and put another one on top.
Then I took the sandwiched treats and dipped them in chocolate. For the Milk Chocolate, I used Wilton's Limited Edition S'mores Candy Melts and for the white chocolate, I used the White Candy Melts . While the chocolate is still wet, shake some patriotic sprinkles on top!
Since I didn't have my microwave, I used my Wilton Melting Pot to melt the candy melts. I always suggest to add at least 1 tablespoon of Crisco vegetable shortening to help thin out the candy melts and make then perfect for dipping.
After I dipped these treats, I let them cool on a sheet pan lined with parchment paper. Sometimes I pop these in the refrigerator to help speed up the cooling process.
The last step is to roll the opposite side in some crushed graham crackers to finish off the s'mores effect. This is optional of course. Go ahead and take a giant bite into these Patriotic S'mores Rice Krispie Treats! Just like a traditional S'more, they are ooey, gooey and full of marshmallow and chocolate.
Counting down the day until the 3-day weekend! How about you?
Helpful tools for this recipe:
Keep up with all the happenings. Follow Beyond Frosting:
Facebook | Twitter | Pinterest | Instagram
Print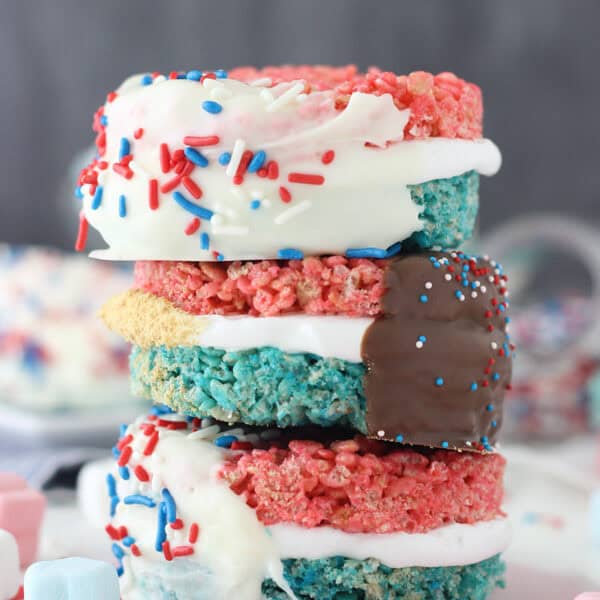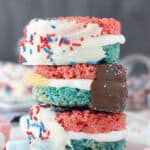 Patriotic Rice Krispie Treat S'mores.
Author:

Prep Time:

30 mins

Cook Time:

10 mins

Total Time:

40 minutes

Yield:

12 sandwiches
Description
Celebrate with these Patriotic Rice Krispie Treat S'mores. Red and blue Rice Krispie Treats smothered in marshmallow frosting and dipped in chocolate. Finish it off by rolling them in graham crackers.
Ingredients
15 oz

bags Mini Marshmallows (

1 ½

bags)

4 tbsp

Unsalted butter

1

box Rice Krispie cereal- Family Size (

24 oz

)
Wilton Color Right Blue gel
Wilton Color Right Red gel
For the marshmallow frosting

2

large Egg whites

¼ tsp

Salt

¼

C Sugar

¾

C Corn syrup (hot).

½

bag Wilton S'mores Candy Melts

½

bag Wilton White Candy Melts
Crushed Graham Crackers (optional)
Instructions
Divide Rice Krispie cereal in half. Pour half in a large mixing bowl.
Prepare the Rice Krispie Treats (RKT) by combining 2 tbsp butter and 3/4 of a bag of mini marshmallows in a medium-sized saucepan. Stir over medium heat until marshmallows are melted. Drop in 3 drops of blue Wilton Blue Color Right Gel. Stir until well combined.
Pour the blue marshmallows over ½ of the cereal. Mix with a spatula until the cereal is fully coated.
Grease a large baking pan or cookie sheet (I used 12"x17"). Spoon cereal and marshmallow mixture into the pan. Use a spatula and spread evenly. Use a piece of wax paper over the top and gently press mixture into pan. You want to have somewhat of a thin, compact layer of RKT. Leave them to harden for at least 30 minutes.
Repeat the above using the other half of your cereal and marshmallow but using Wilton Red Color Right Gel (3 drops). You should have two separate pans, one with blue Rice Krispie Treats and one with Red Rice Krispie Treats.
Prepare your frosting by following this recipe while your treats are setting. You will have extra frosting, but that's okay!
Use a juice glass or cookie cutter and cut your RKT into circles. You should get 12 of each color.
Use a spoon or piping bag to put marshmallow frosting on one side of the treat. Put the contrasting color RKT on top.
For the candy melts, if you are doing separate flavors, you can use a melting pot, or you can heat in the microwave. I used about a half bag of each the S'mores flavor and the white candy melts, which is more than you need, but you don't want to be short.
In a microwave-safe bowl, combine candy melts and one tablespoon Crisco vegetable shortening. Microwave in 45-second increments and stir occasionally until melted and smooth.
Dip Rice Krispie Sandwich into candy melts and put on parchment paper to allow chocolate to set; about 10-15 minutes. Top with sprinkles. Refrigerate to speed up.
Optional: roll one side of the Rice Krispie Treats in crushed graham crackers.
Serve within one day.
Notes
It's very helpful to spray you spatula with a cooking spray in order to help the marshmallows from sticking.
For the frosting recipe visit: climbinggriermountain.com and search fudge-brownies-with-marshmallow-frosting
Category:

Dessert

Method:

Stovetop

Cuisine:

American
Keywords: 4th of july desserts, 4th of july food ideas, rice krispie treats
Other Recipes from Beyond Frosting you might like:
The Original Rice Krispie Treat S'mores
Reese's Stuffed Rice Krispie Treats