This post may contain affiliate sales links. Please see my full disclosure policy for details
These Peach Maple Walnut Crisps with Champagne Whipped Cream are perfect for summertime. The peaches are soaked in maple syrup, brown sugar and cinnamon and layered with a brown sugar streusel.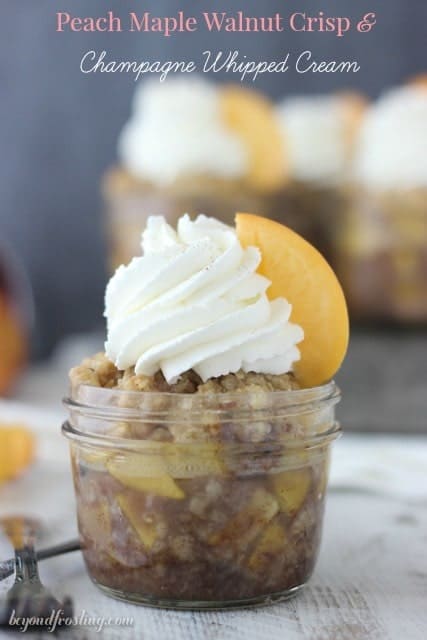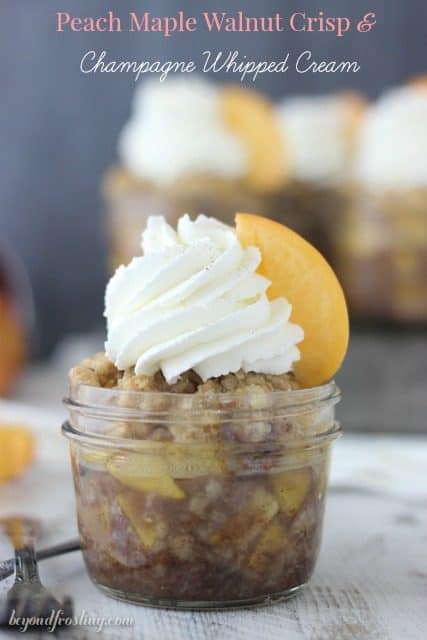 Well, it's back to reality today. After 9 days of travel, I finally arrived home yesterday. I am so happy to be back. The primary purpose of my trip was work, and just about every day was spent visiting the manufacturing facilities that make our snow product. My trip was long, and I learned a lot, but by the end I was ready to get back to normal. I will be sharing more details with you soon!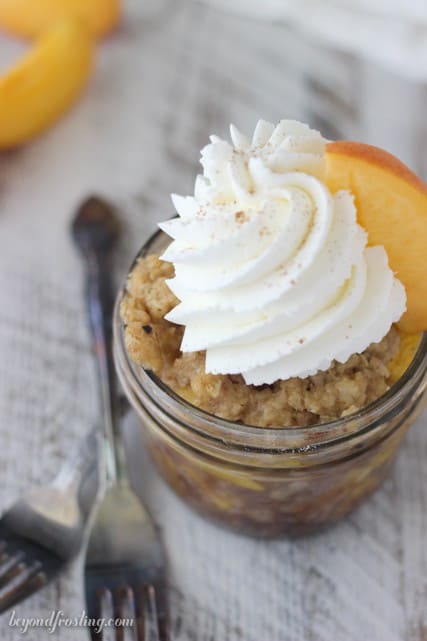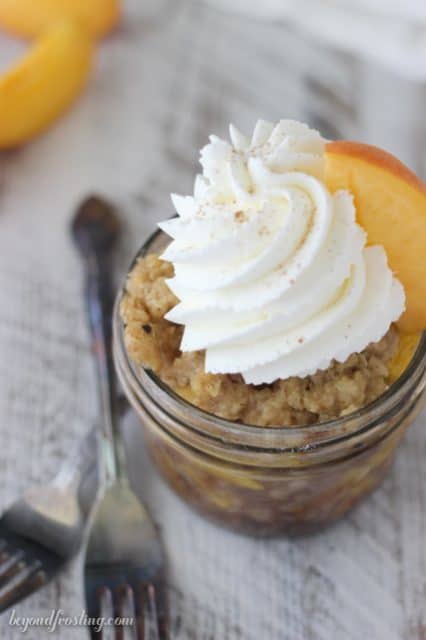 Right before I left for my trip, I made these Peach Maple Walnut Crisps and topped them with a brown sugar streusel and a Champagne Whipped Cream. Quite honestly, I am not sure what I am more excited about, the peaches or the whipped cream!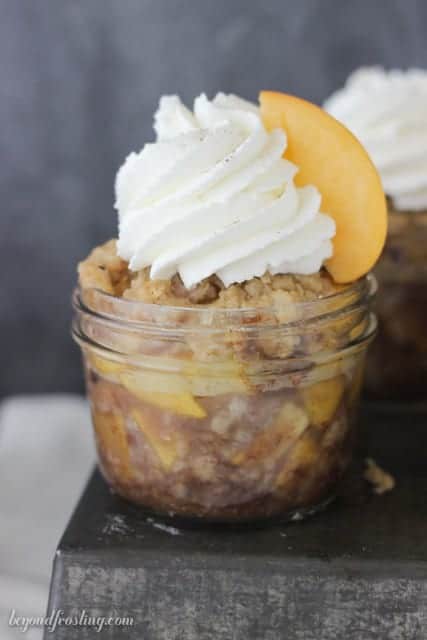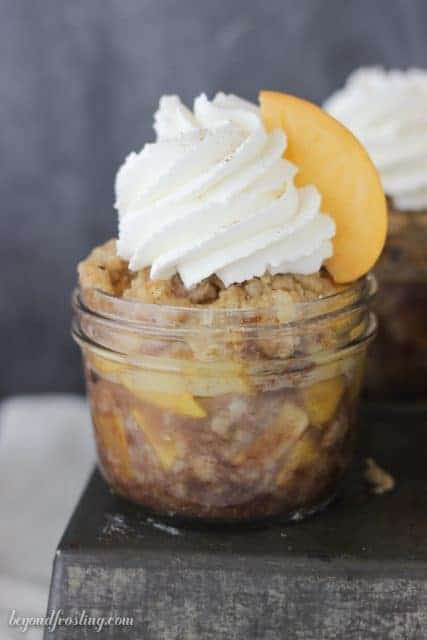 I love experimenting with different flavors of homemade whipped cream. I've made flavors like Hot Chocolate, Cake Batter, Cinnamon Maple and Coconut. This whipped cream is made with the new Wilton Treatology Flavoring System. The Champagne Whipped Cream is nice and light, with a hint of the champagne flavor. The longer I allowed it to rest, the better it tasted.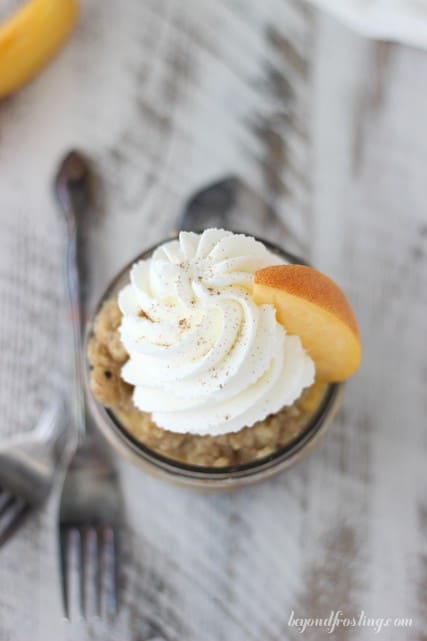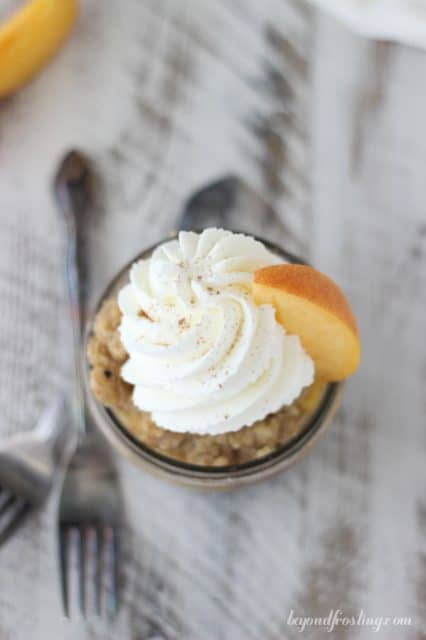 Back in April, I traveled to the Wilton Headquarters to learn about the new products they were launching this year and the Treatology System was one of them. The "system" is eight different concentrates that are not your traditional flavors. The flavors are Crisp Champagne, Salted Caramel, Juicy Peach, Sweet Meyer Lemon, Fresh Basil, Warm Cinnamon Graham Cracker, Vanilla Custard and Toasted Coconut. During one of our sessions, we got to taste test various cookies and frostings made with the extracts. I was really impressed by the variety of desserts that can be made from concentrates.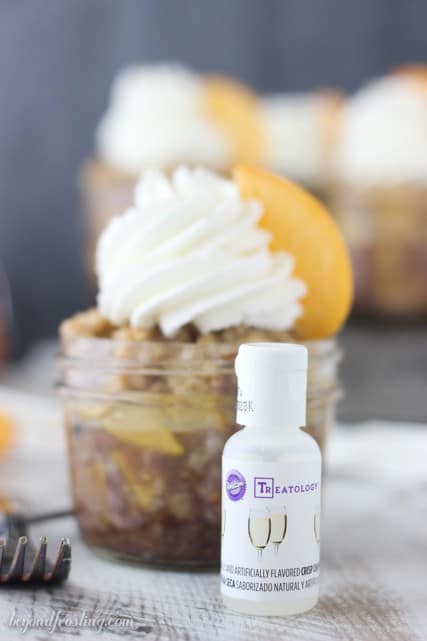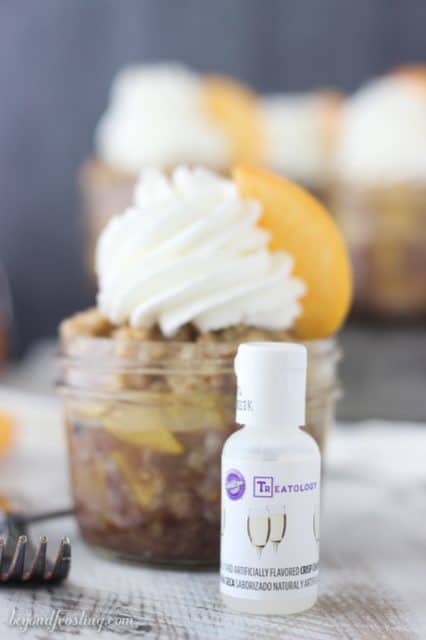 Whenever I make a peach crisp, I follow a similar formula to that of my apple pies. There are three required ingredients: maple syrup, cinnamon and brown sugar. For theses peach crisps, I just slice them up and layer them into the jars.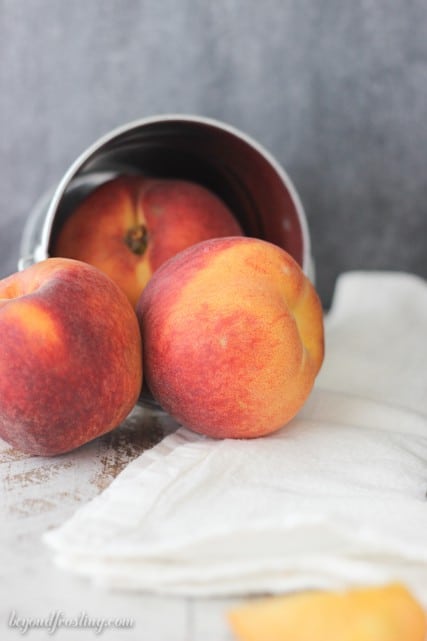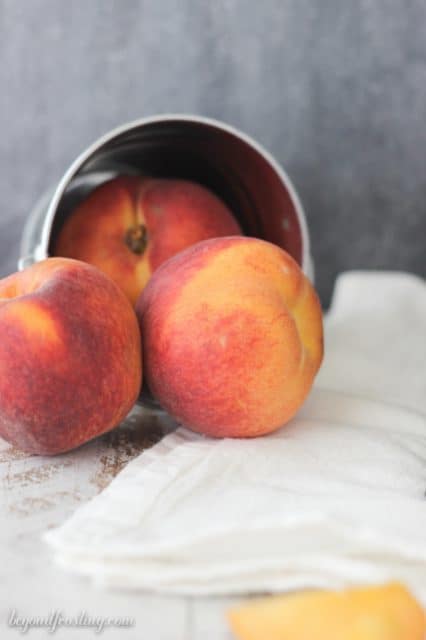 Another crucial part of a good crisp is the streusel! I am a streusel fanatic! So I started with a layer on the bottom, then some peaches, a layer in the middle, and more peaches and then I piled it up on top. The streusel on top can be patted together, and stacked extra high. When baked, the peaches will shrink a bit, so that is why I pile it high above the top of the jar.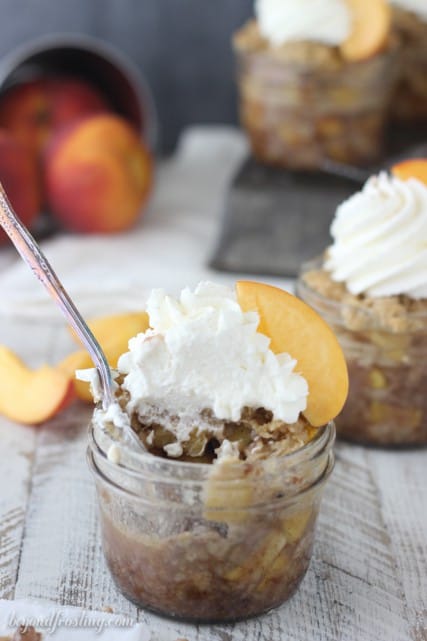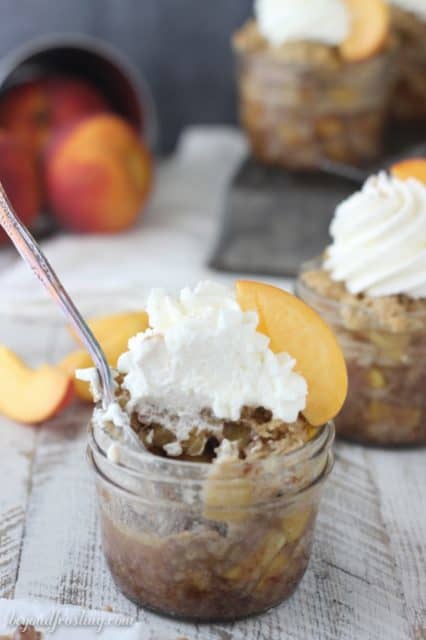 I baked these for about 35 minutes, the larger slices of peach still had a slight crunch to them, and it was awesome! It is best to allow these to rest for 30 minutes before serving. That way, all the juices settle. These are great served with a scoop of ice cream as well!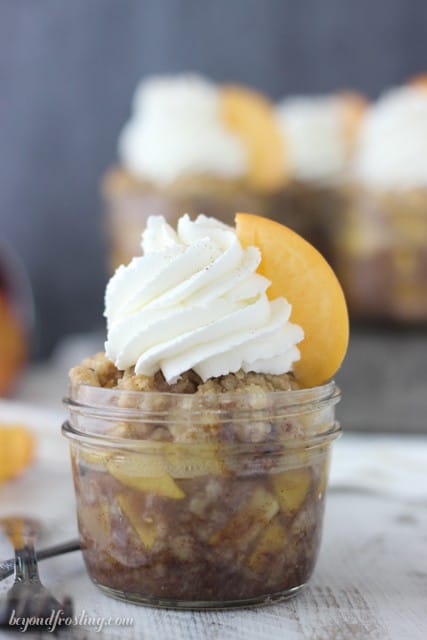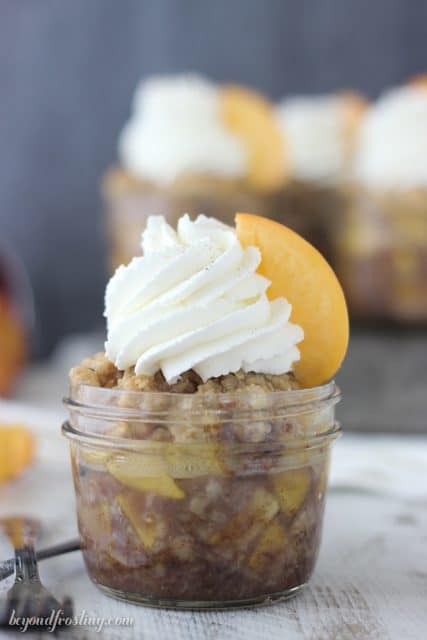 This post is sponsored by Wilton. All options are my own. As a Wilton Sweet Treat Team Member, I am compensated for my time to create these recipes. I chose to work only with brands I love.
Keep up with all the happenings. Follow Beyond Frosting:
Facebook | Twitter | Pinterest | Instagram
Print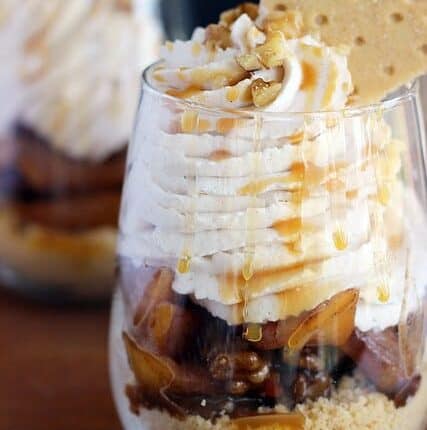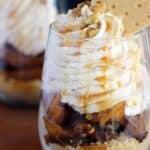 Peach Maple Walnut Crisps with Champagne Whipped Cream
Author:

Prep Time:

20 mins

Cook Time:

30 mins

Total Time:

50 minutes

Yield:

5 Jars
Description
This Peach Maple Walnut Crisps with Champagne Whipped Cream are perfect for summertime. The peaches are soaked in maple syrup, brown sugar and cinnamon and layered with a brown sugar streusel.
Ingredients
5

medium to large Peaches, peeled and sliced

¼

C Brown sugar

½

C Flour

3 tbsp

Maple syrup

2 tsp

Cinnamon

3/4

C Walnuts
For the crisp

½

C Unsalted butter

1

C Quick oats

½

C Brown sugar

½

C Flour
For the whipped cream

1

C Heavy whipping cream

½

C Powdered sugar

1 tsp

Wilton Treatology Crisp Champagne Concentrate
Instructions
Peel and slice peaches thin; quarter them if necessary.
Preheat oven to 350°F.
In a large bowl, combine sliced peaches, brown sugar, flour, maple syrup, cinnamon and walnuts. Stir until peaches are well coated.
Prepare streusel by cutting butter into small cubes. Combine butter with oats, brown sugar and flour. Use a pastry cutter or fork to mash the butter into the streusel until very well combined. It should be crumbly when finished.
Build the jars with a layer of streusel on the bottom and then fill halfway with peach mixture. Add another layer of streusel and fill the rest of the jar with peaches. Pack the top sky-high with remaining streusel.
Bake at 350°F for 30-35 minutes until peaches are fork tender. Allow to cool for 20-30 minutes to let juices to settle. Serve with ice cream and whipped cream.
For the whipped cream
Chill mixing bowl and wire whisk in the freezer for 15 minutes. Beat heavy cream on medium-high until it starts to bubble. Slowly add powdered sugar and increase speed to high. Whip on high until soft peaks start to form. Add champagne concentrate and continue to beat until stiff peaks form. Pipe onto cooled crisps.
Visit Beyond Frosting's profile on Pinterest.
Other recipes you might like: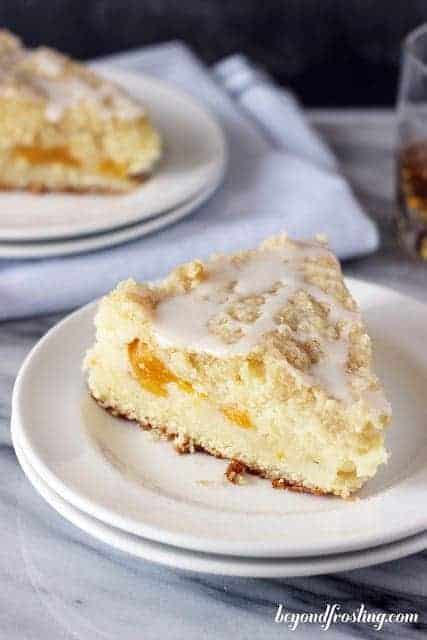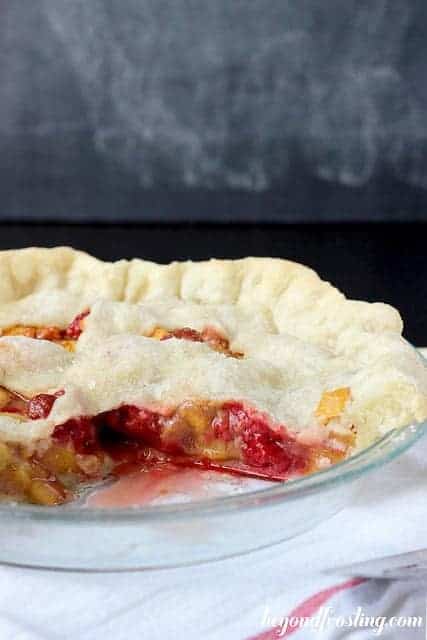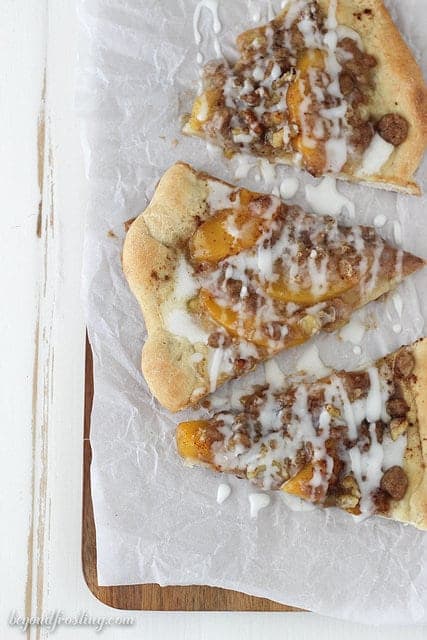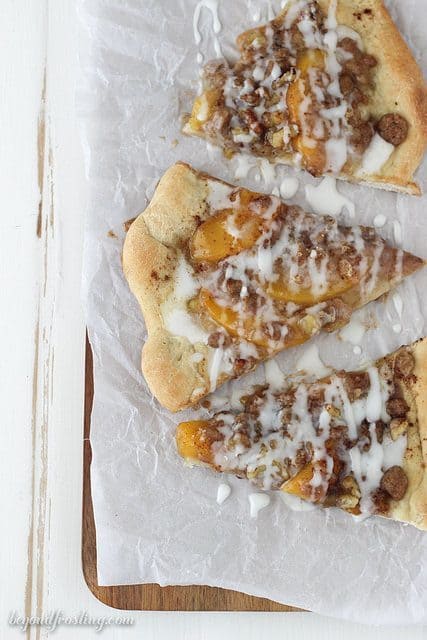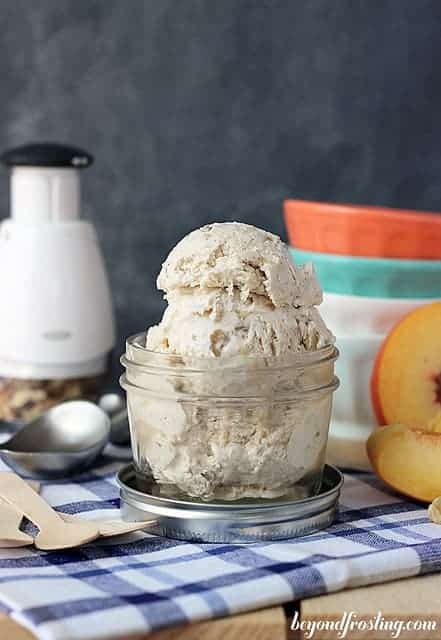 Recipes you might like from my friends:
Peach Fritters from Grandbaby Cakes
Peach Pie Cupcakes from Life Love and Sugar
Cinnamon Peach Monkey Bread from Hip Foodie Mom