This post may contain affiliate sales links. Please see my full disclosure policy for details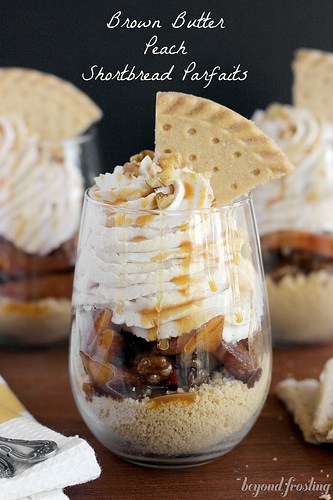 We are in the tail end of peach season, but the grocery stores here are still over flowing with peaches and I am eating up every last minute of it. Given that last week was apple week, I thought this would be a nice change up for a fall dessert. These are Brown Butter Peach Shortbread Parfaits with Maple Cinnamon Whipped Cream. I am lucky that I even had enough peaches to make these parfaits, because as soon as I tasted one out of the pan I was kinda hooked. Why haven't I ever made caramelized peaches before?
This recipe starts by browning some butter in a skillet, and adding peaches coated in brown sugar and cinnamon. There is even a splash of rum in this recipe (totally optional) to give the peaches a little extra spice. Ok, so technically, you have to turn on your stovetop, but I still call this a no-bake dessert. These are topped with the lightest, most decadent whipped cream I have made in quite some time. It is a Maple Cinnamon Whipped Cream. I used real maple syrup and a pinch of cinnamon mixed in with heavy whipping cream. In my true fashion, I took my piping bag and squeezed the leftover whipped cream right into my mouth. I am totally making this for all future apple and pumpkin related whipped cream toppings.
The base of these parfaits is loaded with Walkers Shortbread cookies. You know my friends at Walkers, right? I have been blogging for them for several months now, sharing things like Lemon Raspberry Shortbread Magic Bars, Chocolate Shortbread Mousse Parfaits, Espresso Chip Magic Bars and PBJ Mini Shortbread Cookie Sandwiches. You can check those out in the bottom of this post. Anyway, Walkers Shortbread cookies make the perfect compliment to these peach parfaits. The buttery shortbreads quite literally melt in you mouth and offset the sweetness of the peaches. You will need an extra long spoon for these to make sure you get a bite of cookie, peaches and whipped cream!
Print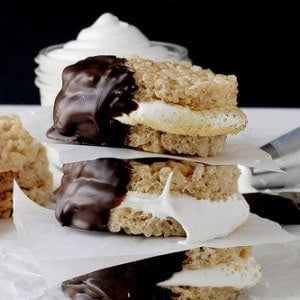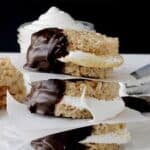 Brown Butter Peach Shortbread Parfaits with Maple Cinnamon Whipped Cream
Prep Time:

30 minutes

Cook Time:

15 minutes

Total Time:

45 minutes
Ingredients
4

Large peaches

1/4

C Light brown sugar

1 1/2 tsp

Cinnamon

1/4 tsp

Nutmeg

1/4

C Chopped walnuts

2 tbsp

Unsalted butter

1 tsp

Pure vanilla extract

1 tbsp

Spiced rum (optional)

2

C Walkers Shortbread Crumbs (

2

boxes)
For the Whipped Cream:
2

C Heavy whipping cream

3 tbsp

Pure maple syrup

1 1/2 tsp

Cinnamon
Caramel to drizzle
Cookies for garnish
Instructions
Wash and slice peaches into thin slices. Toss peaches with brown sugar, cinnamon, nutmeg and walnuts to ensure all peaches are thoroughly coated.
In a skillet over medium-high heat, melt butter and continue to stir until butter turns to a golden brown (3-5 minutes).
Add peaches to browned butter followed by vanilla extract and rum. Use a spatula to turn peaches over to coat with butter. Simmer over medium-high heat for 10-12 minutes until peaches are soft but not mushy. Stir occasionally to prevent them from sticking to the bottom of the pan. Once finished, allow to cool completely.
While the peaches are cooking, use a food processor to grind up shortbread cookies into a fine crumb. For this recipe, I used two boxes of Walkers Shortbread Rounds. It makes just under two cups. You can use any flavor of their buttered shortbreads for this recipe.
For homemade whipped cream, I always put my bowl and whisk in the freezer for 10 minutes before making it. The added coldness helps keep the whipping cream cool while it is mixing. Using the wire whisk attachment, whip heavy cream on medium-high speed for several minutes until stiff peaks form.
Slowly add maple syrup one tablespoon at a time, ensuring that each tablespoon is well mixed before adding the next. Add cinnamon. Feel free to add more for a more intense cinnamon taste.
To assemble the parfaits, spoon about 1/2 cup of shortbread crumbs in the bottom of each glass. Divide peaches evenly among the 4 glasses and top with whipped cream.
I garnished these with caramel drizzle and with a Walkers Petticoat Tail Shortbreads
Serve immediately or keep refrigerated until ready to serve.
You can make the peaches in advance and even the whipped cream as well. You will have a bit of leftover whipped cream, but I promise you won't be bummed about that. If you do not like that much whipped cream on your desserts, I suggest to halve the recipe. I made these parfaits in some stem less wine glasses, but I also think these would be cute in small mason jars!
Guys- get in on this deal. Walkers is offering my reads 25% off their total purchase (excluding sale items) from now until September 23rd. The promo code is BFFRUIT. Head over to the Walkers online store.
Walkers Shortbread provided me with a free samples of these cookies to review. All opinions expressed in this post are my own. I was not compensated for this post.
This post may be link up at Tuesday Talent Show, Time to Sparkle, and Wake Up Wednesdays.
Don't miss my other Walkers Recipes:
Lemon Raspberry Shortbread Magic Bars
Chocolate Shortbread Mousse Parfaits
Espresso Chip Cookie Dough Bars
PBJ Mini Shortbread Cookie Sandwiches