This post may contain affiliate sales links. Please see my full disclosure policy for details
I love seasonal flavors. The only problem is, that the seasonal flavors I love are not available year round. I guess that is what makes them seasonal. When Jif released their Whipped Pumpkin Spice Peanut Butter I KNEW I had to try it. A lot of brands try to make pumpkin spice flavored items, but not very many succeed. Jif has hit the nail on the head with this one.
When I dipped my graham cracker into this smooth peanut butter, I thought it might make the perfect frosting. I have used a previous Jif peanut butter for a frosting on this cupcake. There was no doubt, this Peanut Butter Pumpkin Spice Frosting was the perfect fall frosting for cupcakes or even cookies!
The frosting starts similar to a basic buttercream, meaning that the butter is beat on medium to medium-high speed with the paddle attachment. Since the peanut butter is already whipped, light and fluffy, it is important to get the butter to a similar consistency.
After the butter and peanut butter have been creamed together, you start to add the powdered sugar. Now for this recipe, I added a little extra pumpkin pie spice for flavor, but it is certainly not needed. If you like a really stiff frosting (which is harder to pipe), then you can add a bit more powdered sugar. Or, if you like a softer frosting, you can reduce the powdered sugar.
The key to any good frosting recipe is the addition of heavy cream. I know heavy cream can be quite the expensive ingredient, so if it not readily available, it can be substituted with milk. The thing is, heavy cream adds a smooth consistency, and after it has been whipped into the butter, it helps to add a bit of air and "fluff" to the frosting.
I often go to Trader Joes and buy their shelf stable heavy whipping cream because it is just over $1, and it's about a 1 cup serving. That way, when I need to add it to frosting, I don't feel like I am wasting it.
I served this frosting paired with a dark chocolate cupcake, which seemed to be just the right flavor combination. However, it would also be wonderful with a pumpkin cupcake! Pumpkin and chocolate are probably not the most popular flavor combination, but let me tell you, it is totally worth a taste!
*this post is no way associated with Jif. I just happen to really like this peanut butter.
Keep up with all the happenings. Follow Beyond Frosting:
Facebook | Twitter | Pinterest | Instagram |
Don't forget to save your favorite recipes to your recipe box with the

button! You can create a meal plan and a shopping list all in the same place!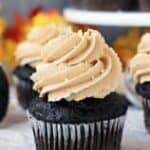 Peanut Butter Pumpkin Spice Frosting
Prep Time:

15 minutes

Total Time:

15 minutes
Ingredients
1 1/2

C Unsalted butter (

3

sticks) at room temperature

1

C Jif Whips Peanut Butter Pumpkin Spice spread

5

C Confectioners sugar

1 tsp

Pumpkin pie spice (optional)

2 tbsp

Heavy whipped cream
Instructions
Allow butter to soften to room temperature but not so soft that it's melting.
Using the whisk attachment on your stand mixer, whip butter for 3-5 minutes on medium-high speed until butter starts to lighten in color. You can't really over whip here, so don't be too concerned.
Add Jif Whips spread and continue to beat on medium-high speed until well combined.
Slowly add confectionary sugar, one cup at a time; ensure sugar is well mixed before adding the next cup. Add pumpkin pie spcie.
Last, add heavy whipping cream and continue to beat on medium high speed for another few minutes until you reach desired consistency. The higher the speed you use to whip, the lighter the frosting becomes.
Notes
This recipe makes enough to frost 24 cupcakes. For a more stiff frosting, add additional powdered sugar. Otherwise, for a thinner frosting, add less powered sugar and a little bit of extra heavy whipping cream.
Recipe Card powered by
Recipes from my friends:
Pumpkin Chocolate Cheesecake from Life Love and Sugar
Pumpkin S'mores Cupcake from Something Swanky
Chocolate Pumpkin Cake from I Am Baker
Other recipes you might like:
Reese's Peanut Butter Cup Cheesecake