This post may contain affiliate sales links. Please see my full disclosure policy for details
These Peeps Rice Krispie Treat S'mores are a festive, colorful Easter treat made with everyone's favorite Easter candy!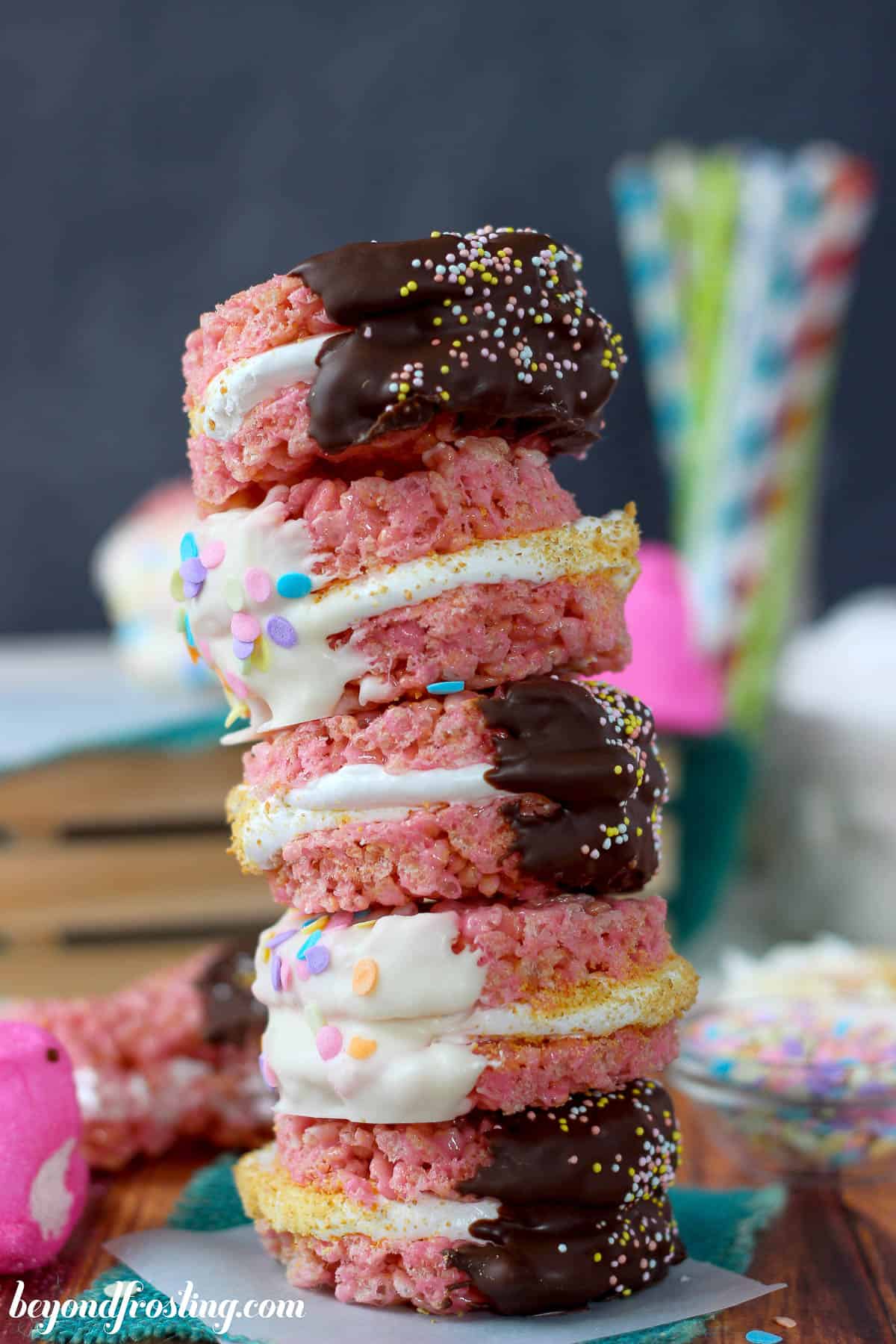 Before we dive into a giant pile of sugar, let's talk fitness for a minute. I have been doing T25 and I just finished my third week. I have been doing it fairly consistently, but I am not seeing the results as quickly as I was hoping for. Nor are the workout getting any easier. Then, I got into my monthly weigh in at Weight Watchers yesterday and there is a freaking giant chocolate cake sitting out with a "help yourself" sign. That has to be illegal right? Like who in their right mind thought it would be a good idea to put out a chocolate cake at a weight watcher meeting. Come on people.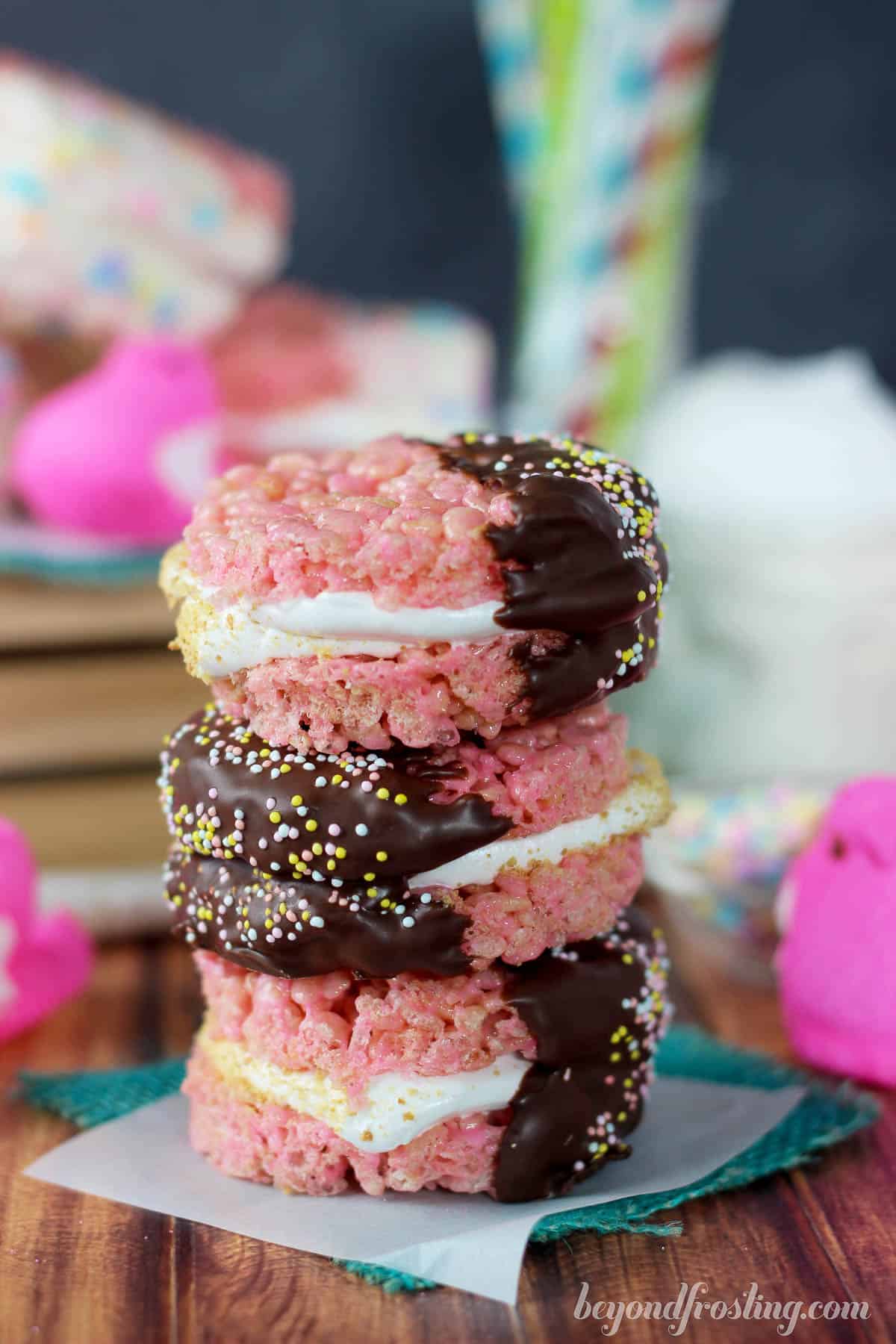 It's time to sweet gears to Easter recipes. Over the next three weeks, I am going to be sprinkling them in here and there. I don't usually associate any holidays with candy more so than Easter. I love the colors, the bunnies and the Cadbury Eggs.
Well I do have to admit, I do not LOVE Peeps, and will usually trade them to my friends. However, I have a special treat for my Peeps-loving friends (you know you are!). I made you Peeps Rice Krispie Treat S'mores.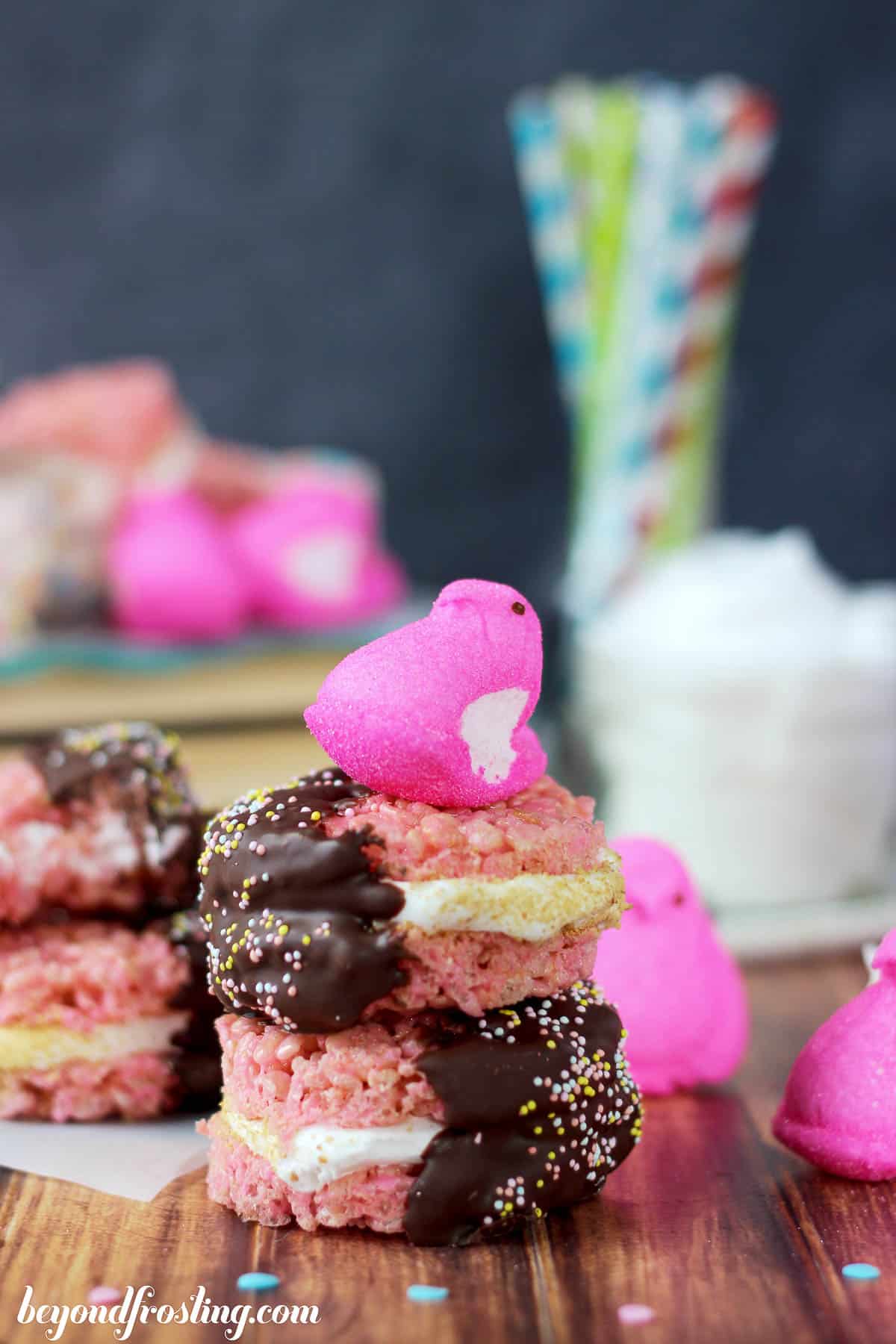 Let's start with the Rice Krispie Treats. Instead of using regular marshmallows, I used Peeps- 3 packages of them, mixed with a little butter until they melted. Combine the melted peeps with the Rice Krispie cereal and then press into a large sheet pan. The pan I use is larger than most, it's 12"x17", but this helps keeps them thinner and easier to work with. After the marshmallow has set, use a cookie cutter to out the circles.
The Rice Krispie Treat S'mores are sandwiched together with marshmallow frosting, a sprinkle of graham crackers and dipped in chocolate. I added some pastel color sprinkles, I just love the colors. For the chocolate, I suggest to use a brand like Candiquik. It melts easily and hardens quickly. For the marshmallow filling, I am going to send you over to Lauren's website. It's the best homemade marshmallow frosting I have ever had, and I use it every time. I also reference this post to melt the peeps.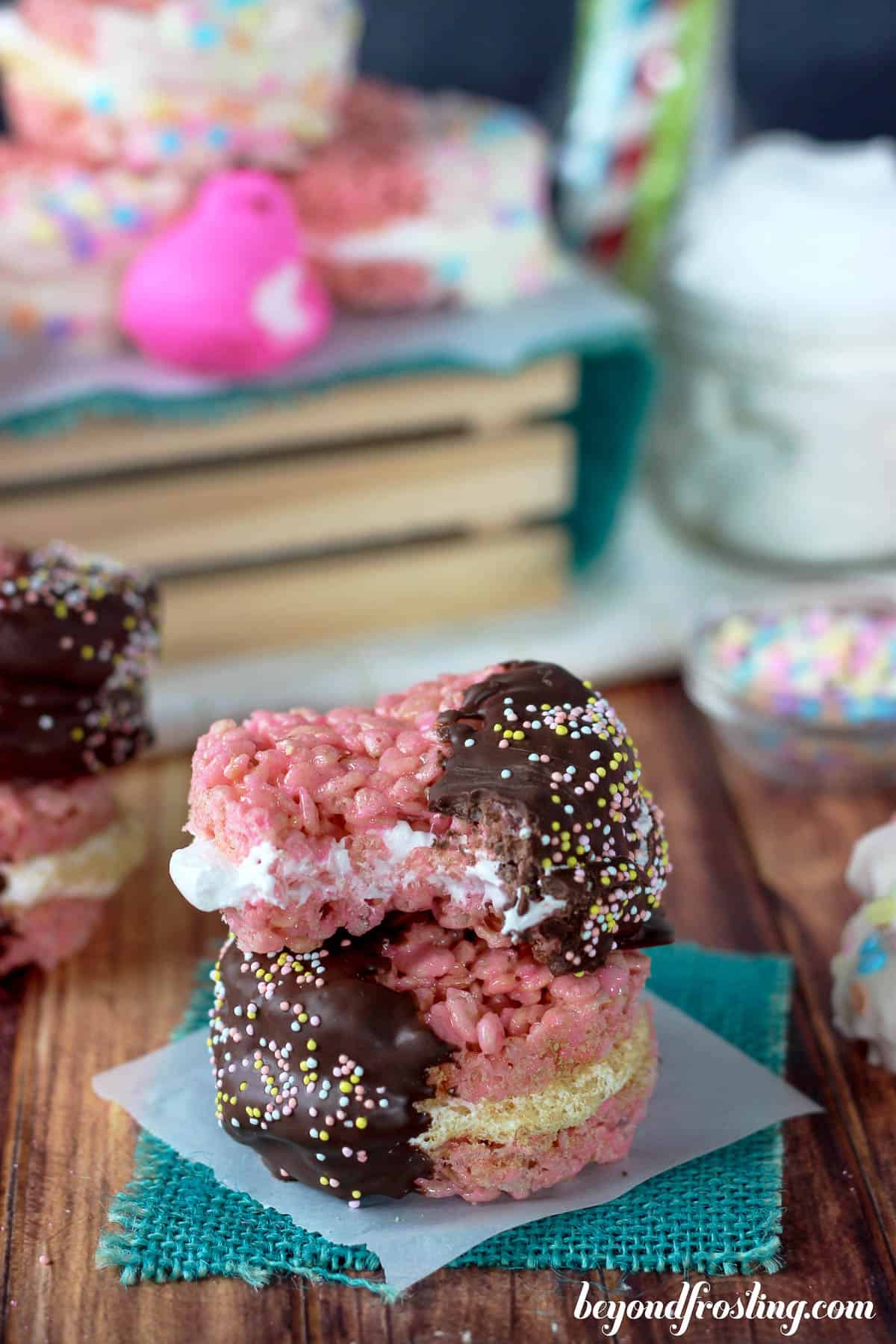 I love taking a bite into these Peep Rice Krispie Treat S'mores. The melted Peeps add a little bit of sweetness to the Rice Krispie Treats. The marshmallow filling is light and airy and the thin layer of chocolate cracks perfectly with each bite. The only problem with these is that I can't have enough of them.
Print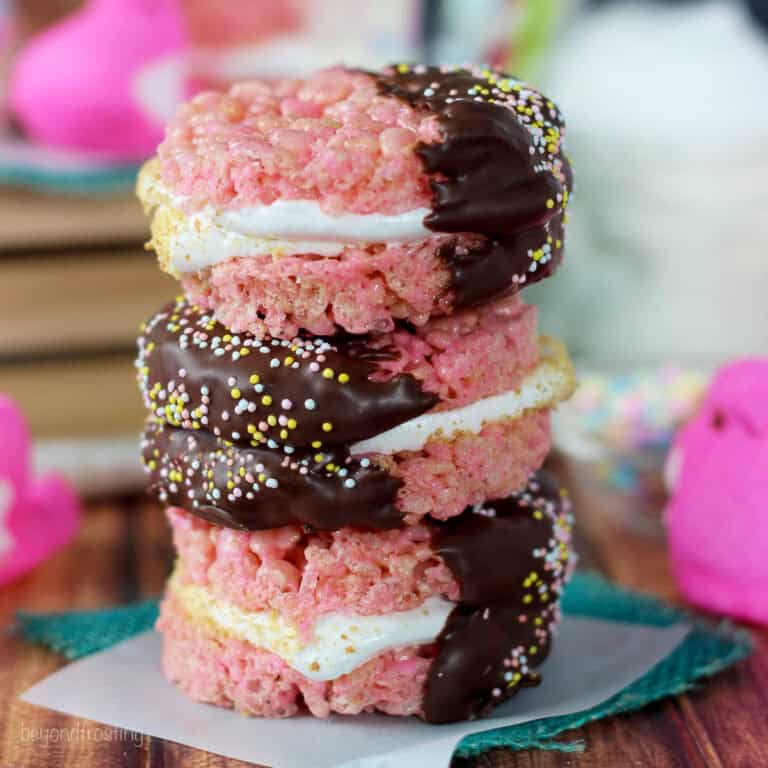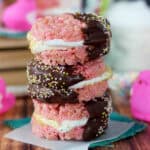 Peeps Rice Krispie Treat S'mores
Author:

Prep Time:

15 minutes

Cook Time:

10 minutes

Total Time:

25 minutes

Yield:

12 servings
Description
Peeps Rice Krispie treats are sandwiched together with marshmallow frosting, a sprinkle of graham crackers and dipped in chocolate for a fun and festive Easter recipe!
Ingredients
3 tbsp

Unsalted butter

30

Peeps

6

C Rice Krispie cereal

1/4

C Graham cracker crumbs

6 oz

Chocolate for melting

1

batch Marshmallow frosting.
Instructions
Prepare the Rice Krispies treats by combining butter and peeps in a medium sized sauce pan. Allow Peeps to start to melt before stirring. Stir over medium heat until Peeps are melted. Pour the cereal in the sauce pan and stir until well mixed.
Grease a large baking pan or cookie sheet (I used 12"x17") or two smaller pans with Crisco. Spoon cereal and marshmallow mixture into the pan. Use a spatula and spread evenly. Use a piece of wax paper over the top and gently press mixture into pan. You want to have somewhat of a thin layer of Rice Krispie Treats, which is why I suggest using two pans. Leave them to harden for at least 30 minutes.
Prepare your frosting by following this recipe while your treats are setting. You will have extra frosting, unless you made a double batch of treats.
Use a juice glass or cookie cutter and cut your Rice Krispies treats into circles (Allow your editor to immediately consume all remaining Rice Krispies Treats, because he loves them).
Use a spoon or piping bag to put marshmallow on one side of the treat.
Spoon some graham cracker crumbs on top and cover with a second Rice Krispie treat circle.
Use a microwave safe bowl and melt chocolate in 30 second increments, stirring after each 30 seconds until chocolate is melted.
Dip Rice Krispies Sandwich into chocolate and put on wax paper to allow chocolate to set; less than five minutes. Garnish with sprinkles immediately after dipping.
Category:

Dessert

Method:

Stovetop

Cuisine:

American
Keywords: rice krispie treats, easter desserts, easter treats