This post may contain affiliate sales links. Please see my full disclosure policy for details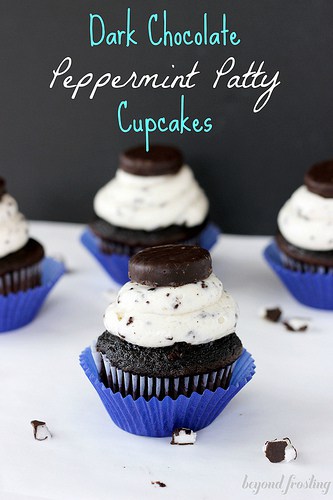 I interrupt this apple and pumpkin filled month to bring you some Peppermint Patty Cupcakes. On top of my love for fall desserts, mint chocolate combinations are the way to my heart. I despise convenient stores. With all the road trips we take, I find it very difficult to ever find anything to snack on. It's pointless, because rarely can you find something that would be considered healthy. Do you go with salty or sweet? When I decide to give in to the temptation, my convenience store snack is peppermint patties. I have an undying love for mint chocolate. I think there is something about the oversized peppermint patty that just makes me happy. I think it's the dark chocolate.
So I took some peppermint patties and mixed them into some frosting. These Peppermint Patty Cupcakes remind me of mint chip ice cream. The frosting to is so smooth and creamy, full of peppermint flavor that contrasts a dark chocolate cupcakes. There is also a layer of dark chocolate ganache filling inside these cupcakes.

Print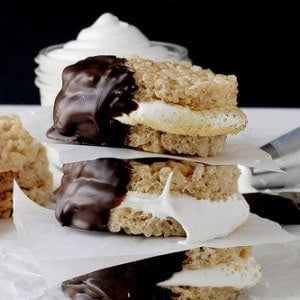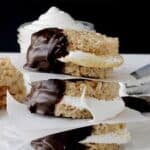 Dark Chocolate Peppermint Patty Cupcakes
Prep Time: 20 minutes
Cook Time: 14 minutes
Total Time: 34 minutes
Yield: 24 Cupcakes
Ingredients
For the cupcakes
4 oz Dark chocolate chips
1 box Chocolate cake mix
3 Large eggs
1 1/2 tsp Pure vanilla extract
3/4 C Water
1/3 C Oil
1/2 C Sour cream
For the frosting
1 1/2 C (3 sticks) Unsalted butter at room temperature
12 peppermint patties
4 C Confectionary Sugar
3 tbsp Heavy whipping cream
Instructions
Preheat oven to 350°
In a microwave safe bowl, melt chocolate chips for 45-60 seconds or until melted. Stir until smooth and set aside.
In a medium sized bowl, combine cake mix with remaining ingredients and mix until combined. Add melted dark chocolate last and mix into batter.
Line a cupcake pan with cupcake liners and fill each liner 2/3 full of batter.
Bake at 350° for 12-15 minutes. Check for doneness by inserting a toothpick in the middle of the cupcake. If the toothpick comes out clean, your cupcakes are done.
Allow cupcakes to cool for five minutes before transferring to a wire rack to cool them completely.
Peppermint Patty Frosting
Allow butter to come to room temperature.
Remove peppermint patties from wrappers and use a knife to chop into small pieces
Using the wire whisk attachment on your mixer, whip butter for several minutes until light and fluffy. You may have to stop the mixer every so often and scrape the butter off the attachment. Butter should turn light in color.
Slowly add powered sugar one cup at a time. Alternate one cup of powdered sugar with one tablespoon of heavy whipping cream. After adding the 4th cup of powdered sugar, increase speed to medium high and beat for another 3-4 minutes.
Add peppermint patties last and mix until combined.
This frosting will just melt in your mouth with every bite. If mint and chocolate is your thing, than this cupcake it right up your alley.
This post may be link up at Marvelous Mondays, Tuesday Talent Show, Time to Sparkle, and Wake up Wednesdays.