This post may contain affiliate sales links. Please see my full disclosure policy for details
A couple weeks ago, I traveled to Seattle, Washington for a culinary experience and to get to know my newest brand partner, Sahale Snacks. While my trip was sponsored by Sahale, all opinions are my own.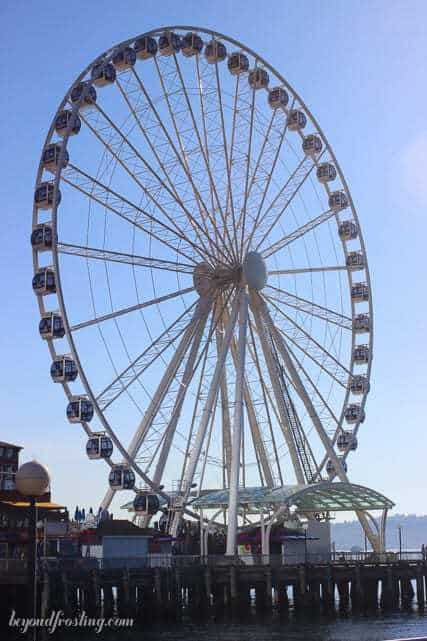 I never really thought of myself as a city girl. Cities are stressful to me. They are busy, inconvenient and I've always felt on the "outside" when I am in a big city. Well this year, I have had the opportunity to explore a few west coast cities and I was absolutely blown away with how much I loved it.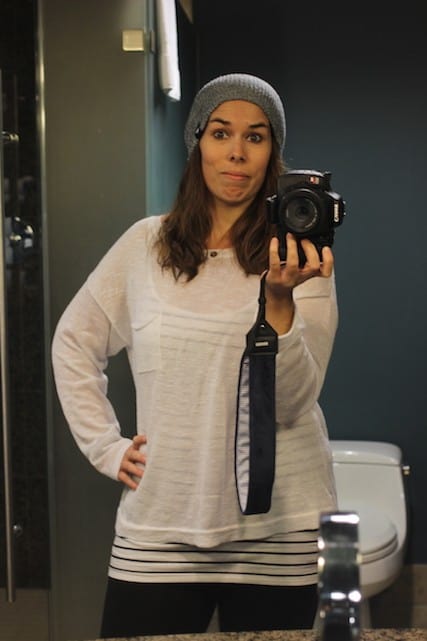 On my recent trip to Seattle, I fell head over heels in love, if you can't tell from my photo above (#inevertakeaselfie). Sure, the weather was absolutely perfect after the sweltering fall season we have here. I argue that weather has nothing to do with it. The city has so much to offer and this is just the beginning of my Seattle adventure I am going to share with you today.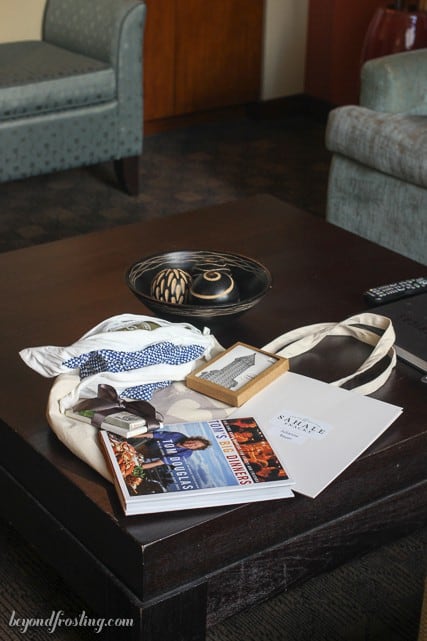 When Sahale Snacks invited me to come to Seattle for a little bonding time, I couldn't pass up the opportunity. Sahale was a new-to-me brand that I recognized from stores like Starbucks and Costco, and I was excited to learn more about them.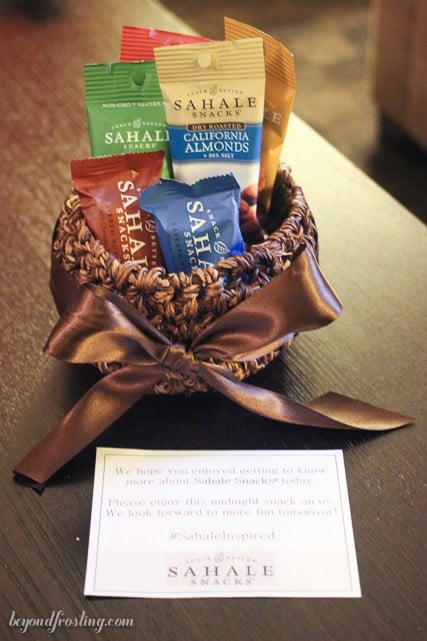 I first read about the story of how the founders, Edmond and Josh decided to start the brand and it resonated with me. After my trip, I knew exactly what I loved about Sahale. They share a passion for adventure and they treat food as an experience.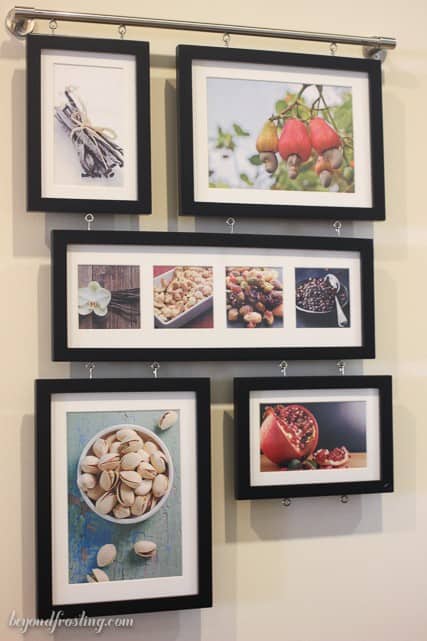 I arrived a little early and had a few hours to explore the city. I don't normally explore on my own, but I easily found my way around! Thank goodness I grabbed a city map because my cell phone totally died and I was able to make my way back to the hotel without having to get a cab! Really I just wanted to frolic in the leaves like a child.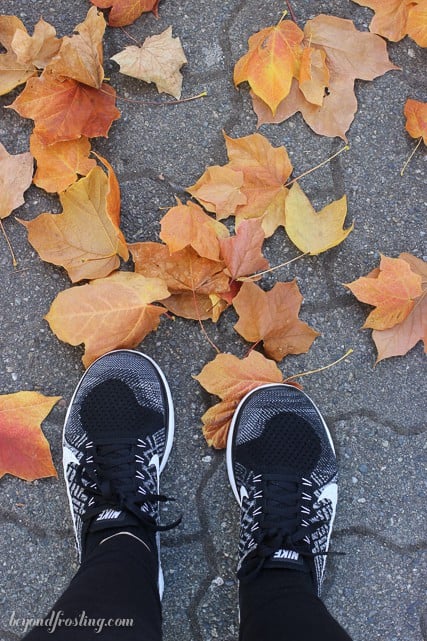 Our evening started off with Dinner at Urbane. They put together a super fun remix using Sahale Snacks as an ingredient. While I don't love figs, I thought their Fig appetizer was so pretty! They had poutin on the menu and I couldn't resist trying it! It has been years since I had poutin. I did not know it at the time, but they have it all over the city! I ended up ordering it at three different restaurants.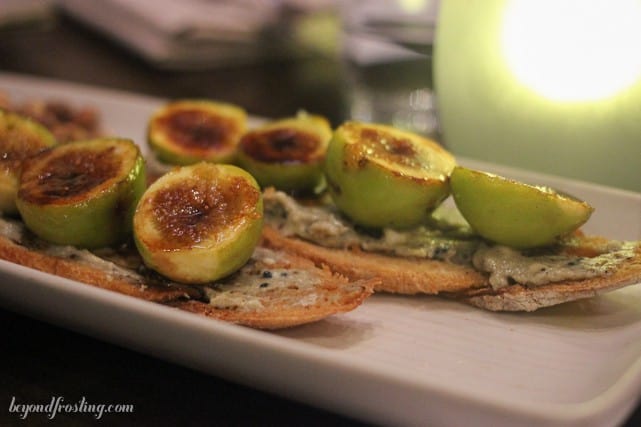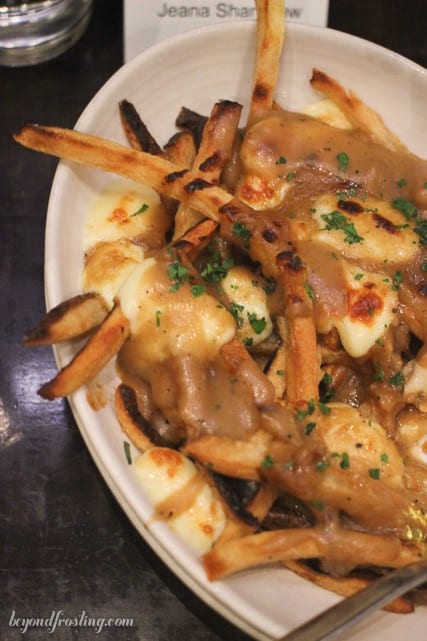 The next day we spent the morning at the Sahale headquarters which is located just outside the city. We had a great informational session where we learned more about the history of Sahale and what makes them different from other snack brands.
They use only whole, dry roasted nuts and naturally dried, unsulfured fruits
None of their products have artificial ingredients or preservatives
They choose ingredients with a story and seek to find the best ingredients available
"Thoughtfully sourced, carefully crafted, committed to community."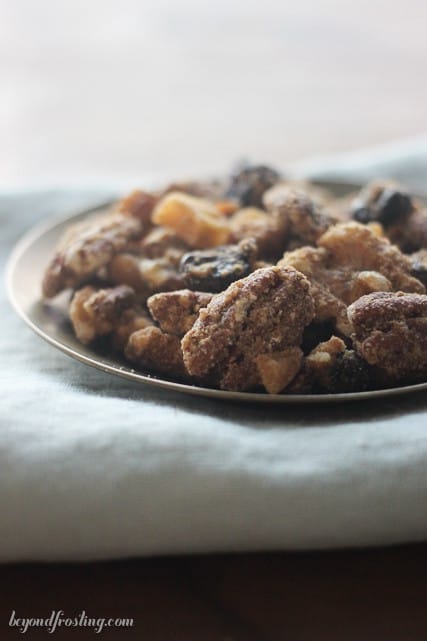 We had the pleasure to spend time with Edmond, one of the founders and listen to him talk about what inspired him to start the brand, how they started and what they do to continue to evolve their product.
I learned that Edmond and Josh traveled to Vietnam last year to a cinnamon farm north of Hanoi along the boarder of China. There, they learned more about how cinnamon was farmed and how they could become a long term partner with this farming community. They are also working to support efforts in Vietnam to remove old and unexploded bombs that are buried in the ground leftover from the war. Edmond and I had a chance to further discuss his and my trip to Vietnam and I offered to meet him there on his next trip!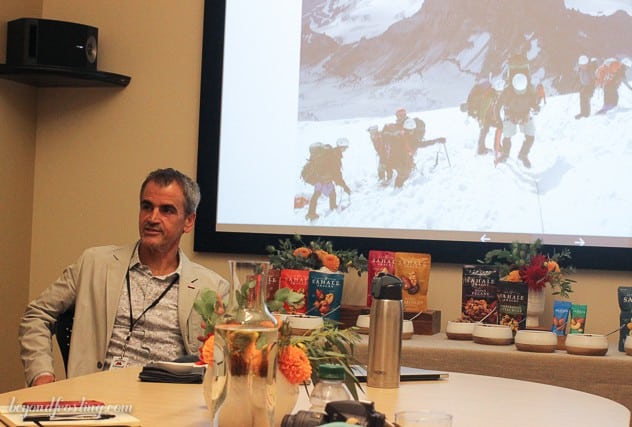 Part of our morning was spent touring the factory where the actual products are made. I love a good reallife episode of "how it's made". As soon as you step foot out of the offices, there was a warm vanilla smell that surrounded the air. I wish I could have bottled that smell up!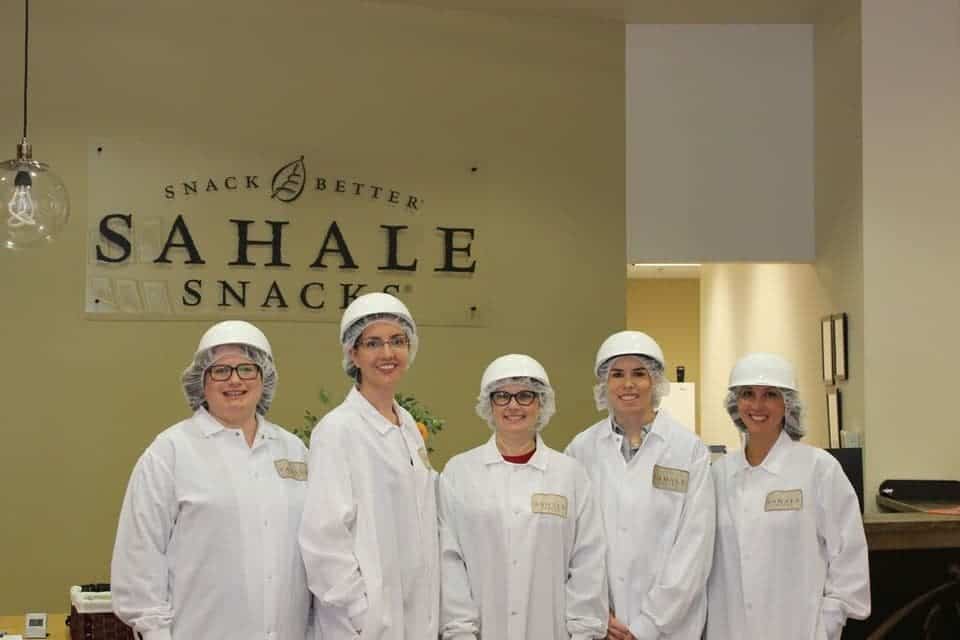 We saw the process from start to finish: roasting the nuts, preparing the ingredients for each of the blends, mixing the blend and cooking them, packaging them up and shipping them out. Since I have worked in a chocolate shop in high school, I was aware of some of the processes they were using, but I had tons of questions for the operations manager, and he was happy to answer them all! I can't share any of the behind the scenes photos with you unfortunately, but I did enjoy every minute of it! We're were so official.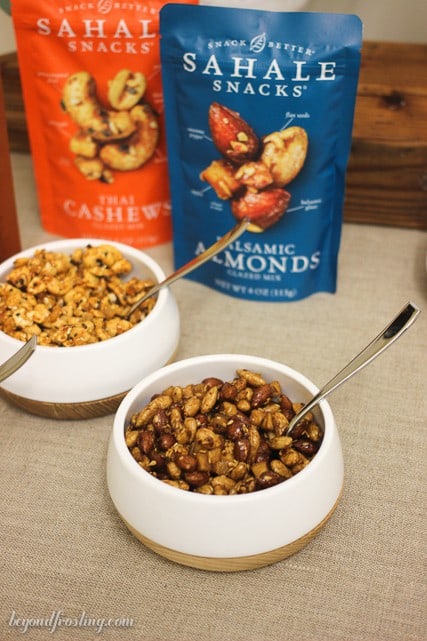 In the afternoon, Sahale treated us to a hands on photography session with their food stylist and photographer, David Clugston. He is the mastermind behind the product packaging which focuses on highlighting the ingredients up close and personal. We learned a bit about their process and had a chance to pepper them with question about styling and shooting, and we even got to snap a few photos ourselves.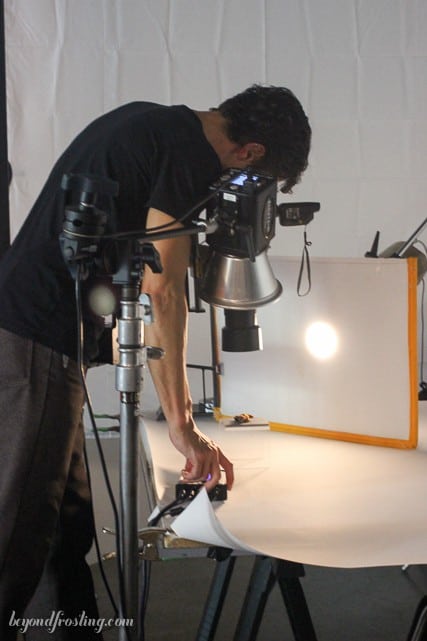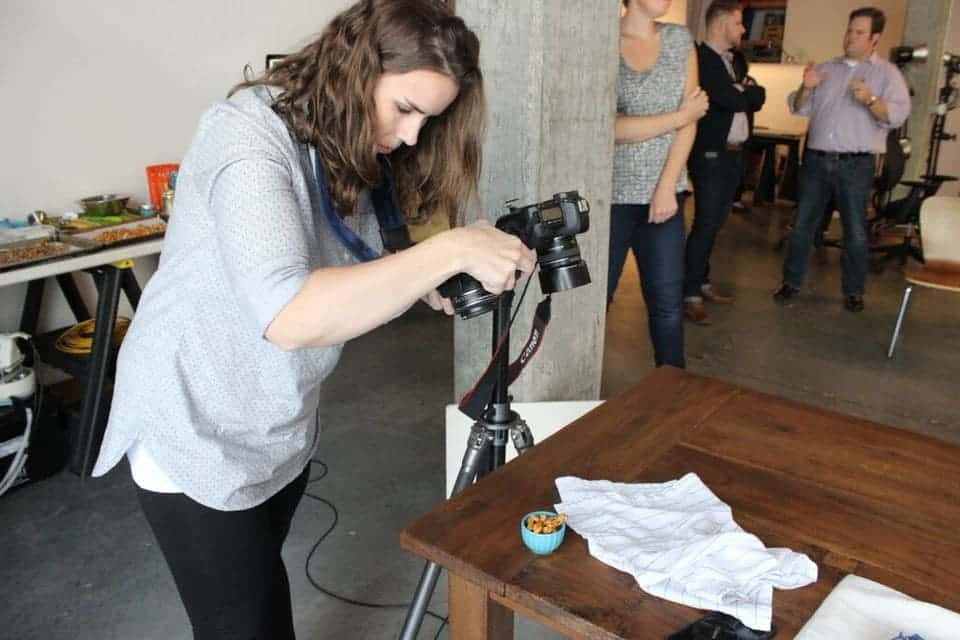 Here is the photo of what I am shooting above!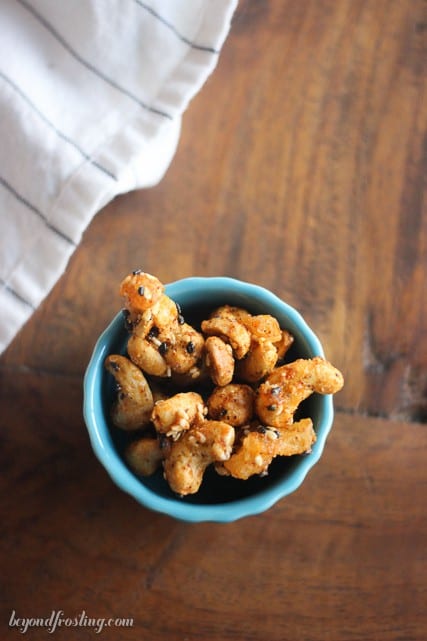 For lunch, they turned us loose on Pike's Place with a scavenger hunt to find a few food related items. I have SO much to share with you guys from Pike Place, but I am going to save this for another time.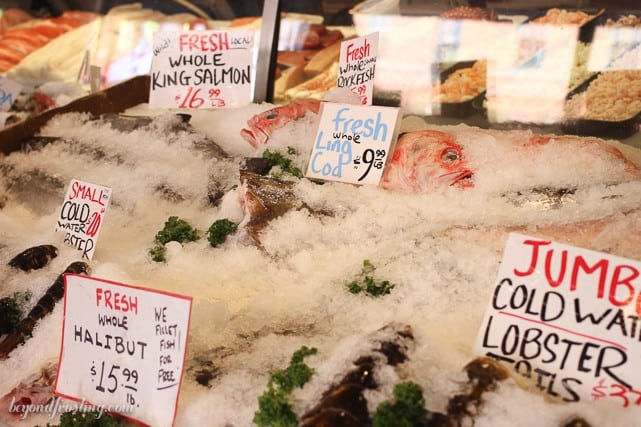 For dinner, we headed to Capitol Hill to a restaurant called Sitka & Spruce. It is a small, open aired restaurant inside an industrial building surrounded by small market shops with cheese, wine and flowers. The setting was absolutely gorgeous!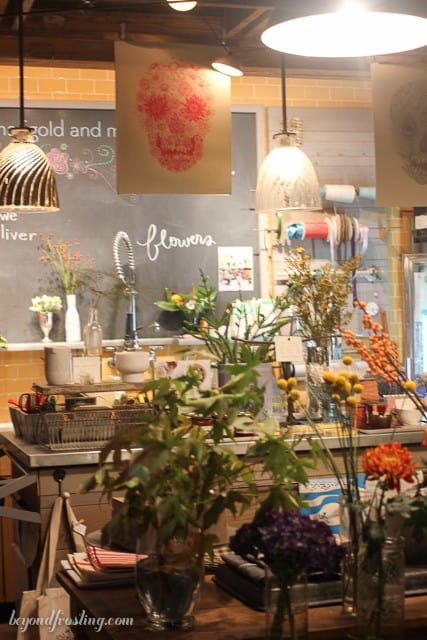 I felt like we were sitting at the chef's table! We were just an arms length away from the kitchen and watched them prepare plate after plate. Some of the highlights of my dinner were the roasted cauliflower and the halibut. I would definitely recommend this restaurant to someone who loves the farm to table experience.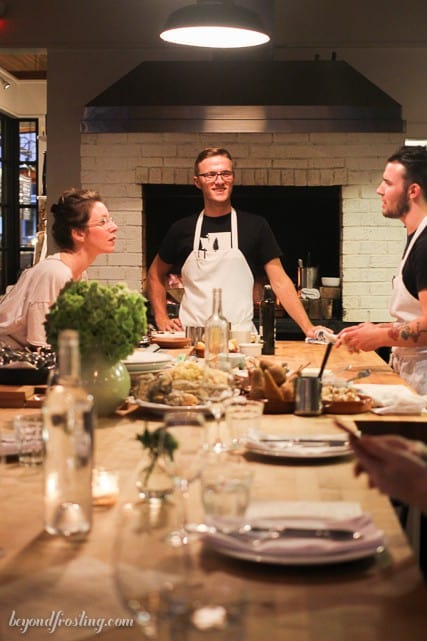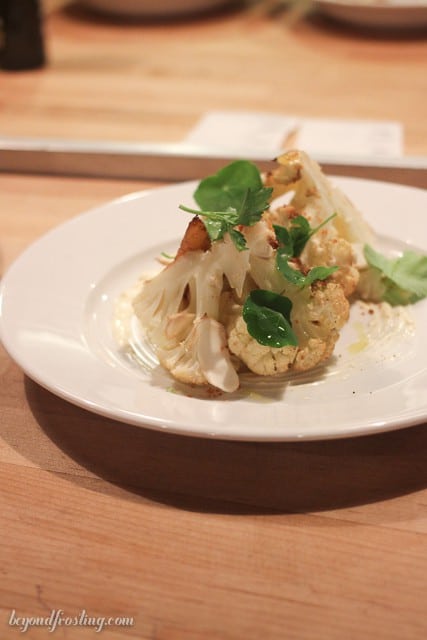 Before I knew it, our trip was coming to and end. The team at Sahale had one last surprise for us! They broke us up into teams and turned us loose in their test kitchen to create our own Sahale mixes!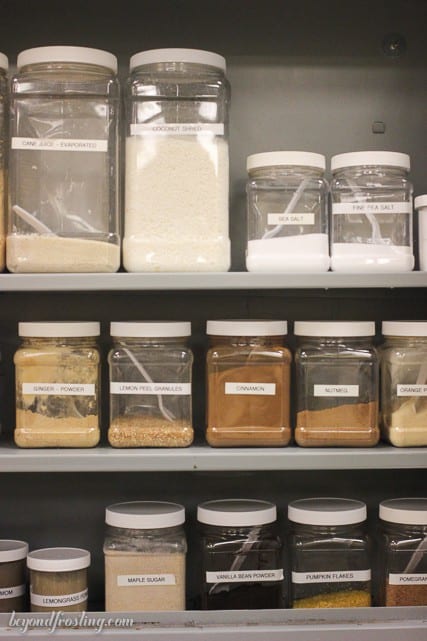 I partnered with Amy from Oh So Savy Mom. We debated at first whether to do sweet or savy mix. I have a sweet tooth and Amy prefers a more savory flavor. Together we decided to do a sweeter nut blend that we called it "Winter Carol". It is a blend of walnuts, pecans, cranberries and pomegranate infused apples. It's coated with an orange juice concentrate and vanilla extract and flavored with our custom spice blend: clover, maple sugar, sea salt and brown sugar. You guys, this is unreal. I am currently snacking on it as I write this post, and I can't seem to stop.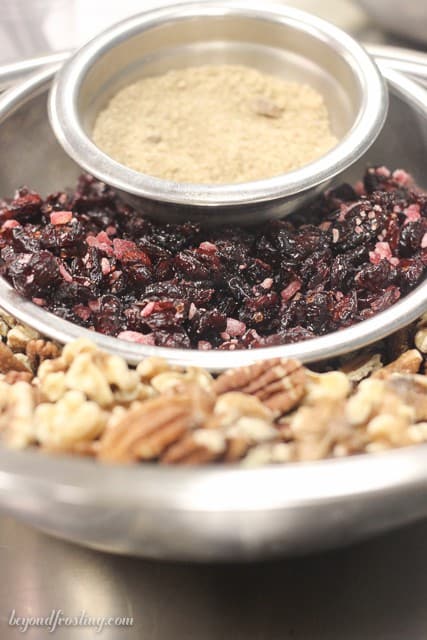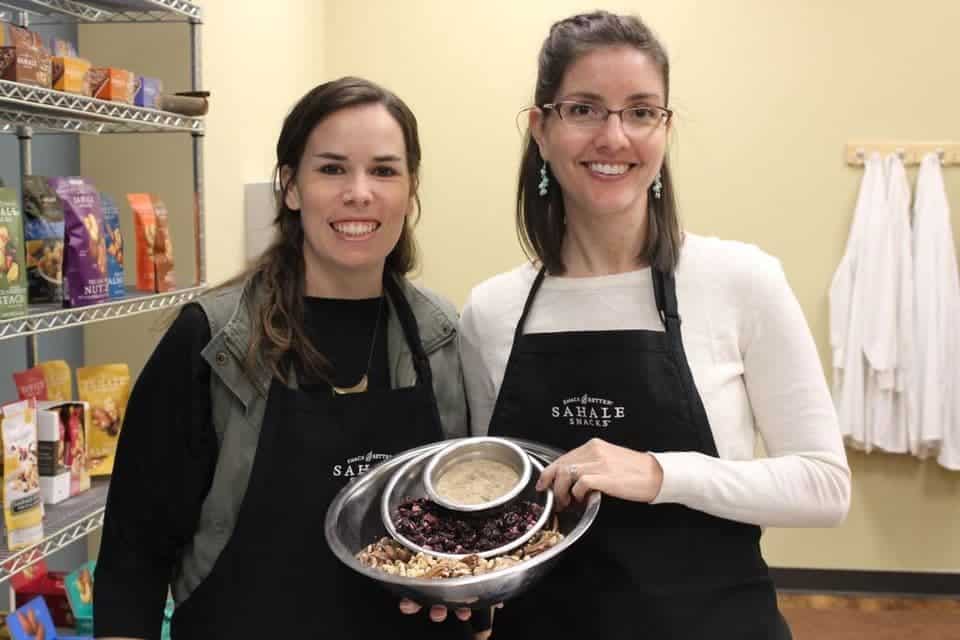 Sahale even made us a custom package! Check out this photo that Amy shared earlier this week! I feel like I might have a future in creating these snacks!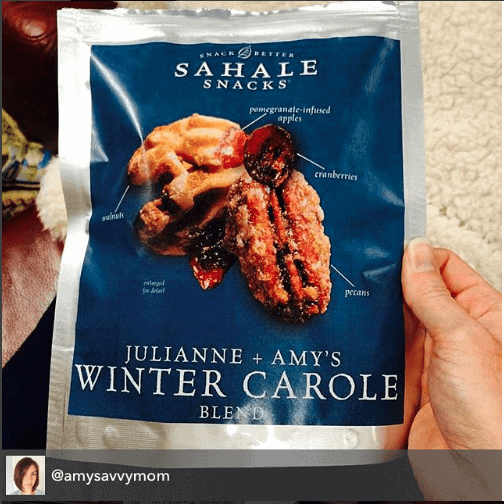 Upon returning home, I decided I would make a bark recipe using the Pomegranate Vanilla Cashew Glazed mix. It takes the guessing out of the flavors and makes creating this bark quick and easy! You can even wrap it up with a cute package and give it as a gift!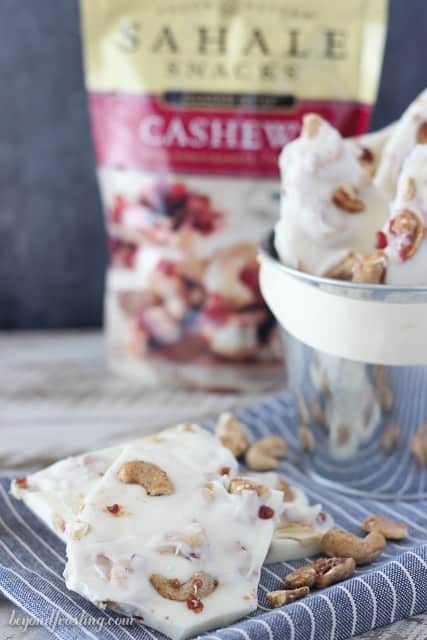 For the bark, I used melted white chocolate and poured it over the nut blend. Then I just popped it in the refrigerator until the chocolate was firm. Easy right?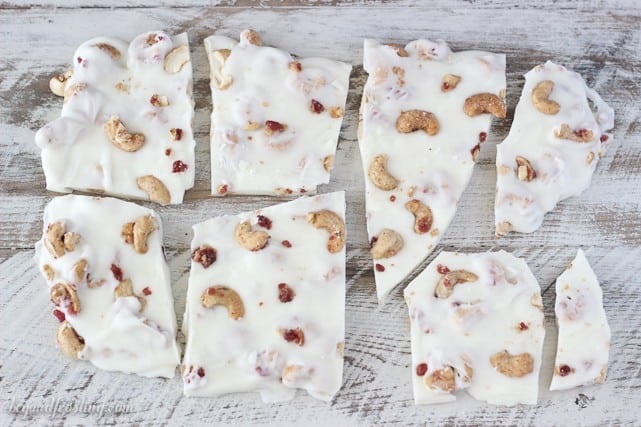 I can't wait to share more details of my weekend in Seattle with you! After my time with Sahale, I decided to stay a few more days and explore the city! Stay tuned folks!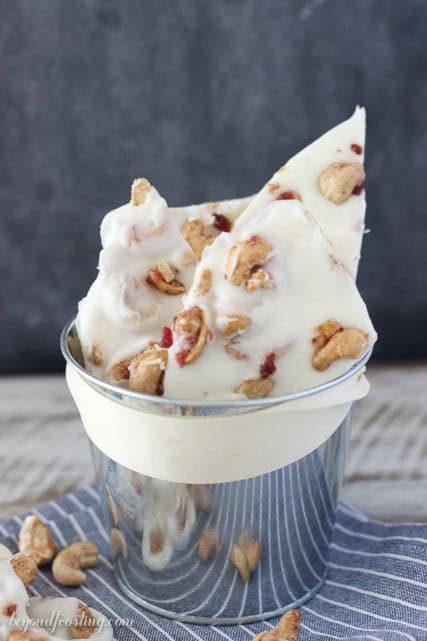 I want to say a special thank you to the Sahale Snack team for making our experience truly unique! Sahale is a part of the J.M. Smuckers company. I seriously had the best time getting to know my fellow ambassadors and I am so excited to share the Sahale experience with you over the next year! Check out my fellow ambassadors: Andi, Jeana, Angela, Amy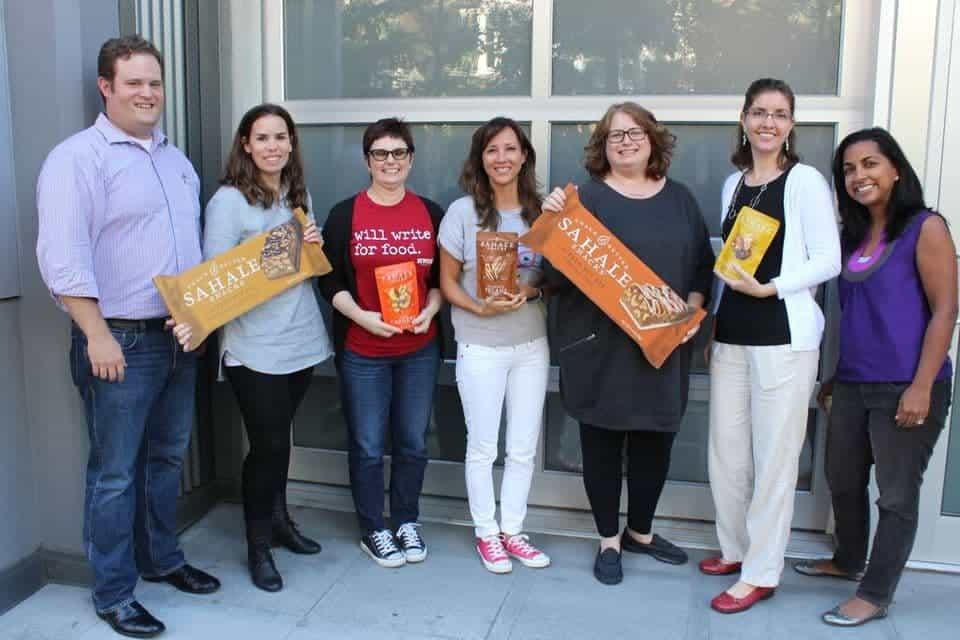 My trip was paid for and sponsored by J.M. Smucker Company. All opinions are my own.
Keep up with all the happenings. Follow Beyond Frosting:
Facebook | Twitter | Pinterest | Instagram |
Print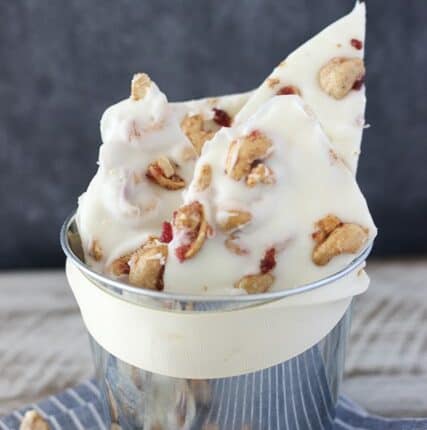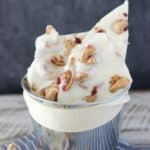 Pomegranate Vanilla Cashew Bark
Author:

Prep Time:

5 minutes

Cook Time:

2 minutes

Total Time:

7 minutes

Yield:

1 pan
Description
This Pomegranate Vanilla Cashew Bark is easy to make with a store-bought trail mix!
Ingredients
16oz

White chocolate candy melts

6 oz

Sahale Pomegranate Vanilla Cashew blend
Instructions
In a microwave-safe bowl, melt white chocolate for 30 seconds at a time, stirring occasionally. If chocolate is not thin enough, try adding 2 tablespoons of oil.
Sprinkle 4oz of Sahale Pomegranate Vanilla Cashew blend in the bottom of a 9inch by 13inch pan, lined with parchment paper.
Pour melted chocolate over top and allow to cool completely until chocolate sets. This can be refrigerated to help speed up the process.
Break bark into sections when ready to serve.
Notes
It is best to use a white chocolate or almond bark for melting chocolate
Category:

Dessert

Method:

Microwave

Cuisine:

American
Keywords: white chocolate bark, chocolate bark, candy bark
Visit Beyond Frosting's profile on Pinterest.