This post may contain affiliate sales links. Please see my full disclosure policy for details
Next week I am starting a cleanse for the first time ever. I am easing myself in this week. I am not sure if you saw my Instagram photo earlier this week, but it's seriously intimidating. I am doing a mix of a cleansing juice with a mostly raw diet consisting of vegetables. All things that area new to me. My sister designed this cleanse for me, she is a certified nutrionist, personal trainer and yoga instructor. I have texted her a million time this week with questions about how I am supposed to survive on water and vegetables. Day 1 down, the hangrys were minimal, but I am expecting day 2 and 3 to be difficult. Send help.
These Pumpkin Chocolate Chip Cookies with Pecan Streusel are definitely not a part of my cleanse. I am not allowed to eat any sugar, AT ALL! I know right, how as I supposed to survive? I successfully walked the bag of MnMs from the couch back to the cupboard without eating a single one. I would call that a win. This recipe was sent to me by my mother. I know there are tons of recipes for pumpkin chocolate chip cookies out there, but I don't have one yet, so you get another one from me. Similar to the pumpkin muffins I made, this recipe dates back more than twenty years. My mom said she wrote it down on an index card and used to make it as Christmas time.
I couldn't just make any old pumpkin chocolate chip cookie, I had to add a bit of my own flare with the pecan streusel. I figured that since these were a very cake like cookie, these deserved a bit of a crunch factor. This cookie is made with a few ingredients that I am not used to using in my cookies, like honey and vegetable oil. Originally, my mom would make these with whole wheat flour, but I didn't have any so I used regular flour. Either one will work.
When you make these cookies, the dough will be very sticky. I spooned the dough onto a parchment lined baking sheet and then put the streusel on top with my hands and gently patted it down. The streusel is brown sugar based, mixed with pecans, flour and a bit of butter.
These cookies are best served the same day you make them. If you are going to store them, you have two options. You can keep these in a Ziploc bag, but that will soften the streusel. You can also keep it in an air tight container in the refrigerator but it will dry out the cookies a little bit. As such, you should eat them right away! Ain't nothing wrong with that!
Keep up with all the happenings. Follow Beyond Frosting:
Facebook | Twitter | Pinterest | Instagram |
Don't forget to save your favorite recipes to your recipe box with the

button! You can create a meal plan and a shopping list all in the same place!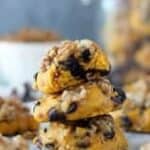 Pumpkin Chocolate Chip Cookies with Pecan Streusel
Prep Time:

20 minutes

Cook Time:

12 minutes

Total Time:

32 minutes
Description
A soft and cake like pumpkin cookie stuffed with chocolate chips and topped with a brown sugar pecan streusel.
Ingredients
1

C Pumpkin puree

1/2

C Honey

1/4

C Oil

1 tsp

vanilla

1

Large egg

2 1/4

C Flour

2 tsp

Baking powder

1 tsp

Cinnamon

1/2 tsp

Ginger

1/2 tsp

Nutmeg

1/4 tsp

Ground cloves

1/4 tsp

Salt

1 tsp

Baking soda dissolved in 1 tsp milk
For the Streusel
1/4

C flour

3 tbsp

brown sugar

1/2

C pecans

3 tbsp

cold butter
Instructions
Preheat oven to 375°F.
In a medium size mixing bowl, combine pumpkin puree, honey, vegetable oil, egg and vanilla. Beat until well mixed.
In a separate bowl, combine all dry ingredients: flour, baking powder, cinnamon, ginger, nutmeg, cloves and salt. Slowly add dry ingredients into pumpkin mixture and mix slowly.
Mix in chocolate chip cookies.
In a shallow glass, combine baking soda and milk. Stir to dissolve baking soda. Mix into dough.
Prepare the streusel by combining the flour, brown sugar and pecans in a small bowl. Cut butter into the dry ingredients with a fork or pastry cutter until it resembles a fine crumb.
Drop by the tablespoon on a lightly greased cookie sheet. Spoon streusel onto the top of each cookie and gently press down.
Bake at 375°F for 10 to 12 minutes. Allow cookies to cool for several minutes before transferring for a wire rack to cool.
Recipe Card powered by
Recipes from my friends:
Pumpkin Cheesecake Eggrolls from I Wash you Dry
Pumpkin Chocolate Chip Cookie Dough from Shugary Sweets
Pumpkin Chocolate Chip Cookie Sandwiches from Life Love and Sugar
Other recipes you might like:
Peanut Butter Pumpkin Spice Frosting