This post may contain affiliate sales links. Please see my full disclosure policy for details
This Pumpkin Seven Layer Bundt Cake is inspired by my favorite seven layer bar, but packed into a pumpkin spice cake. The cake is stuffed with walnuts and chocolate chips and finished with a decadent chocolate ganache and shredded coconut.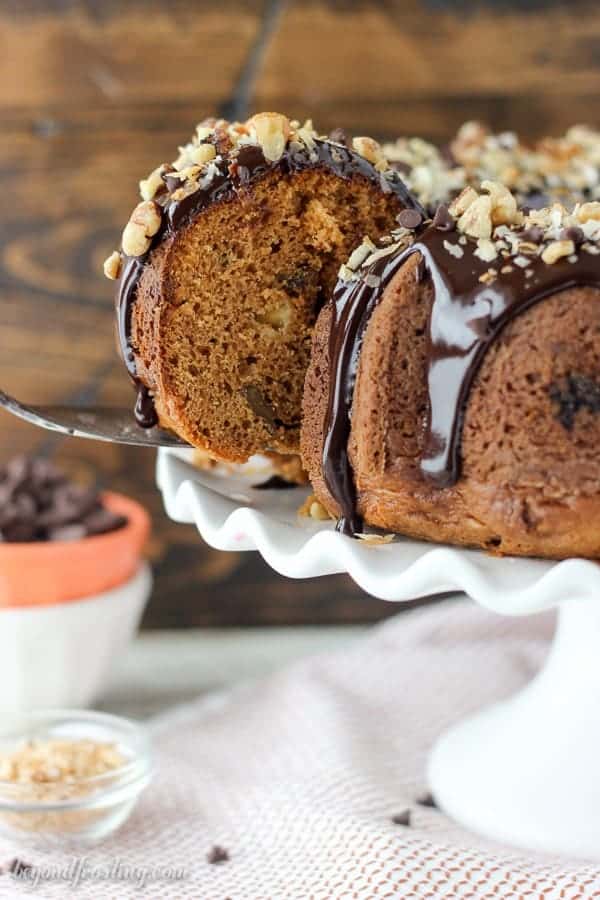 Would you believe that some people don't like pie? I certainly can't, but it's true! So when it comes time for the holidays, it's nice to have some options for festive desserts that aren't pie and let's face it, we always have to please multiple people. I usually turn to my apple pie lasagna when I'm trying to serve a crowd. I also like to have some cake on hand for those who prefer a more traditional dessert.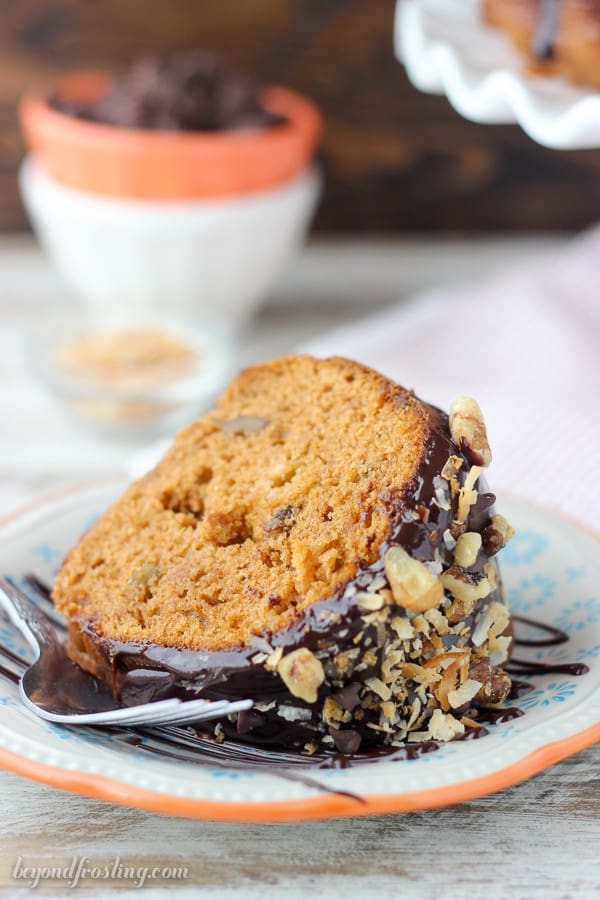 This Pumpkin Seven Layer Bundt cake has all the spiced pumpkin flavors you desire, but in the form of a cake. It's all packed full of some of your favorite elements of the beloved seven layer bar: walnuts, chocolate chips, coconut, sweetened condensed milk. These were my go-to dessert bars when I used to do my holiday baking. This is exactly what inspired me to post this recipe.
If you've never paired together chocolate and pumpkin, you're in for a real treat. If only every bite of this cake could have some of the chocolate ganache on top. Don't worry, there's plenty of chocolate to garnish this cake, so don't be shy.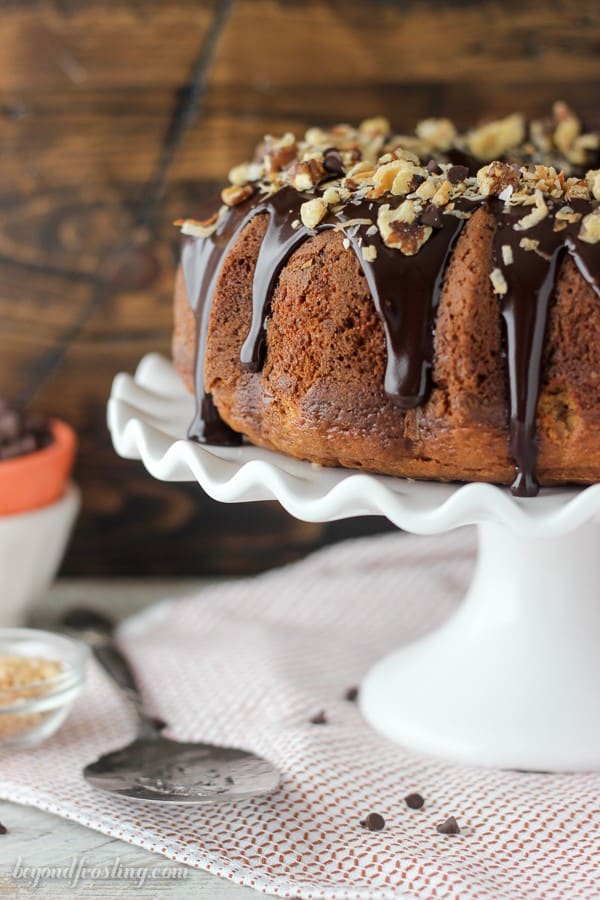 There's no actual pumpkin in the recipe, but the flavors are a combination of a spice cake mix, instant pumpkin pudding mix and pumpkin pie spice. The cake itself is a bit more on the dense side, but the sour cream in the cake helps keep it soft. Instant pumpkin pudding mix can be difficult to find, but I know Walmart carries it. If you cannot find it, you can substitute vanilla pudding and add an extra ½ teaspoon of pumpkin pie spice. Whenever I find it, I tend to stock up because I have a number of recipes that use instant pumpkin spice pudding. I seriously can't get enough.
The most daunting part of making a bundt cake is wondering whether or not it's going to release from the pan. Personally I use a dark non-stick pan but I coat it with plenty of Crisco. When it comes out of the oven, I only let it sit for about 15-20 minutes before I turn it out from the pan. You still might need a flat edge knife or toothpick to help it release from the pan, I definitely suggest running the knife around the edges before you flip the cake over. A good bundt pan is an essential part of my kitchen.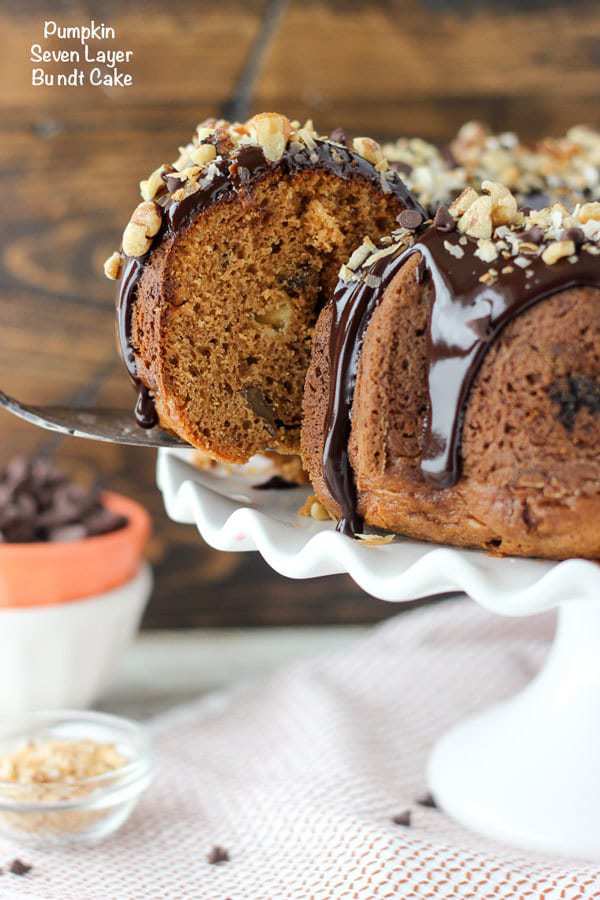 Why wait until the holidays to serve this Pumpkin Seven Layer Bundt cake? I don't think I need to give you an excuse to make a cake do I? I didn't think so. I first shared this recipe over at Food Fanatic.
Follow Beyond Frosting:
Facebook | Twitter | Pinterest | Instagram
If you love no-bake recipes, be sure to check out my cookbook, No-Bake Treats!
You might also like: