This post may contain affiliate sales links. Please see my full disclosure policy for details
This Pumpkin Spice Frosted Cookie Cake is thick, soft, chewy, and perfectly sliceable—like a cookie pizza! It's so easy to make, too!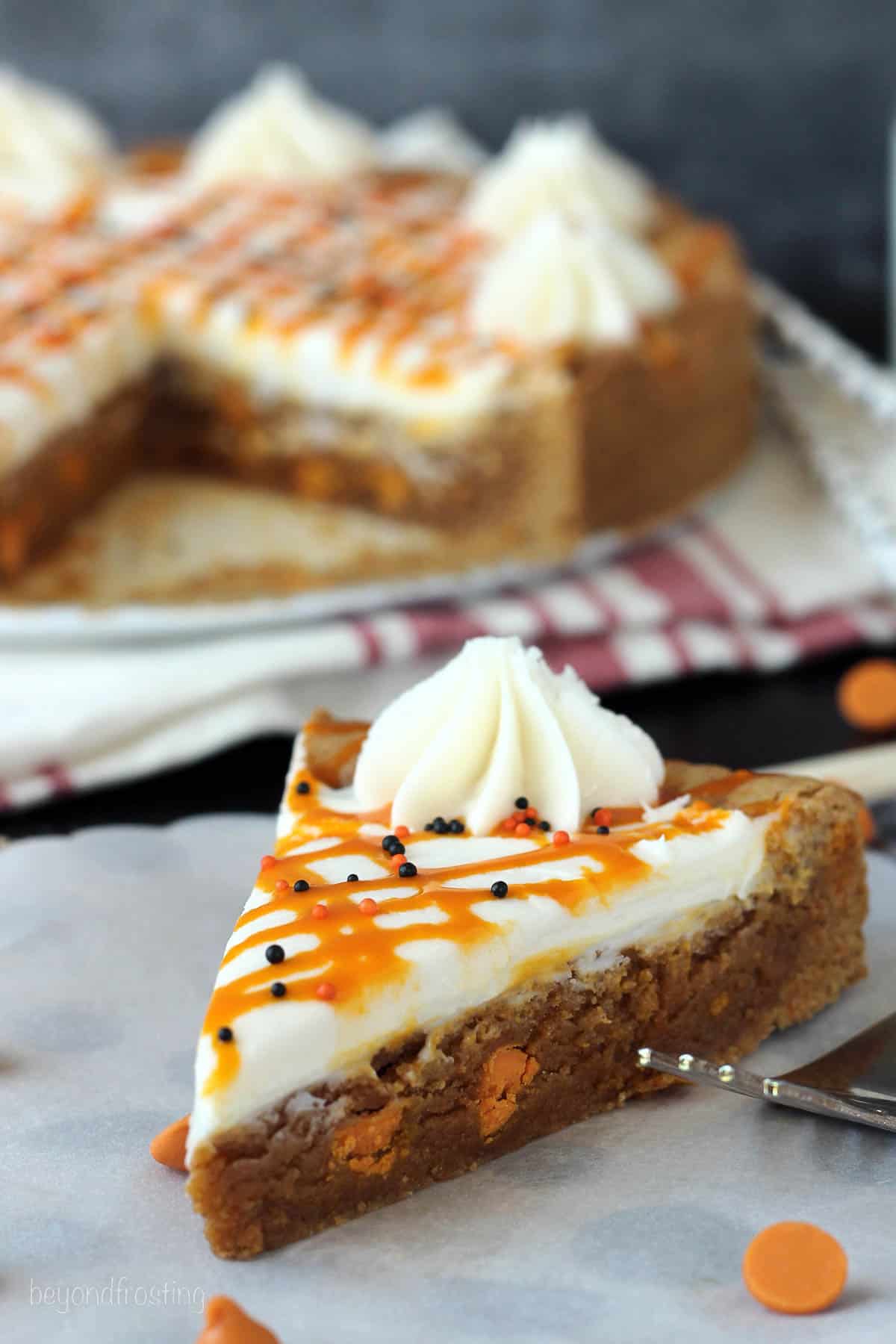 If I had to live off two cookies for the rest of my life, it would be Snickerdoodles and pumpkin spice pudding cookies. Okay, maybe definitely my Chai chocolate chip and the toasted coconut cashew as well, but who's counting? I am head over heels in love with this Pumpkin Spice Frosted Cookie Cake.
You guys had to know there were more pumpkin spice pudding recipes coming right? I bought a gazillion boxes as soon as I found it. I have only ever seen it at Walmart. Well I once made a Cookie and Cream Cookie Cake with a pudding mix, and it was absolutely glorious and soft and slightly undercooked. This pumpkin spice cookie cake it just the same.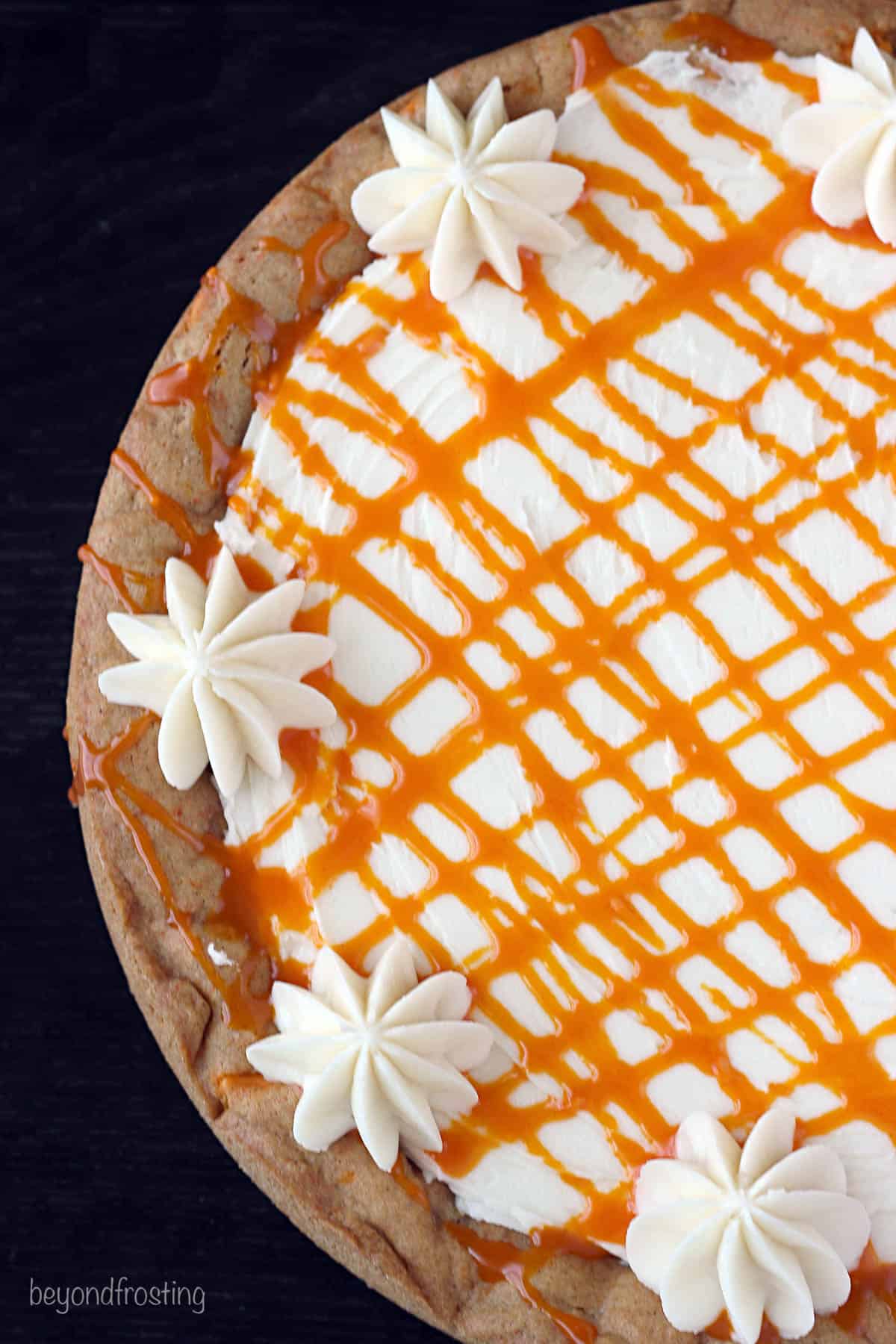 I am seriously trying to curb my eating habits, which means that I cut one slice of this cake for photos, take a couple taster bites and through the rest of the slice out. Then I cover the cake and pray I can resist it until I bring it to work on Monday and release it to my coworkers.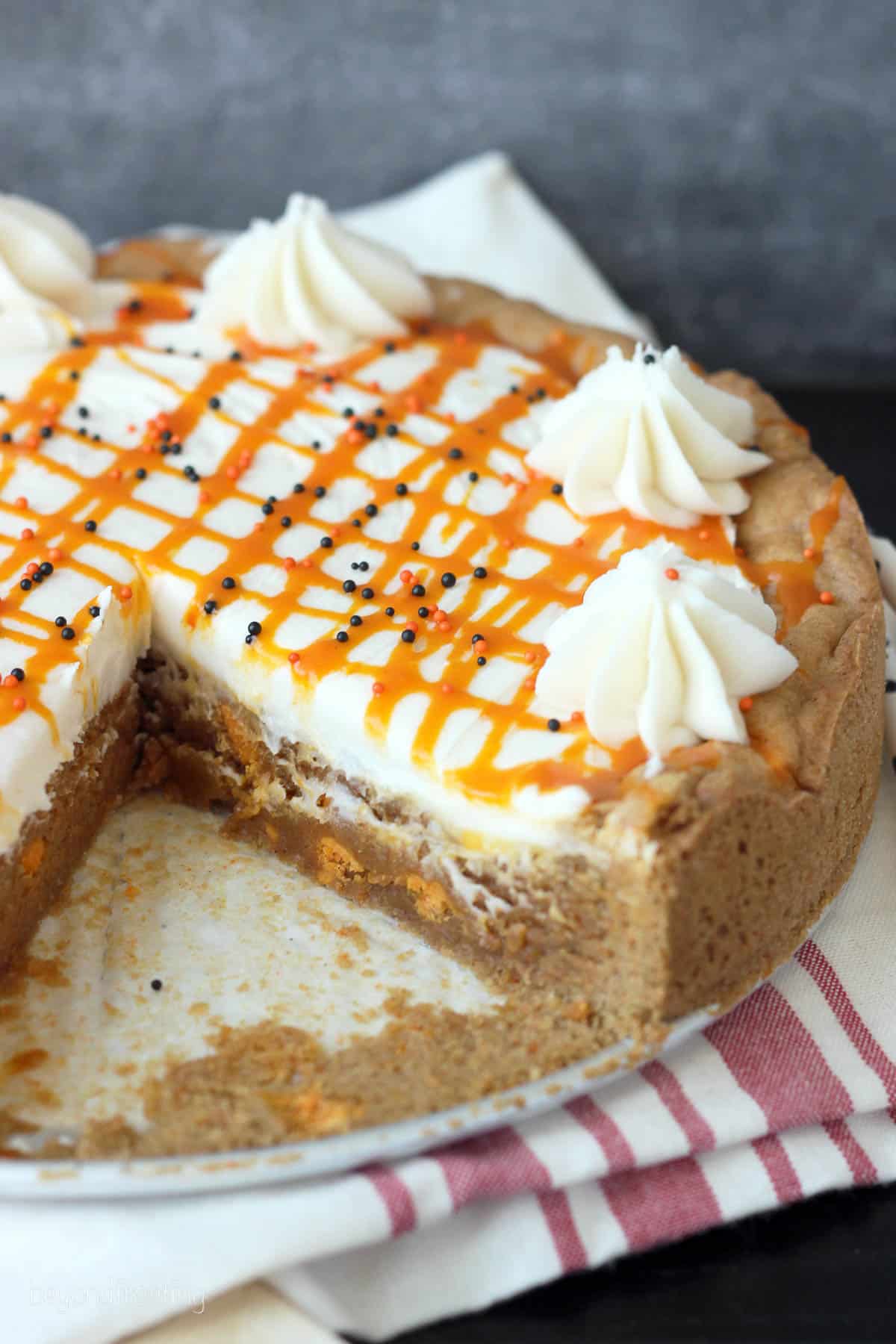 The problem with this cookie cake is that it is TOO good to resist. I slowly widdled away at this cake sliver by sliver. So I thought I would be all smart and take it into the office on Sunday (when I went in for a few hours), that way I wouldn't eat it Sunday night. That's didn't work out so well and dinner time rolled around, I was still at work and this giant cookie was literally staring me in the face. The point I am trying to get across is, that you NEED to make this.
Like I mentioned about, I slightly under baked this, as it is my preference. The middle sinks just a little, but that's ok because I filled it with a creamy vanilla frosting. I thought about using cream cheese frosting, which would be down right delicious as well.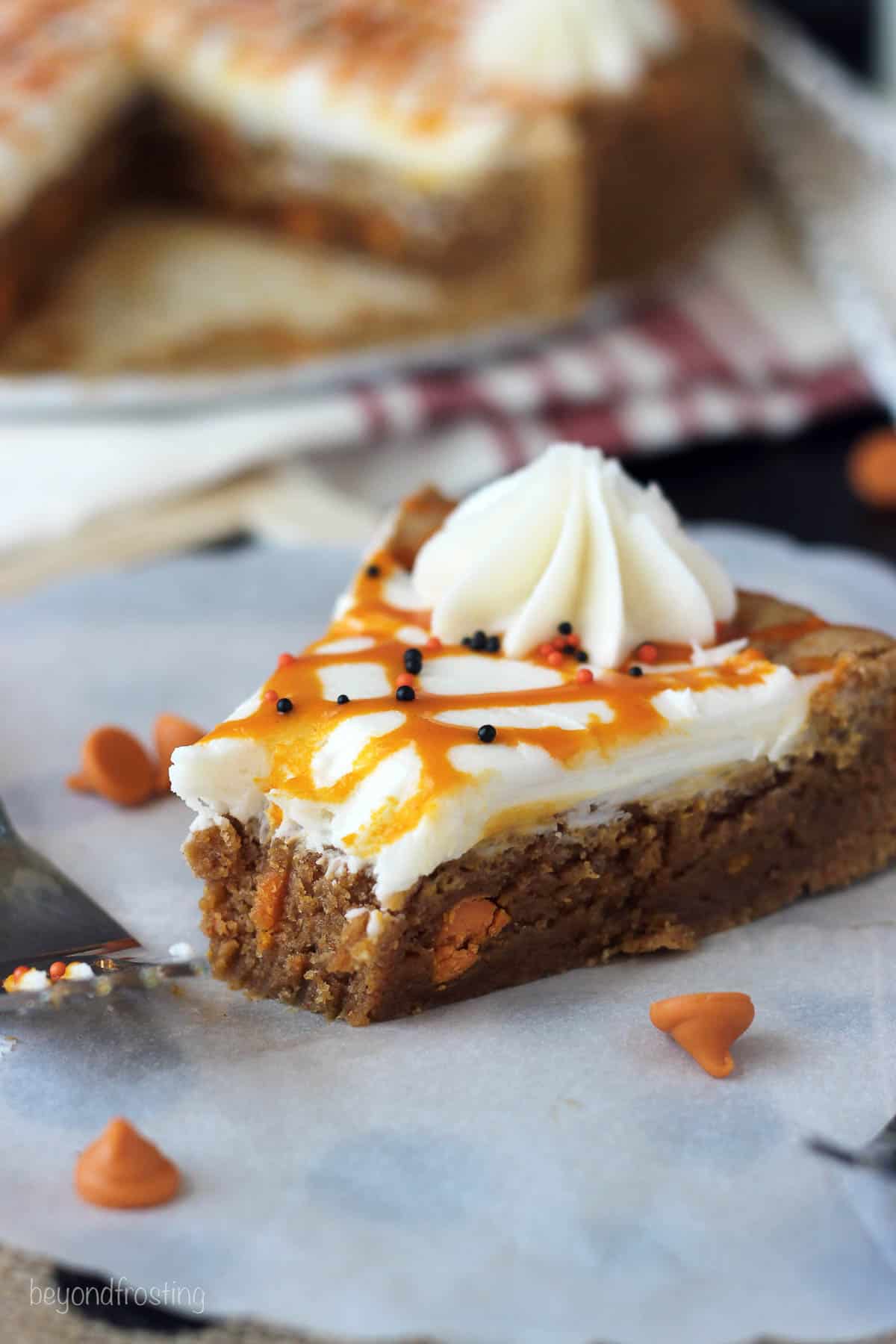 For a little added bonus pumpkin flavor, I used Nestle's Toll House Pumpkin Spice Morsels in this recipe. They are only available at Target, so if you can't find them, I would recommend using white chocolate chips. I made a little pumpkin spice ganache with some left over pumpkin spice morsels and drizzled it on top of the frosting. This is totally optional, but my cookie felt naked without it. It's kind of impossible for a frosted cookie to be naked though right?
I used a spring form pan to make this cookie cake so that I could easily remove the edges. I also like to line the bottom of my pan with parchment paper to help prevent the cookie from sticking to the bottom. I recommend you do the same. If you don't have a spring form pan, you can use a regular 9" round pan.
Every bit I took of this Pumpkin Spice Frosted Cookie Cake was a dream. It kind of reminded me of a carrot cake cookie. If you aren't able to find the pumpkin spice pudding mix, try using vanilla pudding and adding a couple teaspoons of pumpkin pie spice and cinnamon. Happy fall y'all!
Print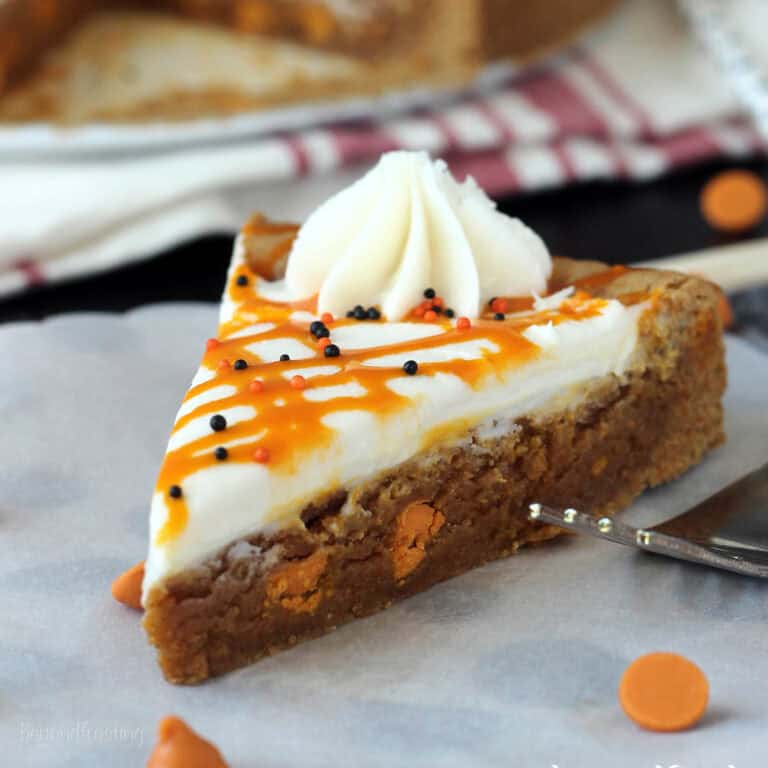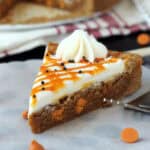 Pumpkin Spice Frosted Cookie Cake
Author:

Prep Time:

22 minutes

Cook Time:

25 minutes

Total Time:

47 minutes

Yield:

8-10 servings
Description
A giant pumpkin spice pudding cookie with whipped vanilla buttercream.
Ingredients
For the cookie
3/4

C Granulated sugar

1/4

C Brown sugar

1/2

C Unsalted butter, at room temperature

2

Large eggs

1 tsp

Pure vanilla extract

2 ¼

C Flour

1

pk Instant pumpkin spice pudding mix (

3.4 oz

)

1 tsp

baking soda

1 tsp

Cinnamon

1/2 tsp

Pumpkin Pie Spice (optional)

1/2 tsp

salt

1

C Pumpkin Spice Morsels
For the frosting
1/2

C (1 stick) Unsalted butter

4

C Powdered sugar

1 tsp

Vanilla extract

2 tbsp

Milk or heavy cream
For the ganache
2 oz

Pumpkin morsels

1 tbsp

Heavy whipping cream
Instructions
Preheat oven to 350° F. Line the bottom a spring form pan with parchment paper or grease a 9" round pan.
Microwave butter for 10-15 seconds to soften. Combine butter and both sugars in your stand mixer and beat on medium speed until light and fluffy.
Add egg and vanilla extract. Beat into butter and sugar until thoroughly mixed.
In a medium sized bowl, combine flour, dry pudding mix, baking soda, salt, cinnamon and pumpkin pie spice. Stir to combine. Set aside.
Slowly add dry ingredients into batter and beat on a low speed until dough starts to form. Add pumpkin spice (or white chocolate) morsels and mix to combine.
Gently press dough into round pan.
Bake at 350° for 20-25 minutes until top starts to turn brown in color. All cookie to cool completely.
For the frosting
Cut butter into pieces. Using the paddle attachment, whip butter for 5-7 minutes, scraping down the bowl occasionally. Beat until butter look light in color.
Add 2 C powdered sugar and mix on low speed until incorporated into butter.
Add 1 tsp vanilla extract and mix to combine.
Add additional 2 C powdered sugar along with the milk and beat on low speed until sugar is incorporated. Increase speed to medium-high and beat for 3 minutes until frosting is light and fluffy. Frost cooled cake.
To make the ganache, combine pumpkin morsels and heavy cream in a microwave safe bowl. Microwave for 30-60 seconds until morsels are melted. Stir until smooth and drizzle over frosting.
Category:

Dessert

Method:

Oven

Cuisine:

American
Keywords: pumpkin dessert recipes, easy thanksgiving dessert, thanksgiving dessert ideas