This post may contain affiliate sales links. Please see my full disclosure policy for details
These Pumpkin Spice Hi-Hat Cupcakes is a dark chocolate cupcakes filled with pumpkin dough. Topped with vanilla buttercream and dipped in a pumpkin spice magic shell.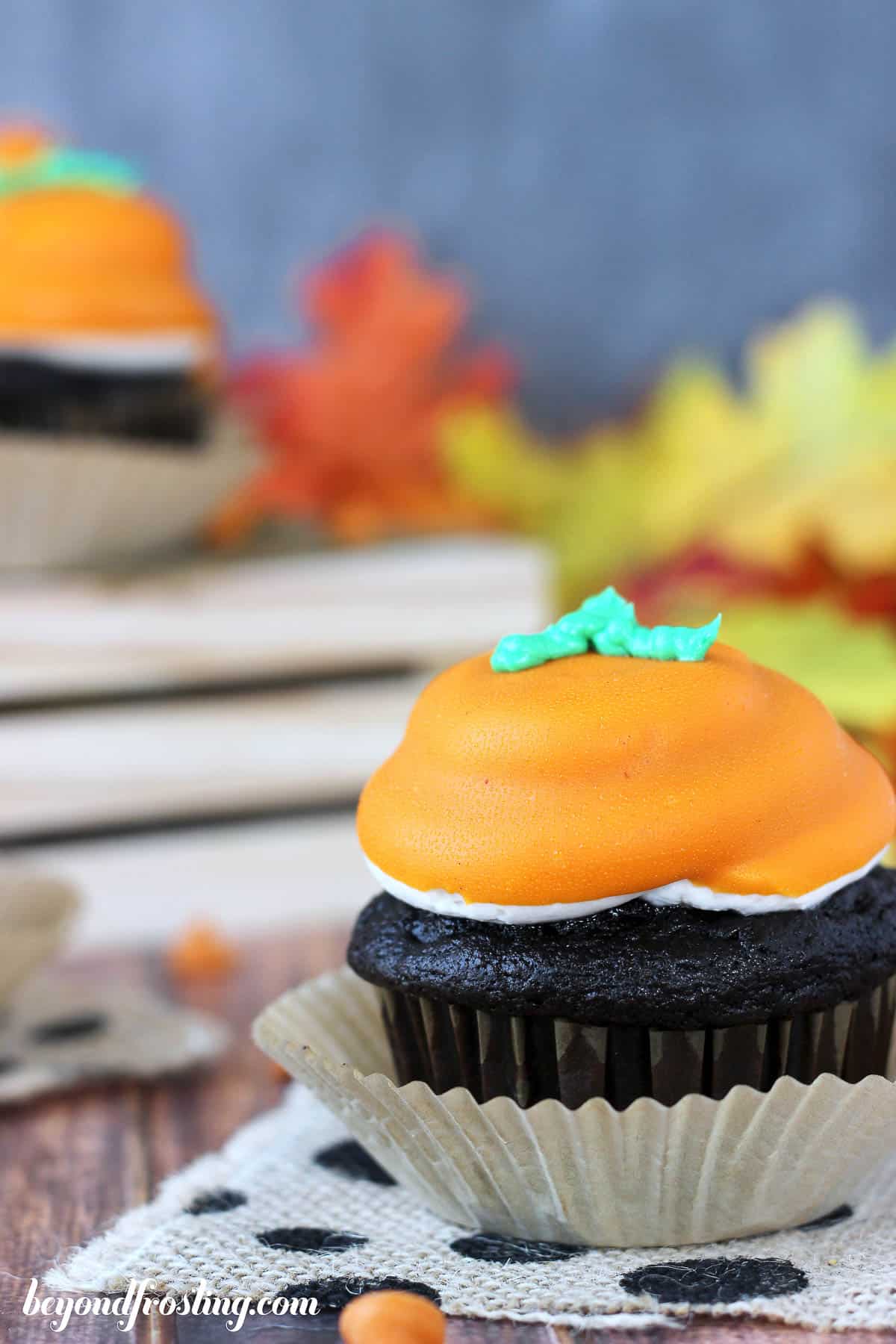 Alright folks, I have waited as long as I possibly can to share my first pumpkin recipe for the season. Let's be honest, I have been baking up apple and pumpkin desserts for WEEKS in anticipation of sharing them with you.
These Pumpkin Spice Hi-Hat Cupcakes are the perfect way to start off the pumpkin season! This past weekend, I spotted a bag of Nestlé Toll House Pumpkin Spice Morsels. I was a little skeptical at first, but they taste AMAZING and just like pumpkin spice! So I did what any food blogger would do and went back and bought up half the stock.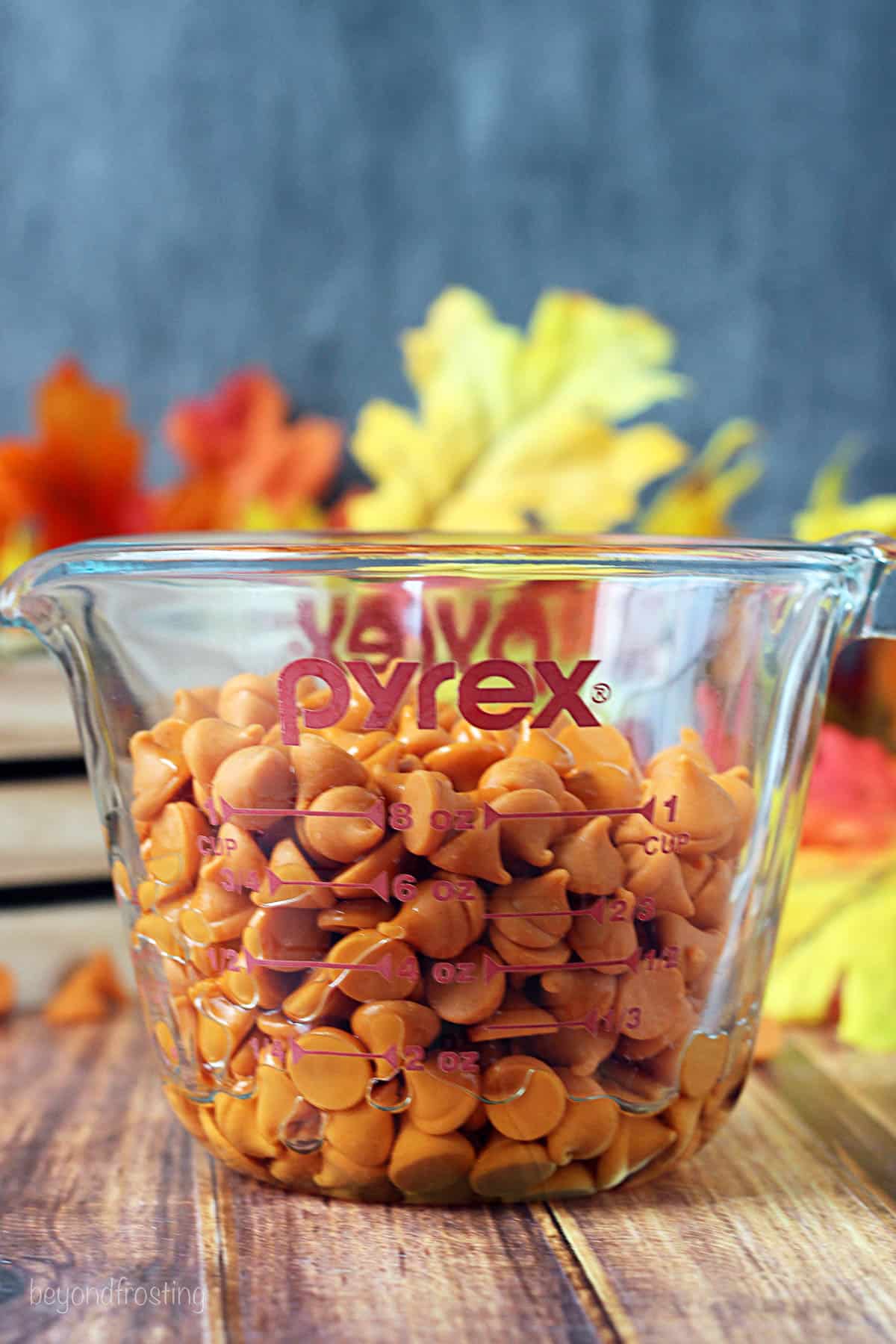 My mission this past weekend was to do a pumpkin cookie dough stuffed cupcake. I baked the cupcakes and patiently waited for them to cool to see how the middle baked. I discovered that pumpkin acts somewhat like eggs and binds the ingredients together. As such, the middle of this cupcake is more like dense pumpkin bread than cookie dough, but delicious nonetheless.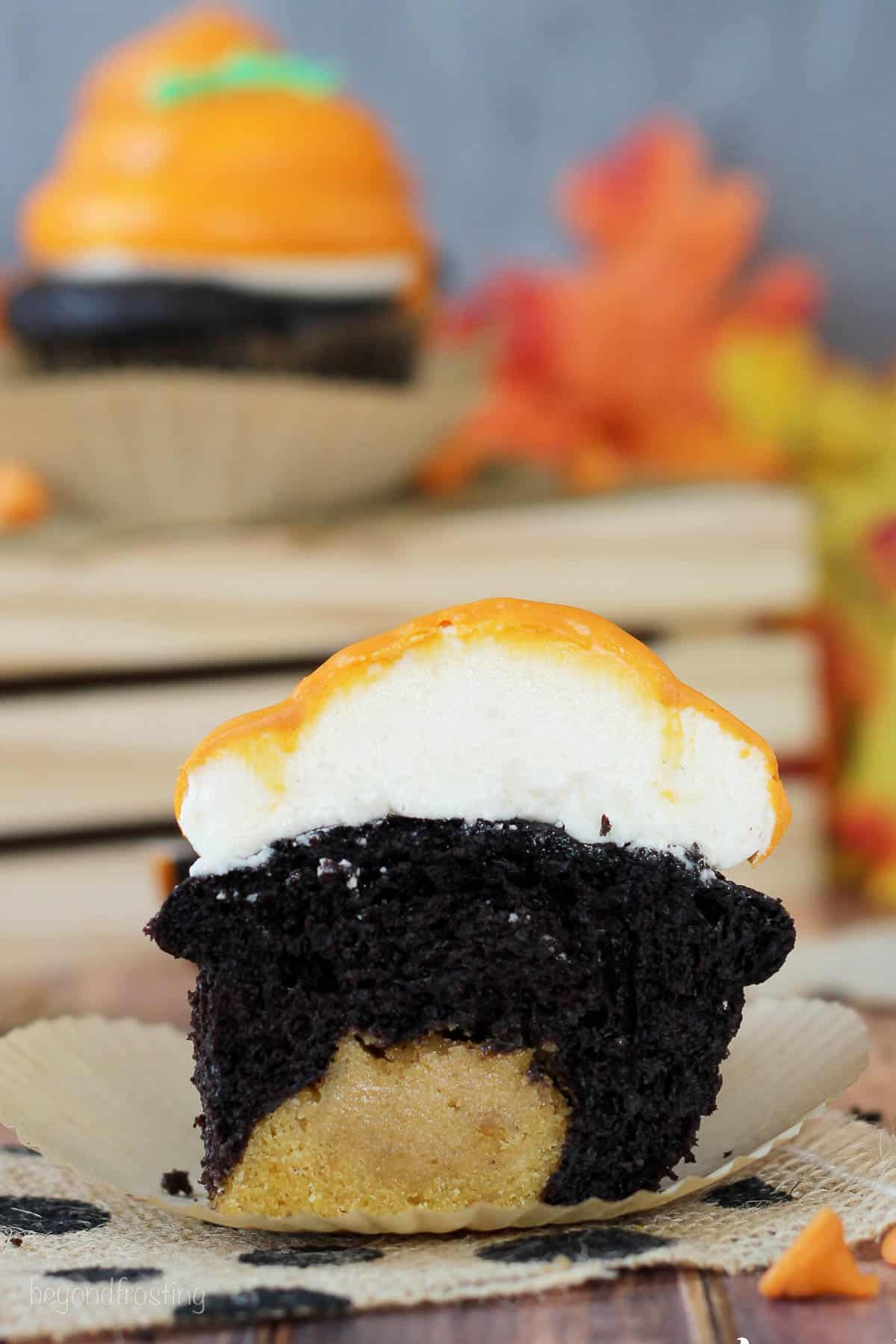 With my cupcakes made, I just had to decide on the frosting. With a package of pumpkin spice morsels in hand, I decided to try my first hi-hat cupcakes. I read several blog posts with hi-hat cupcakes including from I am Baker, and Beth Cakes. They looked easy enough, or so I hoped.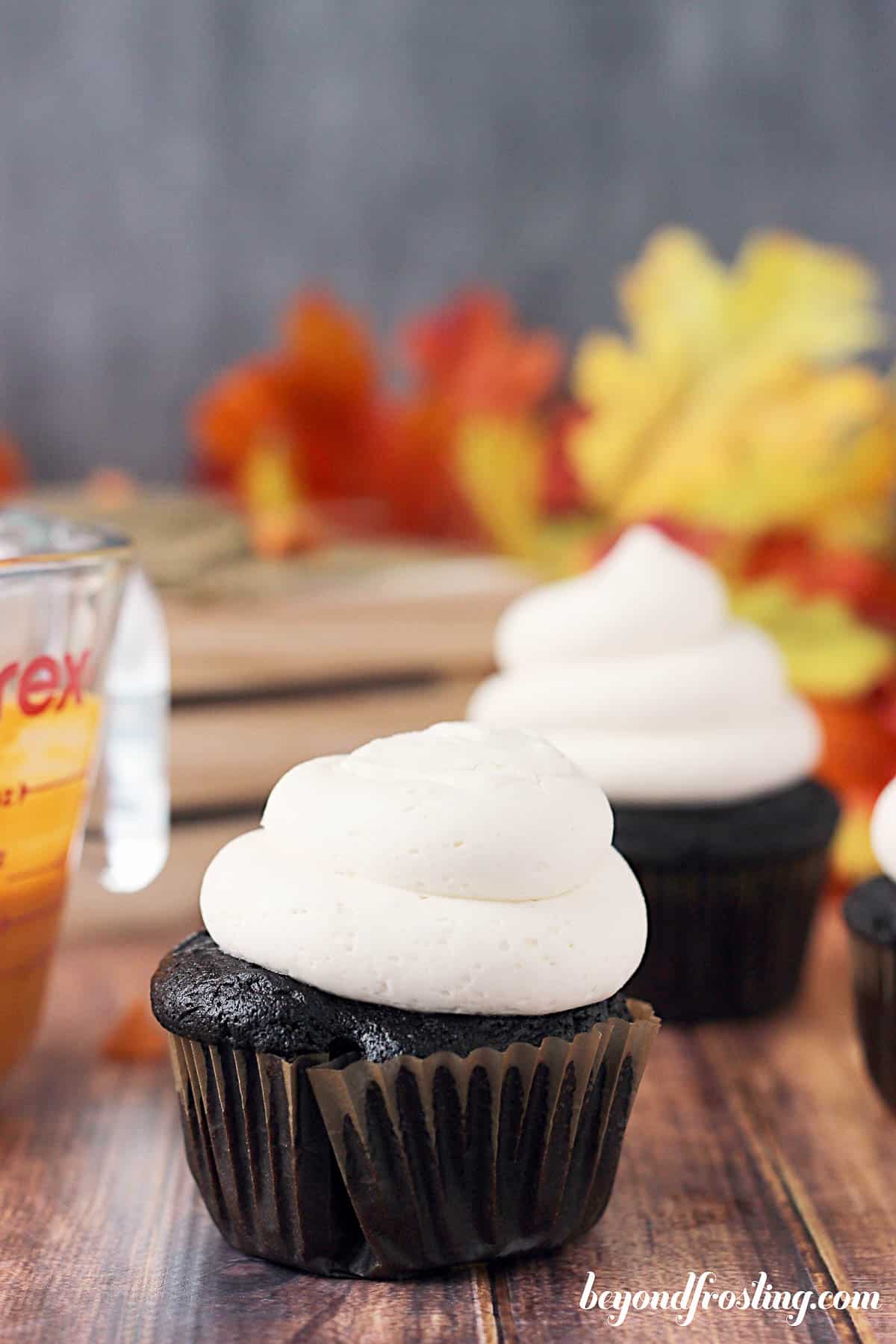 Making the magic shell was SO easy. I just combined the pumpkin spice morsels and the vegetable oil in a microwave-safe dish, melted it for 45 seconds, and then stirred it until smooth. Since my frosting was literally high, I knew I needed a deep vessel for dipping my cupcakes in. My Pyrex measuring cup did just the trick.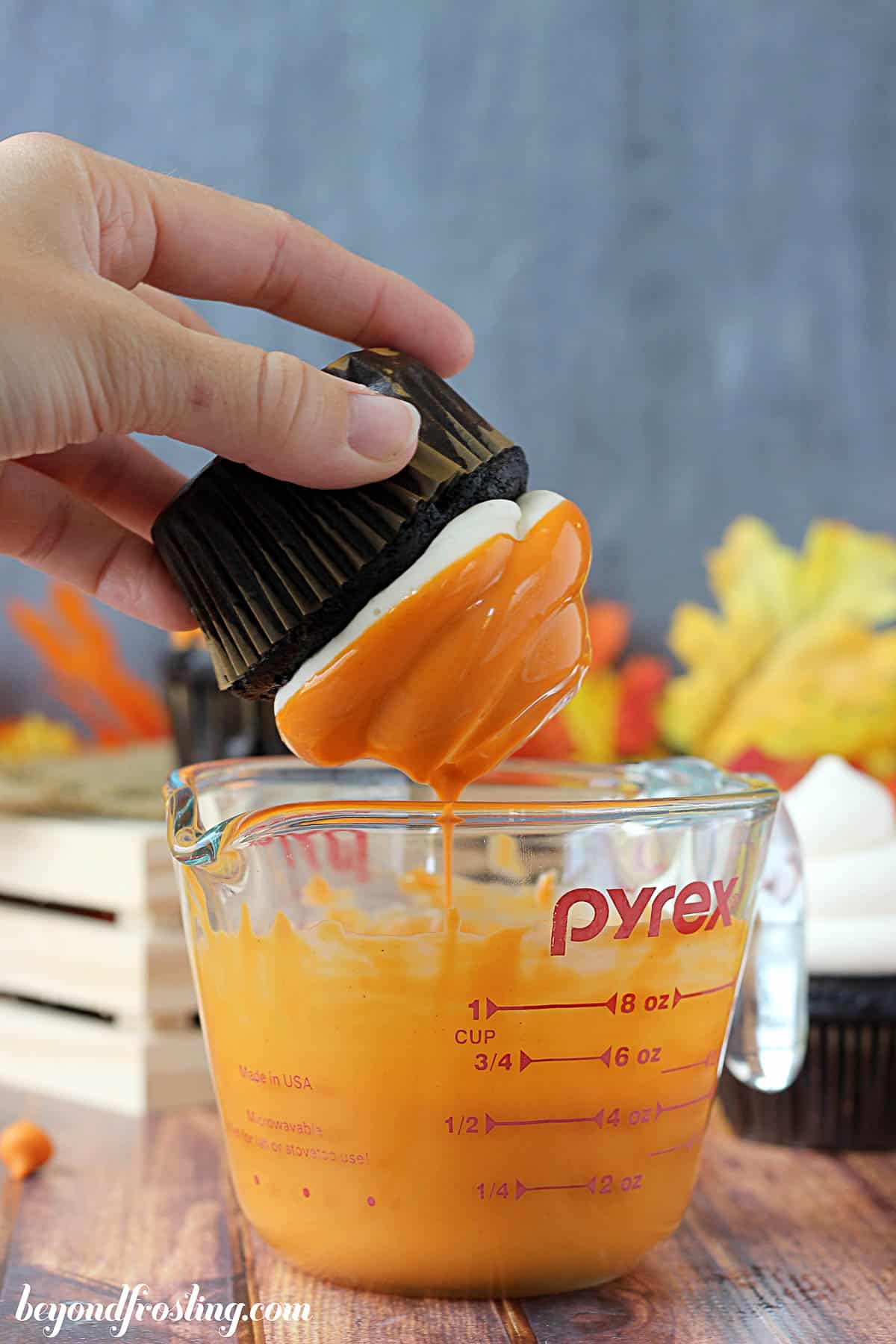 Traditionally I think hi-hat cupcakes involve using marshmallow frosting, but I wanted to use vanilla buttercream instead. So I whipped up a large batch of the Perfect Vanilla Buttercream and piped my cupcakes. I wanted to make some of these look like pumpkins, so I flattened the top a little bit.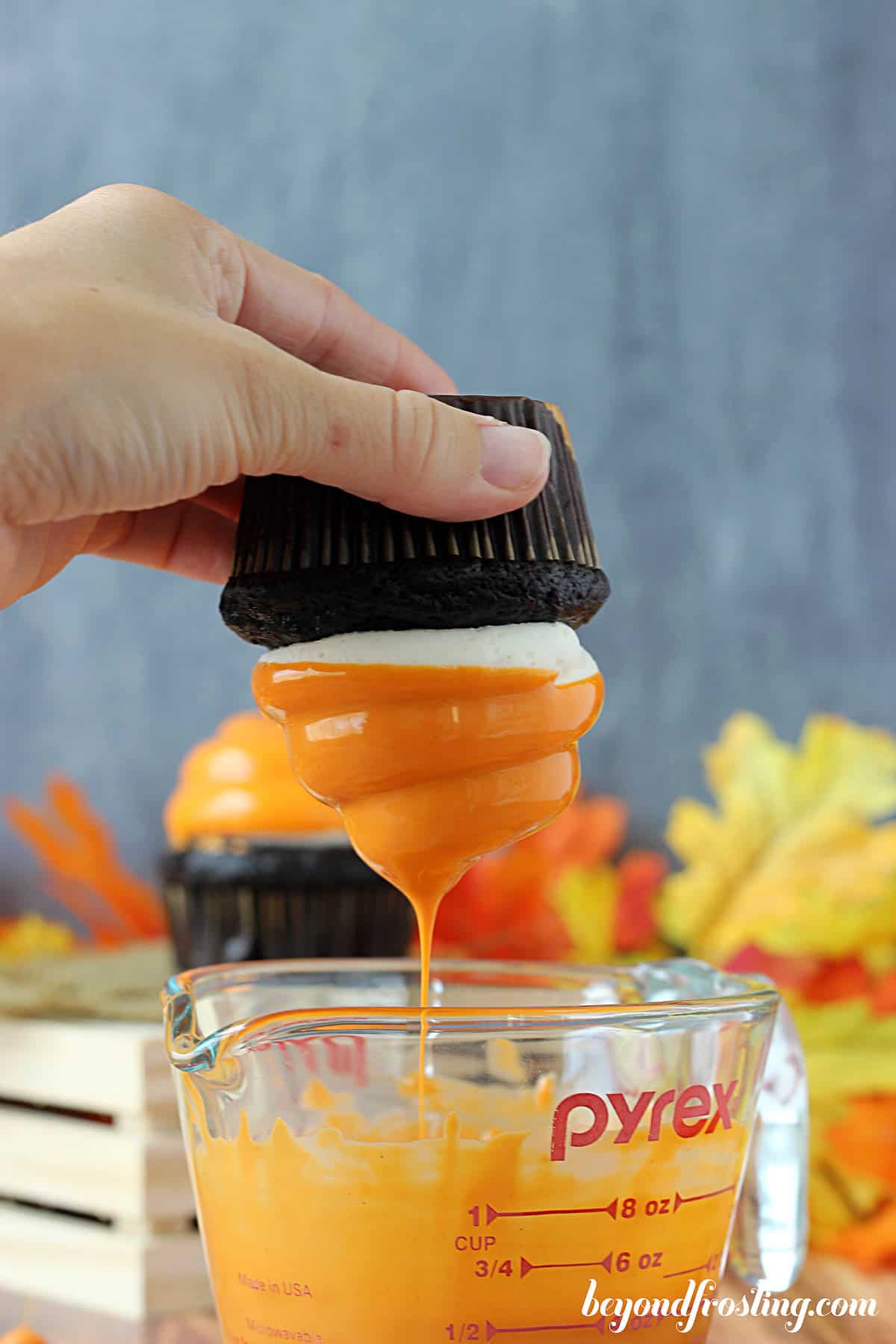 The magic shell is not very forgiving, so whatever shape lies below is the shape it takes on. I suggest practicing your piping onto a clean plate or something until you have the motion down. You can always reuse the frosting! Using firm and even pressure will help to ensure a nice swirl. You can see my Piping tutorial here for some more tips!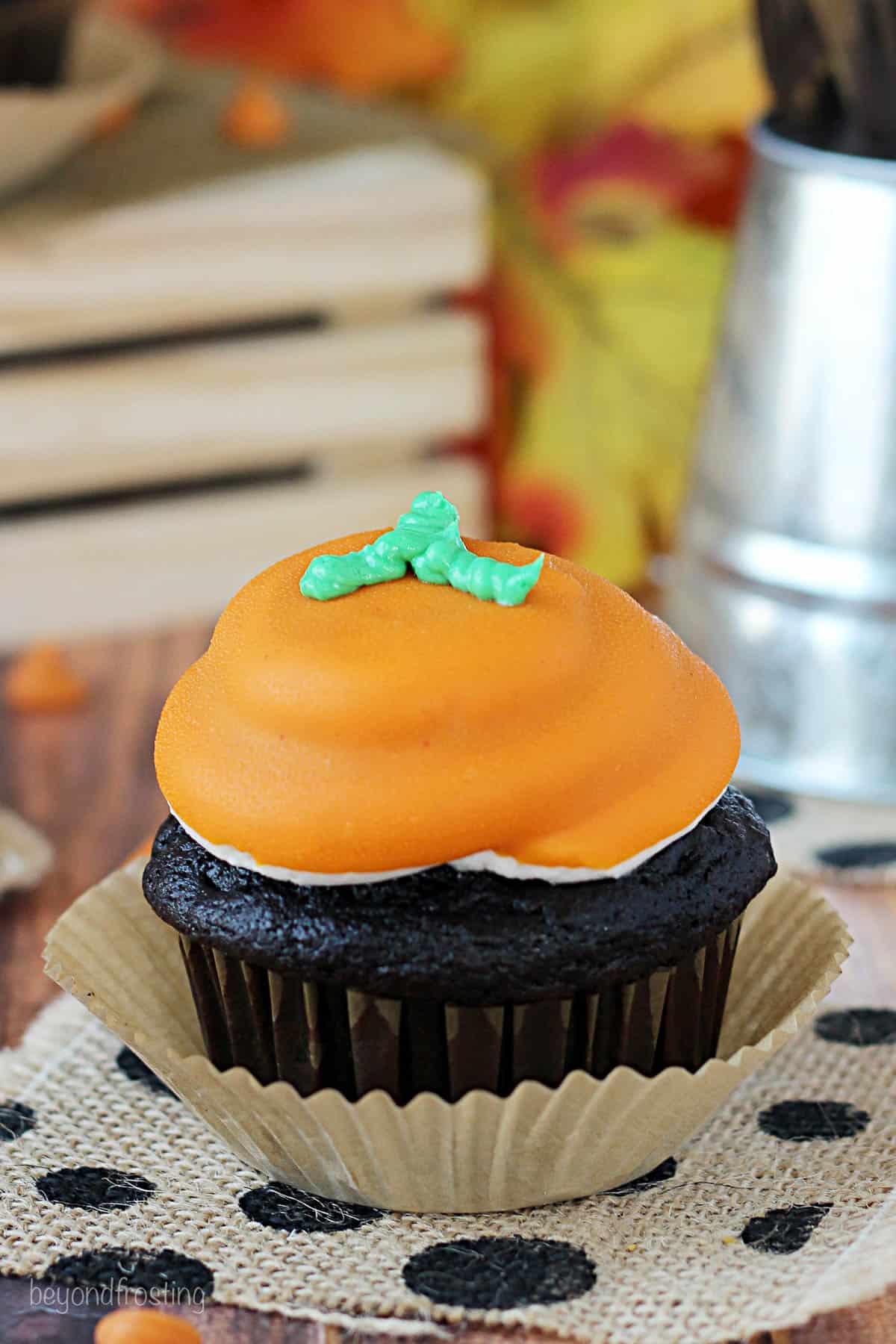 I wasn't sure if the frosting would actually adhere to my cupcake if I turned it upside down, but I learned from Amanda (I Am Baker) that they have to freeze for about 15 minutes before dipping. Guess what, she's awesome and it totally worked. Plus I think it helps the chocolate harden faster. You also want to be sure to drip off any excess chocolate before flipping it back over.
I topped a few of these cupcakes with a little green steam to look more like a pumpkin. I thought they were too cute. I hope you do too! I might just be a little too excited for these Nestlé Toll House Pumpkin Spice Morsels. I also found out they are only available at Target! Happy Fall baking, my friends!
Print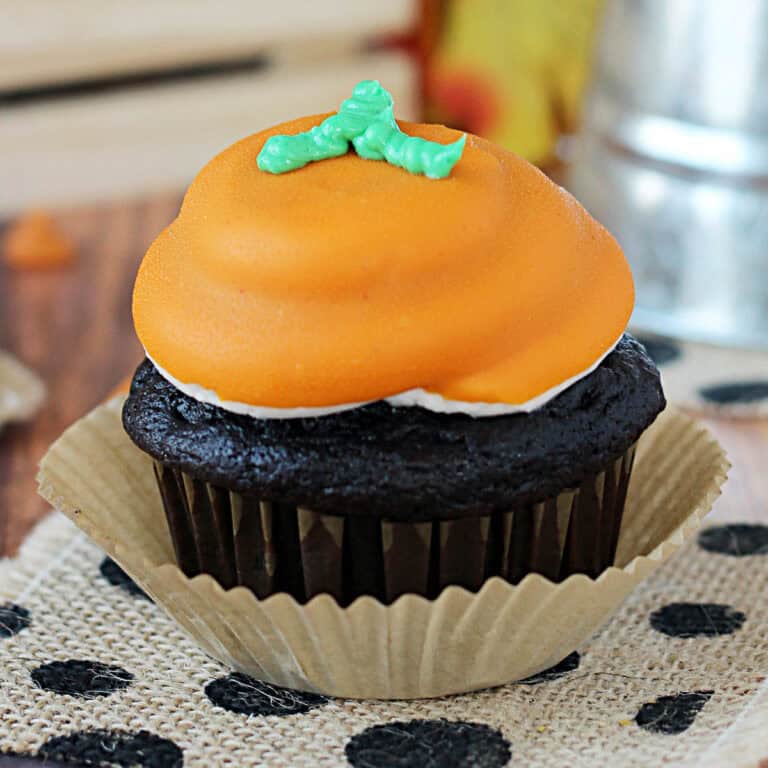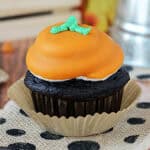 Pumpkin Spice Hi-Hat Cupcakes
Author:

Prep Time:

30 minutes

Cook Time:

18 minutes

Total Time:

48 minutes

Yield:

24 Cupcakes
Description
These Pumpkin Spice Hi-Hat Cupcakes are a dark chocolate cupcake filled with pumpkin dough topped with vanilla buttercream and dipped in a pumpkin spice magic shell.
Ingredients
For the Filling
1/2

C Unsalted butter (

1

stick), softened

1/3

C Light brown sugar

1/2

C Granulated sugar

1

C All-purpose flour

1 tsp

Pumpkin pie spice

1/2

C +

2 tbsp

Pumpkin puree

1 tsp

Vanilla extract
For the Cupcakes
1

box Chocolate fudge cupcake mix

1/4

C Dark chocolate cocoa powder

3/4

C Nonfat sour cream

3

Large eggs

3/4

C Milk or water

1/2

C Oil

2 tsp

Pure vanilla extract
For the Frosting
1 1/2

C (3 sticks) Unsalted butter, cold.

5

C Powdered sugar

2 1/2 tsp

Vanilla extract

2 tbsp

Heavy whipping cream
For the Magic Shell
11 oz

Nestlé Toll House Pumpkin Spice Morsels

3 tbsp

Vegetable oil
Instructions
For the Filling
Combine butter and both sugars, beat until smooth, 1-2 minutes.
Add flour and pumpkin pie spice. Slowly beat into the sugar, dough will be somewhat clumpy. Slowly add pumpkin puree and vanilla extract and beat until smooth.
For the cupcakes
Preheat oven to 350° F.
Combine cake mix with cocoa powder. Add sour cream, eggs, milk, vegetable oil and vanilla extract. Beat on medium speed until all ingredients are well combined.
Line your cupcake pan. Drop about 2 teaspoons of dough (small cookie scoop) into the bottom of the cupcake liners. Fill each one liner 2/3 full with batter.
Bake at 350°F for 15-18 minutes. Check for doneness by inserting a toothpick in the middle of the cupcake. If the toothpick comes out clean, your cupcakes are done.
Allow cupcakes to cool completely.
For the frosting
Cut butter into pieces. Using the paddle attachment, whip butter for 5-7 minutes, scraping down the bowl occasionally. Beat until butter look light in color.
Add 2 C powdered sugar and mix on low speed until incorporated into butter.
Add 2 tsp vanilla extract and mix to combine.
Add additional 2 C powdered sugar and beat on low speed until sugar is incorporated. Increase speed to medium-high and beat for 3 minutes.
Add last 1 C powdered sugar along with 2 tbsp heavy whipping cream and 1/2 tsp vanilla extract . Beat on low until ingredients start to mix together. Increase speed to medium-high and beat for another 3-5 minutes to whip additional air into the frosting.
To assemble the cupcakes
Frost cooled cupcakes and freeze for 15 minutes.
Prepare magic shell and dip cupcakes into magic shell. Allow to set for 10-15 minutes until firm. I suggest to let the frosting thaw further before eating.
For the magic shell
Combine pumpkin spice morsels and vegetable oil in a tall, microwave safe dish or cup. Melt for 45 seconds, stir until smooth. If not completely melted, microwave for another 15 seconds. Magic shell should be completely smooth.
Notes
Total time includes cooling time for the cupcakes and freezing time for the frosting. Please remember to freeze the frosted cupcakes before dipping in the magic shell!
Category:

Dessert

Method:

Oven

Cuisine:

American
Keywords: pumpkin dessert recipes, thanksgiving dessert ideas, halloween food ideas