This post may contain affiliate sales links. Please see my full disclosure policy for details
I've got a little something different for you today. Amongst all the orange going on out there (that's pumpkin, ya feel?), I've got an enchanting Red Velvet Rocky Road Pie from the talent Deborah Harroun of the Taste and Tell blog. Deb's recipe are incredibly creative. I made her Avocado Egg Rolls and I am DYING to try her Pumpkin Cinnamon Rolls with the cinnamon and maple glaze. Plus these Drumstick Cupcakes are just to stinking cute.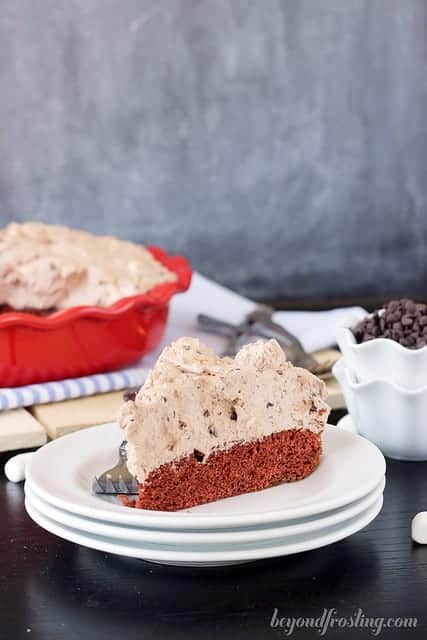 Deb's book, Red Velvet Lovers'just recently hit the shelves and it is packed with luxurious red velvet treats. Chapters in this book include your basic Red Velvet cake recipe and accompanying frosting, quick breads and breakfast treats, Cookies Brownies and Bars, Ice cream and frozen treats and bonus "indulgences".
As soon as I got this cookbook in the mail, I hoped into bread and flipped from page to page in awe of the creativity and thought behind each recipes. I must admit, red velvet is not my favorite, but I blame that in part to the fact that I have never actually had a good red velvet dessert. This is the reason I was so excited to get this cookbook, in hopes on finally finding a love and understanding for that which is red velvet.
It's clear that Deb poured her heart and soul into this cookbook. Here are a few of the mouthwater favorites: funnel cake, pull apart bread, snowballs and this here Rock Road Pie. This recipe intrigued me because it has a red velvet cake base and it's piled high with a chocolate whipped cream filled with chocolate chip, marshmallows and nuts. It's just the right amount of topping to cake ratio, what do you think?
The cake recipe is the perfect size for a pie plate, about half of what you would normally need for a cake. It baked up so evenly, I was shocked! Normally cakes have a dome, but this was just perfect. The topping is a fresh chocolate whipped cream, a recipe after my own heart. Pile the rocky road whipped cream on top of the cake and let it set in the fridge or at least an hour or so. I couldn't wait to cut into this pie and take the first bite. My taste buds exploded with the salty nuts and sweet chocolate chips, followed by the cocoa flavored red velvet cake.
The best part of this recipe was it was SO easy to make! After making this Rocky Road Pie and flipping through the Red Velvet Lovers' Cookbook, I will absolutely be trying a few more of these tempting treats. Head over to Amazonn to pick up your copy of The Red Velvet Lover's Cookbook.
Print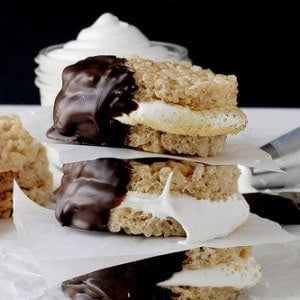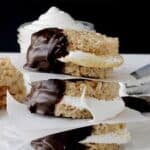 Red Velvet Rocky Road Pie
Prep Time:

20 minutes

Cook Time:

30 minutes

Total Time:

50 minutes

Yield:

One 9" Cake
Description
A luxurious red velvet cake topped with a rocky road whipped cream.
Ingredients
For the cake
1

C +

2 tbsp

Flour

1 tbsp

Unsweetened cocoa powder

1/2 tsp

Salt

1/4

C Vegetable oil

3/4

C Sugar

1

Large egg

1/4

C Buttermilk

2 tbsp

Red food coloring

1/2 tsp

Vanilla extract

1/2 tsp

Distilled white vinegar

1/2 tsp

Baking soda
For the whipped cream
1 3/4

C Heavy whipping cream

1/2

C Powdered sugar

2 tbsp

Unsweetened cocoa powder

1/2 tsp

Vanilla extract

2/3

C Mini marshmallows

2/3

C Chopped Pecans

1/2

C Chocolate chips
Instructions
Pre heat oven to 350°F. Coat a 9" pie plate with Crisco or cooking spray.
Prepare the cake by combining flour, cocoa powder and salt in a small bowl. Stir to combine.
In a large mixing bowl, beat oil and sugar until well incorporated.
Alternate dry ingredients with buttermilk, first adding one half of the dry ingredients followed by half of the buttermilk. Mix just until combined. Repeat with remaining ingredients. Add red food coloring and vanilla extract and mix to combine.
In a small bowl or cup, combine vinegar and baking soda, and allow it to bubble. Stir gently and then fold into cake batter with a spatula.
Pour the batter in prepared pie plate and spread evenly. Bake at 350°F for 28-35 minutes. Remove from oven and cool completely.
For the topping
Beat heavy whipping cream in a large bowl for about three minutes until mixture starts to thicken. Slowly add powdered sugar, cocoa powder and vanilla extract. Beat until stiff peaks form.
Gently fold in marshmallow, chopped pecans and chocolate chips. Pour whipped topping over cooled cake and keep refrigerated until ready to serve.
Notes
Recipe provided courtesy of Debraoh Harroun, author of Red Velvet Lovers' Cookbook and blogger at tasteandtellblog.com
This post was sponsored by the Taste and Tell Blog. I received a copy to review, and all opinions are my own. This post may contain affiliate links.
a Rafflecopter giveaway

Other recipes you might like:
Red Velvet S'more Waffles
Strawberry Red Velvet Waffle Parfaits