This post may contain affiliate sales links. Please see my full disclosure policy for details
Let's finish off this peanut butter chocolate week with Reese's Stuffed Rice Krispie Treat S'mores. I can't even tell you how many batches of Rice Krispie Treats I make in my house. They are super quick to make, and they never last long.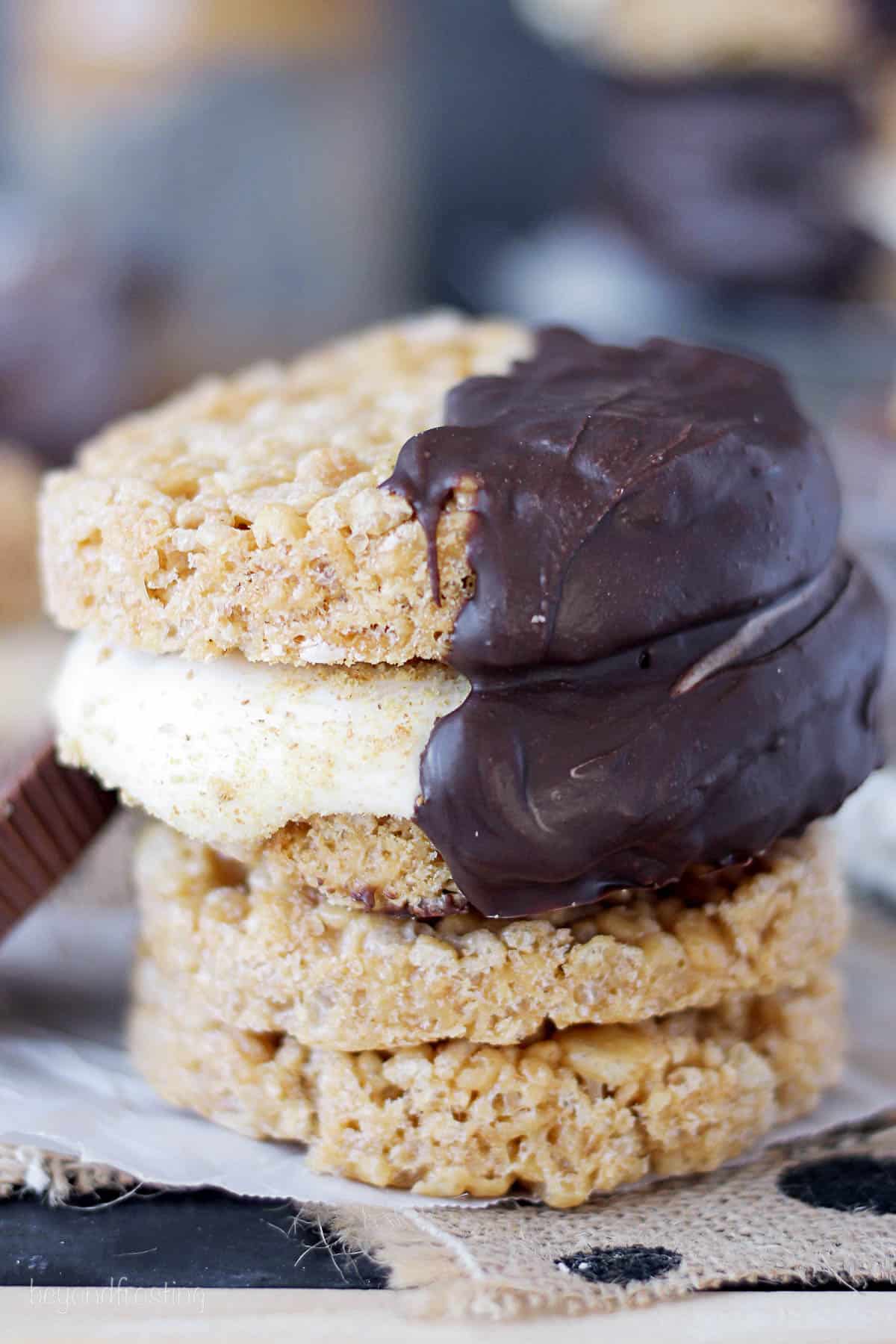 What is a Rice Krispie Treat S'more you might ask? It's two thin Rice Krispie Treats that are layered with marshmallow frosting, sprinkled with graham crackers and dipped in chocolate. These also have peanut butter in them! Lot's of peanut butter and a little bit of chocolate!
The problem is that any time I want to try some different type of Rice Krispie Treat, it's doesn't really fly with the boyfriend.
But ever since I made my original Rice Krispie Treat S'mores, I have loved to try different variations of them.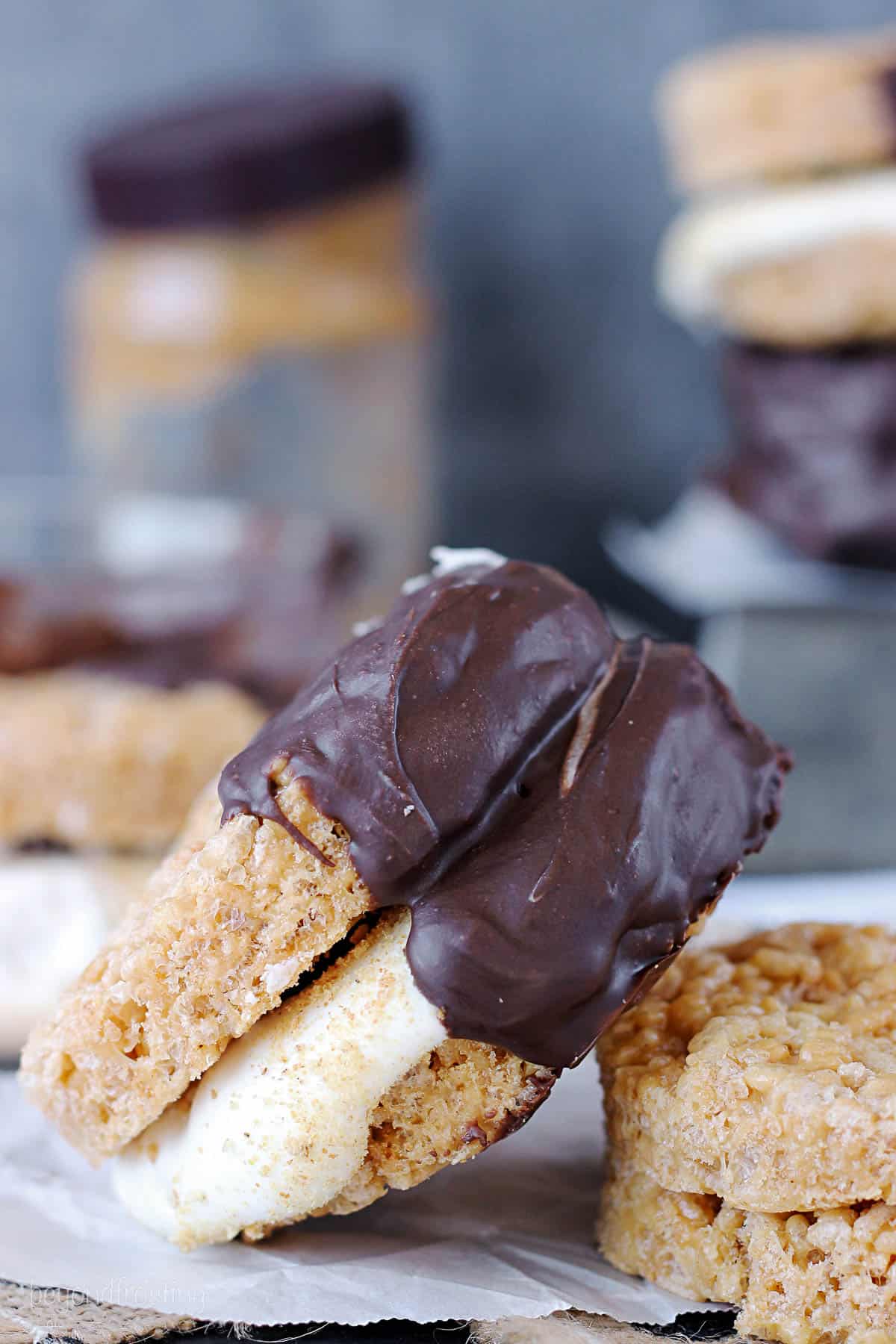 To make a Rice Krispie S'mores, you start with a very thinly packed tray of Rice Krispies that are made with creamy peanut butter mixed in. They should be about ½ inch thick. Then I take a round cookie cutter and make the discs.
For these treats, you've got a Reese's Peanut Butter Cup stuffed in the middle of a pool of marshmallow frosting. It's quite fantastic.
For the marshmallow frosting, you have two options. You can make a true marshmallow frosting using whipped egg whites and corn syrup- I prefer this recipe from Climbing Grier Mountain. Or, you can make a marshmallow frosting with Jet-Puffed Marshmallow Crème and powdered sugar.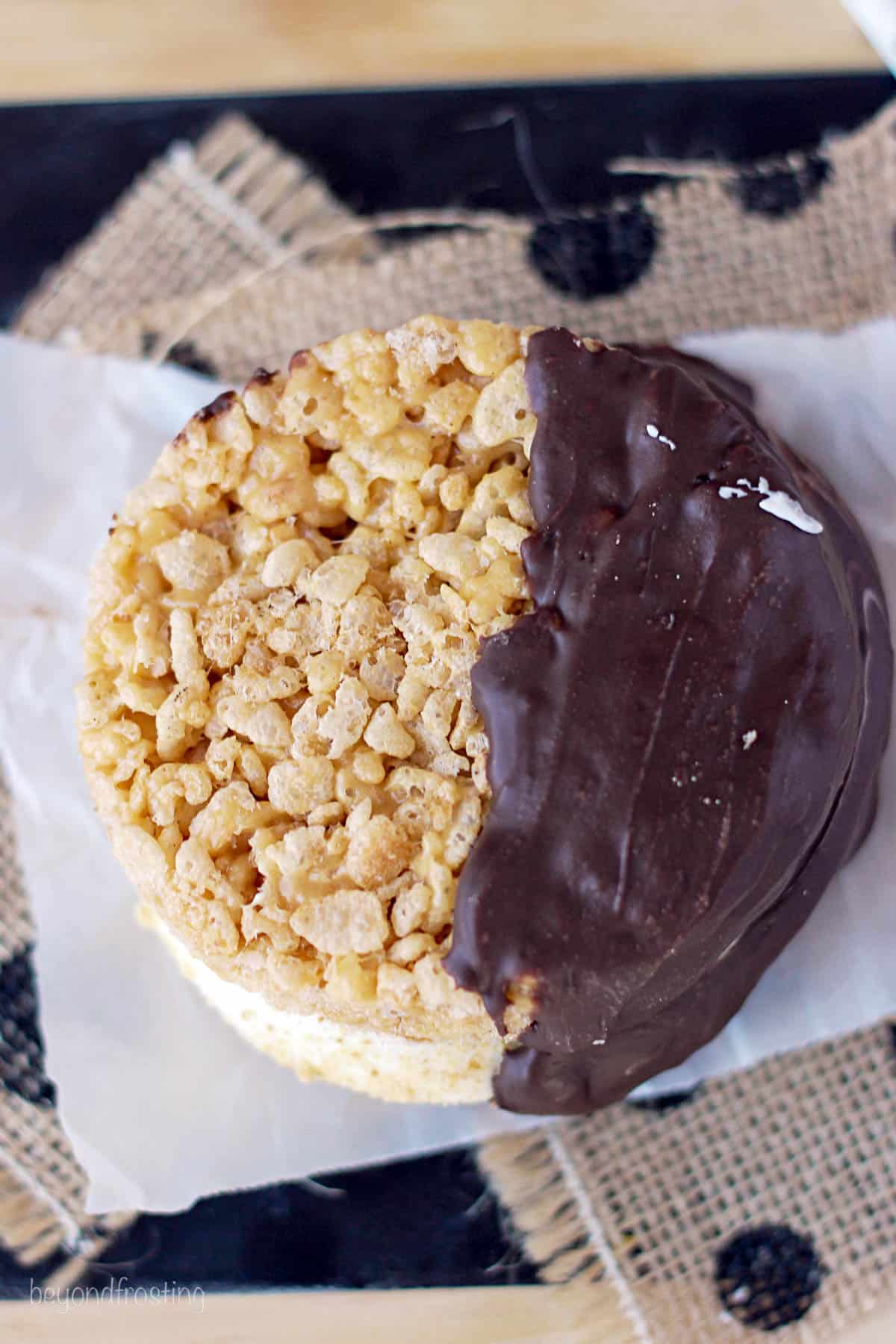 Once you make the sandwich with the Rice Krispie treat, marshmallow frosting and Reese's Peanut Butter cup, then you dip the whole thing in chocolate and sprinkle some graham crackers around the edges. For the chocolate shell you can use candy melts. I suggest to use a wide mouthed mug or measuring cup so that your chocolate is deep enough to dip in. Be sure to tap off the extra chocolate!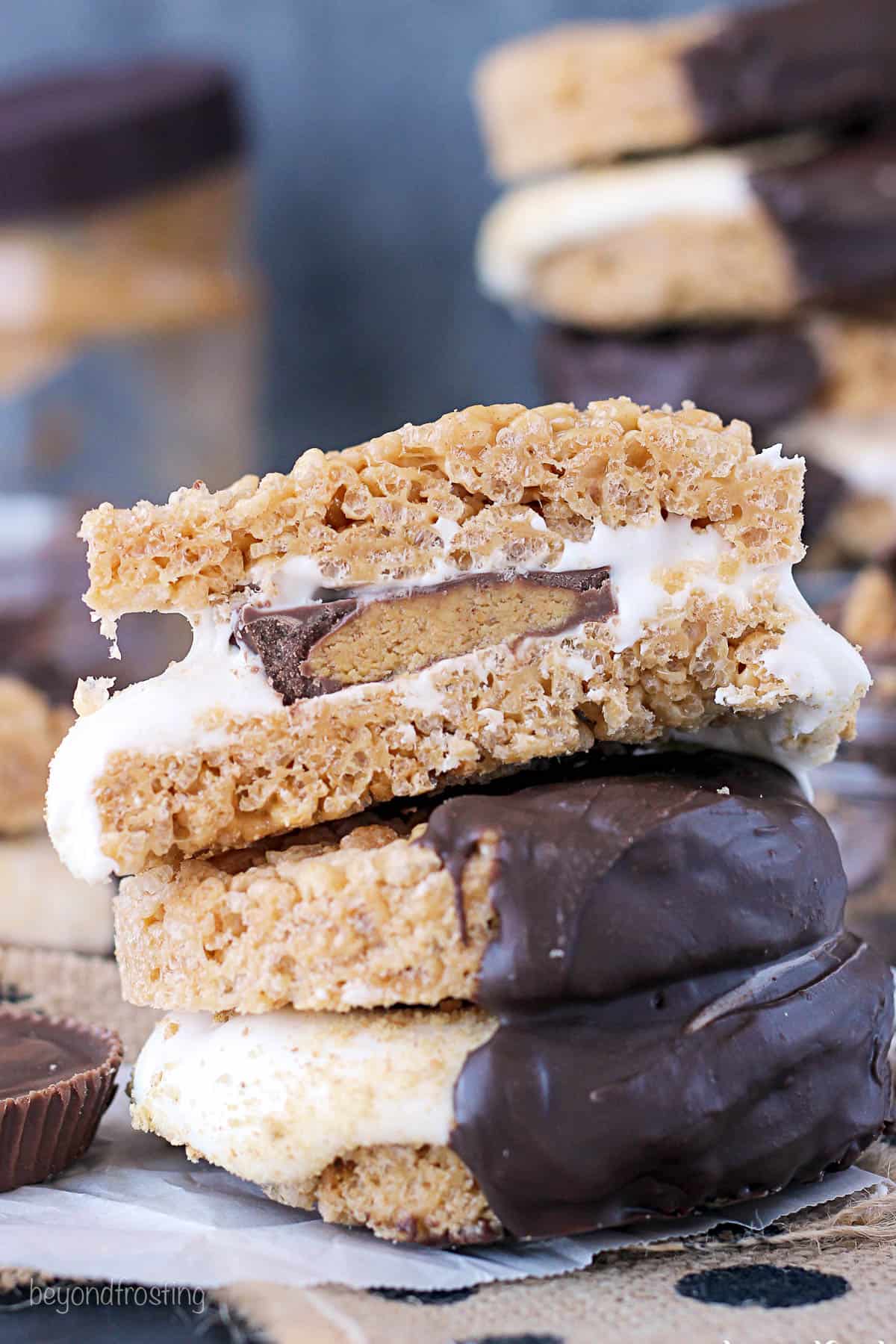 There a few steps to make these, but's its truly quite easy! Trust me, I've done several versions now! You friends will be really surprised when they bite into these and find a Reese's Peanut Butter Cup in the middle!
Print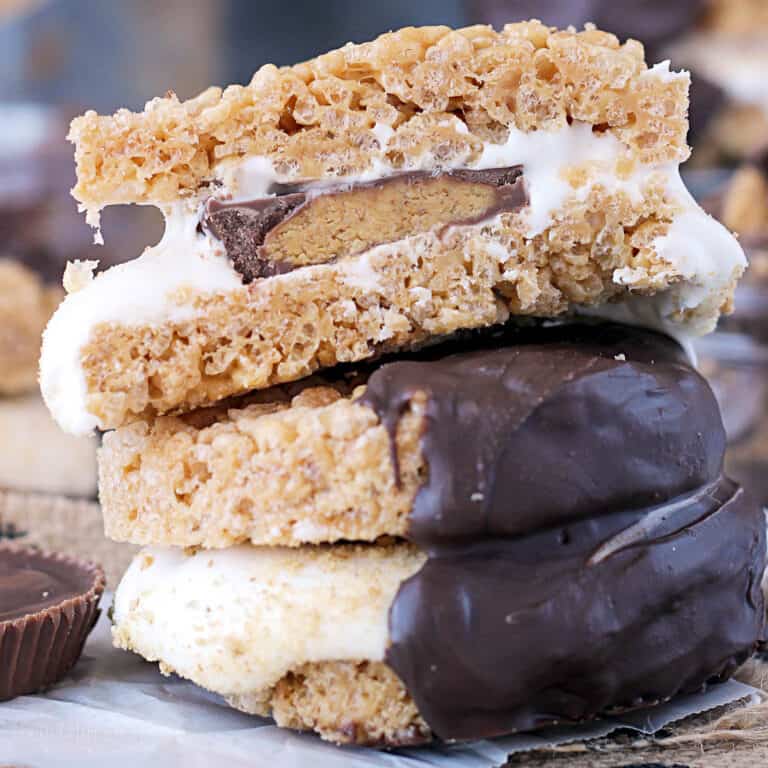 Reese's Stuffed Rice Krispie Treat S'mores
Author:

Prep Time:

60 mins

Total Time:

1 hour

Yield:

8
Description
Rice Krispie Treats that are layered with marshmallow frosting, a Reese's Peanut Butter Cup and sprinkled with graham crackers and dipped in chocolate.
Ingredients
3 tbsp

Unsalted butter

¾

pkg Mini Marshmallows

½

C Peanut Butter

6

C Rice Krispie cereal

1

Jar Marshmallow fluff

3

C Powdered sugar

8

Reese's Peanut Butter Cups

1/2

C Graham cracker crumbs

6

–

8

oz Chocolate Candy Melts

1 tbsp

Crisco or Vegetable oil
Instructions
Prepare the Rice Krispies treats by combining butter, peanut butter and mini marshmallows in a medium sized sauce pan. Stir over medium heat until marshmallows are melted. Pour the cereal in the sauce pan and stir until well mixed.
Grease a large baking pan or cookie sheet (I used 12"x17") or two smaller pans with Crisco. Spoon cereal and marshmallow mixture into the pan. Use a spatula and spread evenly. Use a piece of wax paper over the top and gently press mixture into pan. You want to have somewhat of a thin layer of Rice Krispie Treats (about ½" thick), which is why I suggest using two pans. Leave them to harden for at least 30 minutes.
To prepare the frosting, combine marshmallow fluff and powered sugar. Beat on low speed until powdered sugar is mixed into fluff. Increase speed to medium high and beat until light and fluffy. Spoon frosting into a piping bag or Ziploc bag. Cut off the tip of the bag about ½" up.
Use a juice glass or cookie cutter and cut your Rice Krispies treats into circles.
Pipe a dollop of frosting on the back of the Reese's Peanut Butter Cup and place in the center of one of your Rice Krispie discs. Pipe frosting around the Reese's Cup.
Make graham cracker cubs by crushing in a Ziploc bag or grinding them into crumbs using a food processor. Spoon some graham cracker crumbs on top and cover with a second Rice Krispie treat disc.
Use a microwave safe bowl and melt chocolate in 30 second increments, stirring after each 30 seconds until chocolate is melted. Stir in one tablespoon Crisco or vegetable oil to help thin out candy melts.
Dip Rice Krispies Sandwich into chocolate and put on wax paper to allow chocolate to set; less than five minutes.
Notes
If you prefer a homemade marshmallow frosting, check out this recipe.
Category:

Dessert

Method:

No-Bake

Cuisine:

American