This post may contain affiliate sales links. Please see my full disclosure policy for details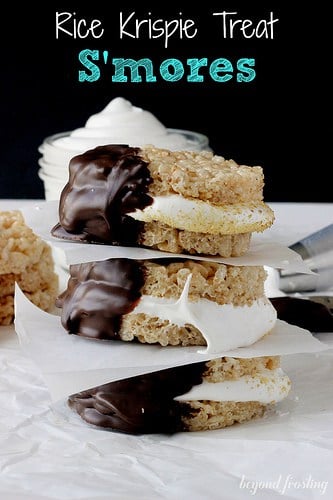 I have kind of been on a Rice Krispie kick lately. Last weekend, I somehow decided it would be a good idea to make a frosting with Rice Krispie Treat Frosting, which hello, is totally necessary in life. At the same time, I have suddenly found myself obsessed with S'mores. As such, I have been racking my brain trying to come up with a variation of a S'mores dessert.
I made a stop at a local bakery recently and they had this awesome ginger snap S'mores cookie that was half dipped in chocolate. I knew I wanted to try something similar at home and poof! The Rice Krispie Treat S'mores were born. Does it seem a little redundant to have marshmallow filling inside a rice krispies treat, since said treat already contains marshmallow? The correct answer is no; it's actually amazing.
First you make a batch of Rice Krispies treats, and allow them to set. Cut yourself out some shapes, fill it with marshmallow frosting and graham cracker crumbs and dip the sandwich in melted chocolate. You could really use any type of marshmallow filling, but I made my favorite marshmallow frosting from the Climbing Grier Mountain Blog. I had the pleasure of also meeting Lauren at the BlogHer Food conference this past summer.
I dipped these in some melted Candiquik chocolate. I met Sarah, who blogs for Candiquik, at the BlogHer Food conference as well. After expressing my frustration with other candy melts on the market, Sarah graciously sent me a box of Candiquik to try. Have you tried this yet? It is unbelievably easy to melt and creates the best consistency for dipping. Normally, I have to add a lot of Crisco to my melted chocolate to get the proper consistency for dipping truffles or cake pops. This is not necessary with Candiquik. Not only does it melt well, but the tray that the candy comes in is microwave safe and reusable. If you don't use all the chocolate in one sitting, you can let it re-harden and use it again. For this recipe, I broke off a couple squares and melted it in a bowl. The Candiquik hardens very quickly and really holds the shape. I love it!
Rice Krispie Treat S'mores
Yields 8 S'mores
For the Rice Krispies Treats
Recipe from Kelloggs
3 tbsp Butter
4 C Mini marshmallows
6 C Rice Krispies cereal
For the S'mores
1/4 C Graham cracker crumbs
6 oz Chocolate for melting (3 squares of Candiquik)
For the Marshmallow frosting, please see this post for the recipe.
Instructions
Prepare the Rice Krispies treats by combining butter and mini marshmallows in a medium sized sauce pan. Stir over medium heat until marshmallows are melted. Pour the cereal in the sauce pan and stir until well mixed.
Grease a large baking pan or cookie sheet (I used 12"x17") or two smaller pans with Crisco. Spoon cereal and marshmallow mixture into the pan. Use a spatula and spread evenly. Use a piece of wax paper over the top and gently press mixture into pan. You want to have somewhat of a thin layer of Rice Krispie Treats, which is why I suggest using two pans. Leave them to harden for at least 30 minutes.
Prepare your frosting by following this recipe while your treats are setting. You will have extra frosting, unless you made a double batch of treats.
For the assembly
Use a juice glass or cookie cutter and cut your Rice Krispies treats into circles (Allow your editor to immediately consume all remaining Rice Krispies Treats, because he loves them).
Use a spoon or piping bag to put marshmallow on one side of the treat.
Spoon some graham cracker crumbs on top and cover with a second Rice Krispie treat circle.
Use a microwave safe bowl and melt chocolate in 30 second increments, stirring after each 30 seconds until chocolate is melted.
Dip Rice Krispies Sandwich into chocolate and put on wax paper to allow chocolate to set; less than five minutes.
These are really easy to assemble and taste pretty amazing. Once you take a bite into the sandwich, the frosting oozes out the side.
I received Candiquik samples to try but all opinions expressed in this post are my own.
Check out last week's Rice Krispie Treat Frosting