This post may contain affiliate sales links. Please see my full disclosure policy for details
Fluffy chocolate cupcakes with a marshmallow filling and a caramel Swiss Meringue Buttercream. You'll love these cupcakes!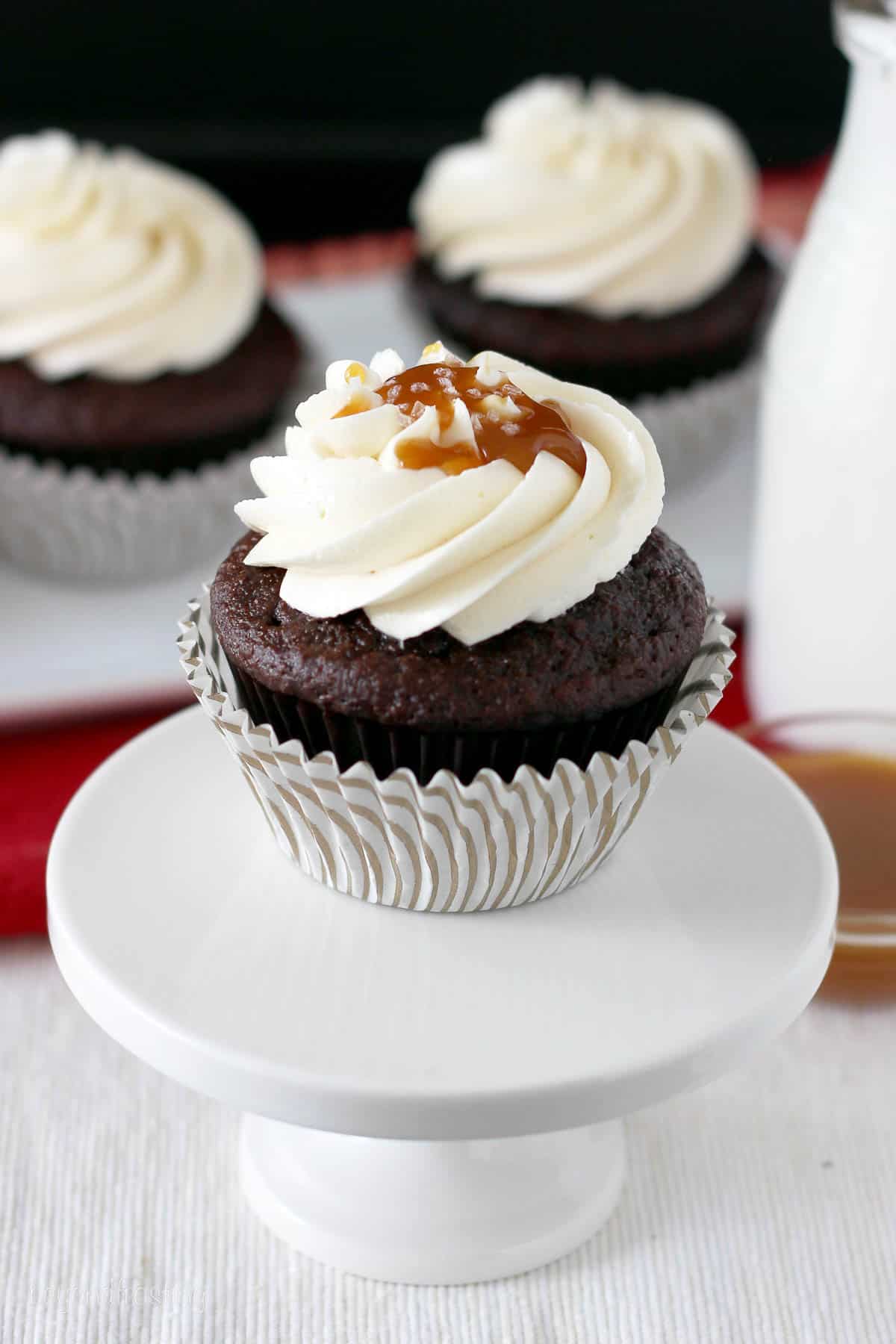 Have any of you stood in line at the post office this week? Holy cow. I have heard of wait times over an hour! While I just dropped something off, it still took me 10 minutes just to pull out of my parking spot. I guess that's what I get for leaving things till the last minute!
Well since I mentioned on Monday that I had nothing done, I kicked my butt into gear and got some presents and a small tree- which was no easy feat. We went to three different places and no one has what we wanted.
While we settled on a small 3.5 foot tree and I dressed it up as best I could. It's amazing how a few lights and the smell of a fresh tee makes you instantly feel the spirit of Christmas! I never knew how much I liked having a Christmas tree until I went a few years without it when I first moved to California.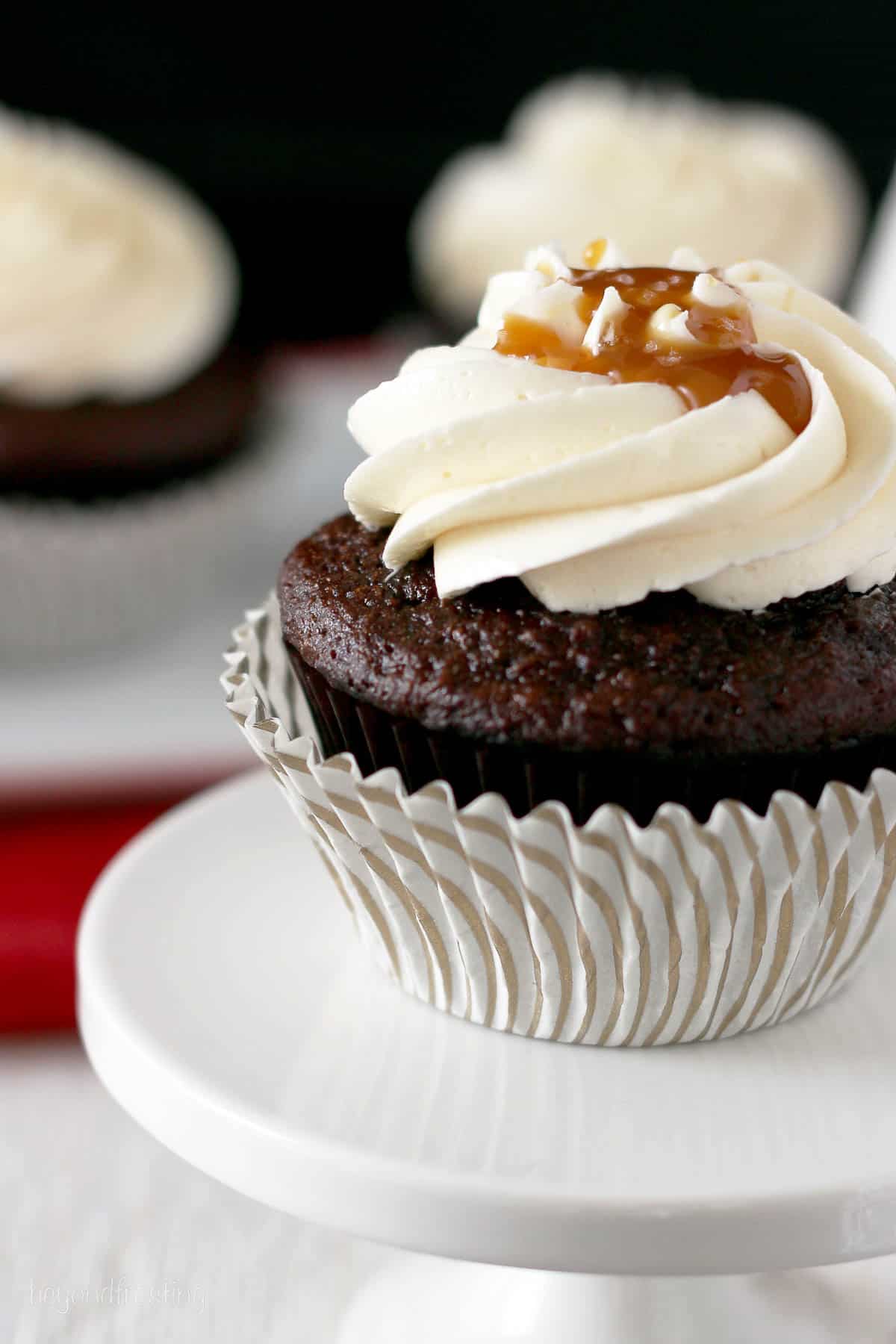 I mentioned earlier this week that I had TWO cupcakes coming your way this week. The first one was a Peppermint Hot Chocolate Cupcakes, which are pretty amazing, but I wanted to do a similar cupcake for someone with the opposite taste palette.
So I created a Salted Caramel Hot Chocolate Cupcake. I love this version of the hot chocolate cupcake because it has the same marshmallow filling but it is mixed with a little caramel and it's topped with a caramel Swiss meringue buttercream. I love how the buttery frosting balances out the sweetness of the caramel. I also sprinkled a little sea salt on top, so you get a little crunch of salt in each bite.
These cupcakes do take a little time, and some patience to prepare. I love this cupcake because there is a little bit of sweet and a little bit of salt.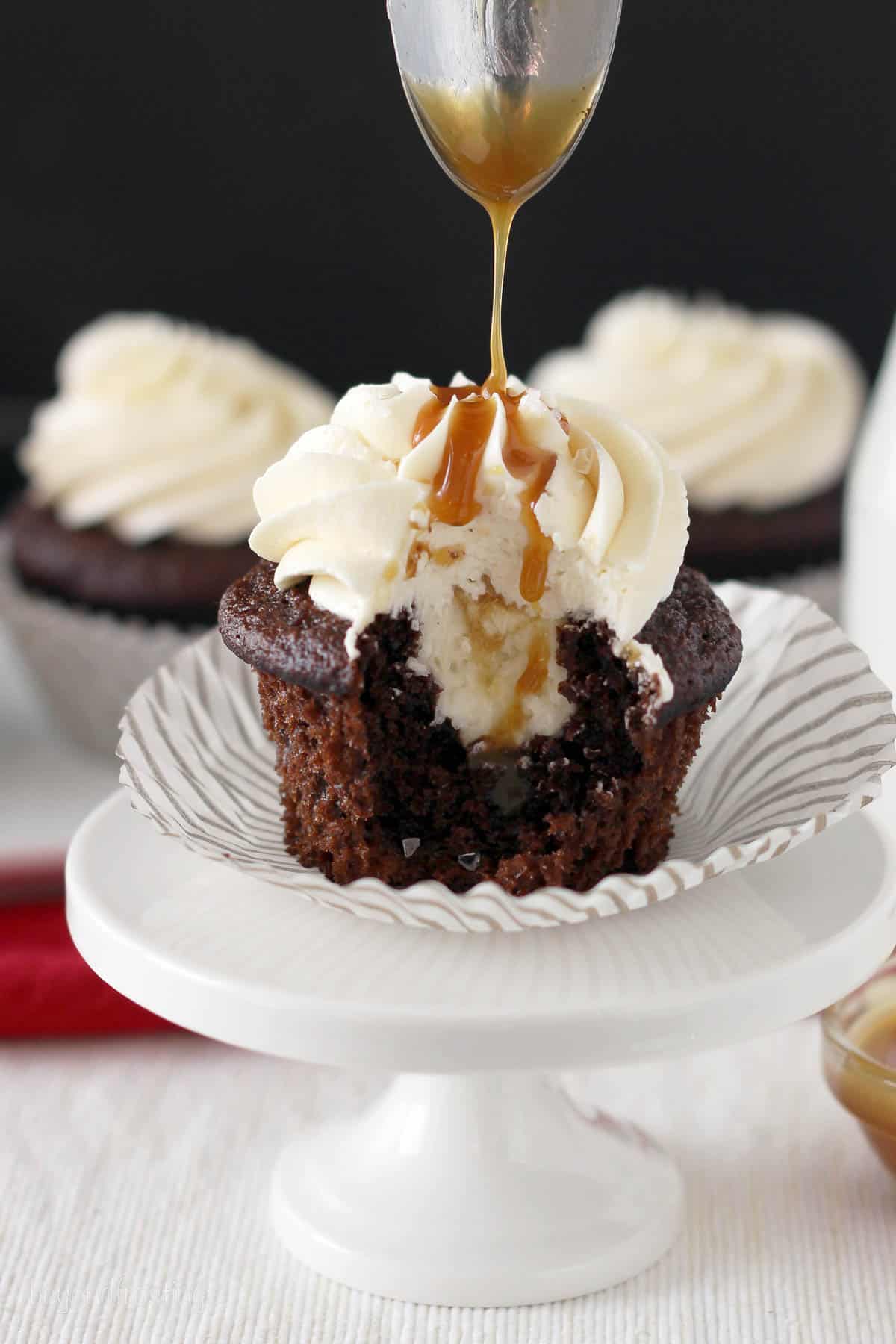 Here is how I prepare these. Once the cupcakes go in the oven, I make the marshmallow filling and set it side. The caramel Swiss meringue buttercream is what takes the longest, it takes about 20 minutes to make this frosting between tempering the egg whites and beating them- but it is totally worth it.
If you have never made a Swiss meringue buttercream before, I highly recommend checking out tips and tricks to making a successful frosting.
Print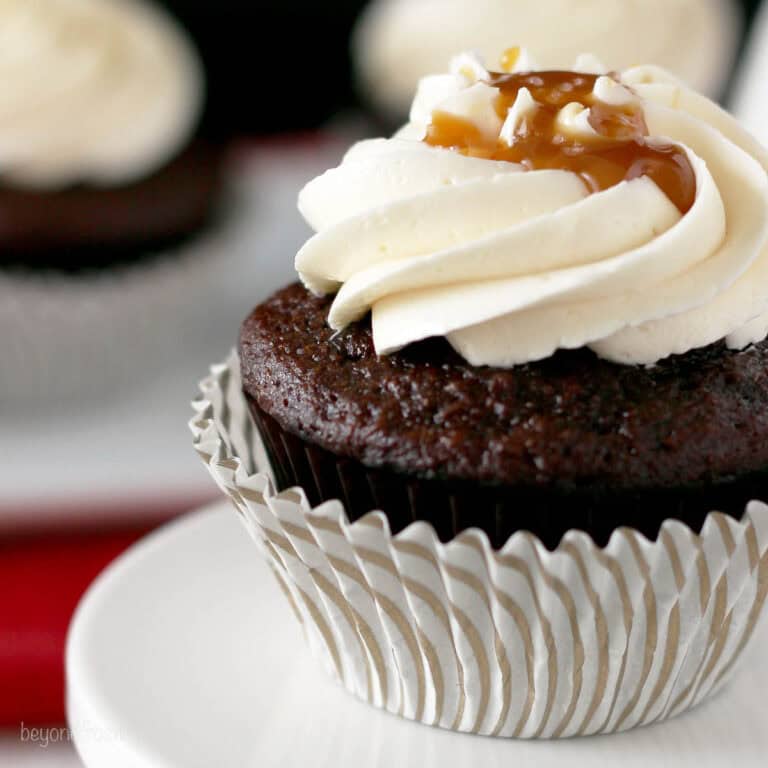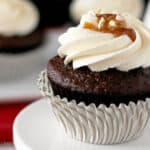 Salted Caramel Hot Chocolate Cupcakes
Author:

Prep Time:

45 minutes

Cook Time:

15 minutes

Total Time:

1 hour

Yield:

20 cupcakes
Description
Fluffy chocolate cupcakes with a marshmallow filling and a caramel Swiss Meringue Buttercream. You'll love these cupcakes!
Ingredients
1

Box (15oz) Chocolate cake mix

1/2 cup

Caramel hot chocolate mix

1 cup

Milk

3

Large eggs

1/2 cup

Vegetable oil

3/4 cup

Sour cream

1 tsp

Pure vanilla extract

2 tbsp

Caramel sauce (Smuckers or other)
For the marshmallow filling
1 cup

Unsalted butter (at room temperature)

2 cups

Marshmallow fluff

2 cups

Powdered sugar
Pinch of salt

3 tbsp

Heavy whipping cream

3 tbsp

Caramel sauce
For the caramel buttercream
1

lb (4 sticks) Unsalted butter (at room temperature)

5

Large egg whites

1 cup

plus 2 tbsp Granulated sugar

3 tbsp

Caramel sauce
Sea Salt
Instructions
Preheat oven to 350° F. Line a cupcake pan with liners
Combine cake mix with hot chocolate mix. Add milk ,eggs, vegetable oil, sour cream, vanilla extract and caramel sauce. Beat on medium speed until all ingredients are well combined. Use a large cookie scopp and fill each liner 2/3 full.
Bake at 350°F for 12-16 minutes. Check for doneness by inserting a toothpick in the middle of the cupcake. If the toothpick comes out clean, your cupcakes are done. Allow cupcakes to cool completely.
For the marshmallow filling
Allow butter to soften to room temperature. Combine butter and marshmallow fluff and beat on medium-high speed until well combined and fluffy.
Add powered sugar, one cup at a time. Beat on slow speed and increase to medium speed once some of the powdered sugar has been absorbed into the butter. Mixture will be very thick.
Add a pinch of salt and 3 tablespoons of heavy whipping cream. Beat on medium high speed for 3-5 minutes until filling is fluffy.
Pour marshmallow filling in a large piping bag or Ziploc bag and cut off the bottom edge of the bag.
Core out the center of your cooled cupcakes with a knife or spoon, making a small hole. Fill each cupcake with the marshmallow filling.
Drizzle caramel over top of marshmallow filling and swirl into marshmallow with a toothpick. Set aside.
For the caramel buttercream
Allow butter to come to room temperature.
Combine sugar and egg whites in your stainless steel mixer bowl (or any heat proof bowl). Attach your candy thermometer to the side of the bowl. Set your bowl over top of a pot with water, just enough water to cover the bottom of the pot. You do not want the water to boil and touch the bottom of your mixing bowl. Heat on medium temperature.
Stir the mixture constantly until the mixture reaches 160° F. The sugar should be dissolved in the egg whites. You can test this by placing a drop on your fingertips and rubbing them together. The mixture should be completely smooth.
Place the mixing bowl on your stand. Using the wire whisk attachment beat the eggs. Start on low speed and increase the speed to medium after 2 minutes. Beat for another 3 minutes on medium speed. At this point, your frosting should have turned white as the egg whites are whipped and the body of the meringue starts to form. Increase speed to high until mixture is glossy and stiff peaks form. Beat for another 5 minutes.
After you have beaten the meringue for a total of about 10 minutes, the bottom of your mixing bowl should be cooled completely. Your SMB should look kind of like whipped cream. Scrape down all sides and bottom of the bowl.
Turn your mixer down to medium-low. Slowly add the softened butter, about 1 tbsp at a time, ensuring it is mixed well after each addition. Once you have added all your butter, add vanilla extract. Mix for another minute and scrape down the sides of the bowl.
Switch to the paddle attachment and continue beating on medium to allow all the air bubbles to escape. Add caramel sauce into frosting. Beat for about 2-3 minutes until the frosting is smooth. If your frosting has not formed yet, continue to beat until it is light and fluffy.
Frost the marshmallow filled cupcakes and sprinkle top with sea salt. You can drizzle with additional caramel if desired.
Category:

Cupcake

Method:

Oven

Cuisine:

American
Keywords: Chocolate cupcake, Swiss Meringue buttercream, Caramel frosting,