This post may contain affiliate sales links. Please see my full disclosure policy for details
These Samoa Cookie Sandwiches are completely irresistible. The caramel buttercream is sandwiched between two chewy sugar cookies coated with chocolate sauce and rolled in toasted coconut.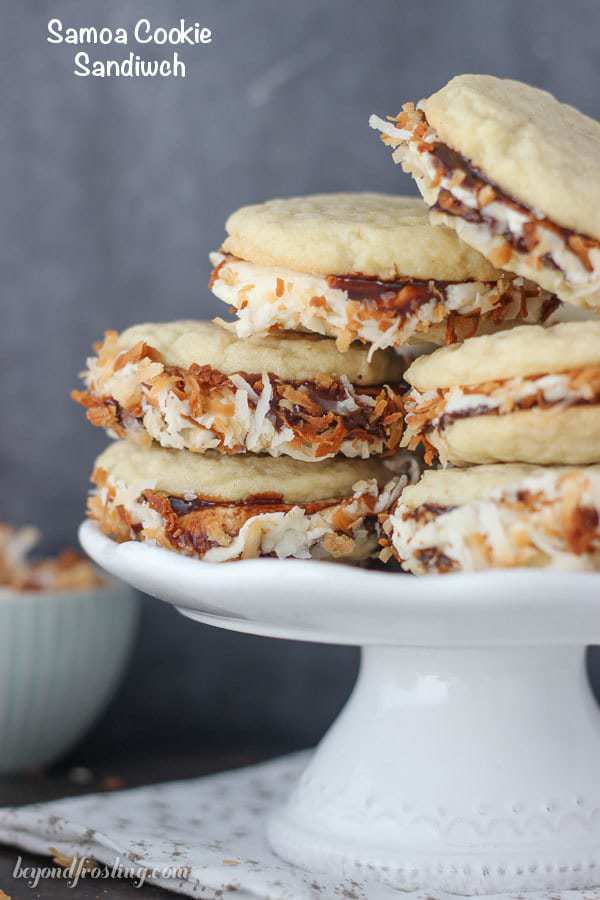 I have to admit to you guys that my personal life is not very exciting. I work all day, I come home, I do blog work, eat, sleep, repeat. But every once in awhile there is the occasional trip or some exciting things happening. For instance, you'll see me hit the road a bunch this month, but that's out of the ordinary.
I'm telling you all of this because Friday night my boyfriend and I actually headed into LA (Hollywood to be exact, but that sounds so pretentious and I'm not that cool) and went to a concert. The main performer didn't go on until after 10 and played till almost midnight. I yawned my way through the show but it was a great venue and we had a good time.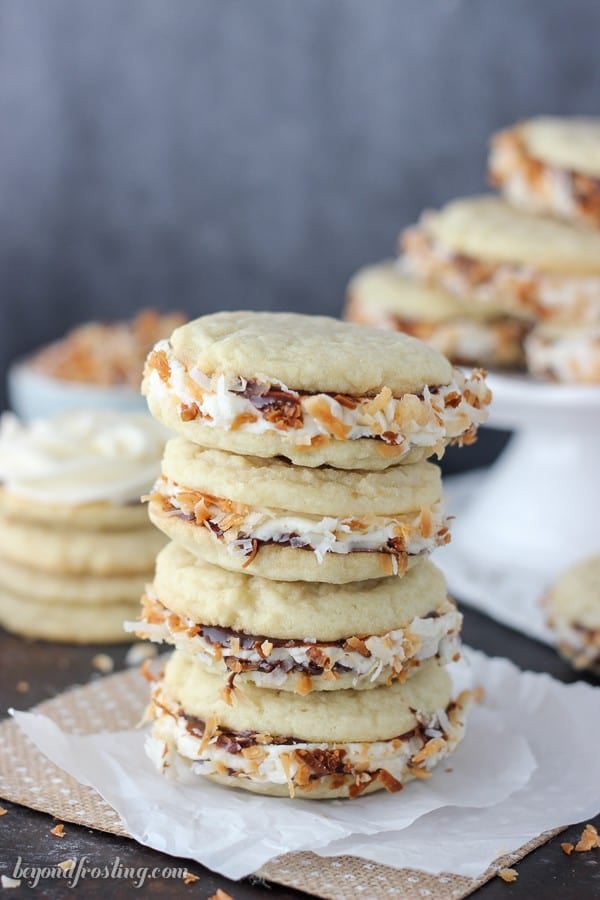 By the time we got close to home it was after 1am and against our better judgment, we hit the Jack in the Box drive-through. After that it was straight into bed. My sister tells me I'm 29 going on 59, but take that, sister! Haha. Then I slept in until 11am and it was awesome. I'm definitely winning this weekend.
Then there are these Samoa Cookie Sandwiches which remind me that I am still young and fun. I guess you could say the countdown is officially on, and the big 3-0 is just a mere couple of months away.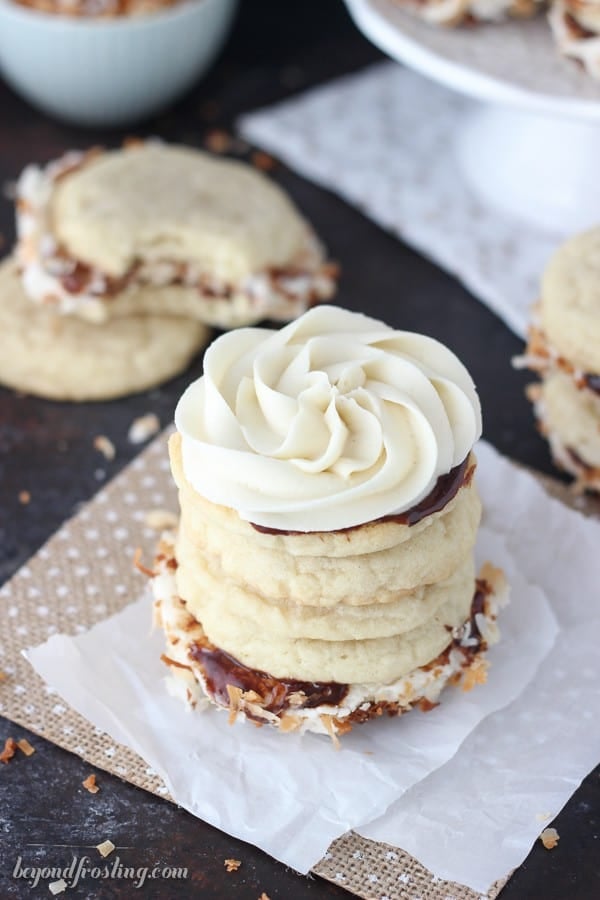 I first shared these Samoa Cookie Sandwiches over at Chocolate Chocolate and More. It's a buttery sugar cookie filled with a caramel buttercream (I just wrote buttcream by accident), plus there's a layer of hot fudge sauce. Let's not forget about that sweet toasted coconut on the outside. These might be a wee bit of sugar overload and I'm so #sorrynotsorry about it.
The cookie dough does require some time in the refrigerator. It's unavoidable, but I'm convinced it is one of the factors that keeps these cookies extra chewy. Once these are completely cooled, I spread the backsides with hot fudge sauce. I typically use Smuckers brand that I buy at my local grocery store.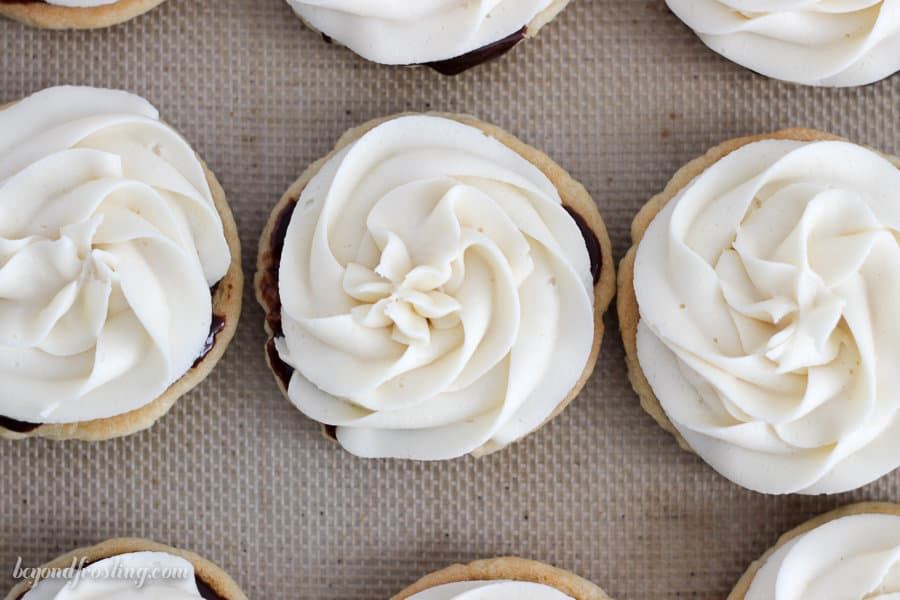 When it came time to make the frosting, I adapted my perfect vanilla frosting and added some caramel sauce (also store bought). To apply the frosting to the cookies, I used a 1M tip and piped from the outside of the cookie, working my way into the middle. I thought it was so pretty, I almost considered leaving them just like that!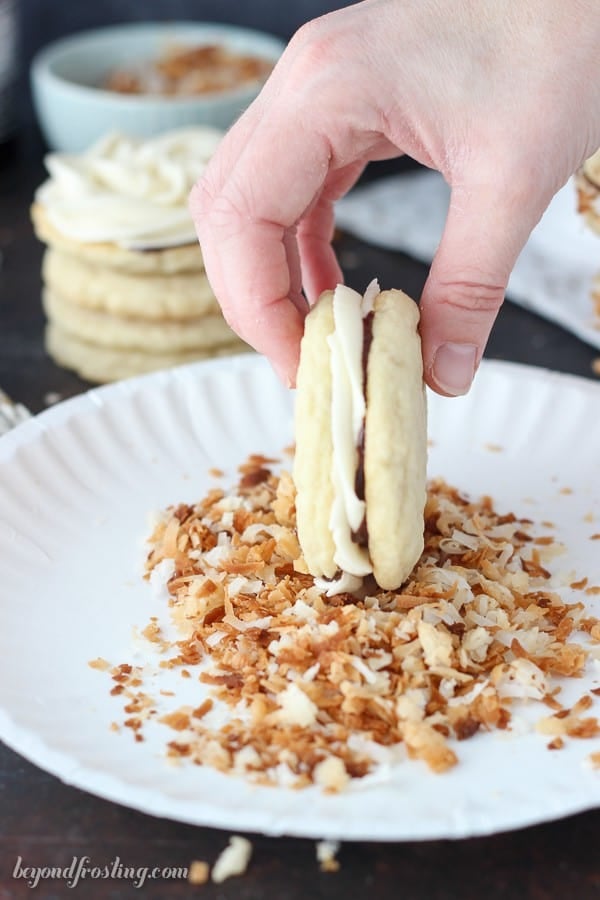 Once you've added the frosting, gently push another cookie on top and roll it in a plate of toasted coconut. It will smash down those pretty edges, but sometimes I like to use my hands to gently pat the coconut into the frosting.
Now that you've completed your Samoa Sandwich cookie, you're ready to take a big ol' bite. Don't be shy, no one is judging you over here.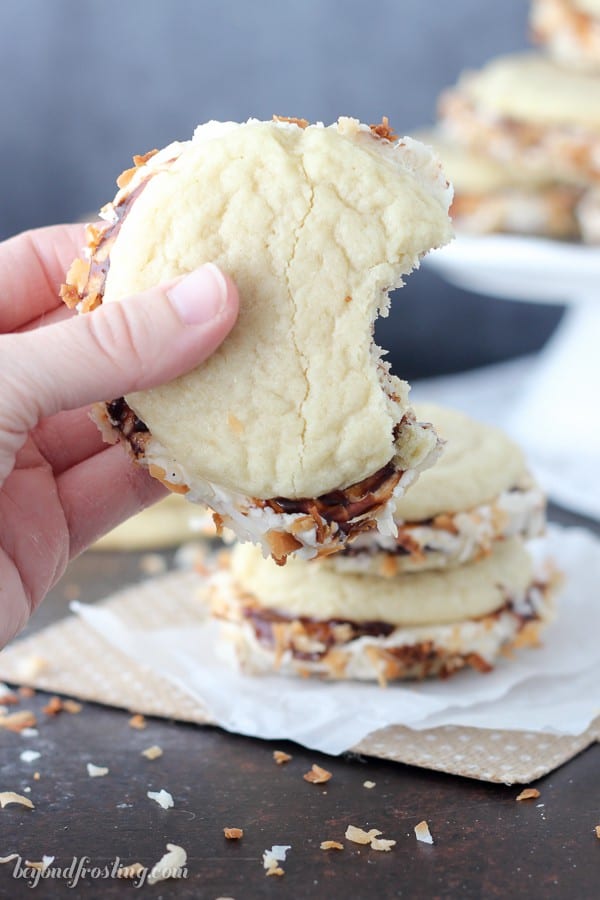 I can't believe I haven't shared any Girl Scout inspired desserts yet this year. While Thin Mints will always be my favorite, I am slightly obsessed with samoa desserts. I even rounded up 25 of my favorite samoa recipes from my friends.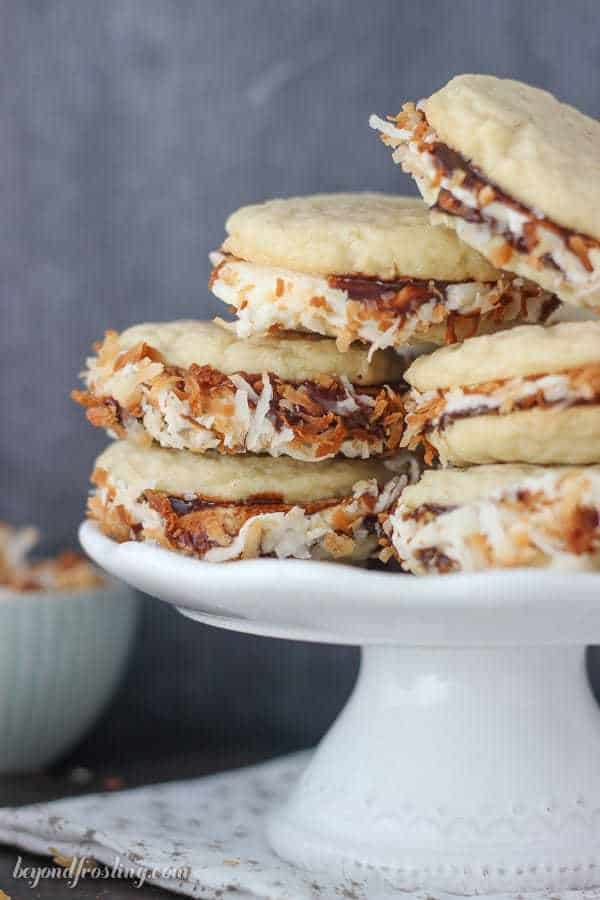 Keep up with all the happenings. Follow Beyond Frosting:
Facebook | Twitter | Pinterest | Instagram
Print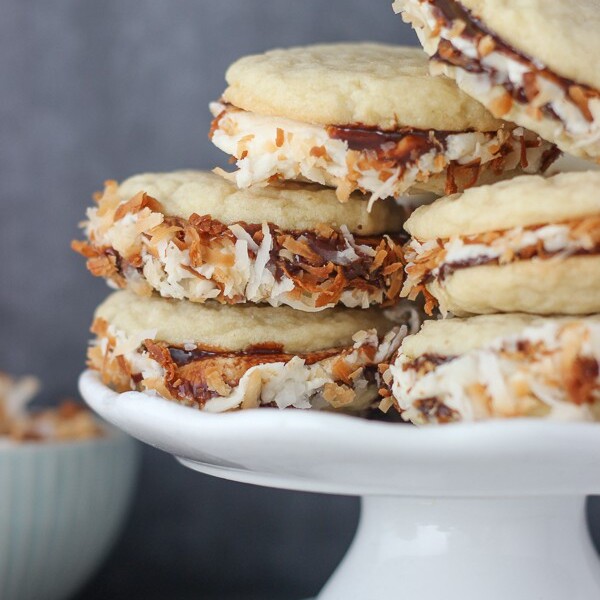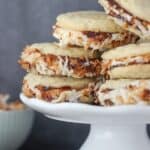 Samoa Cookie Sandwich
Author:

Prep Time:

60 mins

Cook Time:

12 mins

Total Time:

1 hour 12 minutes
Ingredients
1 cup

(

2

sticks) unsalted butter

2 cups

sugar

2

Large eggs

1 teaspoon

vanilla extract

3 cups

flour

½ teaspoon

baking soda

½ teaspoon

cream of tarter

1 ½ cup

coconut, toasted
For the filling:

¾ cup

unsalted butter

4 cups

powdered sugar

3 tablespoons

caramel sauce (such as Hershey's or Smuckers)

1 tablespoon

milk
pinch of salt

½ cup

hot fudge jar (such as Hershey's or Smuckers
Instructions
Combine butter with sugar and beat on medium speed until well creamed together.
Add egg and vanilla extract. Mix into butter and sugar until egg is well beaten.
In a separate bowl, combine flour, baking soda and cream of tartar. Slowly add into batter and beat on medium low speed until well combined and dough forms.
Refrigerate dough for a minimum of 30 minutes and up to 1 hour. Do NOT skip this step or you will have cookies thinner than pancakes!
Preheat oven to 350° F. Use a medium cookie scoop (1-2 tbsp) and scoop cookie dough onto a parchment paper lined baking sheet. Place about 2 inches apart.
Bake at 350° F 10-12 minutes. Allow cookie to cool on the baking sheet for several minutes and then transfer to a wire rack to cool completely.
While cookies are baking, toast coconut on a second baking sheet lined with parchment paper. Keep an eye on the coconut while baking. It need less than 10 minutes. Put on a paper plate to cool.
For the frosting:
Allow butter to come to room temperature. Using a stand mixer, beat the butter for several minutes until light and fluffy.
Add powdered sugar one cup at a time and slowly increase speed from low to medium. As the frosting becomes thicker, slowly add caramel sauce and milk, one tablespoon at a time. Gradually increase speed to medium high; beat for several minutes until light and fluffy adding a pinch of salt to cut the sweetness.
Fill a large piping bag that is fitted with a 1M tip. Set aside.
To assemble the cookies, first heat a jar of hot fudge for 30 seconds so that it is spreadable but not hot to the touch. Spread a thin layer of hot fudge sauce on the backside of the cookies.
On the backside of one cookie, pipe a layer of caramel frosting using a 1M tip, starting from the outside edge and working you way in.
Add a second, hot fudge frosted cookie on top. Gently roll the cookie in the toasted coconut. You can use your hands to press the coconut into the frosting as well.
Store in an air-tight container.
Visit Beyond Frosting's profile on Pinterest.
You might also like: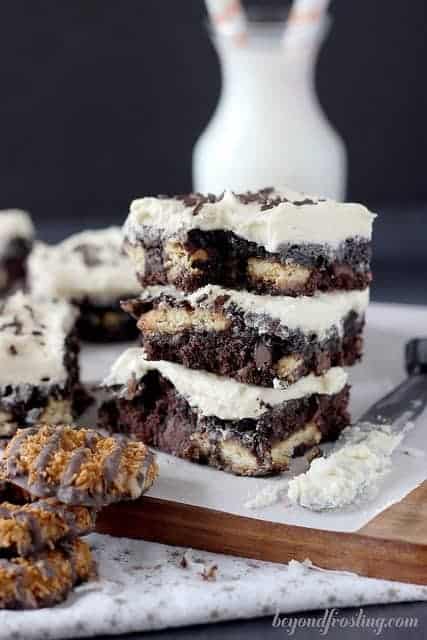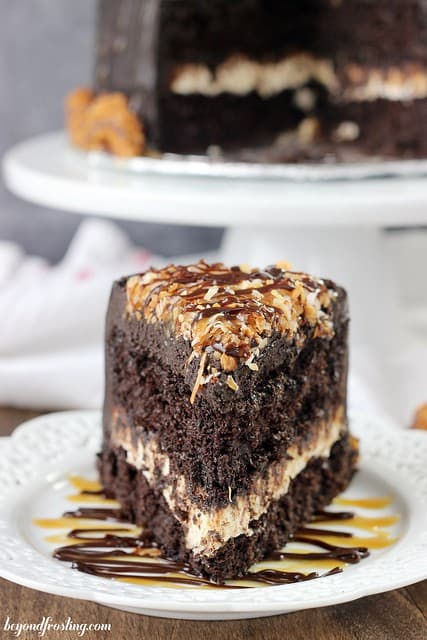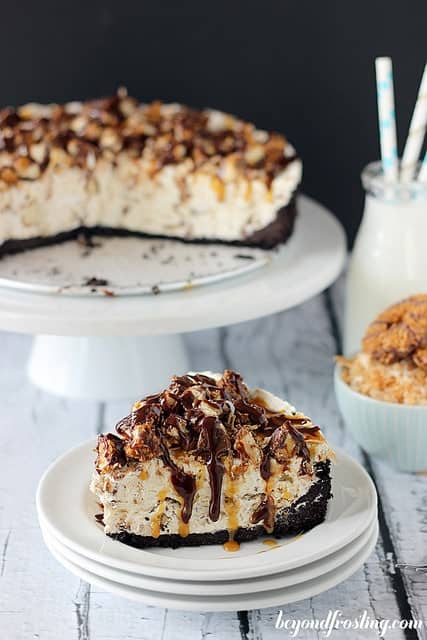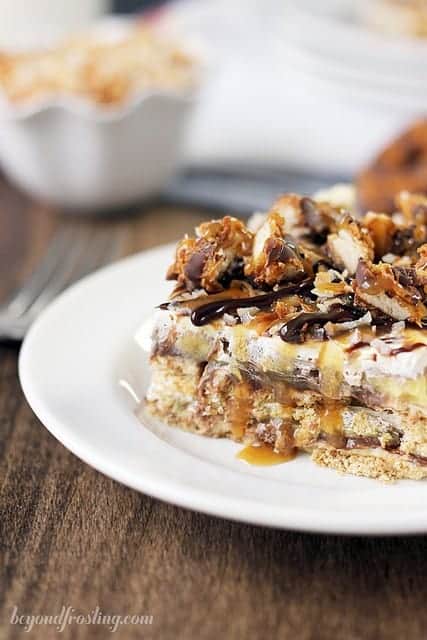 Recipes you might like from my friends