This post may contain affiliate sales links. Please see my full disclosure policy for details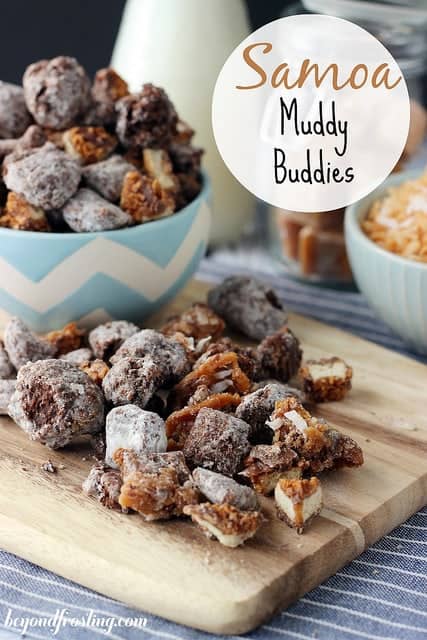 You will seriously thank me for these Samoa Muddy Buddies. I swear chocolate, caramel and coconut are quite the amazing combination. I just can't stop. Okay maybe I can, this is the last Girl Scout Cookie recipe that I am sharing for a little while.
Excuse me while I be a dramatic child. I am not asking for sympathy here, just a place to vent. Here's a little update on my tooth situation. I went to the dentist yesterday like it was no big deal. I just was going to get a crown. I even made my dentist some cookies to thank him for coming in on Saturday to fix my front tooth. However, my tooth was so sensitive that the dentist decided I needed a root canal (turns out he was right). I nearly lost it in the chair, immediate tears. First of all, the laughing gas didn't work on me; I was anything but relaxed.
At this point I had already have three shots of Novocaine, yes THREE and I was still feeling it. My dentist kept telling me that the front tooth was the easiest tooth to do a root canal on. Well if that was easy, then I certainly don't ever want to have another one of those again. It hurt. I cried, I kicked my feet, I even grabbed the dental hygienist hand.
My dentist told me it was like a shot of tequila. "At first it hurts and then it feels better," he said.
Umm no. Tequila is WAY better than whatever he was doing to my teeth. OVER AND OVER again.
To make matter worse, I had been there for so long, I couldn't hold my bladder any longer. So we had to take a break. Oh yea, and there is no bathroom inside the office- it's across the courtyard. So I asked for a medical mask to cover the plastic piece that was hanging out of my mouth and my ginormously swollen lips. As I walked out I apologized for being the worst patient ever.
Three hours later, I was ready to leave with a temporary crown. I look like a total freak show and I seriously cannot wait to get the permanent one that is color matched and cut to align with the rest of my teeth. I was in a TON of pain. I came home, jumped in the shower and cried. Giant baby I tell you. Then I got into bed, further regretting my accident from December more and more. I am totally traumatized. Thanks for listening.
Alight, you'll are here for the muddy buddies right? This recipe mixes three different chocolates, two types of caramel and shredded coconut with Chex cereal, powdered sugar and chopped Samoa Cookies. The end results is much pretty much indescribably addicting. Don't blame me if you can't stop after the first, second or third handful. For the filling, I combined chocolate chips with Hershey's Chocolate Spread and Caramel sauce. Once that is melted, I poured it over Chocolate Chex Cereal and Shredded Coconut. Then I coated the cereal with powdered sugar.
To finish it off, I drizzled more caramel on top and added crushed Samoa cookies. Now really, that extra layer of caramel on the outside itsn't completely necessary, but I love the look and color that it adds. It's important that you allow the caramel to cool until you are able to touch it. It will be EXTREMLY hot when it first comes off the stove. Mix it around with a spoon and then pull the caramel apart into smaller pieces. It will stay soft but it won't stay melted. You will want to break it up a little so that you don't have large chunks of caramel the next day. This recipe makes a really large batch, perfect for serving a crowd. It fills an entire gallon sized Ziploc bag.
Keep up with all the happenings. Follow Beyond Frosting
Facebook | Twitter | Pinterest | Instagram |
Print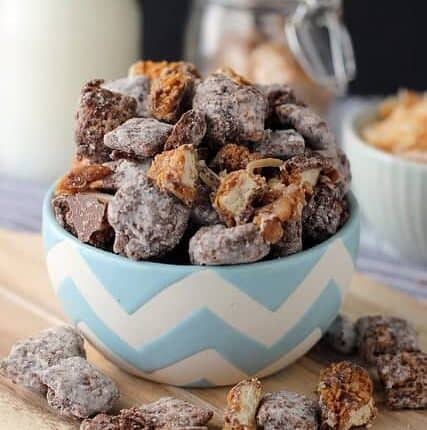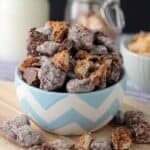 Samoa Muddy Buddies
Author:

Prep Time:

10 minutes

Total Time:

10 minutes

Yield:

10-12 Cups
Description
A chocolate and caramel stuffed Chex cereal coated in coconut and powdered sugar. Sprinkled with Samoa Cookies.
Ingredients
10 oz

Chocolate chips

4 tbsp

Butter

1/2

C Hersheys chocolate spread

1/4

C Caramel sauce

2

C Shredded coconut

7

–

8

C Chocolate Chex

3

C Powdered sugar

25

Kraft caramels (optional)

2 tbsp

milk

1

Box Samoa cookies
Instructions
Combine chocolate chips, butter and Hershey's spread in a medium size sauce pan over medium heat. Stir occasionally to mix melted butter into chocolate chips.
Once chocolate chips are completely melted, add caramel sauce and mix to combine with chocolate.
In an XL mixing bowl, combine Chocolate Chex and coconut. Pour melted chocolate over cereal mix and toss with a spoon to completely coat the cereal.
In a Ziploc bag, add 1 1/2 cups of powdered sugar and half of the chocolate coated cereal. Seal the bag and shake vigorously to coat the cereal in powdered sugar. Pour out on a cookie sheet to cool. Repeat with the second half of the cereal and additional powdered sugar.
This next step is optional. Unwrap 24 Kraft Caramels, combine and melt on the stovetop over medium-low heat. The caramel needs to be constantly stirred while melting so it doesn't burn. The caramel will be extremely hot, use caution when handling. Once melted, slowly drizzle caramel over the muddy buddies.
Once caramel has cooled slightly, gently stir to spread the caramel, evenly breaking apart some larger pieces with your fingers. Some of it will stick to the cereal and some will not. I cut up the extra pieces of caramel and left them in the muddy buddies.
Cut Samoa cookies into tiny pieces and sprinkle into muddy buddies.
Keep stored in an air tight container for up too three days.
Notes
Use extreme caution when handling Caramel. It will be very hot! Once caramel has cooled slightly, break apart some larger pieces with your fingers. Some of it will stick to the cereal and some will not. I cut up the extra pieces of caramel and left them in the muddy buddies.
Category:

Snacks

Method:

No-Bake

Cuisine:

American
Other recipes you might like: