This post may contain affiliate sales links. Please see my full disclosure policy for details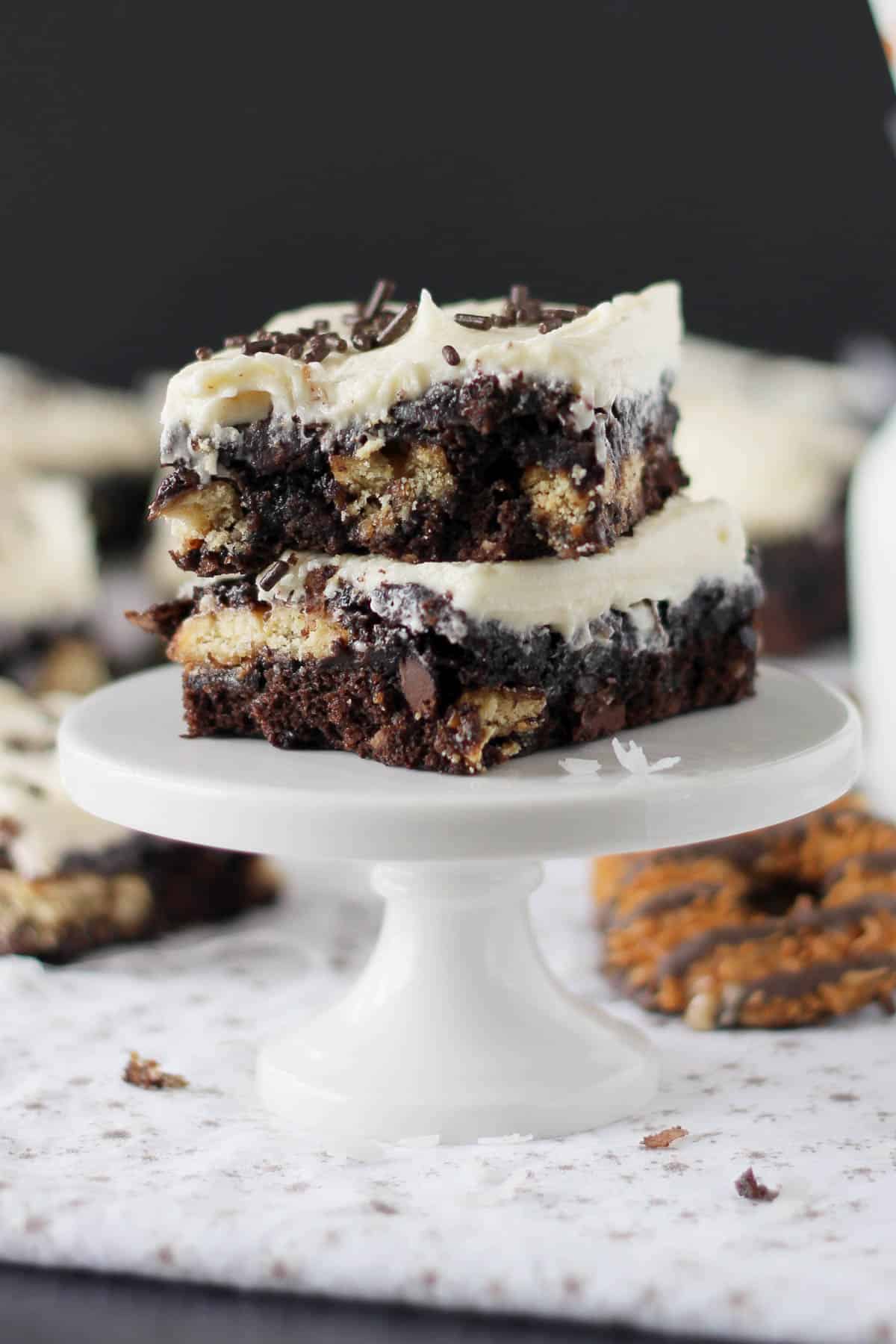 I am totally going through blogging conference/vacation withdrawals. Last week, I spent two days snowboarding in Utah with my family and then two days immersed in the blogging world at the Build Your Blog Conference. I can't wait to share more of my trip with you later this week! Now I am totally back-to-reality and I don't want to go to work- I just want to bake and blog. I guess this will be a good week though. We aren't big into Valentine's day over here; I usually cook a nice meal and we spend the night hanging out. However, just after Valentine's day is my boyfriend's birthday (and I am sure he is frowning that I am sharing that with you). I have seriously been racking my brain on what to get him. I am usually a pretty good gift giver, but I have miserably failed both this past Christmas and am setting myself up to fail again for his birthday (Editor's Note: That's nonsense, she gives me amazing and thoughtful gifts every single holiday). There just doesn't seem to be anything he really wants or that I can surprise him with. It's so frustrating!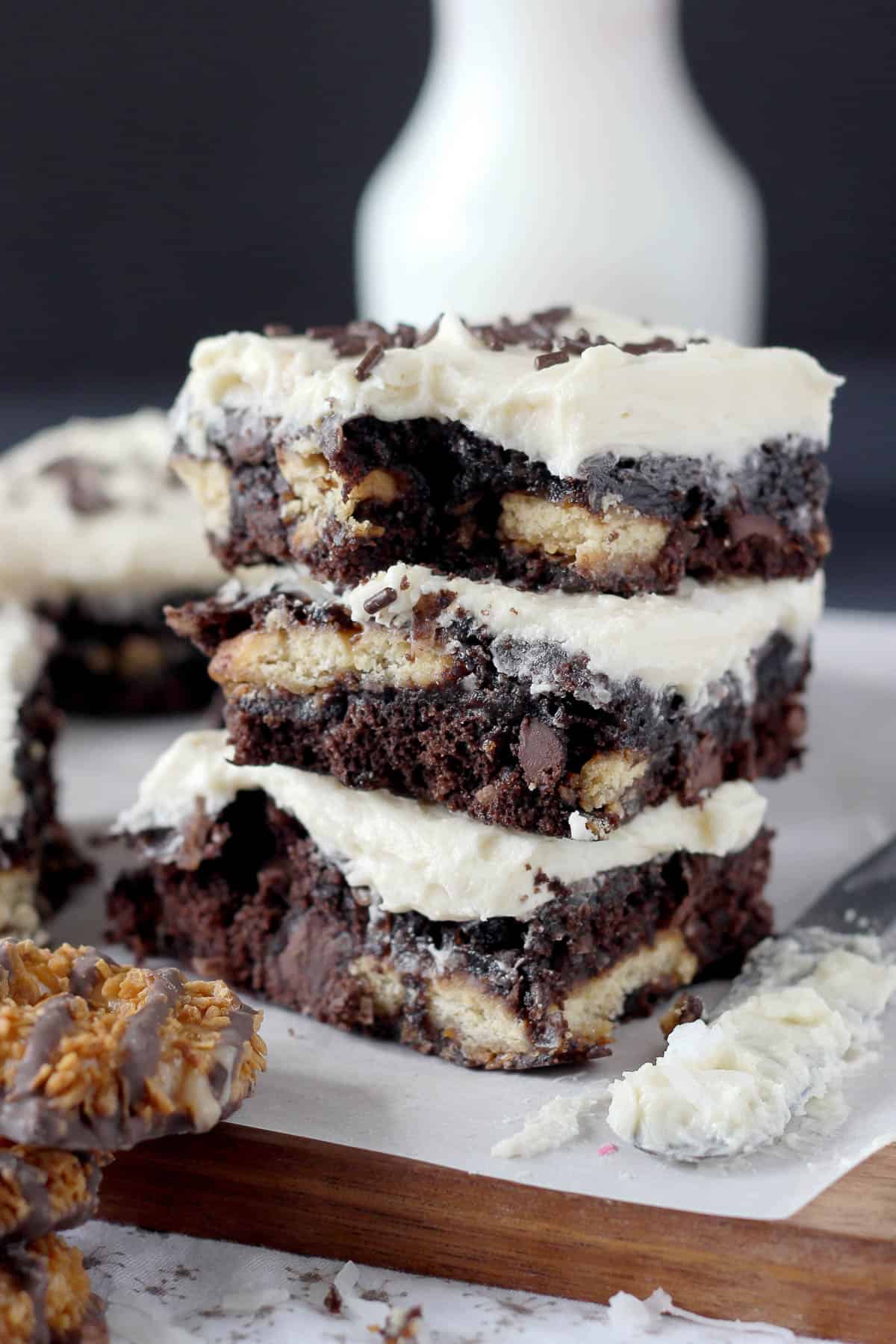 Maybe I will buy him copious amounts of Girl Scout Cookies. Boys like that right? Thin Mints, Caramel Delights (also known as Samoas) and Peanut Butter Patties. Who wouldn't LOVE that birthday present. Actually no joke, my boyfriend's dad loves Pistachio cakes, so for Christmas I individually wrapped all ingredients to make 6 Pistachios cakes. I thought it was pretty funny. So yeah, that's totally a thing. If you did get a box of Samoas, you could make these Samoa Stuffed Brownies with Caramel Frosting. I mean seriously; layers of Samoa cookies, fudgy brownies, coconut and caramel frosting. It doesn't get a whole lot better than this.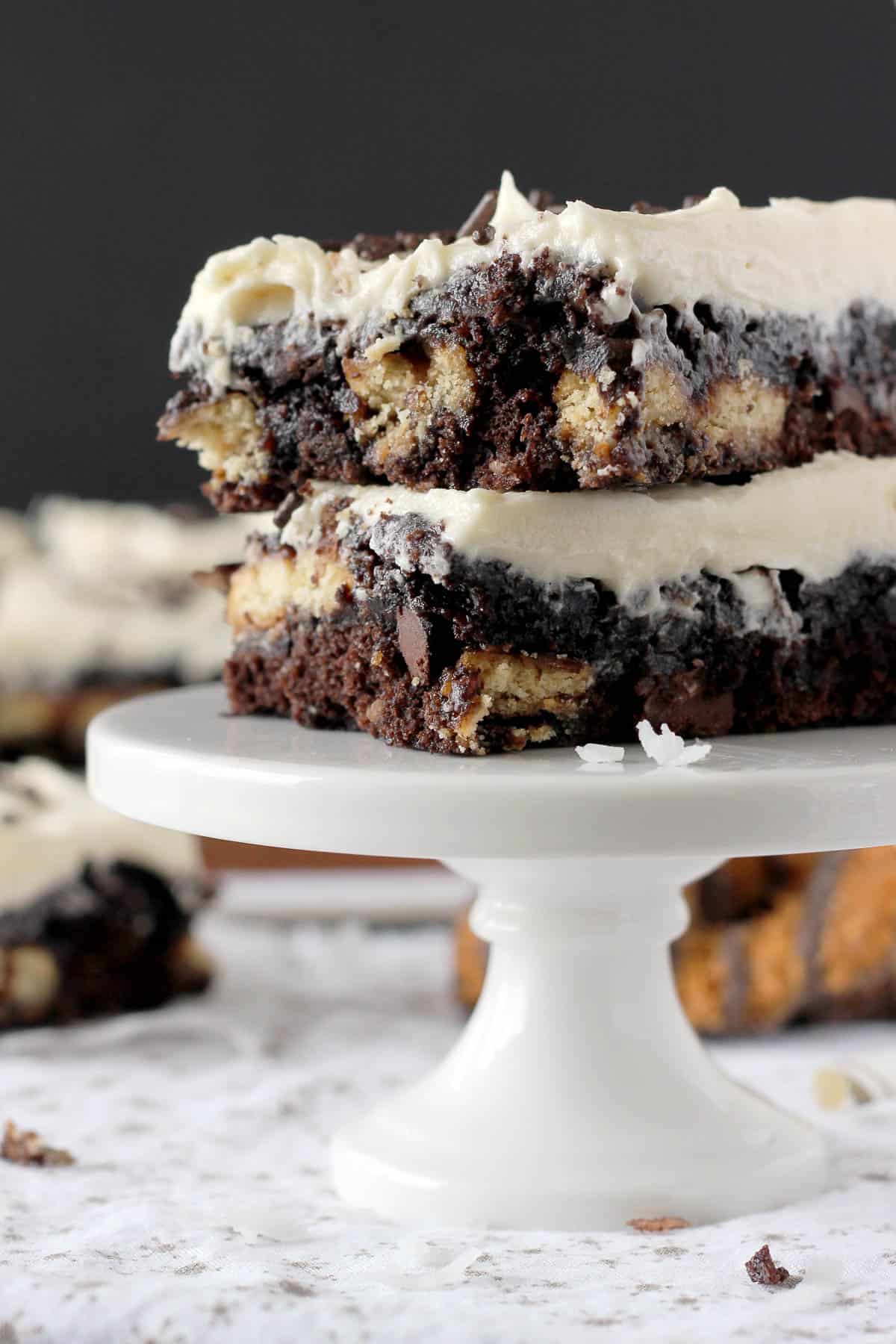 There were some tips I gave you when I baked these Thin Mint Brookies earlier this week. These will be way easier to cut if you line the pan with a baking mat or parchment paper. Set your cookies down on the baking mat and then pour the brownie mix over the cookies. I choose to mix the coconut directly into my brownie batter, but you can also toast it a little and sprinkle it on top. The caramel frosting is buttery and sweet; just the way I like it. If you love caramel, you could also drizzle some over the top! I added some additional chocolate chips to my brownies because the more chocolate, the better the brownie, right?
Print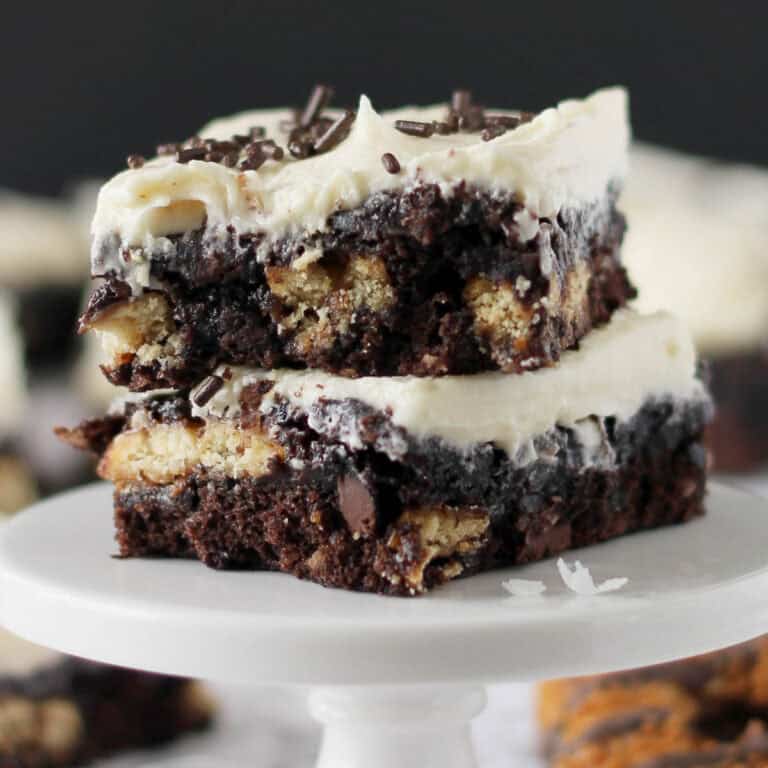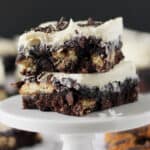 Samoa Stuffed Brownies
Ingredients
1

Box Brownie mix
Ingredients listed on the box

1

Box Samoa cookies

1/2

C Shredded coconut

1/2

C Chocolate chips
For the frosting
1/2

C (1 stick) Unsalted butter (at room temperature)

1 1/2

C Powdered sugar

1 tbsp

Heavy cream

2 tbsp

Caramel sauce (Hershey's or Smuckers)
Chocolate sprinkles for garnish
Instructions
Preheat oven to 350°F.
Prepare the brownie mix using the ingredients listed on the box (egg, oil, water etc). Add shredded coconut and chocolate chips and mix thoroughly into batter.
Line a 9″x13" pan with parchment paper or a baking mat. Place Samoa cookies directly on the backing mat, pack in as many as you can. Pour brownie mixture over cookies and spread evenly.
Bake for 23-25 minutes at 350°F. Remove from oven and allow to cool completely. Since I used a baking mat, I was able to completely remove the sheet of brownies from the pan before frosting.
For the frosting
Allow butter to come to room temperature, or heat for 10 seconds in the microwave. Beat butter on medium speed until light and fluffy.
Add powdered sugar, 1/2 cup at a time, and mixture will become clumpy.
Add heavy cream and increase mixing speed to medium-high, beat for two minutes to incorporate some air into the frosting. Add caramel sauce last and mix to incorporate.
Frost cooled brownies and garnish with sprinkles.