This post may contain affiliate sales links. Please see my full disclosure policy for details
Holy cow that was fast. Goodbye second trimester.
In case you missed our pregnancy announcement, we shared that we are expecting a baby boy due in early May!
The last couple weeks have really started to set in just how QUICKLY he'll be here, and I'd be lying if I said it wasn't freaking me out a bit! At the same time, I just cannot WAIT to meet him.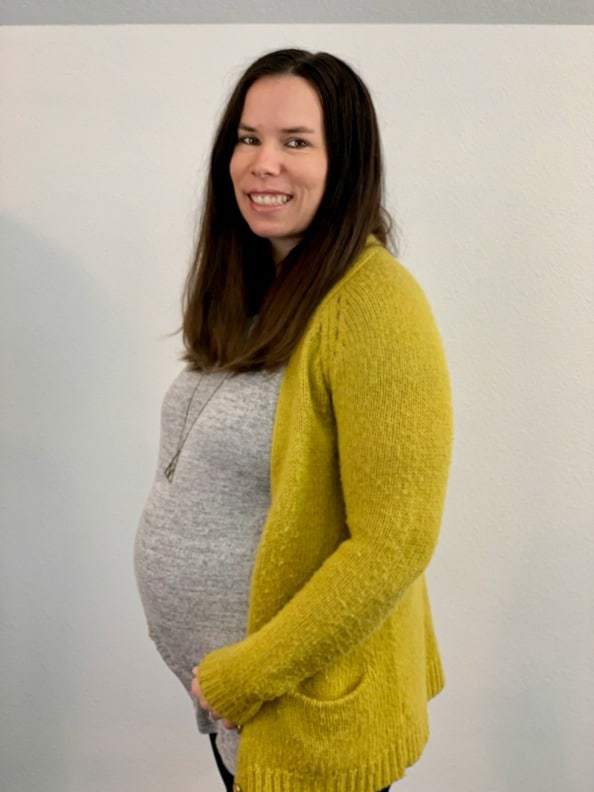 February is all about blog work for me and stacking up my content for maternity leave before I get too tired to do the work.
March is jammed packed with visitors, baby classes, photoshoots, appointments, you name it. Oh, and our anniversary in there somewhere.
Once April hits I'll be 9 months pregnant and I am limiting my commitments and allowing time for us to get everything ready, spend some time together and hoping he doesn't come TOO early. It's time we're reserving for ourselves or for last minute things that come up.
We've started to buy all of our nursery furniture and also brought the stroller which was on a year-end sale. It feels good to get some of these big things out of the way. When my family is in town, they will help us get everything set up.
Names. Ugh names are SO hard. People are asking us if we have a name picked out and the simple answer is no. We have not settled on a final name, but we are definitely working off a consolidated list, and trying them out here and there to see what fits.
Other than that, I don't have a lot to report, so instead I will share with you what I've been eating, an update on my workout routine and some of my favorite maternity clothes. Oh and next week I have my glucose screening- so NOT looking forward to that.
As always, thank you so much for your kind words and emails. Often times I get emails from you ask me how I'm feeling, send me well wishes or tell me you also can't wait to meet baby boy- and that just warms my heart!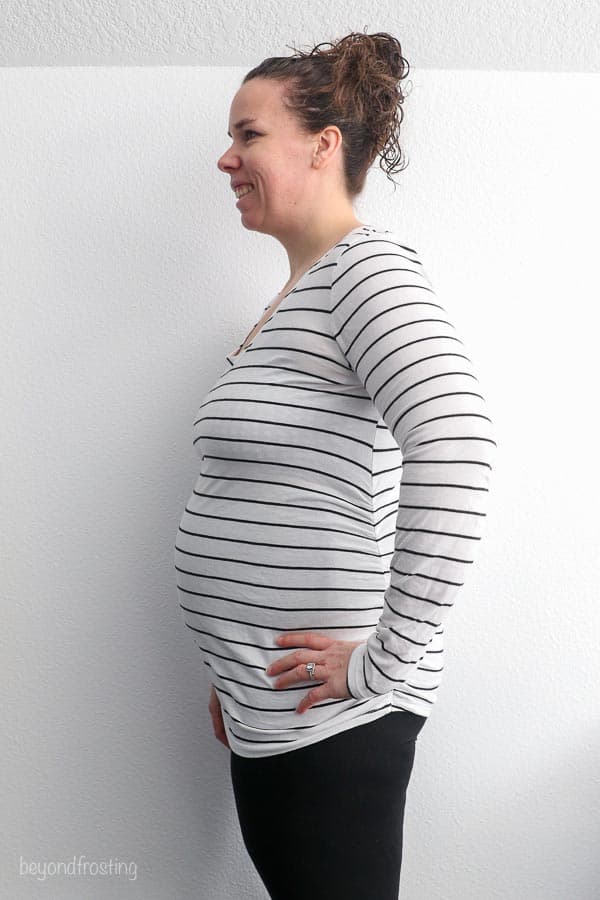 How I'm feeling
Honestly things have been pretty great so far, and I don't take a day of it granted. I've gone through periods of time when it's hard to fall asleep, or I wake up for an hour or two at night, but I've been trying to allow myself to sleep as much as I need and take advantage of it while I can. I've heard third trimester insomnia can be terrible (as it was for me in the 1st trimester).
I've been sick with a cold twice. The first time around 14 weeks and then the last week and half or so. No one tells you how weak your immune system becomes when you're pregnant and how much more AWFUL it can be. I tend to be a healthy person in general and I've taken some extra precautions this flu season to try and avoid it as much as possible.
I feel like the baby bump has really started to grow the last few weeks, and as the baby has grown so have his movements!
We first felt the little kicks around 20 weeks (on Christmas day actually!), and now it's constant. I just love it, but certain positions have become really uncomfortable for me and thankfully don't last forever (yet anyway!).
Also, at times my stomach feels rock hard and it's so weird! Sometimes I wonder if I am feeling his head or his butt, or a foot or a knee, especially when I can feel it in more than one place- like is he laying sideways or WHAT.
It's been really fun to get my husband involved, and we love to read him books or tell him about our day before we go to sleep. While it can be hard to find comfortable positions at night, I am using allll the pillows to help. It took a bit getting used to, but I do love my Snoogle and also my wedge– I brought two of them, it really helps my lower back when I am sitting and I have one for sleeping.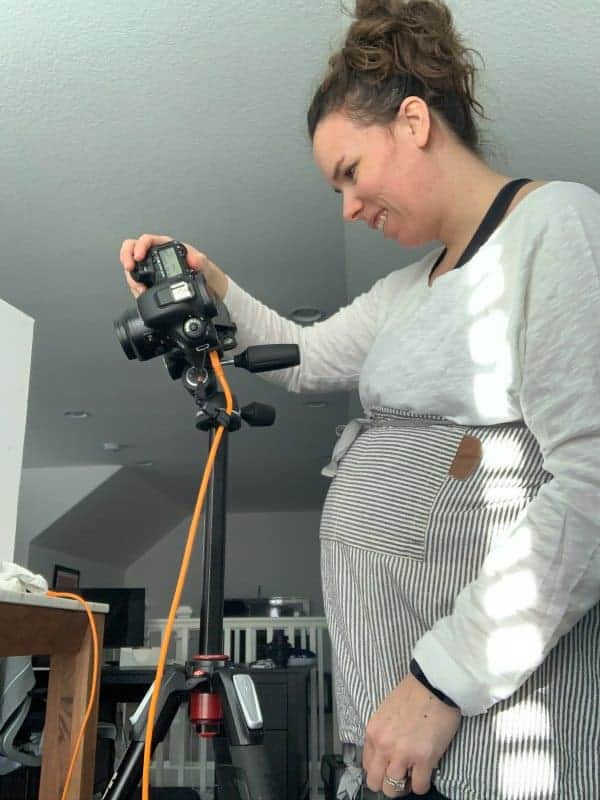 What I'm eating
This trimester I was really focused on trying to eat less carbs, more protein and vegetables. I've never had an issue with eating fruit but was looking to make sure I was eating an even more balanced diet, especially after the holidays.
I mentioned before I am doing my best to stay on track, workout and somewhat control my weight gain. Because of my history with weight loss, I know things can get out of hand really easily for me, especially with the desserts I'm already making for my blog (hello brownies, looking at you). Recipe testing these was SO hard, I ate a lot of them, like a lot.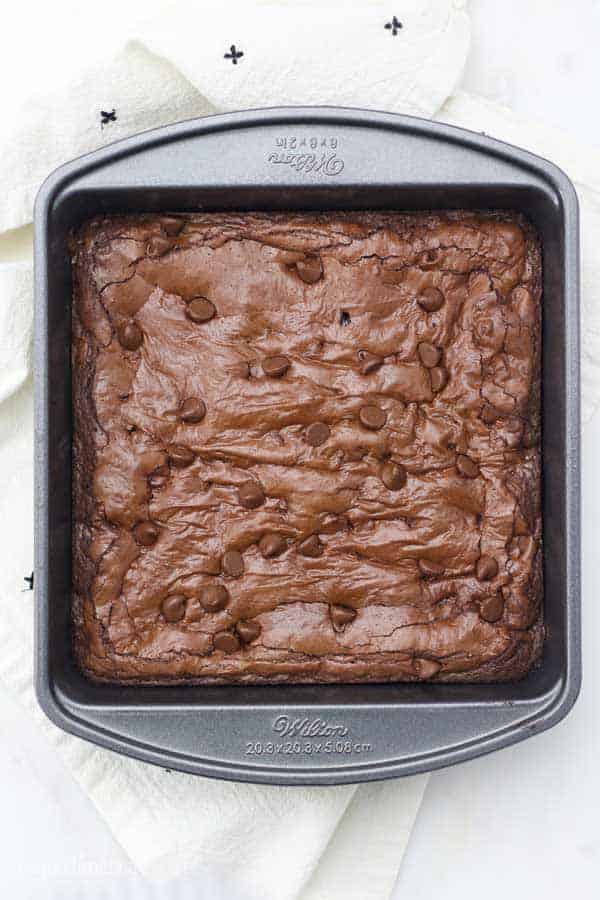 My only goal is to have healthy pregnancy for me and my baby as best as I can control. No two pregnancy journeys are the same and I am very careful not to get lost in comparing myself to others.
I start my morning with a good breakfast, usually a spinach omelet. The last week or so I've added in a slice of whole grain toast with avocado which I love. I've also been mixing in a protein smoothie a few days a week both for hydration but also to help me sustain or recover from my morning workouts.
For lunch I've enjoyed salads or sandwiches, and I also fell in love with this avocado chicken salad which was super filling (I leave out the bacon because I'm lazy). Honestly lunches are the hardest for me and the most inconsistent. I have to be prepared with a plan otherwise I get hungry and just snack all day. After eating the same thing for a week at a time I get bored.
I'm also a BIG snacker and could eat a lot of small meals instead of 3 big meals. I LOVE pretzel thins (going through those big Costco bags like it's my job) with a cheddar cheese stick. It's my go-to and by far my favorite snack. I am also loving apples, almond butter and bananas, Greek yogurt with a handful of nuts, my smoothie or some hummus with carrots.
Of course, there's dark chocolate, (ahem) brownies and an occasional Sprite if I really need it. Trying to avoid the extra sugar as best I can, but let's be real, I run a dessert blog.
Dinner's all over the board. I go through periods where meal planning for dinner is either really easy or I'm super over it and just get takeout- especially on the weekends.
Some flavors I normally love just don't sound good to me and I can't (or rather don't want to) eat them. Bless my husband who has been so flexible and steps in without a second thought. Also, there's definitely been plenty of pizza or a burger if all else fails.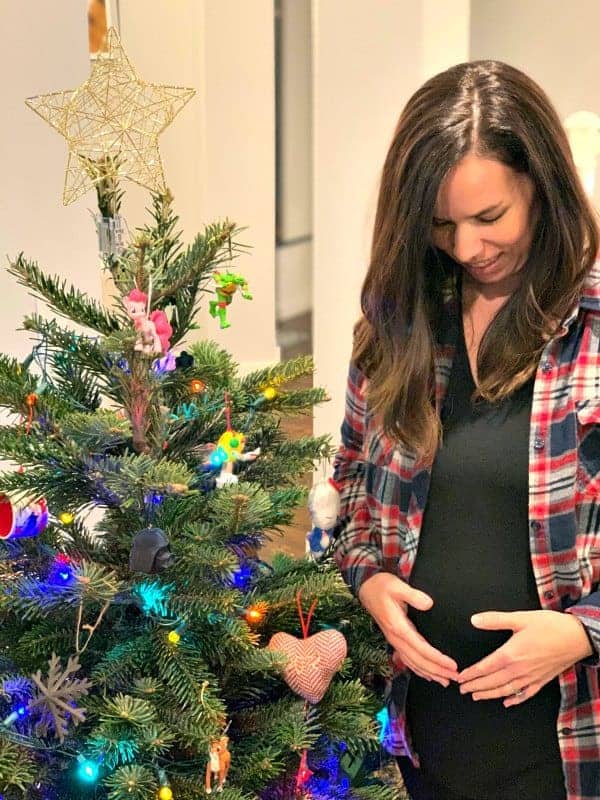 My workout routine
I realize that everyone's workout routine looks very different, pregnant or not. For me, I've maintained a relatively active lifestyle for a long time, but especially in the last 3-4 years. This means I had a solid foundation to start.
I also don't have kids yet and have a very flexible work schedule, so I've made it a priority to stay as active as my body will allow – and I know it will slow down the further my pregnancy progresses!
During the first trimester, I was very fortunate not to have experienced morning sickness, and other than exhaustion and fatigue, my workouts were just a little slower, or I just took days off.
As I got into my second trimester, my energy slowly started to return. I've heard you get a second wind around 20 weeks, which was true for me. With the encouragement of my trainer, I start to add back more HITT workouts into my routine.
At first, I was intimidated and afraid I wouldn't be able to keep up. Looking back that SILLY thinking on my part, as I was already familiar with these classes anyway, and I just needed to know how to adjust things for myself. Anything can be modified, which is true if you're pregnant or not and if you're not sure, show up early and talk to the instructor or ask for help.
Around 24 weeks, I started prenatal yoga and seeing a chiropractor. Both have been so wonderful for me and honestly wish I had started earlier in my pregnancy. The yoga class gives me an hour of time for some much-needed stretching and taught me some things I can do at home- also I brought all the things!
The chiropractor I found is working with me to prepare my body as best as I can for labor- obviously things you don't really consider until you're having a baby!
Throughout the last several weeks, I learned that I really can do whatever my body feel comfortable with. I can reduce or drop the weight all together, I can modify whatever I need to, and I am just happy and grateful to be moving my body. Also, I can take a day or three off if I need to.
It's all about mixing up my workouts so I don't get board or overwork myself. I also don't love working out alone, so group fitness it better for me. In addition to working with my trainer, I do HIIT classes, a yoga class and a weekly dance class for cardio. I am also walking a ton. It's one of the best things you can do for yourself, especially if you're pregnant.
On the days I see my trainer or if I arrive to the gym early for class, I hop on the treadmill for a mile or two. On my off days, I try and sneak in a 30-45-minute walk around our neighborhood. My husband also joins me on the weekends and it's so nice to have the time together, we often end up talking all things baby.
Don't get me wrong, there are plenty of days I just need a break, and I take it. Every few weeks I have a day where I don't get off the couch, but I am so very grateful for the way things have been going thus far.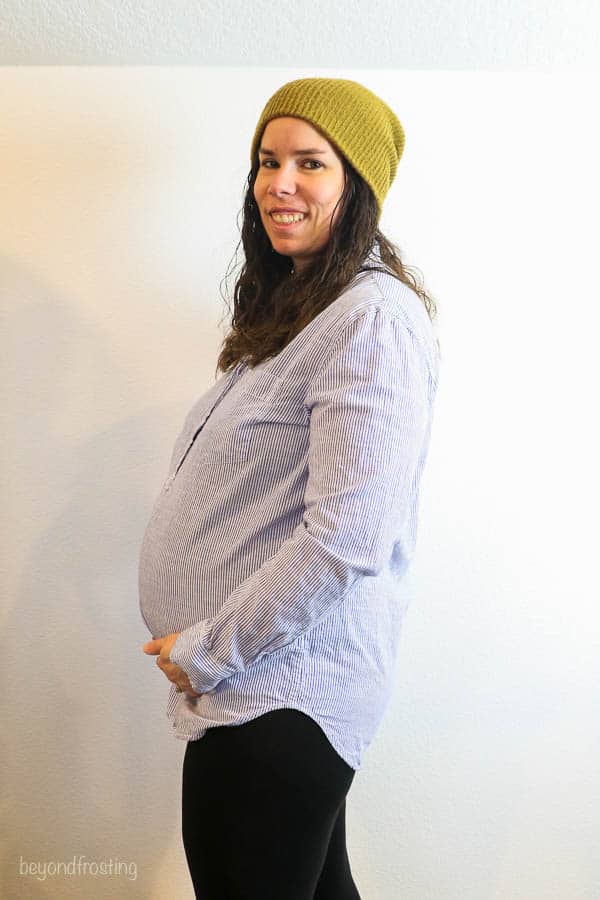 My maternity wardrobe favorites
I have been lucky in that I haven't have to buy a ton of maternity clothes- just a few basics to get me by so far.
I have tried on a lot of clothes and personally I don't care for Target and H&M. Even though I usually like their clothes, I found their maternity line just doesn't cut it. I also was not looking to break the bank on new clothes that I need for a short amount of time. It's hard to find maternity clothes in store, so I've done mostly online shopping, buying multiple sizes and returning lots of things.
I splurged on a jumpsuit from Asos that will last my whole pregnancy (and beyond) and it's super soft jersey fabric and very comfortable.
Otherwise I purchased most of my stuff from Gap. They run sales so often, it's nice to buy things for 40% off, especially when you're only going to wear them for a few months.
Leggings– I pretty much live in them. I've tried on my fair share of them, but GAP is by far my favorite. I love the pure body full panel leggings in both the long or crop size. Brought a few of these. A lot of the leggings look the same, but pay attention to the fabric and order a couple to see what you like.
Tees– again I think the quality from Gap is the best options for an affordable price with quality fabric. I've found they don't shrink as much as other brands, plus they're long so they cover my butt and my belly no matter what size I am. I brought a couple colors of this Pure body short sleeve which I can dress with a flannel or cardigan.
Bras– Definitely needed a couple of these. I've tried on dozens of bras, but mostly lived in bralettes. Again, I'm not trying to spend a ton for these transitional pieces, but it's important to be comfortable, and for me that meant no underwires.
Hoodies- I am a pretty casual dresser in general, but I LIVE in my oversized hoodies whether I'm pregnant or not. Not only did it help to hide my baby bump in the beginning but these fleece dresses still fit me well and I own several colors!
Workout wardrobe favorites.
Sports Bras- I most quickly grew out of my sports bras and once I found one that I liked, I brought 3 of them (do we see a trend here? HAHA). I also sized up so I could grow into them and use them even after I have the baby.
Workout pants- I wanted (and needed to eventually) purchase a couple of high waisted workout tights that would last me well intro my pregnancy. Both the Nike Sculpt Lux and LuLu Lemon Align Pant (available in 28" or 25" inseam) are comfortable, stretchy and go over my baby bump- for now anyway!
I've tried on a dozen or so pants from different retailers, and it's really hard to find quality pieces that will last, but also fit well. This is one area where I want to be comfortable and feel good, so these pieces are a bit more of a splurge for me.
Workout tops- At this point I am growing out of my workout shirts and need to find an alternative to last me the next three months. This is SO hard. Everything feels too short or boxy and weird. I really hate shopping for workout tops. Let me know if you have any recommendations!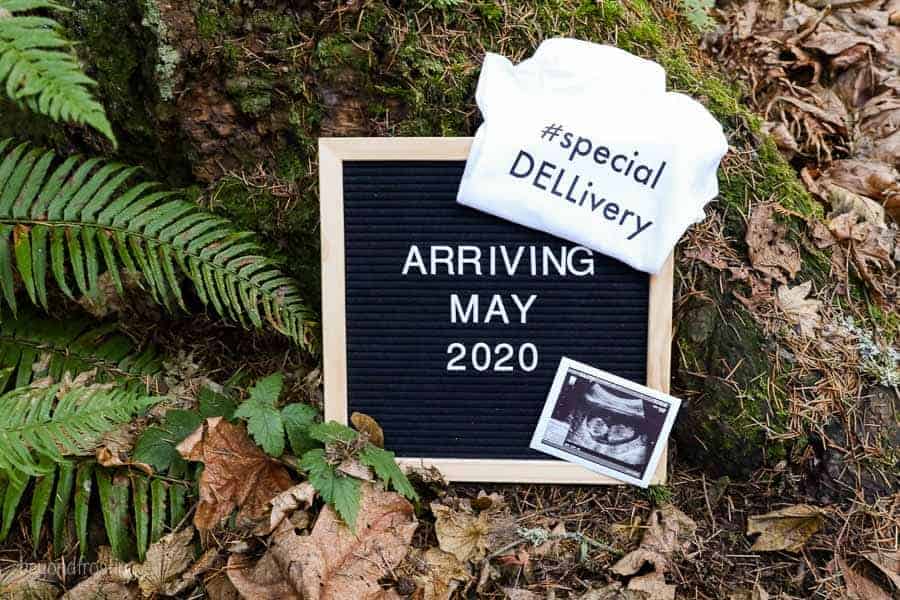 I think that about covers it. These next three months are jammed packed and I know they will fly by. For now, we are soaking up all the time we have together and trying our best to be prepared to meet our little man.
While I tend to be an over preparer and planner, I am trying to tell myself that I can buy anything I need as it comes up, and likely have it here the same day or next day. So, we are going conservative and minimal on baby gear and clothes until we see what we truly need.
I will tell you it's been incredibly hard NOT to shop for clothes. I don't buy a lot for myself, but I LOVE shopping for baby clothes. He definitely has some jackets, jogger pants and skate shoes waiting for him- already taking after his parents.
Thanks for following along. XO.