This post may contain affiliate sales links. Please see my full disclosure policy for details
These Skinny Lemon Cream Pie Cupcakes are made with a diet soda and a cake mix, lemon pudding filling and a Cool Whip frosting. They are perfect for Weight Watchers or low-calorie eaters.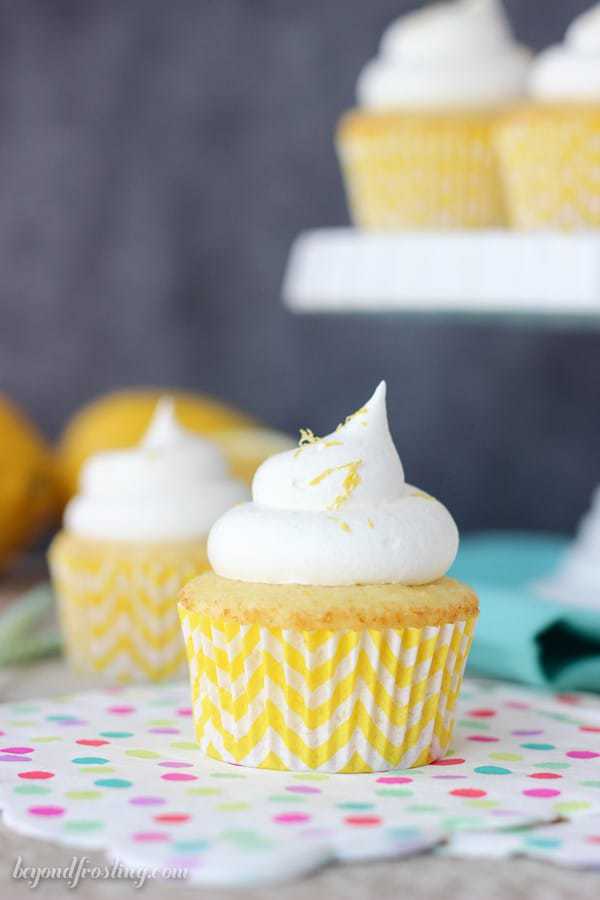 Since my world revolves around sugar, I think it's my duty to give you guys some "skinny-fied" recipes every once in awhile. I am not someone who can easily bake low-calorie desserts, but Skinny Lemon Cream Pie Cupcakes are so simple.
These recipes are especially great for Weight Watcher members such as myself.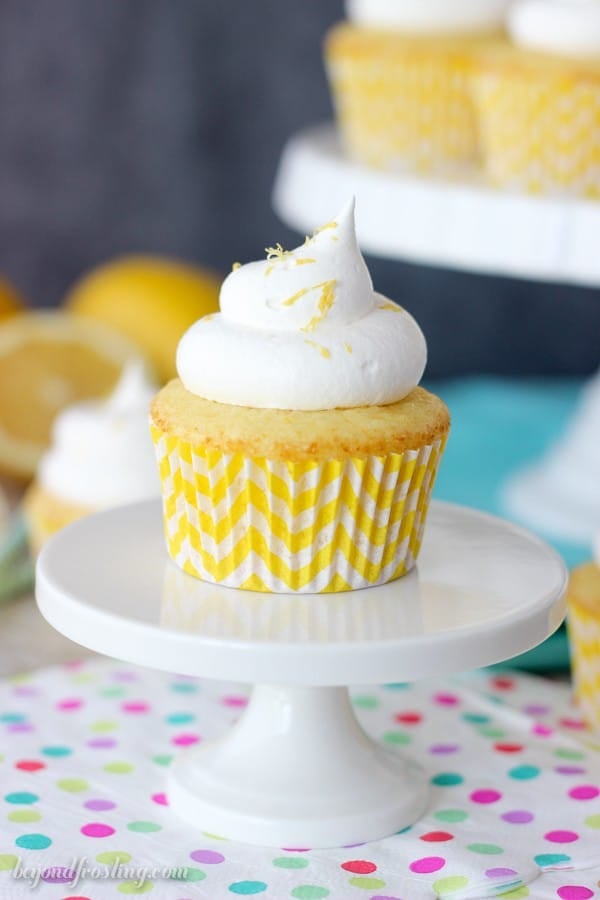 Diet Soda Cakes
Have you ever heard of soda cakes? With two simple ingredients- just a cake mix and a can of diet soda- you can make yourself a pretty darn tasty cake.
I first learned about this in my Weight Watcher meetings years and years ago. Once I tried it I was hooked!
Sometimes I like to add in additional ingredients to tweak the flavors or texture.
This recipe starts with a box of white cake mix and some fat-free, sugar-free lemon Jello.
Eliminating the oil and eggs takes away some of the fat and calories you'd get from a traditionally made cake mix. You could further reduce the calories and try it with a fat-free or a sugar-free cake mix, I know Pillsbury makes ones.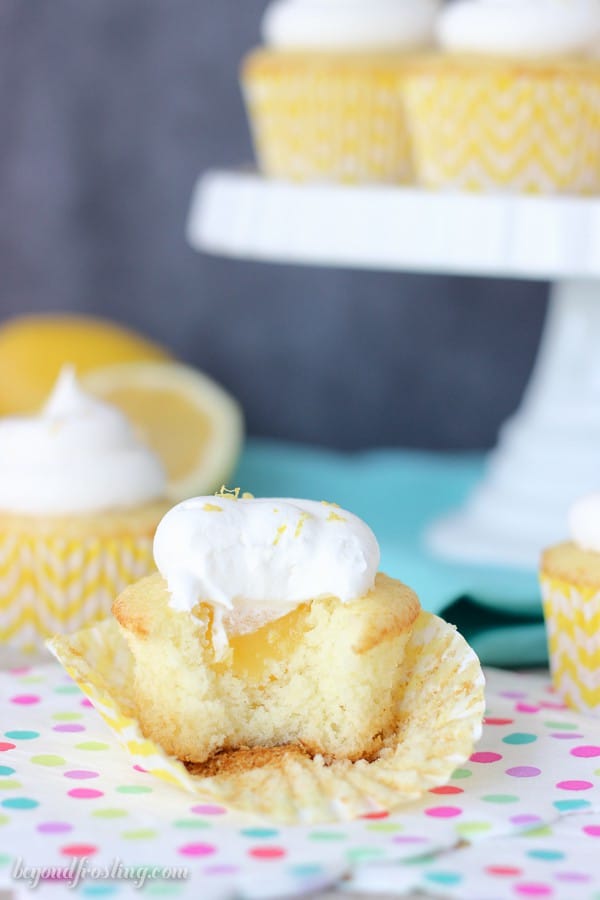 After your cupcakes have cooled, use my favorite cupcake corer and hollow out the top 2/3 of your cupcake and preparing the filling. If you don't have a cupcake corer, you can use a mellon baller or just a knife to cut out the centers of the cupcakes.
The filling calls for a fat-free, sugar-free vanilla pudding (or you can use lemon) and one cup of non-fat milk. The pudding will be pretty thick but do you best to stir it until the dry ingredients are dissolved. Throw the pudding in the refrigerator for 10 minutes or so, then fill your cupcakes.
For the topping, I used a container of fat-free Cool Whip. I prefer the fat-free blend as opposed to the sugar-free blend. Divide the whipped cream between the cupcakes and top with lemon zest. You will have to keep these cupcakes refrigerated, but before you serve them, leave them out for about 15 minutes or so.
Now you have a tasty treat but without some the guilt!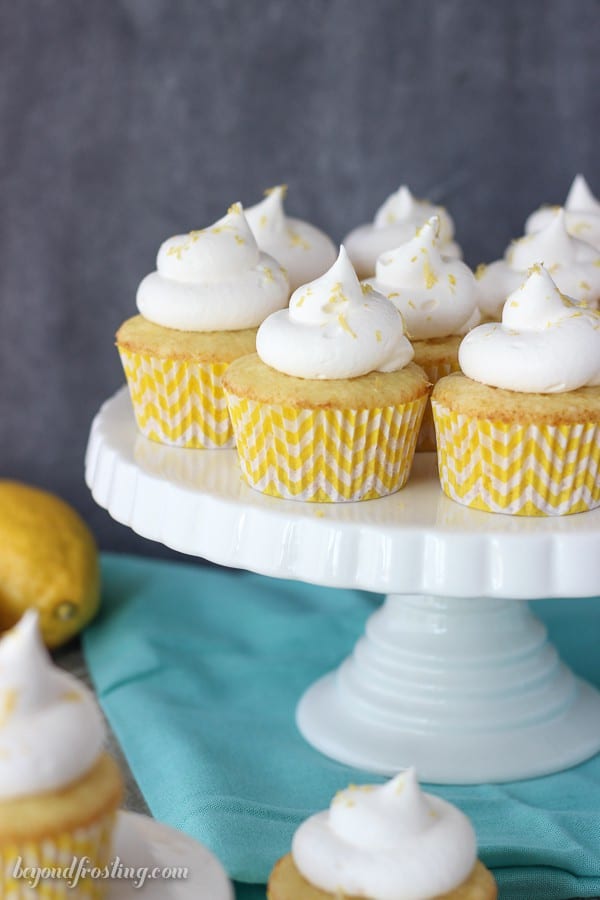 Keep up with all the happenings. Follow Beyond Frosting:
Facebook | Twitter | Pinterest | Instagram
Print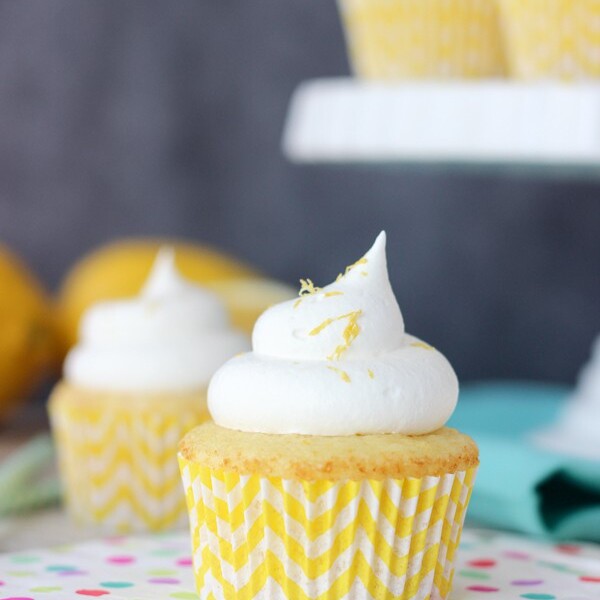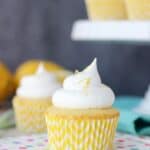 Skinny Lemon Cream Pie Cupcakes
Author:

Prep Time:

10 minutes

Cook Time:

15 minutes

Total Time:

25 minutes

Yield:

20 cupcakes
Description
These Skinny Lemon Cream Pie Cupcakes are made with a diet soda and a cake mix, lemon pudding filling and a Cool Whip frosting. They are perfect for Weight Watchers or low-calorie eaters.
Ingredients
1

package (15oz) White cake mix

1

package (3.4oz) Instant Sugar-Free, Fat-Free Lemon Jello

1 teaspoon

lemon extract (optional)

1

can (12 oz) Diet 7UP or Sprite

¼ cup

Sugar-free, fat-free instant vanilla pudding mix

1 cup

nonfat milk

1

container (8 ounces) Cool Whip, Fat-free (thawed)
Lemon Zest for topping (optional)
Instructions
Pre-heat the oven to 350° F and line a cupcake pan with cupcake liners.
In a medium-sized mixing bowl, combine white cake mix, lemon jello, diet soda and extract. Whisk until well combined.
Divide batter evenly between cupcake liners, about 2 to 3 tablespoons each, I prefer to use a large cookie scoop.
Bake at 350°F for 12-16 minutes. Check the cupcakes for doneness by inserting a toothpick into the center of the cupcake. If the toothpick comes out clean, the cupcakes are done. Allow cupcakes to cool completely.
In a small bowl, combined 1/4 cup of the pudding mix, and milk and whisk until the pudding mix is dissolved. Refrigerate for 10 minutes until the pudding is firm.
Remove a small piece of the center of your cupcake, using the melon baller or knife. Cut about ⅔ of way down. Set the tops aside.
Once the pudding mix has firmed, spoon into a piping bag (or Ziploc bag) and cut off the tip. Fill the center of the cupcakes with the pudding, dividing evenly between each cupcake. Place the tops of the cupcakes back over the pudding and gently press down.
Pipe the Cool Whip onto the cupcakes and keep them refrigerated until you are ready to serve. Remove the cupcakes from the refrigerator 15 minutes before serving. Optional, top with lemon zest.
Notes
Disclaimer: Nutritional information is estimated. Actual nutritional information should be calculated based off the ingredients you are using
This recipe is 89 Weight Watcher Freestyle points. To find the points per serving, divide it by the total number of cupcakes you prepare. For 20 cupcakes, it's 4 point each.
You can further reduce the points by using a sugar-free cake mix
Category:

Cupcake

Method:

Baked

Cuisine:

American
Keywords: Lemon Cupcakes, Cupcakes