This post may contain affiliate sales links. Please see my full disclosure policy for details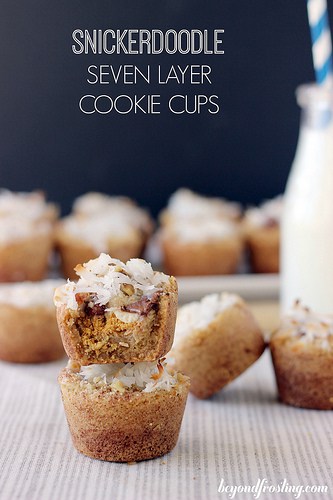 I had a rough day yesterday. A few weeks ago, right before Christmas, I took a bad fall on my snowboard (off a handrail) and chipped my front tooth and hurt my back. I took a few days off and slowly eased myself back on the mountain. Three weeks later, I am thinking I am ready to get "back on the horse" and hit that rail again. I got to the top of the run, popped in my new mouth guard, stood in front of it and started shaking. I chickened out- I have a total mental block. This same handrail is one that I fell on two years ago and really banged up my knee. I am so frustrated with myself that I can't overcome my nerves and just hit the dang rail. I have successfully hit that rail so many times, I just can't seem to get past this one. No one likes to feel like they can't do something. I hate the thought of falling again and potentially being sidelined for the rest of the season, but I am not willing to sacrfice having a good time. Now that I have told all of you about this, I feel like I am holding myself accountable for completing my goal.
So instead, I think I will go home and bake a batch of these Snickerdoodle Seven Layer Cookie Cups. I love my Maple Snickerdoodle Cookie Cups so much, that I knew I needed to make a new cookie cup with them. I decided to combine the cookie together with a seven layer bar. I shaped out the center of the cookie and filled it with your typical seven layer bar ingredients: graham crackers, chocolate chips, walnuts, coconut of course, sweetened condensed milk. The coconut turns slightly brown on top, the condensed milk melts into the middle and the cookie remains soft.
I feel like you could make these cookie cups with any flavor combination. To make it easier on yourself, you could even use a boxed cookie mix or perhaps some pre-made dough. You can also switch up the ingredients to your liking. I don't know about you, but I think seven layers bars are thebomb.com. So combing cookie and seven layers bar is just the right decision if you ask me.
Print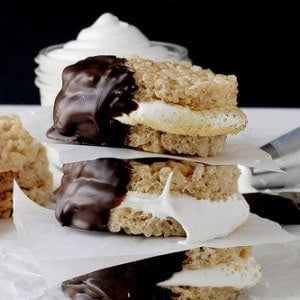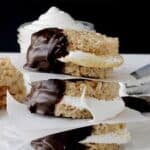 Snickerdoodle Seven Layer Cookie Cups
Prep Time:

15 minutes

Cook Time:

15 minutes

Total Time:

30 minutes

Yield:

24 Cookies
Ingredients
1

C Unsalted butter, browned.

1/2

C Sugar

1 1/2

C Light brown sugar

2

Large egg

1 tsp

Pure vanilla extract

6 tbsp

Maple syrup

3

C Flour

1/2 tsp

Baking soda

1/2 tsp

Cream of tartar
For the coating
4 tbsp

Sugar

2 tbsp

Cinnamon
For the filling
3/4

C Graham cracker crumbs

1/2

C Chocolate chips

1/2

C White chocolate chips

1/2

C Walnuts or pecans

1/2

C Sweetened condensed milk

3/4

C Shredded coconut
Instructions
Preheat oven to 375° and coat mini muffin pan with cisco or with a light spray of cooking spray.
Brown butter in a sauce pan over medium heat. Once butter is melted, stir constantly until butter turns light brown and starts to have a nutty aroma.
Combine browned butter with sugar and light brown sugar and beat on medium speed until well creamed together.
Add egg, vanilla and maple syrup. Mix into butter and sugar until egg is well beaten.
In a separate bowl, combine flour, baking soda and cream of tarter. Slowly add into batter and beat on medium low speed until well combined.
On a small plate, combine sugar and cinnamon and stir to combine. Measure out about two tablespoon of dough. Roll into a ball and then roll in cinnamon sugar mixture.
Place into a mini muffin pan. Bake at 375° for 8-10 minutes until they are slightly baked.
Remove from oven. Use a tart shaper and gently press into the center of the cookie to form a cup. Do not turn off oven.
Use a food processor to crush graham crackers in a fine crumb if necessary.
Fill each cookie cup with 1 tsp graham cracker crumbs and then sprinkle with chocolate chips and walnuts.
Drizzle sweetened condensed over the top of fillings. Pack the top with coconut.
Return the cookie cups to the oven and bake for another 5-7 minutes in the middle rack. Coconut will start to brown. Remove from oven and allow to cool before removing from pan.
Recipe Card powered by
You might also like:
Coconut Chai Chocolate Chip Cookies
Maple Snickerdoodle Cookie Cups