This post may contain affiliate sales links. Please see my full disclosure policy for details
These Snickers Whoopie Pies are a chocolate cake filled with caramel buttercream, Snickers bars and salty peanuts.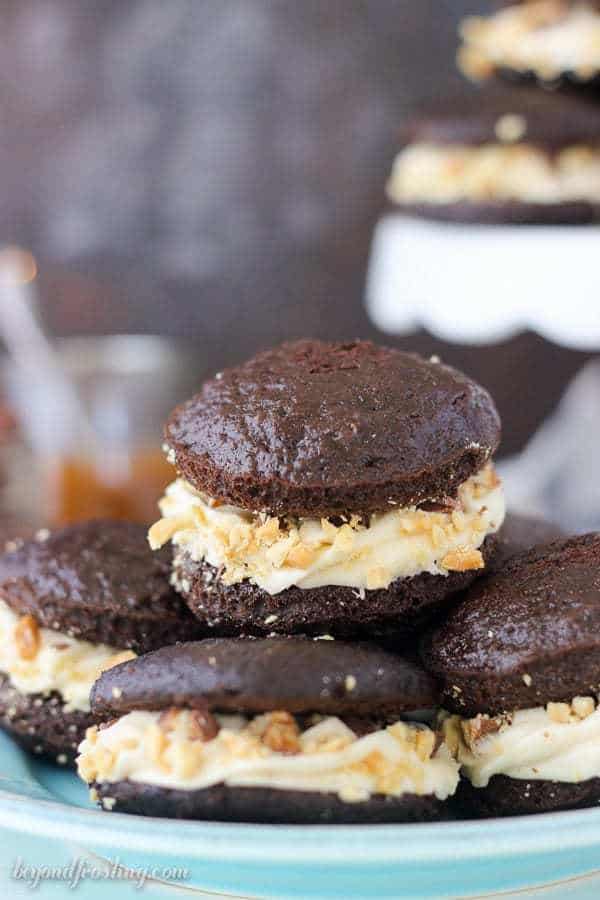 Whew! We just returned from another quick trip to our favorite summer destination, Bass Lake. We are so lucky to have gotten to visit twice this year. Each trip is so different, with different groups of people and different houses. It's really important to me that we try and get together with family and friends whenever we can. Both my boyfriend and I are quite busy, so I do enjoy the time we can get away for a bit. But I definitely wouldn't mind a day to recoup! Yesterday I finally got around to stopping by Barnes and Noble and I saw my book on the shelf!!! I was so so excited. They even picked it to feature on an end cap! It was so freaking cool!
Chocolate, caramel and Snickers bars. That's about all I need to satisfy my sweet tooth. Thank goodness these Snickers Whoopie Pies have all of that and more.
I've never made homemade whoopie pies before but I can tell you there's more in my future.These Snickers Whoopie Pies are chocolate cakes filled with caramel buttercream & Snickers bars and then rolled in salty peanuts.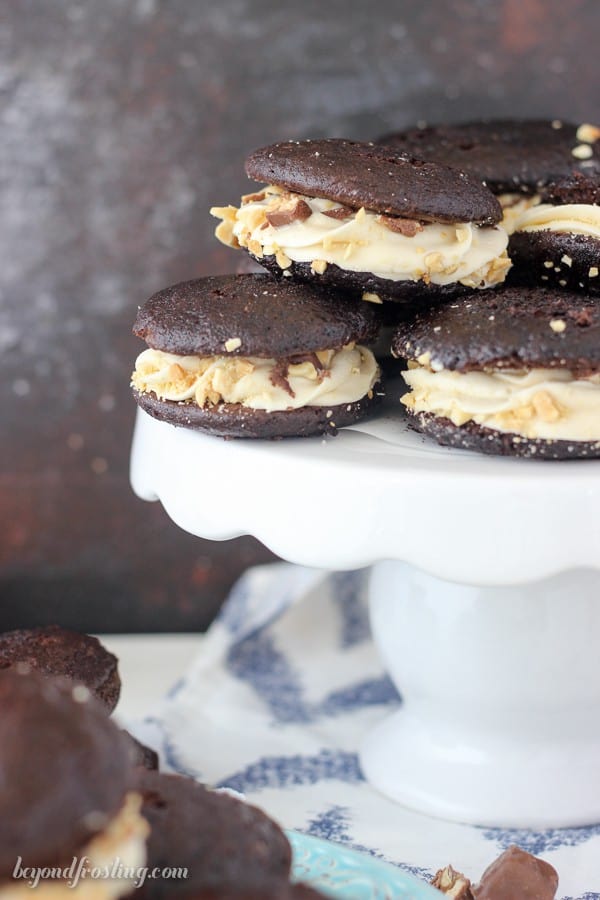 The best thing about these whoopie pies is that you don't need any special equipment. I made the whoopie pies two different ways: I tried making these on a piece of parchment paper and also using a muffin top pan. Of the two, I prefer to use the parchment paper method. If you choose to use the muffin top pan, the cakes rise up higher when baked but it leaves a more defined edge and it makes the overall whoopie pie quite a bit larger, although that's not necessarily a bad thing.
To make these using the parchment paper method, all you need a sheet pan and a large piece of parchment paper. I used a glass and drew circles on the parchment paper; this will help keep your cakes the same size.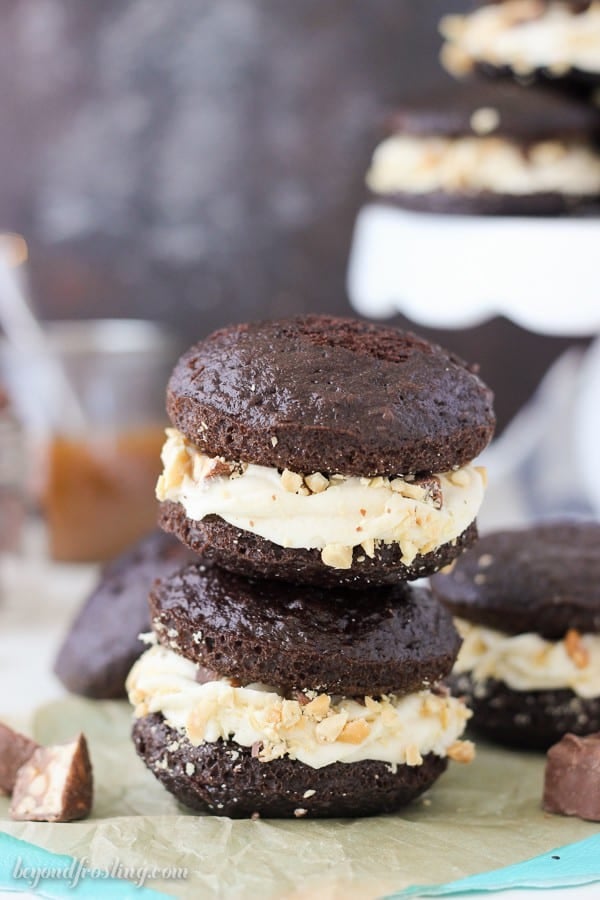 Then I used a piping bag (a Ziploc bag would work too) and filled it with the cake batter. Cut off the tip of the bag (not too high up) and hold the piping bag close the parchment paper, gently squeezing the batter out. If you hold the bag in one place, centered in the circle, it will force the batter to move out to the edges of the circle. I also found it helpful to use two toothpicks and sort of move the batter out to the edges so it is as evenly shaped as possible. These bake up rather quickly, so pay attention!
The caramel buttercream is very simple. I used a store-bought caramel sauce that you would find in the ice cream section of the grocery store. I altered my perfect vanilla frosting recipe by adding a little bit of cream cheese and the caramel sauce. The cream cheese gives this a very silky texture.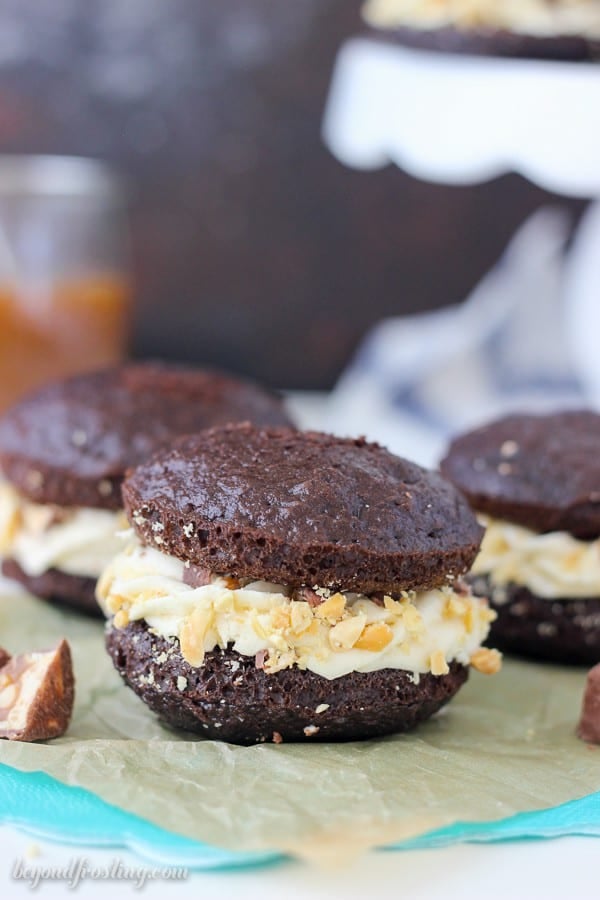 I used a 1M piping tip fitted in a large piping bag to pipe the buttercream on the backside of one of the cakes and then placed another cake on top of that. You don't need a fancy piping tip but it does make it easier because the cake is a bit delicate. If you don't have a piping tip, try cutting off the edge of a Ziploc bag and use the same method that you used for piping the cake. Hold the bag centered on the cake and keep the tip close to the surface of the cake. This will force the frosting out to the edges.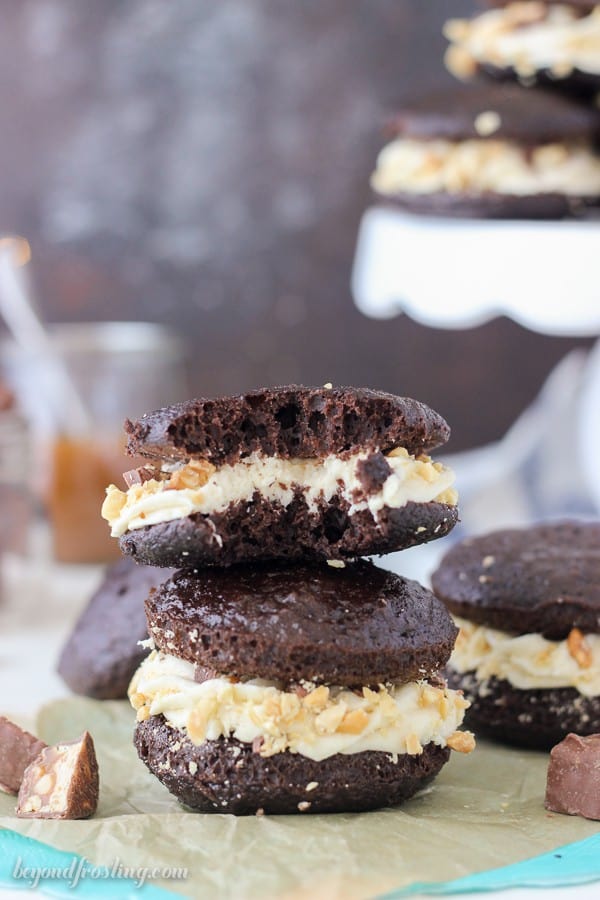 I don't often eat candy bars, but when I do, Snickers bars are my go-to. I love the mini ones cause I can enjoy them without feeling guilty. For these whoopie pies, I got the unwrapped ones that you find in the candy aisle. I noticed they are now also carrying them in the baking section which is so smart! However, you can also just buy a couple of regular sized bars and finely chop them. Make sure you press them into the buttercream so the cake sits nice and evenly on top.
These whoopie pies might take a little bit of labor, but it's all worth it in the end.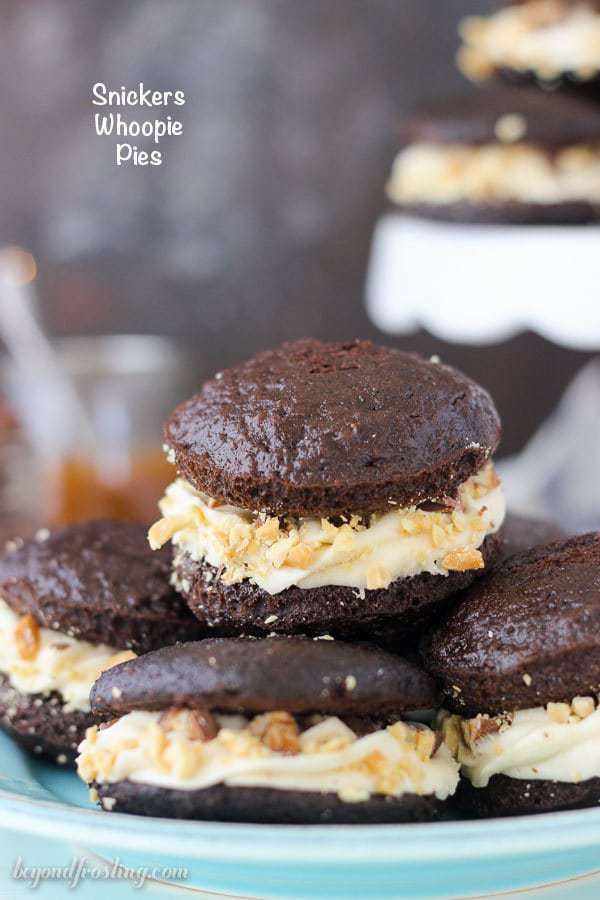 Keep up with all the happenings. Follow Beyond Frosting:
Facebook | Twitter | Pinterest | Instagram
If you love no-bake recipes, be sure to check out my cookbook, No-Bake Treats!
Visit Beyond Frosting's profile on Pinterest.
You might also like: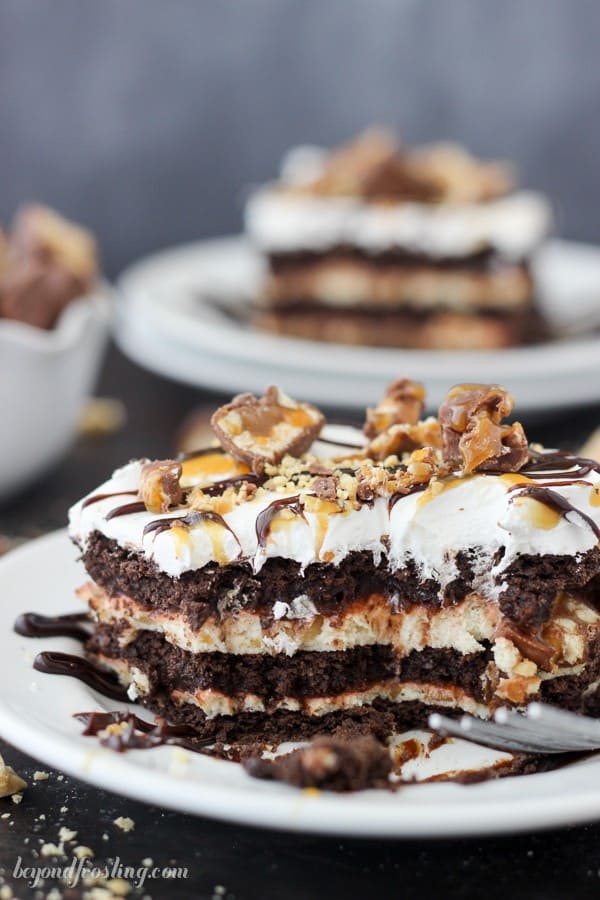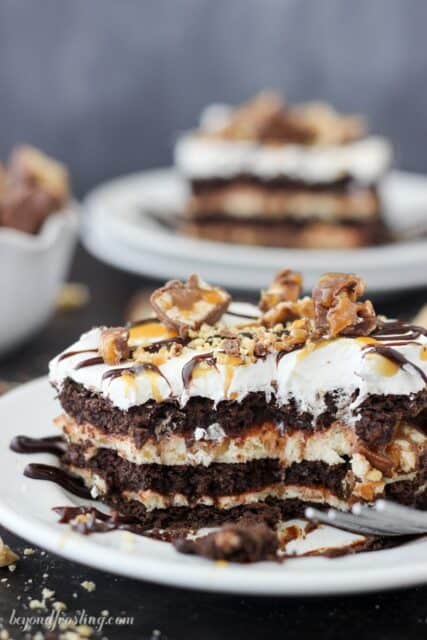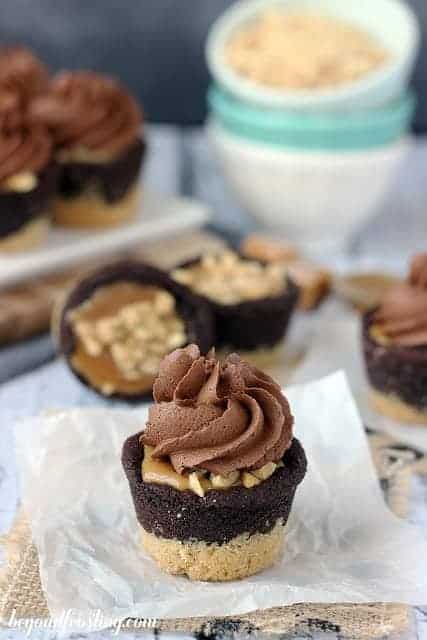 No-Bake Peanut Butter Snickers Pie