This post may contain affiliate sales links. Please see my full disclosure policy for details
Sink your teeth into these thick, soft & chewy Oatmeal Raisin Cookies. These cookies are loaded with spiced cinnamon, raisins and chewy oats. This is a simple cookie recipe to make and can be made ahead of time. Plus, they stay fresh for days.
Are you team raisin or team chocolate chip? My husband won't even touch an oatmeal raisin cookie with a 10-foot pole. I on the other hand, never turn down a good oatmeal cookie! I can't even count the number of times I made this simple recipe, then stacked them high on a plate and settled in to enjoy homemade cookies with a cup of tea.
In fact, I love oatmeal cookies so much I have a dozen variations! A few of my favorites are the salted caramel oatmeal chocolate chip, salted caramel butterscotch and the salted caramel cashew version as well. My newest recipe is for peanut butter oatmeal cookies and let me tell you – they. are. amazing.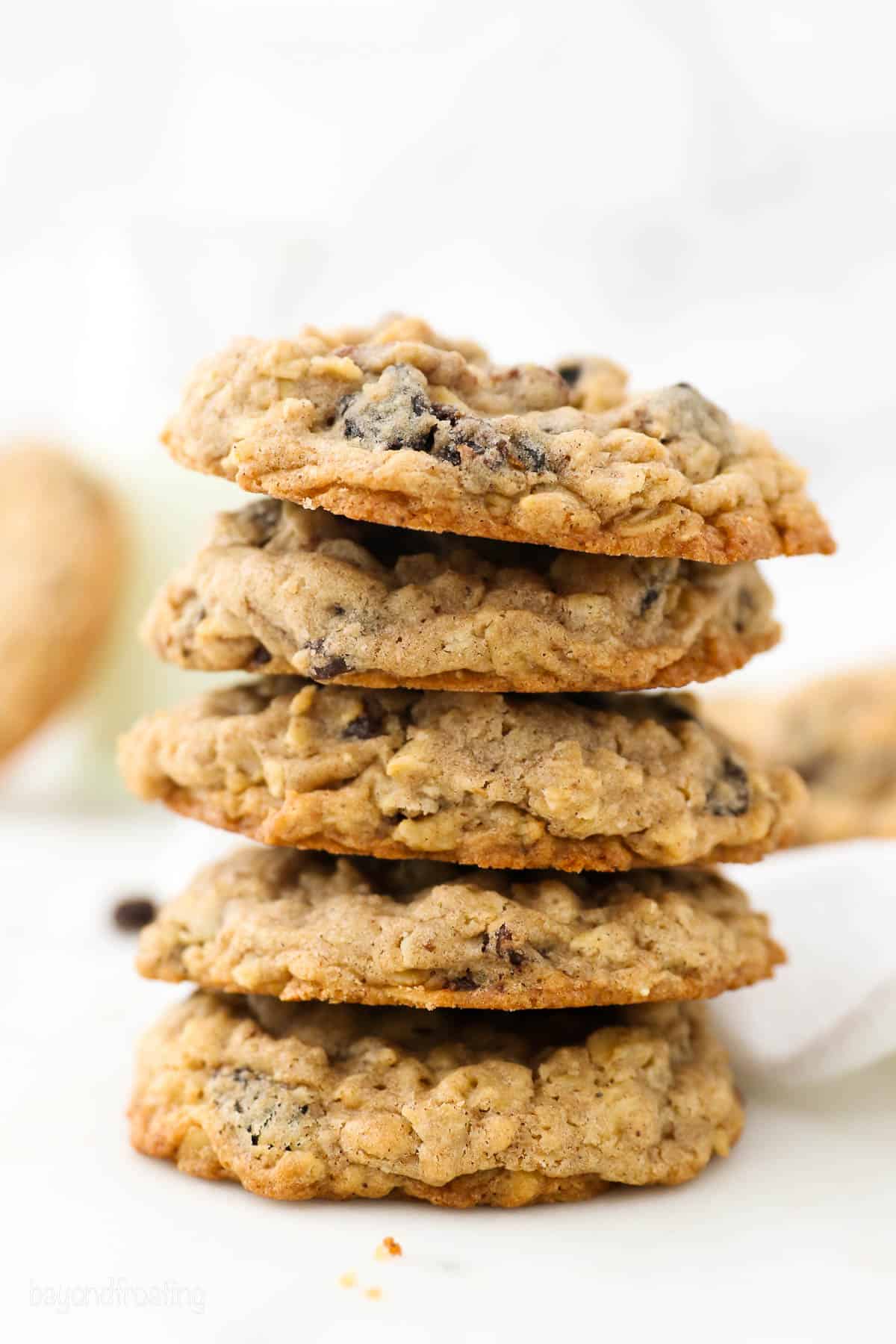 This classic oatmeal cookie recipe makes soft and chewy cookies sweetened with brown sugar. They stay good for days and bring back lunchbox memories of when were kids!
I also love how this recipe comes together quickly. In fact, it's SO EASY that you'll be done making the batter BEFORE your oven is finished preheating. Go on, give it a try. You won't believe how simple these cookies are to make! You don't even have to chill the dough.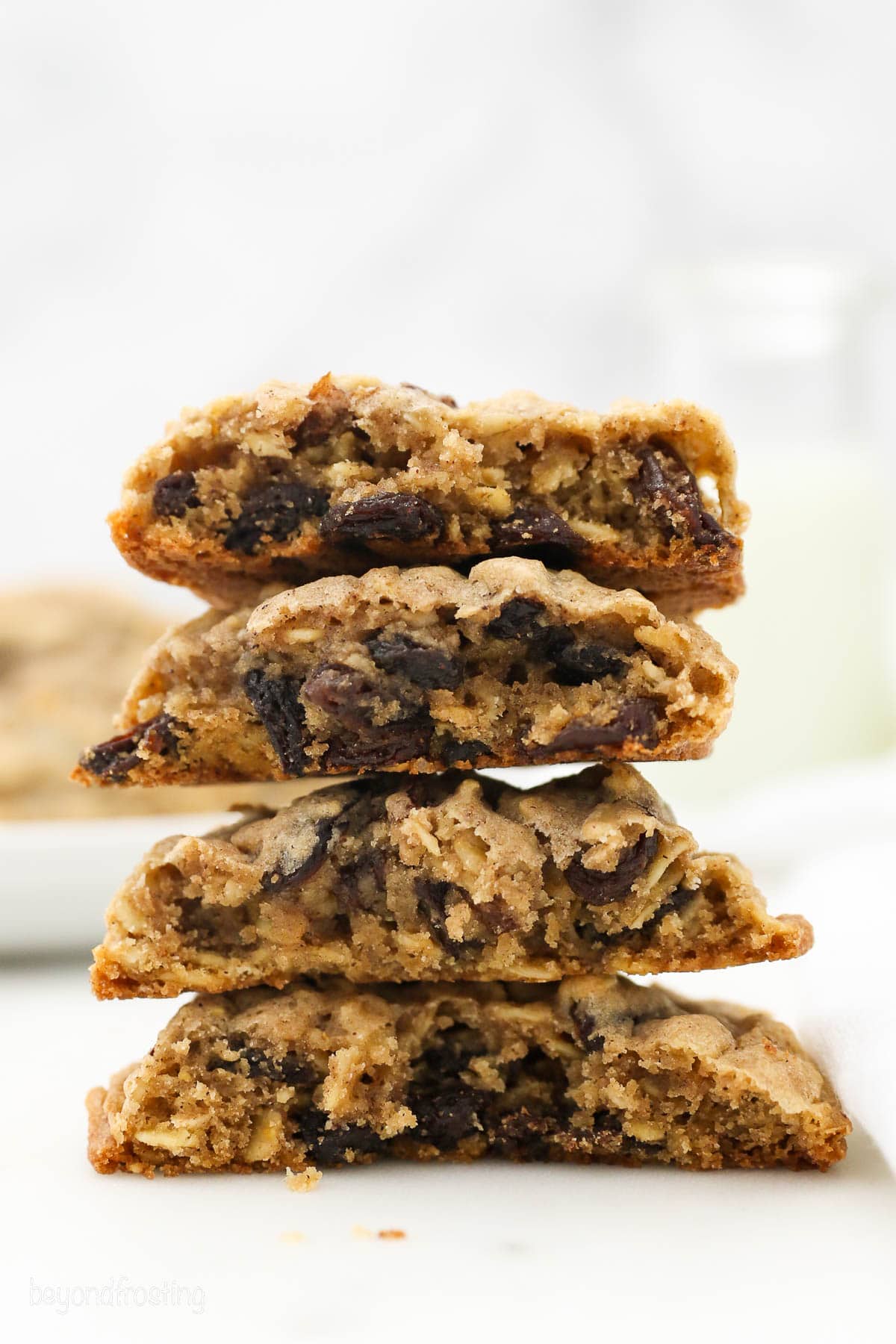 Tips for Success
Even though these oatmeal cookies are about as simple as it gets when it comes to baking, it still doesn't hurt to have a few pro tips up your sleeve:
Slightly warm your butter. I like to start with cold butter and then microwave is for 10-12 second. It requires a little more time to cream the butter with the sugars, but I think it prevents the cookies from spreading and I often forget to take my butter out of the fridge to soften.
Mix dry ingredients separately. Combine all the dry ingredients together in a separate bowl so they are evenly incorporated.
Measure accurately. I swear by using a kitchen scale when it comes to measuring dry ingredients like granulated sugar and flour so as not to overmeasure either ingredient, especially in a cookie recipe. However, for brown sugar, I do my best to evenly pack it into the measuring cup.
Don't over-mix. Before the dry ingredients are fully mixed in, add the raisins so you don't have to over-mix the dough.
Use a cookie scoop. This helps to keep the cookies the same size and ensure they bake evenly.
Line your baking sheets with silicone baking mats. These are game changers for cookie baking. It helps the cookies from burning on the bottom or edges.
I recommend baking one pan at a time on the middle rack of your oven for even baking.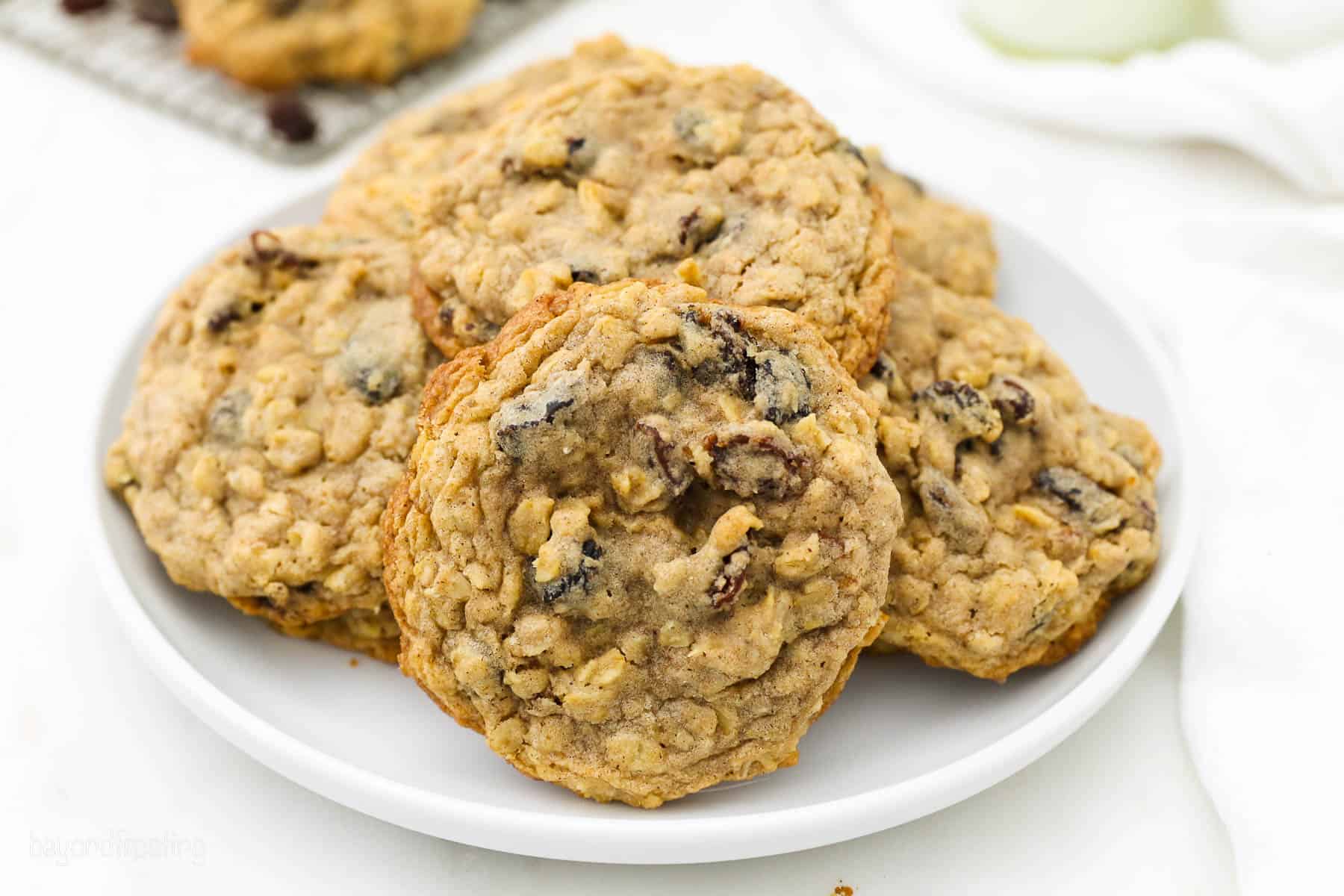 You will pull them out of the oven before the centers are fully baked through. But they should not be too glossy. At that point even 30-60 seconds more can make a difference. Leave them on your baking sheet for several minutes and they will continue to finish baking as they cool.
If you find the cookies are spreading, take an angled spatula, a cookie spatula or knife and push the edges of the cookies back towards the center of the cookie right when you pull them out of the oven. This makes a nice round shape and also helps keep the center nice and puffy.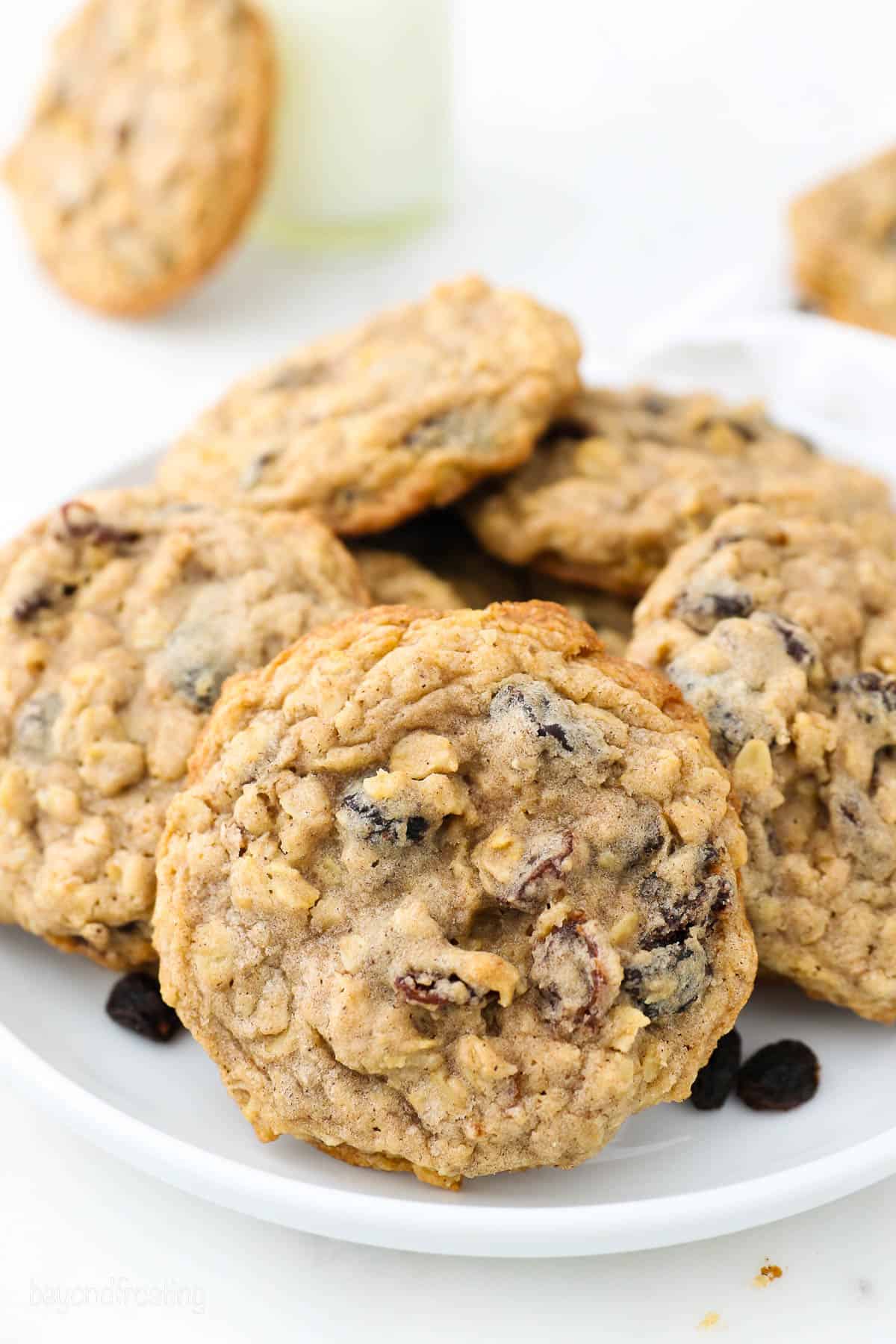 What Kinds of Oats To Use
Rolled oats are best for cookies as they make for the best nice texture and they also give them more chewiness. I love biting into a cookie and seeing all the layers of oats inside.
You can use quick oats if that's all you have. However, quick oats tend to absorb more moisture and get a little mushier, which changes the final texture of the cookie.
I also often use gluten-free rolled oats from Bob's Red Mill or Traders Joes and they work perfectly as well. However, I've never combined them with a gluten-free flour in this recipe.
How to Store
Store them in an airtight container as soon as they are cooled. You can store them for 3-5 days but I usually like to freeze them if it's going to be longer than 3 days.
Yes! These freeze nicely, making them a great option to make ahead of time ! I prefer to place them in an airtight container. If you're like me, and can't stay away, thaw one in the microwave for 10-15 seconds before eating.
More Oatmeal Cookie Recipes
Follow Beyond Frosting:
Facebook | Twitter | Pinterest | Instagram
Print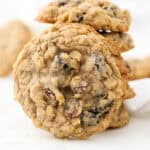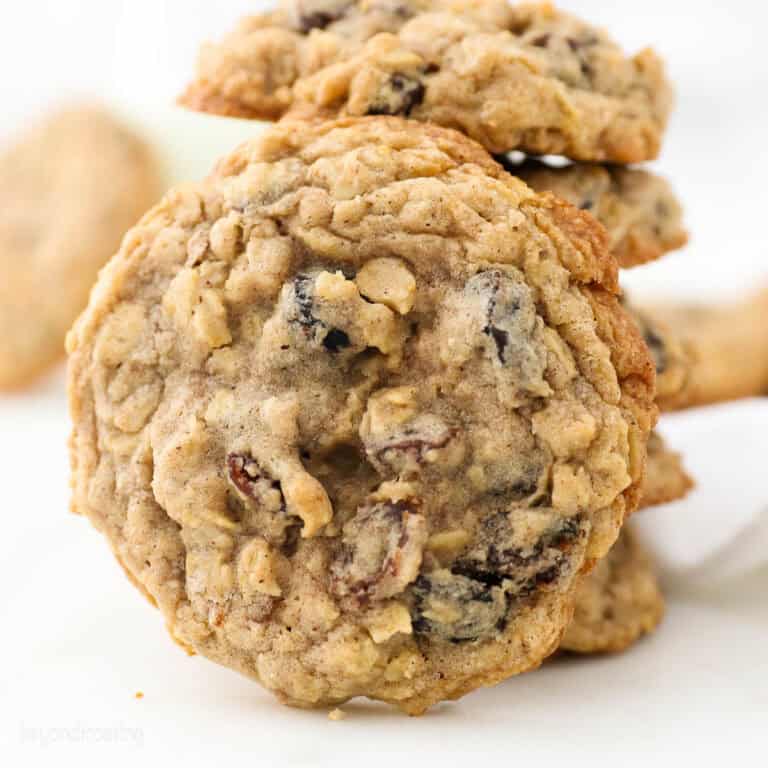 Author:

Prep Time:

15 minutes

Cook Time:

12 minutes

Total Time:

27 minutes

Yield:

24 cookies
Description
Sink your teeth into these thick, soft & chewy Oatmeal Raisin Cookies. These cookies are loaded with spiced cinnamon, raisins and chewy oats.
Ingredients
1 cup

(229 g) unsalted butter, cold

1 ½ cups

(

330 g

) light brown sugar, packed

½ cup

(95 g) granulated sugar

2

large eggs

1 tablespoon

(15 ml) pure vanilla extract

2 cups

(280 g) all-purpose flour

1 ½ cups

(

120 g

) rolled oats

1 tablespoon

(

7 g

) cinnamon

1 teaspoon

(5 ml) salt

½ teaspoon

baking soda

2 cups

(approximately

10 oz

) Raisins
Instructions
Preheat the oven to 350° F. Soften the cold butter in the microwave for 10-15 seconds. Combine the softened butter with the brown and granulated sugar. Beat on medium speed until well combined, 2-3 minutes.
Next add the eggs and vanilla extract and continue beating until well incorporated.
In a separate bowl, combine the flour, oats, cinnamon, salt and baking soda. Stir to combine and slowly add the dry ingredients into the dough, mixing on low speed until dough starts to form.
Before the dough thickens, add the raisins. Beat a couple of times just until the flour incorporates.
Line a baking sheet with parchment paper or a silicone baking sheet. Scoop the dough using a large cookie scoop and place on a sheet pan, 2 inches apart.
Bake for 11-13 minutes. The center of the cookie should be slightly under baked but not too gooey. Allow to cool on the baking sheet for 5-10 minutes before transferring to a wire rack to cool. Store in an airtight container.
Notes
Rolled oats are best for cookies as they make for the best nice texture and they also give them more chewiness but if you only have quick oats, you can still use them. Quick oats tends to absorb more moisture and get a little mushier.
Freezing instructions: Once baked, these can be kept frozen. Cool completely and store in an airtight container.
Make ahead" If you'd like to prepare the dough ahead of time, I recommend scooping the finished dough onto cookie sheets and keeping in the fridge or freezer. Thaw to room temperature prior to baling.
Category:

Cookies

Method:

Baked

Cuisine:

American
Keywords: how to make oatmeal cookies, no chill cookies, easy oatmeal raisin cookies