This post may contain affiliate sales links. Please see my full disclosure policy for details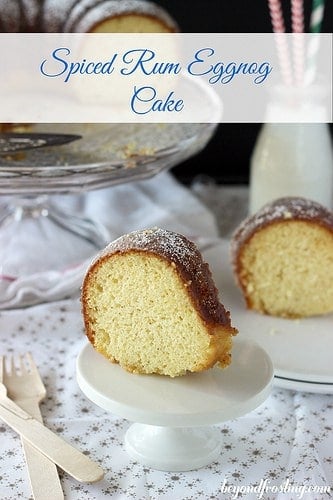 Hey guys! Checking in from Colorado. So far so good on vacation. It's been colder than usual the past couple of days, but the riding has been good and I am hoping for sunnier weather later this week. The first couple of days before Thanksgiving are slower on the hill and I really enjoy not having to weave in and out of people! Plus yesterday, I got the most amazing Apple Pie Cookie from my favorite spot, Mary Mountain Cookies. I will absolutely be making a copy cat recipe. However, today is all about eggnog.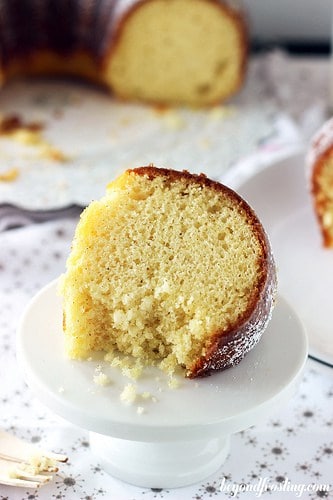 I posted a poll on my blog earlier this week asking if you guys liked eggnog or not. The response was mixed, I think it's a love/hate thing. I happen to love eggnog, but my eggnog has to be ice cold and is only drinkable in small doses. So I decided to try and add some eggnog to one of my favorite rum cakes. My rum cake recipe (which actually is from my friend Rachel), is very popular with my family and friends. So I imagine this Spiced Rum Eggnog Cake will be equally as popular. This recipe is adapted from another one of my old Pillsbury cookbooks. The original recipe called for heavy cream instead of eggnog. Have you ever made a cake with a cup of heavy cream? I haven't, but I was very intrigued. This cake is also glazed with an eggnog and spiced rum glaze. I am thinking I will be making this again for Christmas dinner!
Let's be honest, bundt cakes are intimidating, mostly because there is no easy way to get them out of the pan. Plus, there is always that fear that they will break apart. Well let me tell you, with enough Crisco and flour, I can tell you that your cake will come out no problem! No cooking spray, no butter- use Crisco and make sure you get every little nook and cranny. When you cake is done, let it cool for 15-20 minutes and then gently run a knife around as much of the edges as possible, and around the center. Turn your pan over and gently tap until the cake releases. You can totally do it!
Print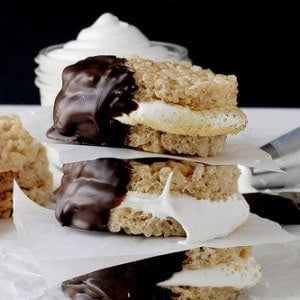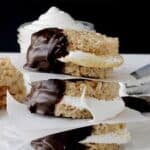 Spiced Rum Eggnog Bundt Cake
Prep Time:

15 minutes

Cook Time:

45 minutes

Total Time:

1 hour
Ingredients
For the cake
1

Box White cake mix

1

C Eggnog

1/4

C Vegetable oil

1/4

C Spiced rum

3

Large eggs

1 tsp

Nutmeg

1 tsp

Vanilla bean paste
For the glaze
1/4

C Powdered sugar, sifted

3 tbsp

Eggnog

2 tbsp

Spiced rum

1 tsp

Vanilla bean paste

1/8 tsp

Nutmeg
Instructions
Preheat oven to 350° F. Generously grease (with Crisco) and flour a bundt pan.
To prepare the cake, combine cake mix, eggnog, vegetable oil, spiced rum and eggs in your mixing bowl and beat on medium speed until smooth. Add nutmeg and vanilla bean paste and gently mix into batter.
Pour batter into bundt pan and spread evenly with a spatula if necessary.
Bake at 350° F for 40-45 minutes. Check for doneness by sticking a toothpick into the middle of the cake. If the toothpick comes out clean, the cake is ready. Remove from oven and allow to cool for 15-20 minutes.
Gently run a knife around as much of the edges as possible, and around the center. Turn your pan over and gently tap until the cake releases. Allow to cool on a wire rack.
To prepare the glaze, sift powered sugar into a medium-sized bowl. Add remaining ingredients and whisk until smooth.
Put wire rack over top of a sheet pan with edges. Pour glaze over top of cake slowly and allow glaze to drip down the sides. Gather excess glaze from the sheet pan by pouring it back into the bowl and pour over top of cake again. Repeat 2-3 more times.