This post may contain affiliate sales links. Please see my full disclosure policy for details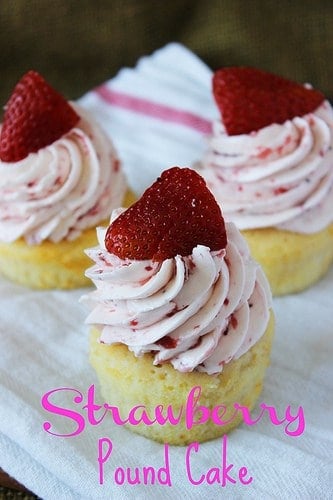 It's not a secret around here that I love cupcakes. So this week, I wanted to make my Grandmother's classic pound cake in a cupcake form. A couple weeks ago, a friend of mine asked me to make cupcakes for her son's second birthday party. This was the perfect opportunity for Strawberry Pound Cake Cupcakes. California is also in the height of strawberry season, so I am trying to enjoy every last minute of it.
I started with my basic pound cake recipe. For this, I knew I had to fill my cupcake liners mostly full because these wouldn't rise as much as normal cupcakes. I topped it off with a Strawberry Swiss Meringue Buttercream. This is one of my favorite frostings because it has the fresh strawberries mixed right into the frosting and there isn't an over powering sweetness from confectionary sugar- because there is none!
Grandma's Pound Cake Cupcakes
Make 30 cupcakes
1 C Butter at room temperature (original recipe uses margarine)
1/2 C Crisco
3 C Sugar
5 Large eggs- at room temperature
3 C All-purpose flour
1/2 tsp Baking powder
Pinch of salt
1 1/4 C Milk- at room temperature
1 tsp Vanilla
Preheat oven to 325°. Allow butter, eggs and milk to come to room temperature.
Cream together the butter, and Crisco until smooth. Beat in sugar and cream until well blended. Don't rush this step; allow to beat for at least 5 minutes.
Slowly add eggs 1 at a time and make sure each one is well mixed.
In a separate bowl, sift flour first and then measure out 3 cups. Sift an additional 2 times. That's three times sifted! Add baking powder and salt.
Add half of the dry ingredients and then half of the milk. Add the second half of your dry ingredients, followed by the remaining milk. Continue to beat until all ingredients are well combined. Add vanilla last.
Fill cupcake liners ¾ full and bake at 325° for 18-22 minutes. Check your cupcake for doneness by inserting a toothpick into the center of the cupcake. If your toothpick comes out clean, your cupcake is done. Allow to cool in the pan for at least 5 minutes before transferring to a wire rack to cool.
For the how-to guide on making Swiss Meringue buttercream, please review this post before making your frosting. Be sure to use grease-free utensils!
Strawberry Swiss Meringue Buttercream
Adapted from Martha Stewart
1 lb (4 sticks) Unsalted butter at room temperature
5 large eggs whites
1 C plus 2 tbsp Granulated sugar
3/4 C Strawberry Puree
Puree strawberries using a food processor. Set aside.
Temper egg whites and sugar in a heat-proof bowl over a pot of simmering water on medium heat. You need just enough water to cover the bottom of the pot, about 1 inch. Heat the egg whites and sugar to 150°F, ensure the sugar as dissolved. Make sure to stir constantly to avoid cooking the egg whites.
Using a wire whisk on your stand mixer, beat on medium-high for 8-10 minutes until the egg whites form soft peaks
Reduce mixer speed to low and add butter 1 tbsp at a time, ensuring each addition is well mixed.
After all the butter has been added, change to paddle attachment and continue beating on medium to allow all the air bubbles to escape. In about 3-5 minutes until the frosting is smooth.
Add pureed strawberries and mix until combined, careful not to over mix.
Serve the same day or you can refrigerate in an air-tight container for up to 3 days. If refrigerated, you will need to bring it to room temperature (about 4 hours) and remix using the paddle attachment for about 5 minutes.
Thankfully, Anthony really enjoyed these cupcakes! I just adore this kid.
You might also like:
Vanilla Pound Cake with Champagne glaze
Chocolate and Strawberries Cupcake