This post may contain affiliate sales links. Please see my full disclosure policy for details
Enjoy a tasty treat at home with these Sweet Almond Pretzels. It's a sweet dough pretzel with a vanilla glaze and covered in sliced almonds.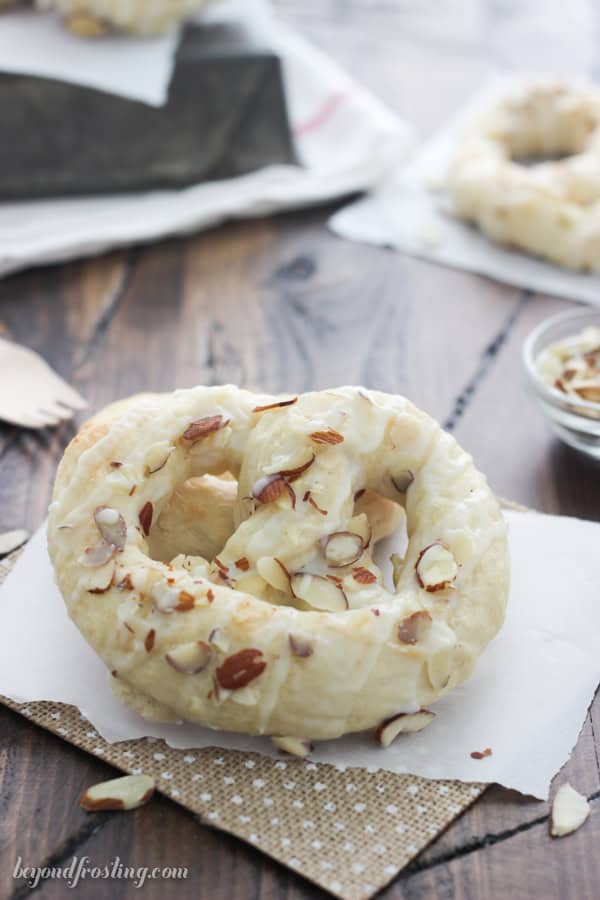 I always forget about April Fools day until the actual day. I can't remember a time when I actually pulled a good April Fools jokes, it's just not in the cards for me I guess. Have you ever pulled off a really good April Fools joke? Tell me about it!
These Sweet Almond Pretzels are such a fun twist on a classic snack. They are a sweet dough pretzel with a vanilla glaze and covered in sliced almonds. Have you ever made a homemade pretzel? I have to say, I am totally hooked!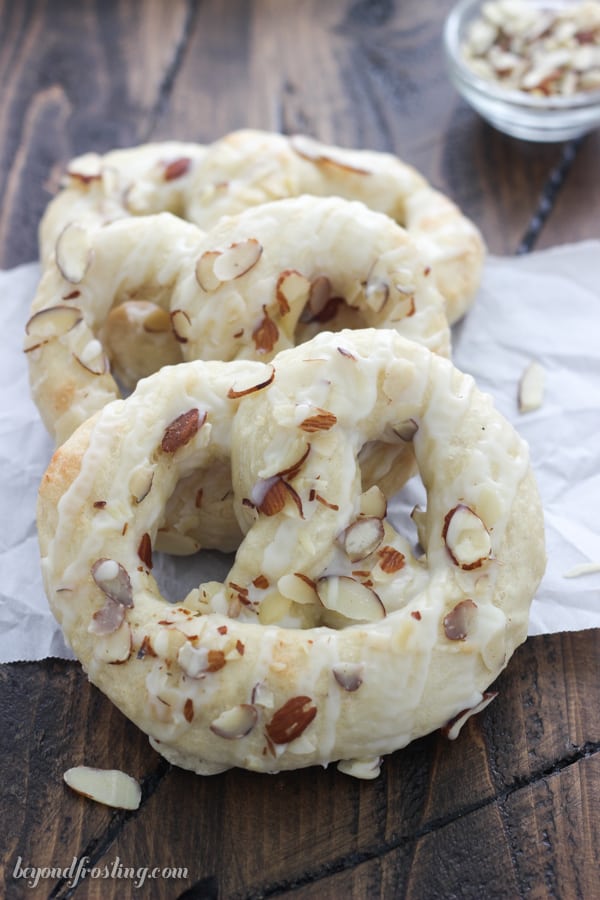 This month's baking bucket list is pretzels (obviously!), but I had to make these a couple times in order to get the recipe to be tweaked the way I wanted it to. The first time I made this recipe, I don't think I let the dough rest enough and I certainly was not happy with the shape.
I never really thought pretzels would be on my baking bucket list until I tried a similar treat in Disney World's Epcot back in February. We got the pretzel in Norway and it was SO big! J
The recipe does not require the yeast to be activated in water, it goes right into the flour mixture. However, there is a resting period before the dough is cut and shaped and then again once the dough has been shaped into the pretzels. So it does take a little patience, but it's worth it. It kinda brought a smile to my face when I pulled these pretzels out of the oven and took the first bite!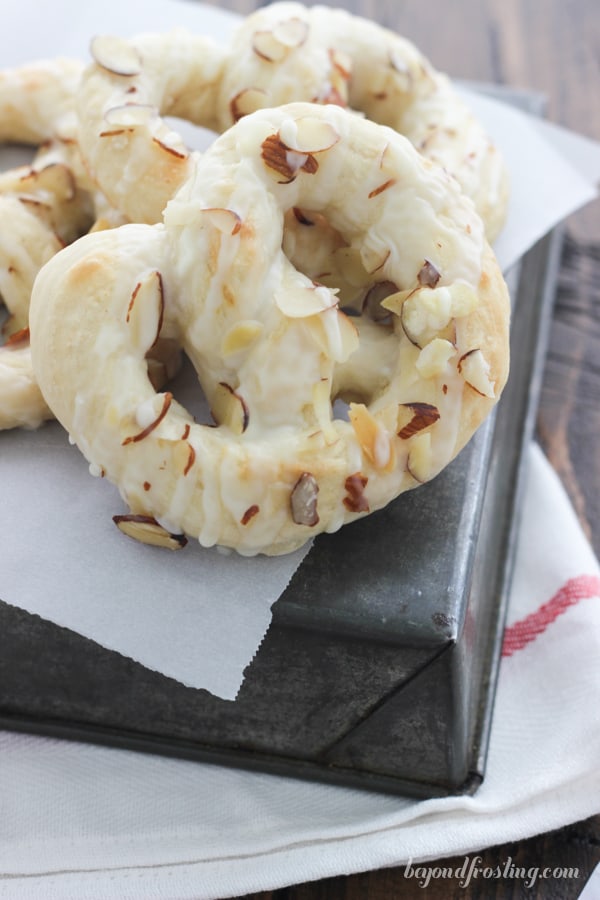 The first time I made these, I thought there was too much salt in the dough, which didn't work for my sweet pretzels. The original recipe I followed also called for the pretzels to be soaked in a baking soda bath before they go in the oven. Did you know that this is what helps give pretzels their golden color? It is pretty awesome. I followed this tutorial and recipe from King Arthur Flour, which was really helpful!
The first recipe was QUITE tasty, I was actually afraid of eating too many, and so I had to ditch them because they were that good. I struggled through the twisting of the dough to make a pretty pretzel, but part of this was because the dough was shrinking. By the time I got the second half of the batch, it actually came out quite nicely.
So let's talk about the twist! The key to this is not over mixing the dough, because it will be tough. When you stretch the dough, it will retract. So what I did was make 4 at a time. I would stretch the first one, let it rest, then stretch the remaining strands, and then went back to the first one. I repeated this until I got the dough stretched to about 24".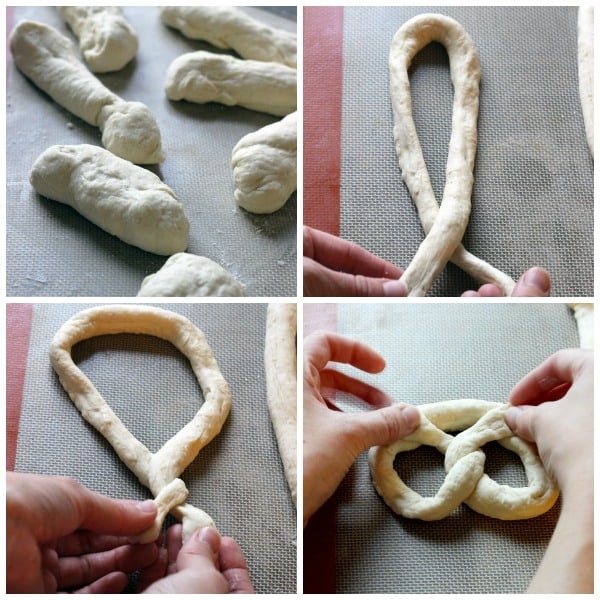 The other trick to stretching the dough is to shake it up and down. I didn't have success rolling it out on the counter. So I picked up each end and started to swing the dough like a jump rope. This was the most effective way to stretch it. I also cut and measured the dough on my food scale so that my dough was similar in size. The recipe called for 2.5 oz, but I preferred to work with a 3oz ball of dough.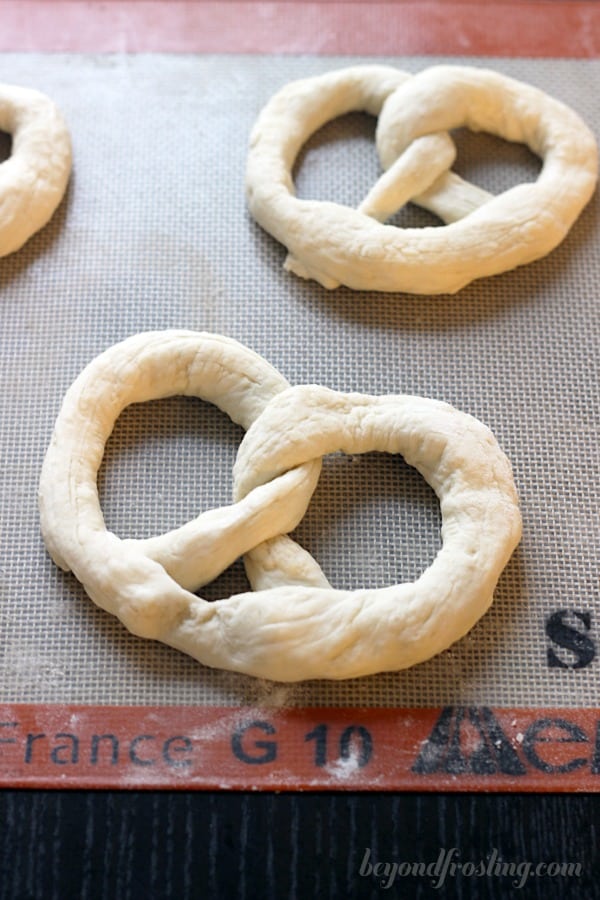 So for the second and final recipe, I made some minor changes. I followed a similar recipe but it was from the King Arthur Flour Baker's Companion. I added some almond extract into the dough. It is not very potent or noticeable. I also reduced the salt in the second recipe; this was a perfect fix. Lastly, instead of a baking soda bath, I gave these pretzels a sugar water bath. All you need to do is dissolve the sugar in the water and brush it over the top of the pretzels before they go into the oven.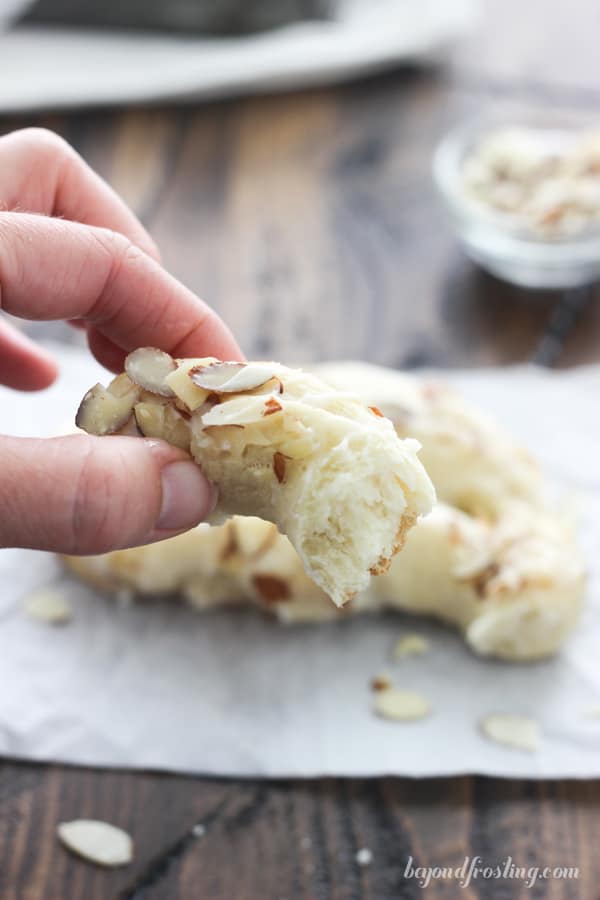 These pretzels are definitely best when served fresh from the oven. After the pretzels are cooled, drizzle the vanilla glaze and sprinkle them with sliced almonds. If you want an additional kick of almond flavor, you can add a tiny bit of almond extract to the glaze. I would recommend that you have a thick glaze because it will be thinner once you drizzle it over a warm pretzel. If you don't love almonds, change this up with your favorite topping.
Print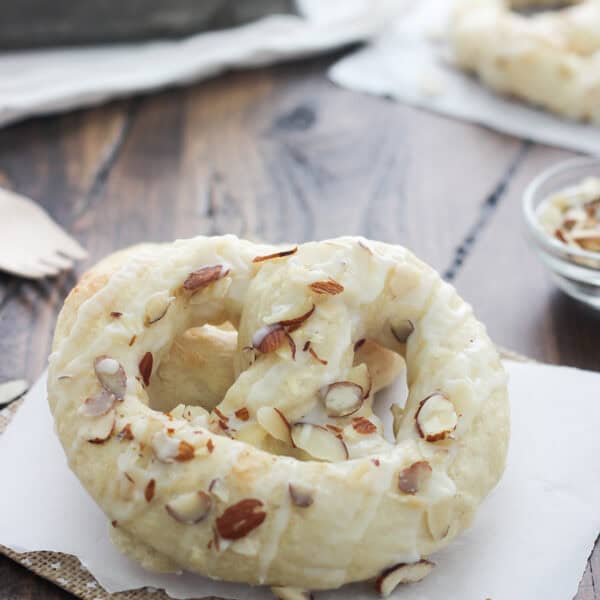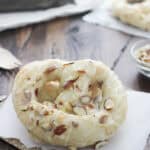 Sweet Almond Pretzels- Baking Bucket List
Author:

Prep Time:

60 mins

Cook Time:

8 mins

Total Time:

1 hour 8 minutes

Yield:

8 servings
Description
Enjoy a tasty treat at home. Sweet Almond Pretzels are a sweet dough pretzel with a vanilla glaze and covered in sliced almonds.
Ingredients
2 ½

C All-purpose Flour

½ tsp

Salt

1 tsp

Sugar

2 ¼ tsp

Active dry yeast

1 tsp

Almond extract

1

C warm water
For the bath

½

C Warm water

1 tsp

sugar
For the topping

1

C Powered sugar

2

–

4

tsp Milk
Splash of vanilla or almond extract (optional)
Sliced almonds
Instructions
In a medium sized bowl, combine flour, salt, sugar and active dry yeast. Gently mix to combine ingredients.
Add almond extract and then add water slowly. As you add the water, use your hands or a dough scraper to fold the dry ingredients into the dough. Important- you may not need the full cup of water. Feel out your dough before it gets too wet.
Once the dough forms, you will knead it for 5 minutes until it is soft and somewhat pliable. Test your dough by poking it with your finger. If the dough springs back, it is done.
Gently coat the dough with flour and place in a sealed plastic Ziploc bag. Allow dough to rise for 30-45 minutes.
Preheat oven to 500°F.
Place dough on a lightly floured surface and divide into dough balls about 3oz each. You should get 7-8 balls. Allow the dough to rest for 5 minutes.
Roll each piece into a long strand, about 24 inches. The most successful way to stretch the dough is to start with one strand, stretch it as much as you can and then stretch all the others before going back to the first. The dough will shrink, so stretching it in steps will help this. I worked with 4 strands at a time. It is also helpful to spin the dough like a jump rope using two fingers to hold each end.
Twist the rope. Take the end of the left side and fold it over the right. Then take the end of the right side and fold over the left. Take both ends and fold up to the top of the circle to form your pretzel. Refer to photos.
Combine warm water and sugar, stirring until sugar is dissolved. Brush sugar water over top of pretzels and allow to rest 10 minutes before putting in the oven.
Bake at 500°F for 8-9 minutes. I suggest to bake on parchment paper or baking mat to avoid the bottoms from burning.
Allow pretzels to cool before topping.
To prepare the glaze, sift the powdered sugar and slowly add mix 1 teaspoon of milk at a time until you reach your desired consistency. It should be thick. Optional: add vanilla or almond extract.
Drizzle glaze over warm pretzels and topped with sliced almonds.
Notes
*original recipe called to brush the pretzels with melted butter when you take them out of the oven. I did not do this
* Dough recipe from King Arthur Flour "Hot Buttered Pretzels"
* During the first rise, I had better success after allowing the dough to rise for 45 minutes