This post may contain affiliate sales links. Please see my full disclosure policy for details
There's been so much going on in this neck of the woods that I feel like I have been a little disconnected from you guys lately. This time of year is one of the busiest for me at work, and I have a habit of pushing myself to the limit until I just crash. It's not very healthy at all, but I just try to keep up as much as I can and still have a life. I would never normally look forward to Spring, but this year, I totally am. The lack of snow in Southern California had left me feeling disappointed and unmotivated to make the 3 hours (each way) trek to the mountains- even though I have fun every time. I know the increasingly warmer weather will bring an end to our season even faster. On top of that, our normal spring trip to Tahoe isn't looking too good either unless we see some significant snow fall. I'm not writing off the season yet, as March is usually one of the best months, but winter hasn't showed up here yet. Don't tell me snowboarding friends I just said all that.
I can't believe how long it's been since I shared a cupcake recipe! I mean seriously, Mid-December was the last one. Well this Take 5 Cupcake will make up for lost time. I have been thinking about this cupcake recipe for quite some time. Take 5 bars are my FAVORITE candy bar. Peanut butter, chocolate, caramel and pretzels- that's what's up. These Take 5 Cupcake are a chocolate cupcake with a crunchy peanut butter filling topped with chocolate frosting, caramel and chocolate covered pretzels.
At one point, I was going to crush the pretzels into the cupcake, but I wanted to keep the moisture in the cupcakes. I haven't had great experience with crushed pretzels because they are so dry. I was thinking about a caramel frosting, but I didn't want it to be too sweet. I ended up with a chocolate frosting that using Hershey's chocolate spread. Have you seen this in the stores? It's kind of like Nutella in that it's a smooth creamy chocolate spread, just without the hazelnut flavor (although they do make one of those). I absolutely love it. You can usually find it in the peanut butter section of the grocery store.
When I finally decided on a peanut butter filling, I just also happened to have some peanuts at home and thought that adding a little crunch to the middle might be good. You could easily omit the peanuts and just fill it with the peanut butter ganache. Lastly, the caramel on these cupcakes make them pretty gooey. Sometimes, if I cam traveling with cupcakes, I will put a little caramel in a hole that I dig out of the top of the cupcake and fill it with caramel, then put the frosting on top.
I have a big cupcake event coming up in early March and I am totally stumped on what to make. Last year I did Triple Chocolate Brownie Cupcakes and they were a huge hit. Chocolate cupcakes are totally the way to go because everyone loves chocolate. So if you can help me out and tell me your favorite type of chocolate cupcake, that would be great!
Keep up with all the happenings. Follow Beyond Frosting
Facebook | Twitter | Pinterest | Instagram |
Print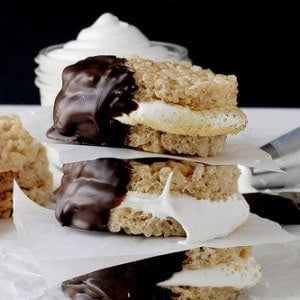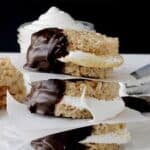 Take 5 Cupcakes
Prep Time:

30 minutes

Total Time:

30 minutes

Yield:

6 Cups of frosting
Ingredients
1

batch of your favorite chocolate cupcakes
For the ganache
1

C Peanut butter chips

4 tbsp

Heavy cream

1/2

C Peanuts (optional)
For the frosting
1 1/2

C (3 sticks) Unsalted butter (room temperature)

1 1/2

C Hershey's chocolate spread

6

C Powdered sugar

3 tbsp

Heavy whipping cream
Caramel for drizzling

24

Chocolate covered pretzels
Instructions
Bake a batch of your favorite chocolate cupcakes and allow to cool completely. Core out the center of your cupcakes about halfway deep.
For the ganache
Combine peanut butter chips and heavy cream in a microwave safe bowl. Microwave on high for 60 seconds. Remove from microwave and whisk until smooth. If there are still chunks left after whisking, microwave for another 15-20 seconds.
Take peanuts and gently plush in a food processor to break up into smaller pieces. Empty crushed peanuts into ganache and stir to combine.
Spoon peanut butter ganache into the hollow center of the cupcake.
For the frosting
Allow butter to come to room temperature. Whisk butter on medium high speed until light and fluffy (3-4 minutes).
Add Hersey's chocolate spread and beat until combined.
Turn mixer speed down to slow. Slowly add powdered sugar 1 cup at a time. After adding 3 cups of powdered sugar, the frosting will start to become very thick. Add 1 tablespoon of heavy cream.
Add remaining powdered sugar, 1 cup at a time. After the last cup, add remaining 2 tablespoons of heavy cream.
Once all ingredients are combined, increase mixing speed to medium high and beat frosting for 1-2 minutes to whip some air into it.
Once you reach the desired consistency, frost peanut-butter filled cupcakes. Drizzle with caramel before serving. Add chocolate covered pretzels as a garnish.
Notes
This recipe makes enough to frost 24 cupcakes. If a thicker frosting, either ardmore powdered sugar or eliminate one tablespoon of heavy cream. For a thinner frosting, add additional heavy cream.
More recipes you might like:
Salted Caramel Hot Chocolate Cupcakes
Double Chocolate Milkshake Cupcakes
Caramel Apple Milky Way Cupcake