This post may contain affiliate sales links. Please see my full disclosure policy for details
Are you ready to recap the most popular recipes of 2014? There's chocolate, cookie dough and bacon of course!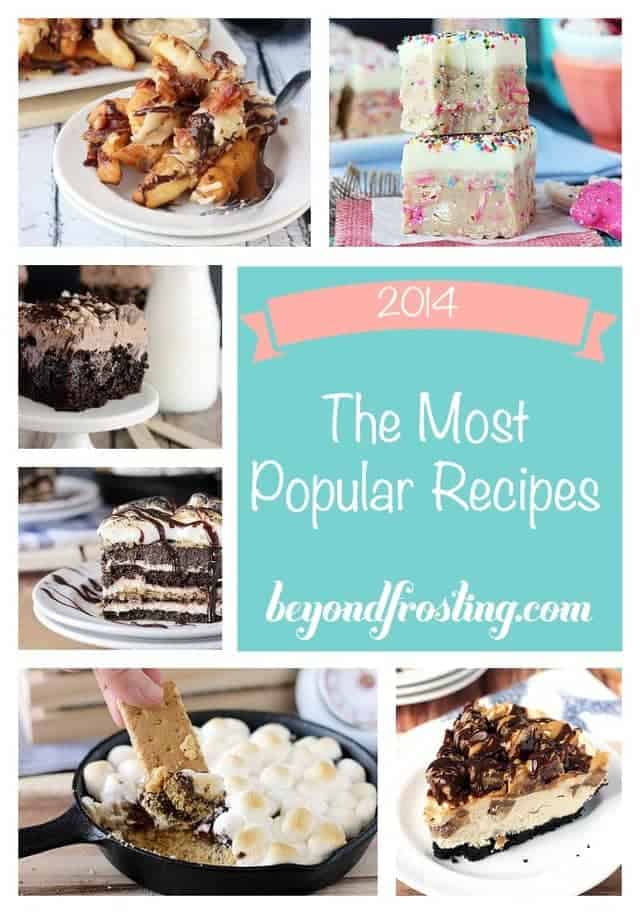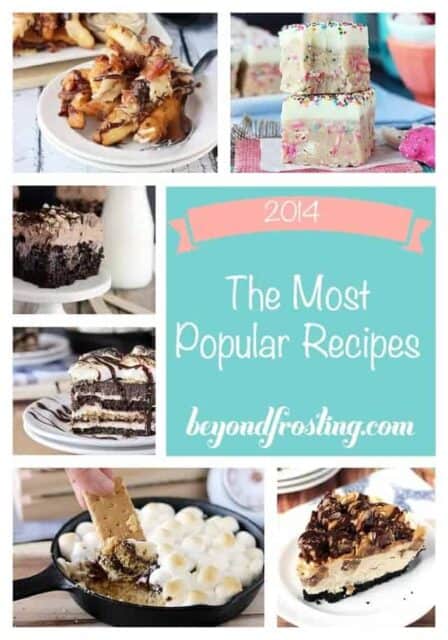 Christmas came and went so fast, I hardly had time to blink. I mean seriously, January will be here in just a few short days. What happens in January? You all (and I) choose to get skinny again, which means that you probably stop coming by to visit as you are not looking for mouthwatering desserts. We can still be friends, but just pop by and say hi every once in awhile ok? Thanks.
It's time to count down the top 10 of 2014! For these top 10, I sifted through and picked only NEW recipes that were posted this year. Plus at the end, I included a couple that are STILL the most popular recipes on my blog!
#10. Circus Animal Cookie Dough Truffle Bars– I mean who doesn't love Circus Animal Cookies right? I went a little Circus Animal Crazy this year and made a brookie, some fudge and even some frosting. So if you love Circus Animals, I've got you covered.
#9- Triple Coconut Poke Cake– It's sad but true, I used to hate coconut. Now, I practically shoveled this cake in my mouth, which should tell you that my past buds have matured. Plus I believe this lead to Coconut Cream Pie Cookies which just barley missed the top 10.
#8- Butterfinger Icebox Cake– Well I didn't see this one coming, but I do love me some no-bake desserts. This recipe was featured on Parade Magazine's blog, Buzzfeed and Sheknows.com. There is more butterfingers on the horizon in 2015. As in, I just finished licking the spatula before I sat down to right this post. #truth
#7- Perfect Vanilla Frosting- Well DUH! Everyone needs a go-to frosting recipe. I am really happy to see this make the top 10, I worked pretty hard on the sister post to this recipe, which is How to Frost the Perfect Cupcake (there is even a video!).
#6- Key Lime Cheesecake Cookies- Before May of 2014, I was a key lime virgin. It's true. I went to Miami this year for BlogHer Food and had my first key lime pie! Then I came home and made some pretty irresistible key lime recipe! Beside these cookies, there is also a Coconut Lime Cheesecake Bars and some Monkey Bread too!
#5- Cookie Dough S'mores Dip– Umm, do you guys remember cookie dough week? It was AWESOME. I was joined by a few of my blogging friends and we shared cookie dough recipes all week! This dip was one of them and it deserve this #5 spot! I am kind of a cookie dough feen. I won't even begin to list all the cookie dough recipes I have on this blog.
#4- Loaded Maple Bacon Donut Fries– Do I even need to say more? This was my first recipe featured by Pillsbury this year so I was pretty pumped about that!
#3- S'mores Lasagna– This is the most recent in a long line of dessert lasagnas, and I am not done yet! Look out for more lasagnas in 2015. This S'mores Lasagna is alternating layers of graham crackers, chocolate pudding, chocolate whipped cream and gooey marshmallow.
#2- Gooey Red Velvet Brownie Cake– This cake combines a swirled layer of brownies in a red velvet cake with a cream cheese mousse topping. No wonder it's #2!
And the #1 recipes in 2014…(drum roll please!)
Ultimate No-Bake Reese's Peanut Butter Cup Cheesecake
This one is no surprise. It is incredibly rich, loaded with peanut butter cheesecake and topped with more chocolate and peanut butter.
And let's not forget, the top two most popular recipes on Beyond Frosting:
Sinful Triple Chocolate Poke Cake (also duh)
Which will also forever be my claim to fame because Ree (yes the Pioneer Woman) tweeted this recipe last year. Booyah! I'm still waiting for my invite to the ranch so I can make this for her and the kids. #justsaying
Lastly, just because New Years Eve is approaching, don't forget this Mimosa Milkshake!
Cheers to 2015!