This post may contain affiliate sales links. Please see my full disclosure policy for details
I can't believe October is coming to an end this week. It seems like the end of this year is flying by. Mentally, I am way past Halloween, already baking for Christmas. That's right, I said it, Christmas. Just a week ago I was questioning why big box stores were already carrying Christmas stuff. I guess because of people like me who are already searching for peppermint treats! Well as my love for pumpkin continues, I am taking a break from Pumpkin this week!
This is huge week for me, my one year blogiversary s coming on Thursday! So all this week I am celebrating in my own way, but also sharing with you! It's a little fitting that this is my last post as a Walker's ambassador. Six months ago, Walkers Shortbread approached me to be a part of their blogging ambassador program. Each month, Walkers has sent out a box of cookies along with a theme and asked bloggers to come up with a creative way to share the product. I was nervous and excited at the same time. Back in February, I set a list of goals for myself, and working with brands was one of them. I have certainly enjoyed my time working with Walkers by getting to know the products and create some yummy treats for you!
Today I have my made for you a Toasted Pecan Shortbread Bark. It's need a little bit of patience to allow each step to complete, but it is really easy to put together and certainly tastes amazing! With the quickly approaching holidays, I think it's important to have a go-to recipe that requires very little effort. This bark is perfect for that. It combines the buttery flavor of a shortbread cookie, the rich, soft dark chocolate and the salty toasted pecans on top. This bark is a little bit fragile because of the shortbread base, but if you allow it to set properly, it will hold up pretty well. Make sure to cut this with a sharp knife, and clean it between cuts.
Print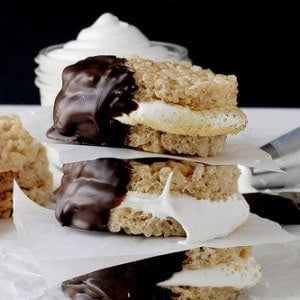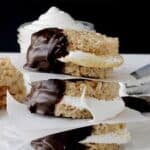 Toasted Pecan Shortbread Bark
Prep Time:

5 minutes

Cook Time:

20 minutes

Total Time:

25 minutes

Yield:

12-24 bars (depending on cutting)
Ingredients
3

C Shortbread cookie crumbs

1/2

C +

2 tbsp

Unsalted butter, melted

12 oz

Dark chocolate

1

C Pecans, toasted

1

C Coconut toasted
Instructions
Pre-heat oven to 350° F.
Use a food processor to grind up Walkers shortbread cookies. I used 3 boxes of Butter Shortbread cookies, it is just over a cup of crumbs per box.
Melt ½ C butter in a microwave safe bowl about 30 seconds. Pour melted butter over shortbread crumbs.
Combine melted butter and shortbread crumbs with a spoon. Pour crumbs into a 9×13" pan. Use your hands to evenly pat down crumbs into pan.
Bake for 15-20 minutes at 350° F. Watch the top of the crumbs until it turns slightly golden brown. Remove from oven and cool completely.
Before you turn off the oven, toast the pecans. Melt 2 tbsp butter in a microwave safe bowl. Empty pecans into butter and stir to coat evenly.
Toast pecans in pre-heated oven for 10-15 minutes. Watch carefully so they do not burn. Baking times vary by oven and pan type. Cool completely.
Toast coconut by spreading evenly on a baking sheet and baking in pre-heated oven for 5-8 minutes until slightly brown. Cool completely.
Once shortbread crust, pecans and coconut are cooled, prepare to assemble the bark.
Melt chocolate in a heatproof bowl over a pot of simmering water on medium heat (or in a double boiler). Stir chocolate until melted.
Pour melted chocolate over cooled shortbread base and spread evenly. Top melted chocolate with pecans and coconut and gently press into melted chocolate.
Allow chocolate to set completely, about 30-45 minutes. You can refrigerate to help spread up the process. Once set, you can cut into pieces and serve.
Recipe Card powered by
Disclaimer: Walkers Shortbread provided me with a free samples of these cookies to review. All opinions expressed in this post are my own. I was not compensated for this post.

Take a look at my other recipes for Walkers
Brown Butter Peach Shortbread Parfaits with Cinnamon Maple Whipped Cream
Peanut Butter and Jelly Mini Shortbread Cookie Sandwiches
No-bake Chocolate Shortbread Mousse Parfaits
Espresso Chip Cookie Dough Shortbread Bars
Lemon Raspberry Shortbread Magic Bars