This post may contain affiliate sales links. Please see my full disclosure policy for details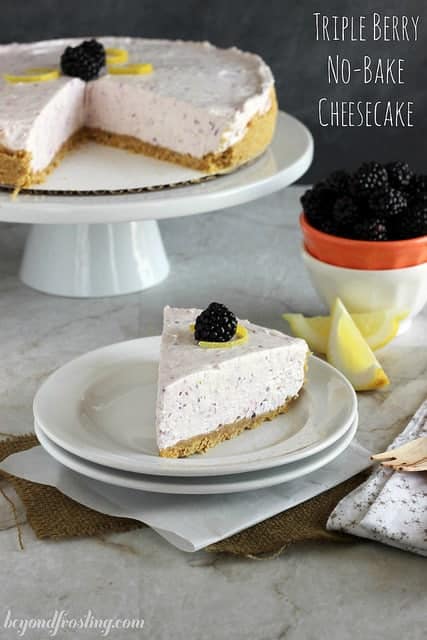 Over the past few weeks, my kitchen has been FULL of sugar and flour. I have done some serious work over here. I've got a bunch of awesome summer recipes for you including no-bake desserts, ice box cakes, ice cream, popsicles and cookies. It's going to be a great summer!
I am totally in love with this Triple Berry No-bake Cheesecake. So much so, that I made this three times in three different ways until I found the absolute perfect recipe. Since I was home by myself for a few days, I had a LOT of time to test this cheesecake. I finally settled on the third recipe, which was my favorite.
No-bake cheesecakes are some of my most favorite desserts to make. First of all, they could not be easier. They are also so versatile. You can add in your favorite cookie or candy bar, fruit, or extract.
This cheesecake has quite a bit of lemon zest. I love how the lemon compliments the berries. You get a little bit of sweet with a little bit of tart.
For the berries, you can use anything that is in season. The first time around, I just cut the berries into pieces, but I didn't really like the appearance, so I decided to blend the berries in a food processor, which gave the cheesecake a pinkish tint. I used a little bit of strawberries, some blackberries and blueberries. In total, you will need about one cup of pureed berries.
For the crust, I went with a traditional graham cracker crust. I like my cheesecakes to have an edging of graham cracker, because I am a total crust fan. This cheesecake would also be good with a shortbread crust. Since shortbread has a lot more butter in it, I would cut the amount of butter in half.
This cheesecake also has a jar of Jet-Puffed Marshmallow Creme. The fluff helps bring a little bit of sweetness to the cheesecake, but also helps it maintain its shape. The filling is a little bit "wet" when you pour it into the crust. However, after it sets for a couple of hours, the result is a creamy, airy and light tasting cheesecake. Sometimes a traditional cheesecake can be very heavy; this is exactly the opposite, which is why it's so great for summertime!
Keep up with all the happenings. Follow Beyond Frosting:
Facebook | Twitter | Pinterest | Instagram |
Print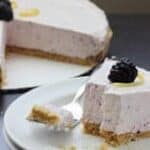 Triple Berry No-Bake Cheesecake
Prep Time:

15 minutes

Total Time:

15 minutes

Yield:

8-10 servings
Description
A no-bake cheesecake with mixed berries and lemon zest.
Ingredients
6

Strawberries

1/2

C Blackberries or raspberries

1/2

C Blueberries

2

C Graham cracker crumbs

6 tbsp

Unsalted butter

12 oz

Cream cheese

2 tbsp

Sugar

2 tbsp

Lemon zest (

1

lemon)

2 tbsp

Heavy whipping cream

1

Jar (7oz) Jet-Puff Marshmallow Creme

1

container (8oz) Cool Whip
Instructions
Rinse and dry all berries. Combine berries in a food processor and blend into a puree. It should make about 1 cup of berry puree.
If using whole graham crackers, use a food processor to grind into a fine crumb.
Melt butter in a microwave-safe bowl and pour melted butter over graham crackers. Stir to combine until all crumbs are moistened.
Press into a 9" spring form pan using a spoon or measuring cup to compress crust. Set aside.
Using the paddle attachment of your Kitchen Aid mixer, whip cream cheese on medium speed until light and fluffy for 2-3 minutes. Add sugar and zest from one lemon and continue to beat until well mixed.
Add the heavy whipping cream, increase mixing speed to medium-high and whip for 2-3 minutes to add air into the batter.
Empty container of marshmallow fluff into batter and mix thoroughly.
Once all ingredients are mixed together, add Cool Whip and beat into batter. Scrape the bottom of the bowl with a spatula and mix together.
Finally, add berry puree and fold into cheesecake batter. Pour batter onto prepared pie crust.
Chill in the refrigerator for at least 3-4 hours. Serve chilled.
Notes
If you are using a store-bought graham cracker crust, you will end up with extra filling. I suggest to put it in a bowl so you can use it as a dip! Don't let it go to waste!
Recipes from my friends:
Strawberry Shortcake Cheesecake from Life, Love and Sugar
No-Bake Cheesecake Parfaits from Yummy Healthy Easy
Strawberry Cheesecake Crumb Bars by Chocolate, Chocolate and More
Recipe you might like from Beyond Frosting
Easy Strawberry Marshmallow Pie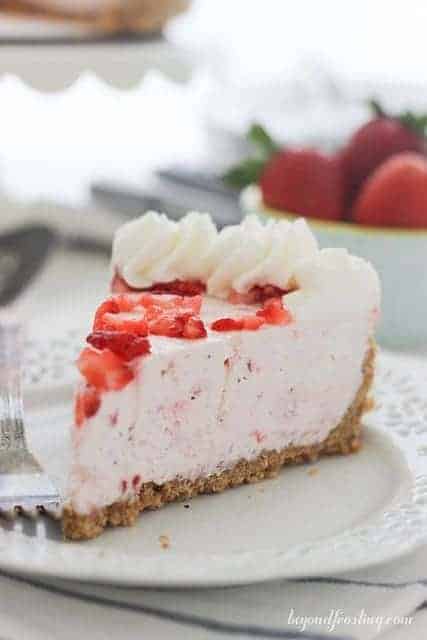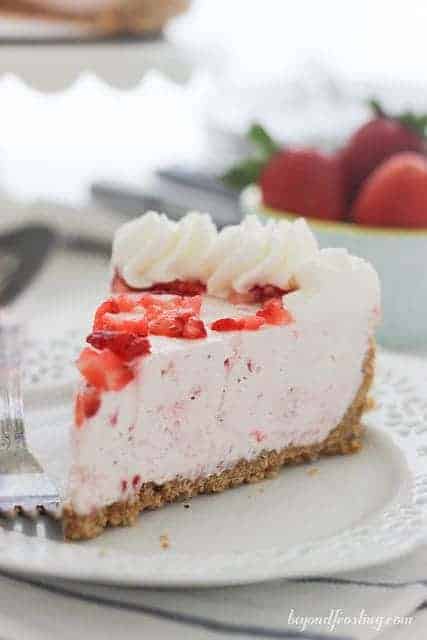 Easy Strawberry Marshmallow Popsicles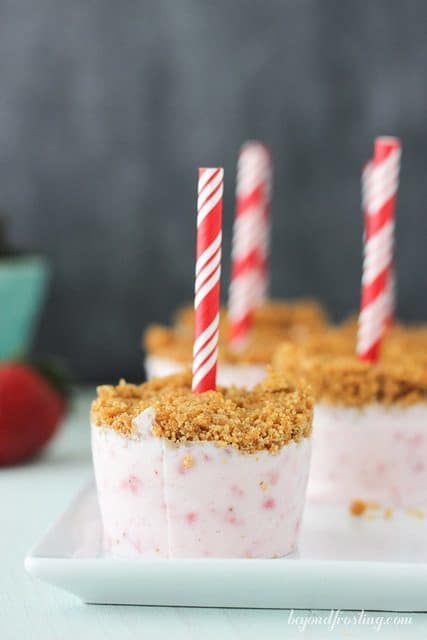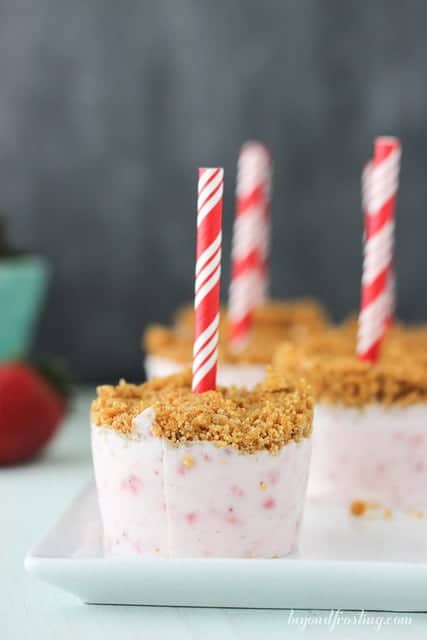 Raspberry and Blackberry Cheesecake Eggrolls
No-bake White Chocolate Mimosa Cheesecake
Ultimate N0-bake Peanut Butter Cup Cheesecake