This post may contain affiliate sales links. Please see my full disclosure policy for details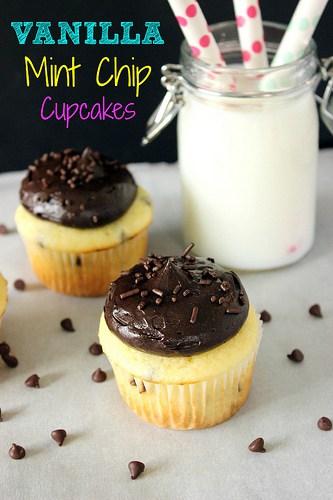 You know when life just sort of sucks you into a tornado of stuff to do? There is so much going on around you and you feel like you can't get it under control. I am in one of those tornados! Work is so very busy right now, exciting things are happening with my blog, and the demand to keep up is awesome, but difficult at times. I have been without my partner in crime for almost two weeks while he is traveling in Asia, and he will be gone for another week. I miss him dearly. However, with all that's going on, I am so happy to be spending the weekend in Colorado with my family while my little brother graduates from college; and bonus, he called me yesterday to tell me he got a full time job in the medical field. I am so proud of him!
Okay, enough ranting. Thanks for listening, but lets move onto cupcakes. That's why you are all here right? Today I am sharing Vanilla Mint Chip Cupcakes. Oh my word, these cupcakes… these cupcakes are in my top three favorites. You see, mint chip is my favorite flavor weather it is in ice cream, brownies or chocolate; you name it. I have seen lots of cupcakes with mint chip frosting, but a couple weeks ago, I found myself searching for an actual mint chip cupcake. I wanted the cupcake to be mint flavored, with chocolate chips and chocolate frosting.
I am so in love with these. Even my boyfriend, (who, gasp, isn't a fan of mint chip) enjoyed these cupcakes. They are the perfect balance of mint flavor cake and subtle chocolate chips. I topped them off with my absolute favorite dark chocolate frosting. I have to tell you that once you make this chocolate frosting, you might never make another chocolate frosting. I found a similar recipe a couple years back, scribbled it on a sticky note and now, I have not be able to locate it since. It continues to be my favorite frosting recipe.
Vanilla Mint Chocolate Chip Cupcakes
Makes 24 cupcakes
1 Box Vanilla cake mix
1/4 C Dry instant vanilla pudding mix
3 Large Eggs
½ C Vegetable oil
1 C Buttermilk
3/4 C Sour cream
1 tsp Pure vanilla extract
1 1/2 tsp Mint extract
1/2 C Mini chocolate chips
Preheat oven to 350°
Combine all ingredients in a bowl, except chocolate chips, and mix thoroughly. I like to fold my chocolate chips in last once the batter is mixed.
Fill lined cupcake pan 2/3 full. Bake for 12-15 minutes. Check your cupcake for doneness by inserting a toothpick into the center of the cupcake. If your tooth pick comes out clean, your cupcake is done. Allow the cupcakes to cool in the pan for at least 5 minutes before transferring to a wire rack to cool.
Dark Chocolate Frosting
1 1/3 C Dark chocolate cocoa powder, sifted
1 C Butter at room temperature
1 Package cream cheese (8 oz) at room temperature
3 tsp Pure vanilla extract
4 C Confectionary sugar
2 tbsp Milk
Allow butter and cream cheese to come to room temperature.
Using a fine sieve to sift the cocoa powder, eliminating any clumps.
Once softened, combine butter and cream cheese in a large mixing bowl and beat on medium speed until well combined.
Slowly add cocoa powder and continue to beat on medium speed until you achieve a smooth consistency. Add vanilla extract. I like to add the vanilla extract after the cocoa powder too help keep the mixture from getting dry and clumpy to quickly.
Continue by adding 2 cups of powdered sugar, followed by 1 tablespoon of milk. I alternate the powdered sugar and milk because the frosting will get clumpy. Add the last two cups of powdered sugar and 1 tablespoon of milk. Here is where you need some patience, and you might need to increase the speed of your mixer up one notch. The frosting takes a little time to cream together in order to get a silky smooth finish. If you feel your frosting is still too thick, add 1 teaspoon of milk until desired thickness.
I used an open circular tip to frost my cupcakes and topped them with chocolate sprinkles. I still have dreams about these cupcakes! Good thing my birthday is coming up, because someone will be making themselves some vanilla mint chocolate chip cupcakes.