This post may contain affiliate sales links. Please see my full disclosure policy for details
These Virgin Mudslide Cupcakes are flavored with BAILEYS® Mudslide Coffee Creamer. The fluffy vanilla cupcake is topped with a espresso mudslide frosting.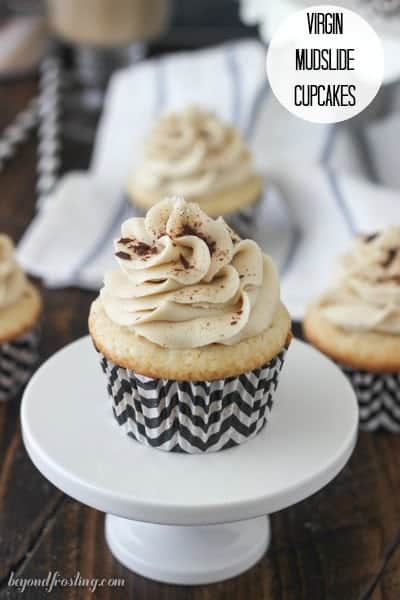 I coming attcha again with another cupcake! I went on a baking spree a few weeks ago and it was cupcake after cupcake up in here. It was so much fun to come up with some new cupcake flavors after a long hiatus from my beloved dessert.
Today's Virgin Mudslide Cupcakes are made a secret ingredient to help achieve the mudslide flavor but without the alcohol. Any guesses? Okay, I will just tell you. It's from the BAILEYS® Coffee Creamers! A couple months ago, BAILEYS® Coffee Creamers sponsored our Santa Barbara Foodie Escape. We had some leftover creamers and I decided it was best to put to use in these cupcakes! Not only is the cupcake flavored with mudslide creamer, but the frosting is too! As this is a non-alcoholic creamer, everyone can enjoy these cupcakes!
It is super easy to flavor a cupcake with your creamer of choice. For these cupcakes, I started with a boxed cake mix, and instead of using the water the original recipe calls for, I substituted it with creamer. Easy right? I also added some sour cream to help keep these cupcakes moist.
I know that some people only bake from scratch, and I also love baking from scratch! But lets face it, things get busy and sometimes there just isn't enough time to spend making dessert. That's where a box mixed comes in super handy. You can add different types of ingredients to alter the mix and make an amazing cupcake, and no one will ever know you didn't spend hours putting it all together.
The frosting on these cupcakes is extra special. Not only is it flavored with the BAILEYS® Mudslide Creamer, but it also has a teaspoon of espresso powder to help intensify the coffee flavor. This is the same espresso powder that I used in my White Russian Cookie Cups, which I shared earlier this week. All you need to do is combine one tablespoon of espresso powder with one teaspoon with creamer and stir until the powder is mostly dissolved. Then you simply add it to the frosting.
Most of my frosting recipes call for the butter to beat on medium-high speed for 2-3 minutes. This is in part because I use cold butter instead of room temperature butter. It also helps to make a smooth and fluffy frosting. When it comes to frosting, the lighter the better in my opinion. Whipping the heck out of your butter will surely help with this.
Lately I've been topping all my desserts with chocolate shavings. All I do is take a sharp knife and try to sliver off the thinnest edge you can. I have no secrets for you, it's just trial and error. Sometimes I chop it like garlic, but then it doesn't really sliver. Whatever. Just sprinkle some chocolate on top and call it day.
I know it is starting to get hot in some parts of the country, but let's just make sure these cupcakes happen sometime this summer, mmkay?
Keep up with all the happenings. Follow Beyond Frosting:
Facebook | Twitter | Pinterest | Instagram
If you have a minute, please help me by taking my reader survey so I can deliver what YOU are here for!
Please note this is not a sponsored post. I have tried BAILEYS® Coffee Creamers myself and felt inclined to use it in a recipe.
Print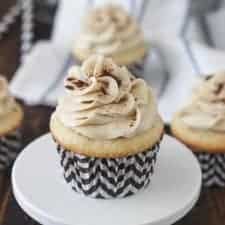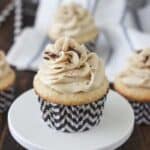 Virgin Mudslide Cupcakes
Ingredients
1

box White cake mix

3

Large Egg whites

¾

C BAILEYS® Mudslide Coffee Creamers

½

C Vegetable oil

½

C Sour cream

1 tsp

Vanilla extract
For the frosting

1

C (2 sticks) Unsalted butter

1 tbsp

BAILEYS® Mudslide Coffee Creamer

1 tsp

Espresso powder

5

C Powdered sugar

4 tsp

BAILEYS® Mudslide Coffee Creamer
Instructions
Pre-heat over to 350° F.
In a large mixing bowl, combine cake mix, egg whites, BAILEYS® Creamer, vegetable oil, sour cream and vanilla extract. Beat on medium speed until all ingredients are well mixed. Scrape down the sides of the bowl and stir from the bottom.
Divide batter evenly between lined cupcake pan. Bake at 350° for 15-18 minutes. Check for doneness by inserting a toothpick into the center of the cupcake. If the toothpick comes out clean, your cupcake is done. Cool completely.
Beat butter in mixer on medium speed until smooth and creamy: 2-3 minutes.
In a small glass, combine one tablespoon of BAILEYS® Mudslide Coffee Creamer with one teaspoon of espresso powder. Stir until most of the powder is dissolved. Add creamer to butter and beat until well incorporated.
Slowly add powdered sugar 1 cup at a time while continuing to beat on medium speed. As the frosting begins to thicken, add one teaspoon of BAILEYS® Mudslide Coffee Creamer at a time to help smooth out frosting. Once powdered sugar is incorporated, beat for another minute or two until the frosting is light and fluffy. Frost cooled cupcakes.
Top with chocolate sprinkles or chocolate shavings.
Visit Beyond Frosting's profile on Pinterest.
Other recipes to might like:
Coffee Cake Snickerdoodle Cupcakes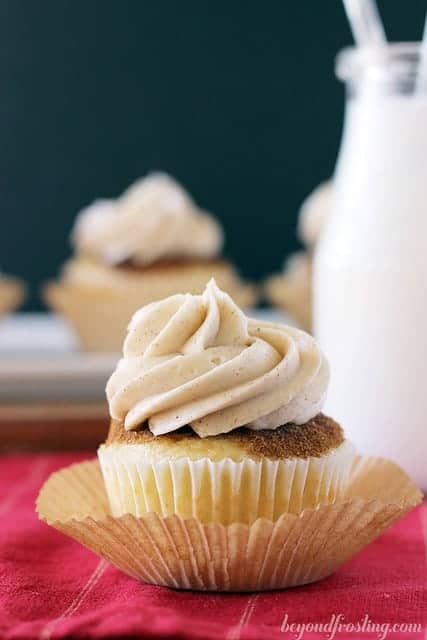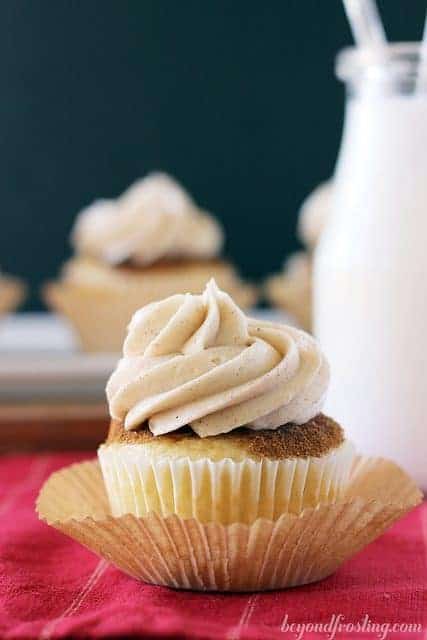 Ultimate Cookie Dough Cupcakes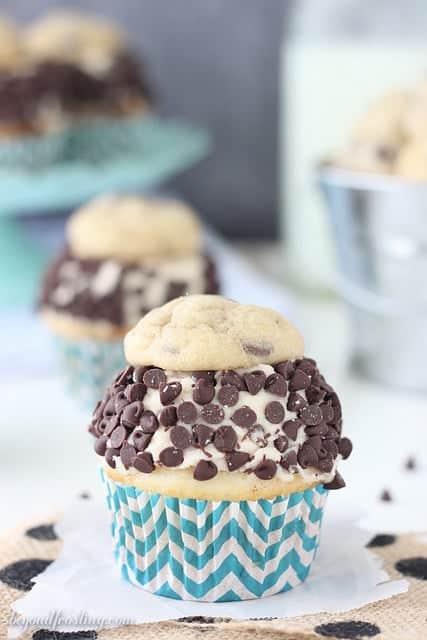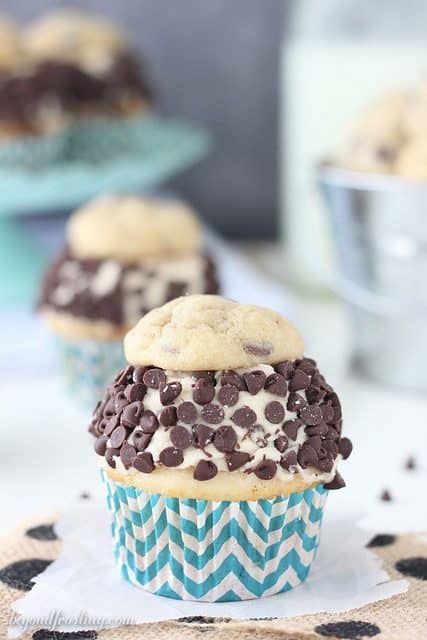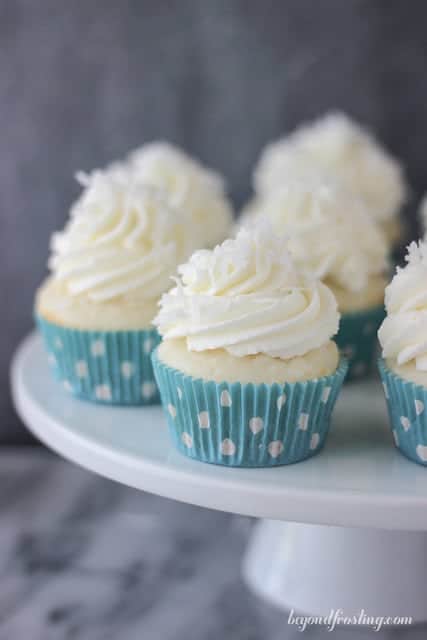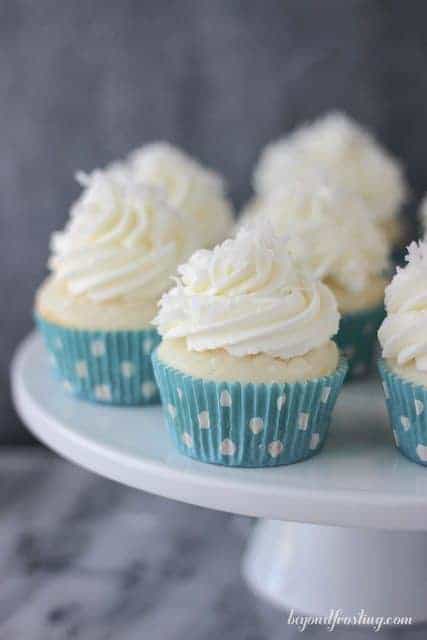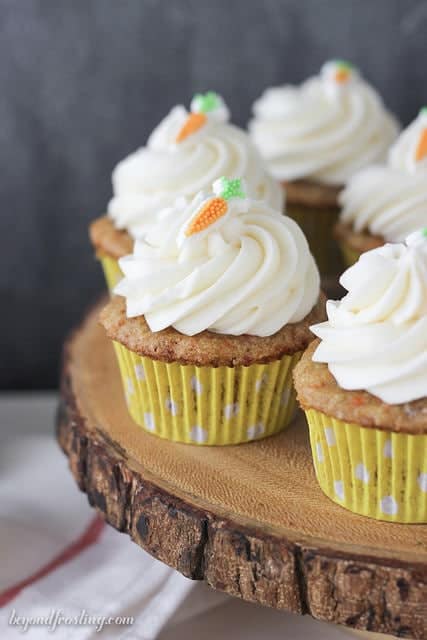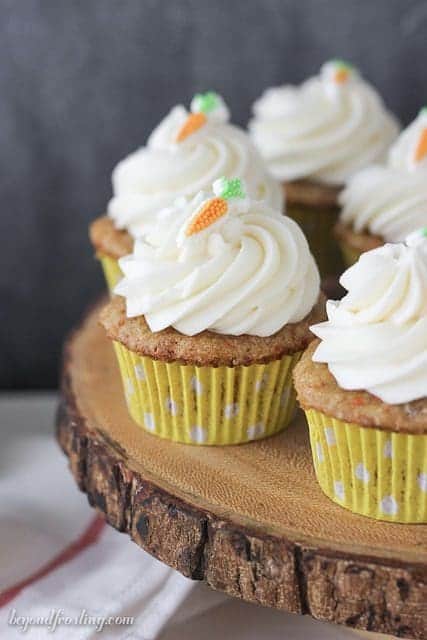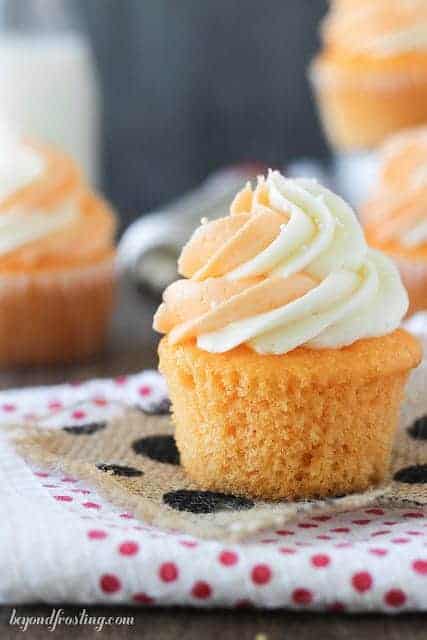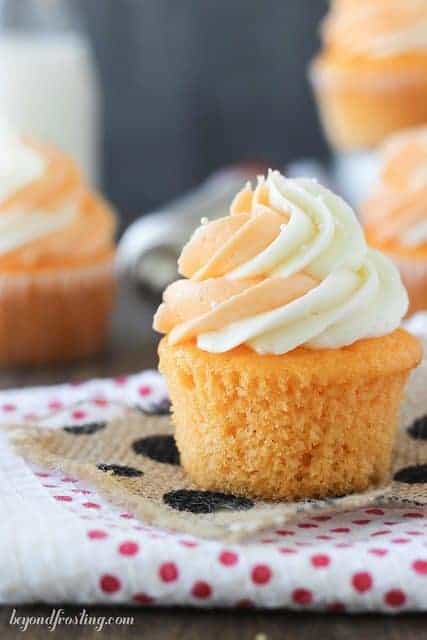 Recipes from my friends:
Macadamia Brittle Cupcakes from Life Love and Sugar
Irish Cream Cheesecake Pie from Crazy for Crust
BAILEYS® Creamer Crepe Cake from Food Faith Fitness