This post may contain affiliate sales links. Please see my full disclosure policy for details
These Whiskey Toffee Chocolate Cupcakes are a surprise in every bite! A dense, whiskey infused chocolate cupcake filled with a spiked chocolate toffee ganache and topped with a whipped chocolate frosting.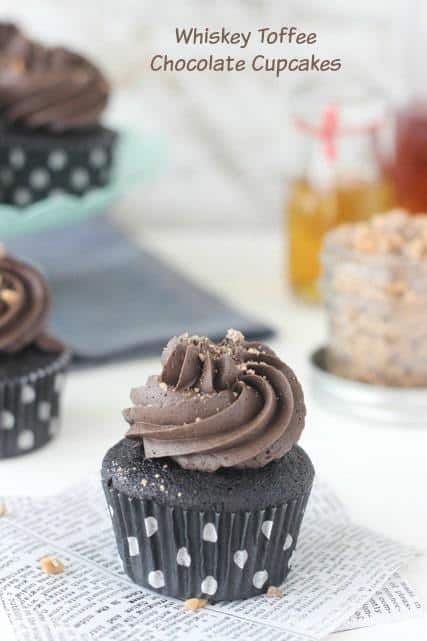 I recently discovered Prosecco. I feel like I have been hiding under a rock. I also enjoy champagne, and I don't require anything fancy, that's for sure! However, I have really love that the Prosecco is not as bubbly, it is much easier to sip on. There is a problem here though. Once I find something I like, I want it all the time!!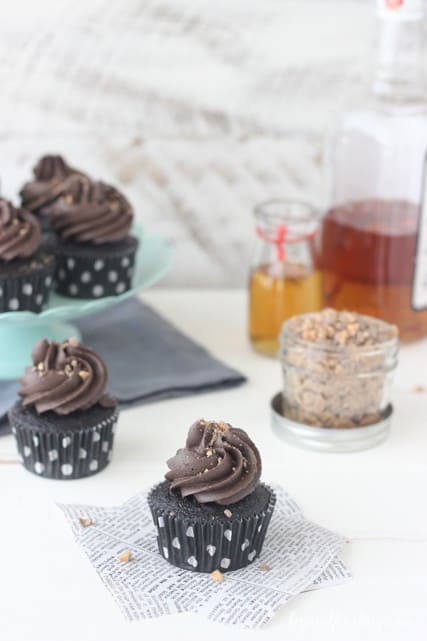 Thank goodness for things like Whiskey Toffee Chocolate Cupcakes to help satisfy my cravings. I should really call these double whiskey because there is whiskey baked in the cupcake and also whiskey tucked away in the chocolate ganache filling. That's right, these cupcakes are filled with a spiked chocolate ganache that is mixed with a crunchy toffee candy. If that isn't enough, these cupcakes are topped with a smooth chocolate frosting and sprinkled with more toffee.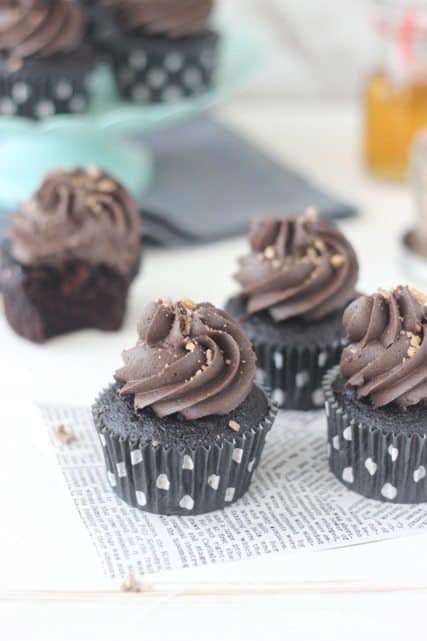 I try not to bring desserts into work that have alcohol, but lately I can't stop making boozy desserts. These cupcakes were for a birthday in my department and I told the warehouse guys these were loaded with whiskey and they were pretty excited.
For the cupcake, I altered a chocolate cupcake from Better Homes and Gardens. Playing around with different cupcake recipes is a great way to experiment with baking, and find a recipe that you like. The whiskey definitely makes a difference in this recipe. The crumb is a lot more compact and a little bit more dense that a traditional cupcake made with a cake mix. I also substituted the water in this recipe for brewed coffee. I have heard that the coffee helps enhance the chocolate flavor and after trying it, I am inclined to agree.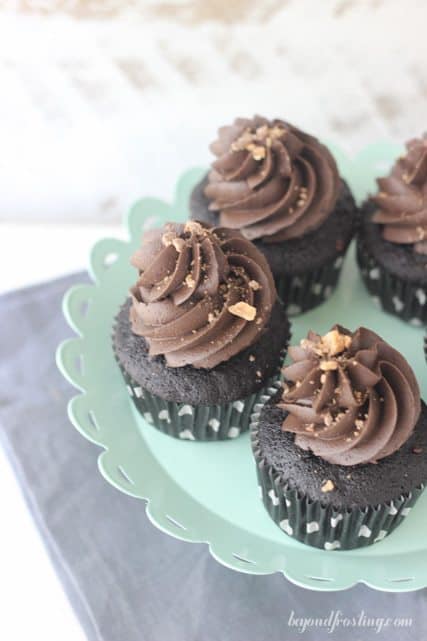 Once these cupcakes were cooled, prepare the chocolate toffee ganache that is also spiked with whiskey. I mean if you are going to indulge in a boozy cupcake, you might as well pack it in where you can, right? Once the chocolate is melted, just stir in a little bit of whiskey, which will make the ganache even thinner, but that's okay. Once you add in the toffee pieces, it will get thicker again.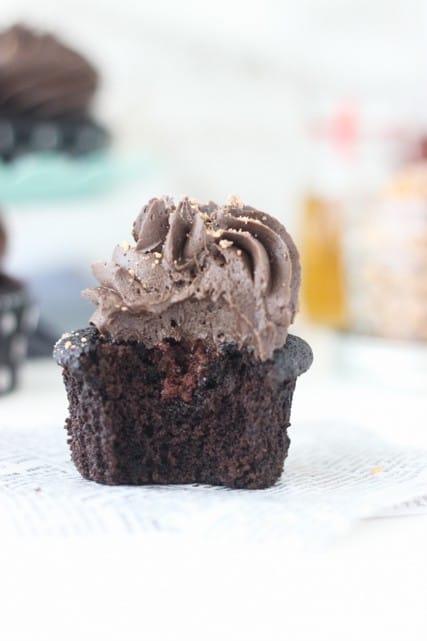 To hollow out the center, I use my favorite Norpro Cupcake Corer tool. It comes with two sizes of corers, but I hardly ever use the larger one. I frosted these cupcakes with a simple chocolate frosting recipe. This is my go-to recipe when it comes to chocolate frosting. It's easy to follow and isn't overpowering. I finished these off with a sprinkle of toffee crumbs on top to compliment the filling.
Get your bake on with these Whiskey Toffee Chocolate Cupcakes and maybe a glass of Prosecco just because!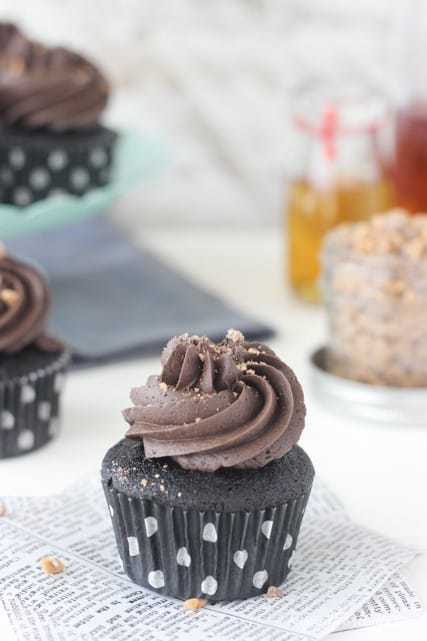 Keep up with all the happenings. Follow Beyond Frosting:
Facebook | Twitter | Pinterest | Instagram
This post does contain affiliate links. That means if you purchase something from this post, I earn a small commission. The money earned from affiliate links helps support the cost of running this blog. Thanks for your support!
Print
Whiskey Toffee Chocolate Cupcakes
Author:

Prep Time:

30 mins

Cook Time:

18 mins

Total Time:

48 minutes

Yield:

30 cupcakes
Ingredients
¾

C Unsalted butter at room temperature

3

Large eggs at room temperature

1

C Strongly brewed coffee, cooled

2

C Sugar

2 tsp

Vanilla extract

2

C Flour

¾

C Cocoa powder

1 tsp

Baking soda

¾ tsp

Baking powder

½ tsp

Salt

½

C Whiskey
For the filling

1

C Chocolate chips

3 tbsp

Heavy cream

1 tbsp

Whiskey

½

C Toffee bits
For the frosting

1½

C (3 sticks) Unsalted butter

1

C Cocoa powder

5

C Powdered sugar

1 tbsp

Vanilla extract

¼

C Heavy cream
Instructions
Remove unsalted butter and eggs from the refrigerator and allow to rest for 30 minutes.
Brew a cup of coffee and allow to cool. I used premade iced coffee without milk.
Preheat oven to 350° F.
Combine butter and sugar in your mixer and beat on medium speed until ingredients are creamed together and smooth. This should take 2-3 minutes.
Add eggs, one at a time, ensuring each egg is well mixed and scrape down the sides of the bowl between adding each egg. Add the vanilla extract with the third egg and beat all ingredients until well combined. Scrape down sides of the bowl.
In a separate bowl, combine dry ingredients: flour, cocoa powder, baking soda, baking powder and salt. Stir to combine.
Alternate adding half of the dry ingredients and half of the coffee mixing in-between the first and second halves. Add whiskey last and mix until all ingredients are well combined. Overturn the ingredients on the bottom and mix together so batter is evenly incorporated.
Scoop batter into lined cupcake pan; about 3 tablespoons (1/4 C of batter) into each liner. Bake at 350°F for 16-19 minutes. Check for doneness by inserting a toothpick into the center of the cupcake. If the toothpick comes out clean, your cupcake is done. Allow to cool completely.
Prepare the toffee ganache filling. Combine chocolate chips and heavy cream in a microwave-safe bowl. Melt in 30 second increments, stirring in between until chocolate begins to melt. Stir until completely smooth. Add whiskey and whisk into chocolate. Add toffee last and stir to incorporate.
Once cooled, hollow out the center of your cupcake with the cupcake corer or a knife. Use a knife or spoon to fill the center of each cupcake with a bit of the ganache filling.
For the frosting
Cut butter into pieces. Using the paddle attachment, whip butter for 5-7 minutes, scraping down the bowl occasionally. Beat until butter looks light in color.
Sift cocoa powder into mixing bowl. Turn mixer on slow speed and beat until cocoa power is mixed into butter.
Add 2 C powdered sugar and mix on low speed until incorporated into butter.
Add vanilla extract and 2 tbsp of heavy whipping cream and mix to combine.
Add additional 2 C powdered sugar and beat on low speed until sugar is incorporated. Increase speed to medium-high and beat for 3 minutes.
Add last 1 C powdered sugar along with 2 tbsp heavy whipping cream. Beat on low until ingredients start to mix together. Increase speed to medium-high and beat for another 3-5 minutes to whip additional air into the frosting.
Frost cupcakes and sprinkle the top with toffee bits.
Visit Beyond Frosting's profile on Pinterest.
Other recipes you might like:
Mudslide Cupcakes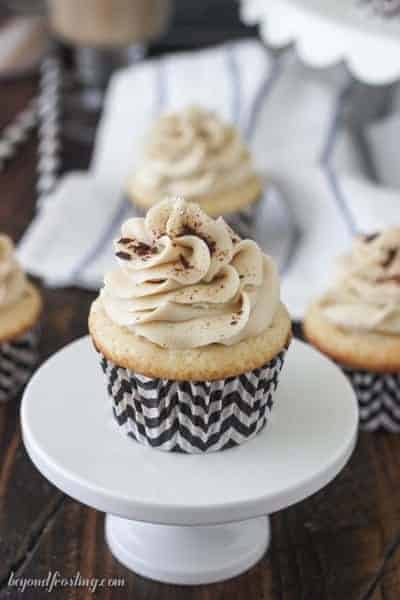 Maple Bacon Bourbon Chocolate Cake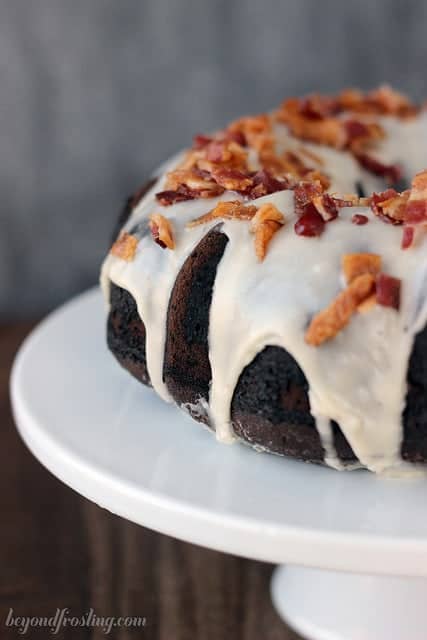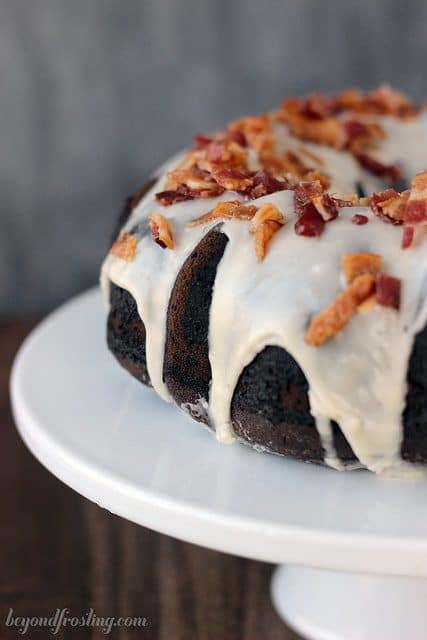 Ultimate Cookie Dough Cupcakes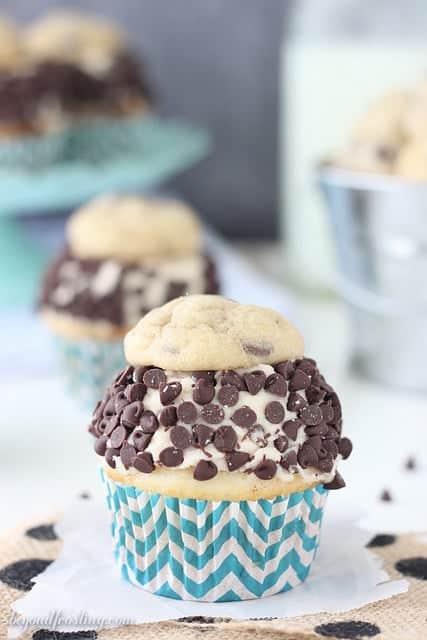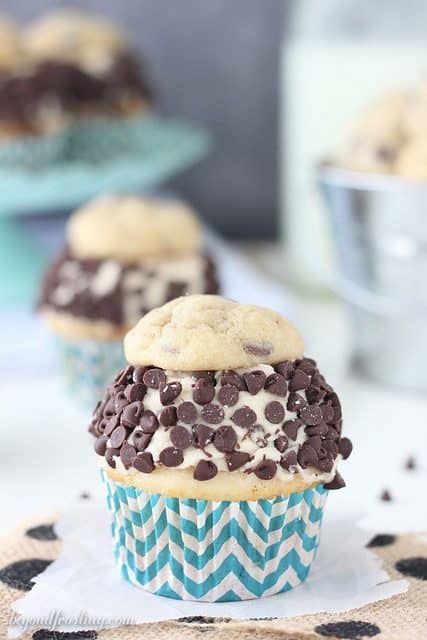 Toffee Chocolate Whiskey Truffles
Check out these fun recipes from my friends!
Stout Cupcakes with Whiskey Buttercream from Nutmeg Nanny
Whiskey Sour Cupcakes from Beth Cakes
Triple Whiskey Cake from Dieters Downfall