This post may contain affiliate sales links. Please see my full disclosure policy for details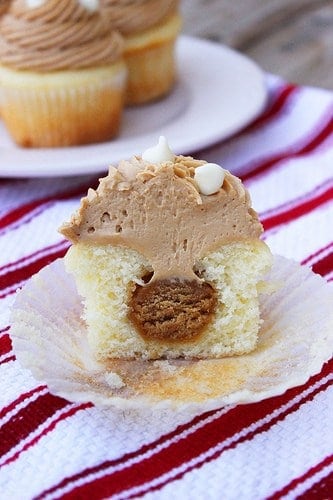 How is everyone feeling today? Maybe a little bit worked from the weekend? Well let's take your mind off of all the beer and margaritas you consumed this weekend. Today we are talking cupcakes, sweet, sweet cupcakes. These white chocolate cupcakes have a hidden cookie dough center and are topped with a creamy cookie butter frosting that will leave you wanting more.
I love the white chocolate cupcake base, because it really compliments the sweetness of the frosting. Plus, you get the cookie dough center, which, let's face it, egg-less cookie dough is probably the most addicting snack there is. I made a batch of these for a BBQ over the weekend and guests didn't hesitate for seconds! The most fun part about it was watching one of the little girls lick the frosting off the cupcake like an ice cream cone, finishing it off with a fork and then sticking all four fingers in to get the last bite of frosting off the cupcake. That, my friend, is dedication.
There are a few steps involved in making these cupcakes, but the end results are totally worth it. Make sure to leave your butter on the counter for a while so it's at room temperature. It makes creaming the butter so much easier! I start by making the cookie dough centers. To complete this cupcake you will need TWO jars of cookie butter spread, as I use a double recipe of the frosting, please see below.
Cookie Butter Dough
Adapted from The Cupcake Project
1/4 C Unsalted butter, melted
1/4 C Packed brown sugar
1/4 C Granulated white sugar
1/2 C Cookie butter spread
3/4 C All-purpose flour
Pinch of salt
1 tsp Pure vanilla extract
1 1/2 tsp Milk
Melt butter in the microwave for 20-30 seconds. In a separate bowl, combine brown sugar and white sugar. Pour melted butter over the sugar. Using a handheld mixer on medium speed, beat the butter and sugar until smooth. Make sure to get any remaining chunks of sugar well ground up.
Add cookie butter spread and beat until smooth.
Next, add flour and a pinch of salt. Beat for 30 seconds, dough will start to thicken.
Lastly, add milk and vanilla and beat until well combined.
Roll 2 tsp of dough together into little balls and place into cupcake liners.
For the vanilla white chocolate cupcake, I used my white chocolate cupcake recipe with some slight additions. I added some vanilla pudding to increase the vanilla flavor, and instead of the vanilla bean paste, I used vanilla extract. Of course, I got home from grocery store at 9:30 at night, went to start my cupcakes and I was out of vanilla cake mix. I had 10 boxes of chocolate cake mix, but no vanilla. UGH! So I ran to the closest target and made it just in time. Then, when I got home, I realized I had no buttermilk! Geez, you think I would have checked that. So I looked around online on how to make it. I squeezed 1 tbsp of lemon juice into a measuring cup and then filled the line up to 1 cup with milk. I let it sit for 5 minutes and then stirred it together. I measured out the ¾ C I needed for my recipe.
White Chocolate Cupcakes
3 oz White chocolate, melted and cooled
1 Box Vanilla cake mix
1/4 C Instant vanilla pudding
4 Large eggs whites
1/3 C Oil
3/4 C Buttermilk
3/4 C Light sour cream
1 1/2 tsp Pure vanilla extract
Preheat oven to 350 F.
Melt white chocolate in the microwave in 30-second increments until melted and smooth. Use a spoon to stir after each increment to help melt the chocolate. Allow chocolate to cool to room temperature.
Combine all ingredients in a bowl and mix thoroughly; batter will be thick.
Pour batter in your prepared cupcake liners with the cookie dough center. Fill cupcake pan 2/3 full. You may have the tap the pan a couple times to get the batter to sit evenly over your cookie dough.
Bake for 15-18 minutes. Check your cupcake for doneness by inserting a toothpick into the center of the cupcake. If your toothpick comes out clean, your cupcake is done. Allow cupcakes to cool in the pan for at least 5 minutes before transferring to a wire rack to cool.
For the Cookie Butter Frosting I adapted a recipe from The Little Kitchen. Please note I doubled the original recipe because I like an excessive amount of frosting on my cupcakes. Otherwise, you need not double the recipe. You will still have a little leftover after frosting 24 cupcakes.
Cookie Butter Frosting
1 C Unsalted butter at room temperature
1 C Salted butter at room temperature
1 1/2 C Cookie Butter Spread
5-6 C Powdered sugar
2 tbsp Pure vanilla extract
5-6 tbsp Milk
Ensure your butter is softened to room temperature but not beginning to melt. Using a stand mixer on medium speed, cream together butter until smooth. Next add cookie spread and continue to beat until well combined. This will create the base for the smooth texture of your frosting; so don't hesitate to mix well.
Next, add powdered sugar 1 cup at a time. After you have added 4 cups, your frosting will be very thick, so add 1 tbsp of vanilla extract. Continue to add your remaining 2 cups powdered sugar and second tbsp of vanilla extract.
Lastly, add milk 1 tbsp at a time until desired thickness. For a thicker consistency, reduce your milk to 4 tbsp. For a more creamy consistency, you can add additional milk. I find that any more than 5 or 6 tbsp and my frosting will be too soft to pipe a nice frosting shape.
Do your best not to eat too much frosting and cookie dough during the process. That way, when your cupcakes are finished, you won't feel guilty if you eat a second one!
Similar recipes you might enjoy:
White Chocolate Coconut Cupcakes
Organic Cookie Butter Frosting