This post may contain affiliate sales links. Please see my full disclosure policy for details
These White Russian Cream Pie Cookie Cups are an espresso cookie that is spiked with Kahlua and filled with a Kahlua mousse.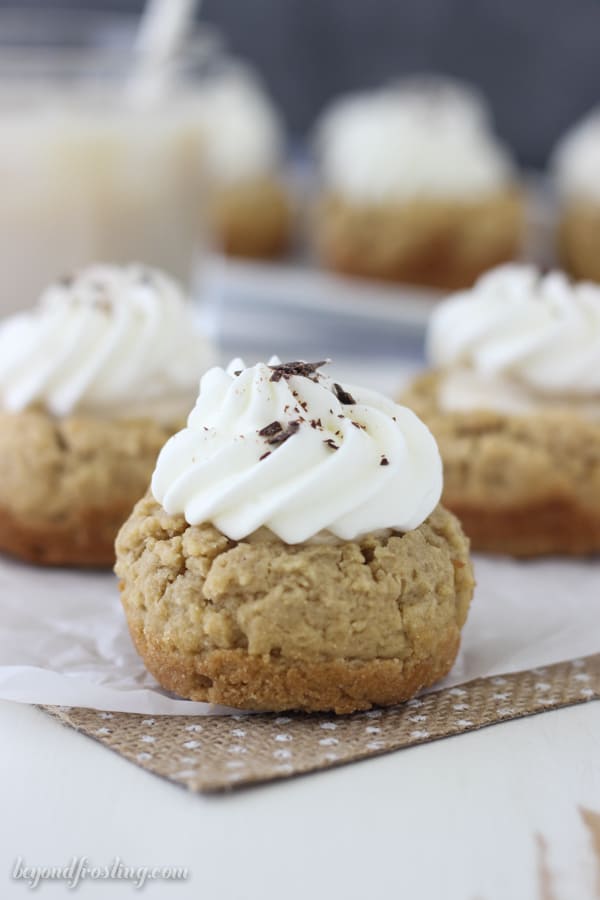 Here I come again with more cookie cups; only this time, it's better. I've got giant cookie cups! I usually say everything is better in mini versions, but that's not the case with these cookies!
I was inspired to make these White Russian Cookie Cups after attending the Wilton Sweet Up Event back in April. During one of our classes, we made Wilton's White Russian Cookie Cups to test out the new Mega Bakeware. The Mega Bakeware pan is awesome because you can make 48 cookie cups at one time! They also make it in a regular cupcake size too!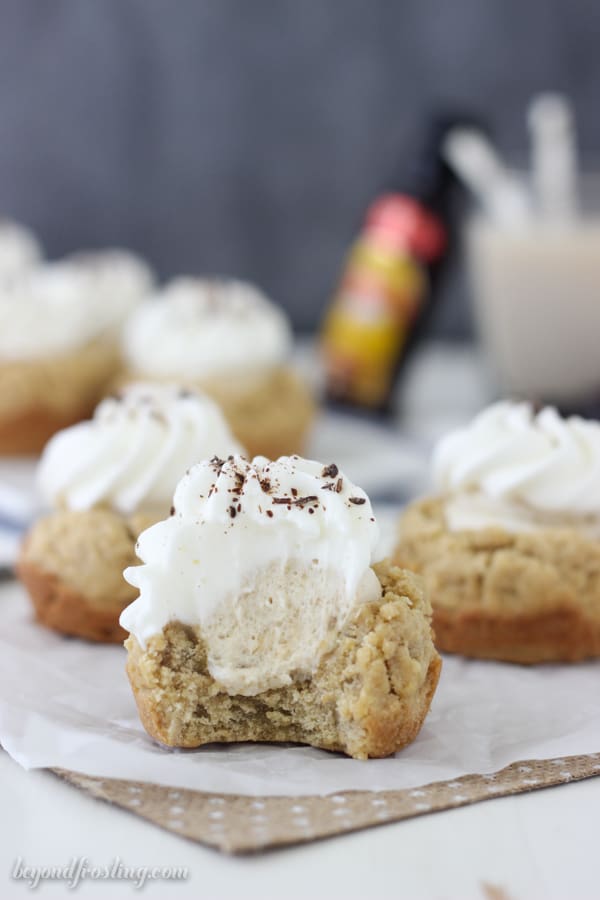 I took the basic principles I learned in the Wilton class and made these into my classic cream pie recipe. The reason I wanted to make these cookie cups larger is that the filling is so incredible, I wanted more than just a couple of bites. The filling consists of white chocolate pudding spiked with Kahlua and a hint of espresso. It is mixed with fresh whipped cream and makes a drool-worthy mousse filling.
The cookie dough is softer than traditional dough, but that's okay because the muffin pan helps the dough from spreading too thin. The cookie dough is mixed with a combination of Kahlua and espresso powder. The espresso powder is a strong powdered coffee. If you are unable to find espresso powder, you can use ground coffee instead. Since I used a regular-sized muffin pan instead of a mini, I used a large cookie scoop, about 3 tablespoons.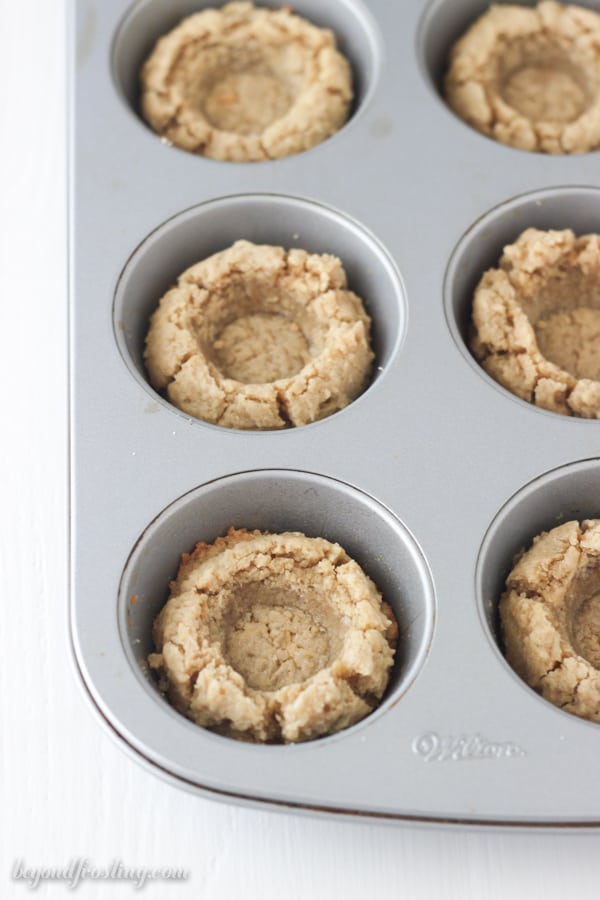 Just after the cookies come out of the oven, use a round object or tart shaper to put a divot in the middle of the cookie cup for the filling. Allow the cookie cups to cool in the pan and then you can flip the pan over to remove the cookies. Sometimes you might need to run a knife along the edges to help them release from the pan.
The filling and topping is made in two parts. First, prepare the pudding and allow it to set until firm. Then you prepare the whipped cream, half of which will be used in the filling and half for the topping. It is best to mix the pudding filling up before adding the whipped cream, and then fold the whipped cream over and over until it is well mixed. Then you just need to fill the cookie cups with the Kahlua mousse and topped with whipped cream.
Take a bite out of these giant White Russian Cream Pie Cookie Cups and you won't regret it! Even after being refrigerated, these cookies stay very soft!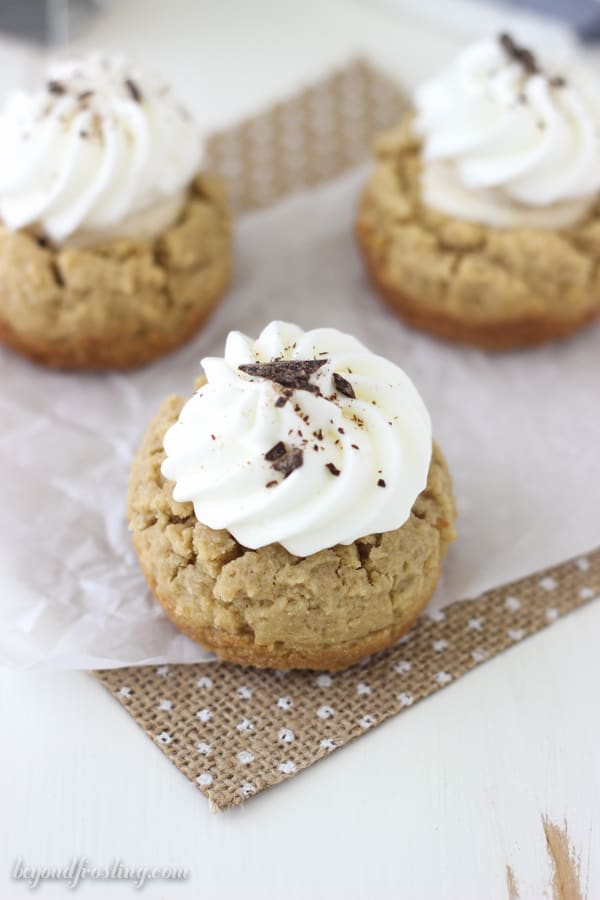 More Cookie Cup Recipes You'll Love
Print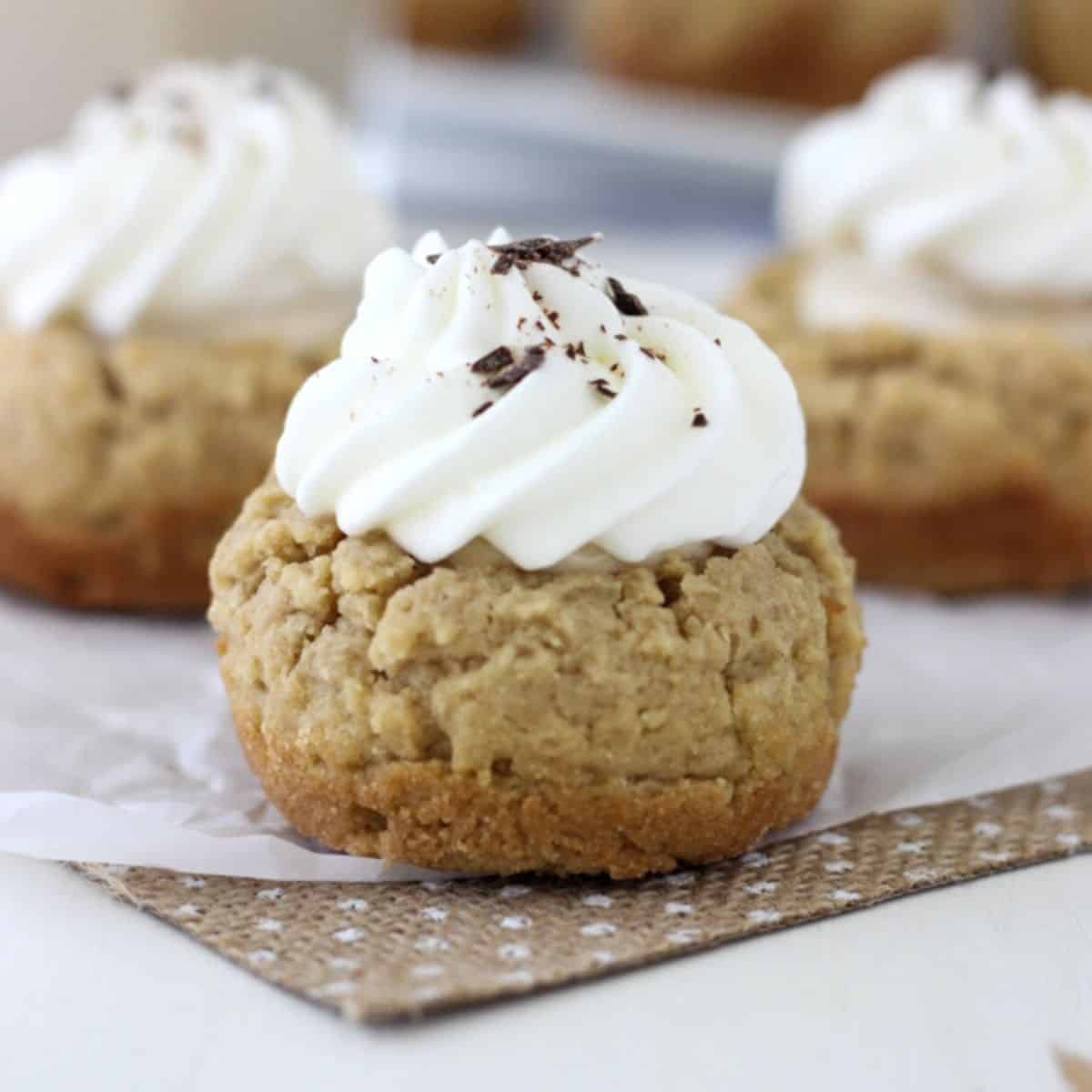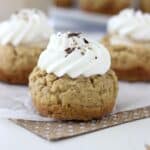 White Russian Cookie Cups
Author:

Prep Time:

15 minutes

Cook Time:

18 minutes

Total Time:

33 minutes

Yield:

24 Cookies
Description
These White Russian Cream Pie Cookie Cups are an espresso cookie that is spiked with Kahlua and filled with a Kahlua mousse.
Ingredients
For the Cookies
1 cup

unsalted butter, at room temperature

1 cup

light brown sugar

¾ cup

granulated sugar

2

Large eggs

2 teaspoons

pure vanilla extract

1 tablespoon

Kahlua

1 teaspoon

espresso powder

3 ½ cups

all-purpose flour

1 teaspoon

salt

1 teaspoon

baking soda
For the Filling:
2 teaspoons

Kahlua

½ teaspoon

espresso powder

1

pkg (3.4oz) White chocolate pudding

¾ cups

milk

2 cups

heavy whipping cream

1 ¼ cups

powdered sugar
Instructions
For the Cookies
Preheat the oven to 350° F. Grease a mini muffin pan with cookie spray or Crisco.
Combine butter, brown sugar, and granulated sugar in your stand mixer and beat on medium speed until light and fluffy. Add the egg and vanilla extract. Beat into butter and sugar until thoroughly mixed.
Combine the Kahlua and espresso powder and stir until the powder is dissolved. Add to batter and mix until well combined.
In a medium-sized bowl, combine flour, baking soda, and salt. Stir to mix. Slowly add dry ingredients into the batter and beat on a low speed until the dough starts to form.
Drop three tablespoons of dough into the greased muffin pan. Bake at 350°F for 18-20 minutes.
Remove cookies from the oven and allow them to cool for at least 5 minutes. Use a tart shaper or the back of a spoon to gently push down the middle of the cookies. Allow them to cool completely in the pan. Gently twist to release cookies from the pan.
For the Filling
Mix together Kahlua and espresso powder and stir until powder is dissolved. Combine instant white chocolate pudding mix with milk and Kahlua and whisk until powder dissolves. Refrigerate until pudding is firm.
Put mixing bowl and whisk in the freezer for 15 minutes until completely cold. Whip heavy cream on medium-high speed for several minutes until soft peaks form. Add powdered sugar and beat on medium-high until stiff peaks form.
Take 1 cup of the whipped cream and fold into pudding until mixed. Do not mix vigorously as it will deflate the whipped cream. Refrigerate until you are ready to assemble cookies.
To assemble the cookies, put the Kahlua mousse in a Ziploc bag. Cut the tip off the end of the bag and gently fill the middle of the cookie cup with mousse. Divide between cookie cups. Top mousse with a dollop of the leftover whipped cream and zest of lemon on top.
Notes
Storing Finished Cookies: Cookies must be refrigerated in an air-tight container after the mousse has been added.
Category:

Cookies

Method:

Oven

Cuisine:

American