Description
This holiday themed Christmas Cookie Board is one of my favorite types of dessert charcuteries boards to create. Your friends will be SUPER impressed with your creativity, but little do they know how easy it is to do something like this!  
Ingredients
6

–

8

Cookies (homemade or store-brought) of different sizes & flavors

1

–

2

premade festive snacks (such as chocolate covered pretzels)

2

–

3

holiday themed varieties of candie
Instructions
Start with a couple of small bowls and place them on your board.
Then take your largest cookies first and assemble them around the outside since these are the hardest to grab.
Arrange them in away so you don't have the same color or textures sitting next to one another.
Then start laying in your more unique cookies and candies and work your way in towards the middle.
Fill in the center with the smallest cookies and look to add height for the cookies than can be stacked
Use your candy to fill in any gaps
If you have a lot of leftovers, send your friends home with a goodie bag!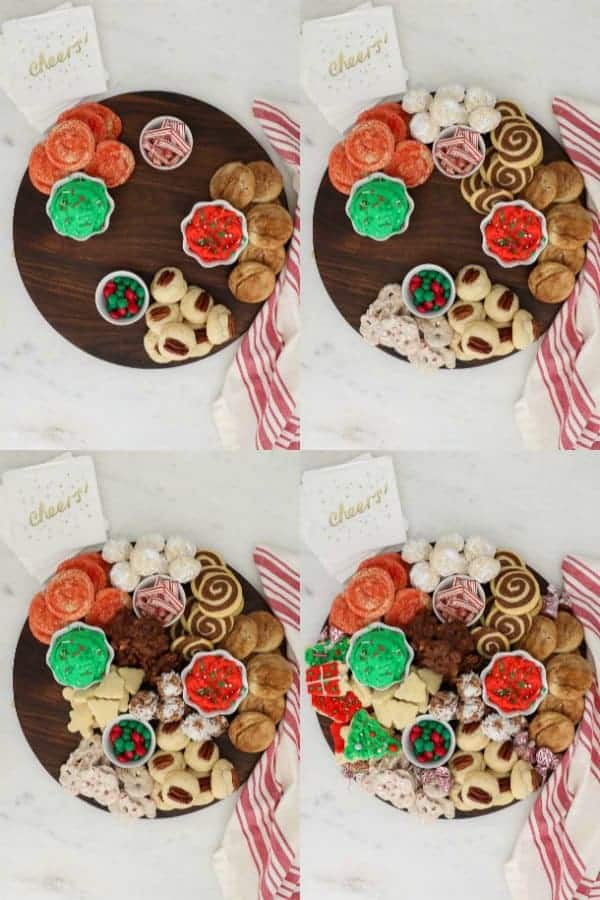 Notes
Lots more detailed tips in this blog post!
Keywords: Cookie Board, Charcuterie board, dessert charcuterie board, Christmas charcuterie board