This No-Bake Lemon Shortcake Icebox Cake is layers of soft ladyfingers, lemon cheesecake mousse and whipped cream. This is one recipe you'll make time and time again. 
Love this recipe? Subscribe to get recipes delivered to your inbox!
This recipe is sponsored by Lucky Leaf, all opinions are my own.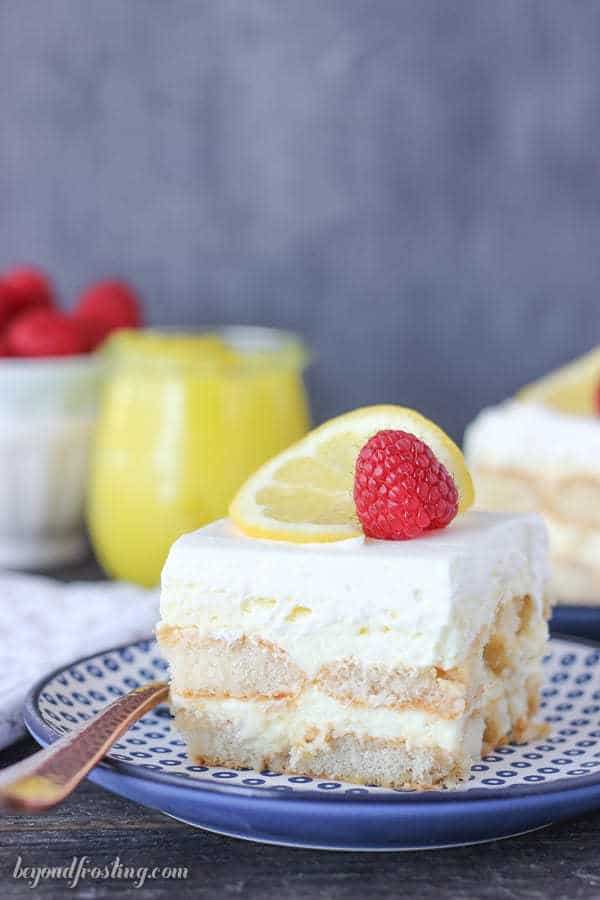 I hope you all had a wonderful Easter. Ours was mellow. I shot a couple of recipes in the morning and we spent the afternoon with family and friends. I, of course showed up with loads of desserts and cakes that were missing a slice. It's become somewhat of an expectation that I never bring a full cake to a party. Luckily I have understanding friends.
When I'm home baking up a storm every weekend, I'm usually crushing over my desserts to my boyfriend. His "limited" dessert palette leaves me to do most of the taste testing. Thankfully for him, I make a lot of chocolate and Oreo desserts. He's not such a fan of lemon, but that just means more for me!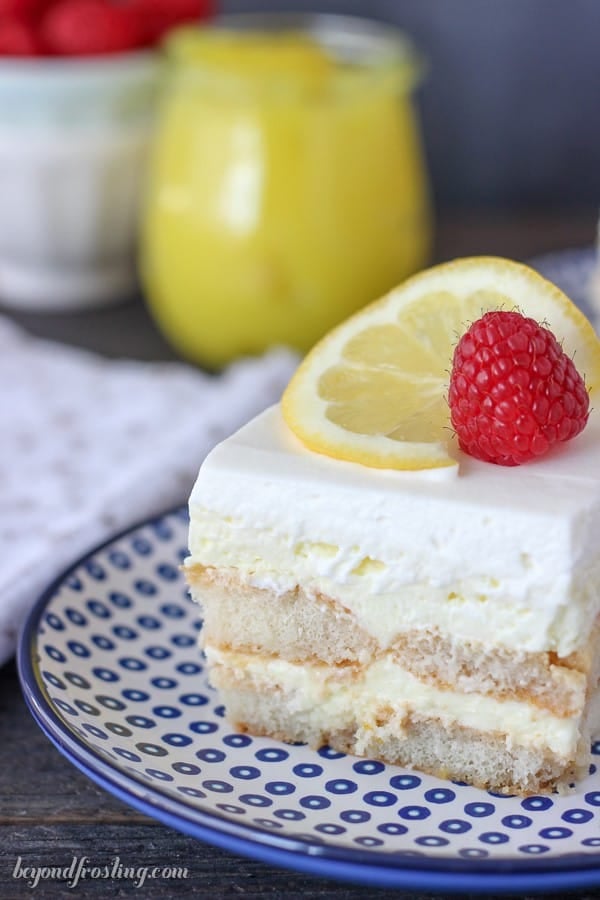 When it came time to slice into this Lemon Cheesecake Shortcake, I knew I had something special. My knife slide through the layers with ease and I pulled out that first slice without a problem.
Usually with desserts that have ladyfingers, the ladyfingers can sometimes be difficult to cut through if they are not moistened enough. Such was not the case here.The ladyfingers are coated with milk on both sides, which absorbed into the cookie, leaving you with a cake-like texture.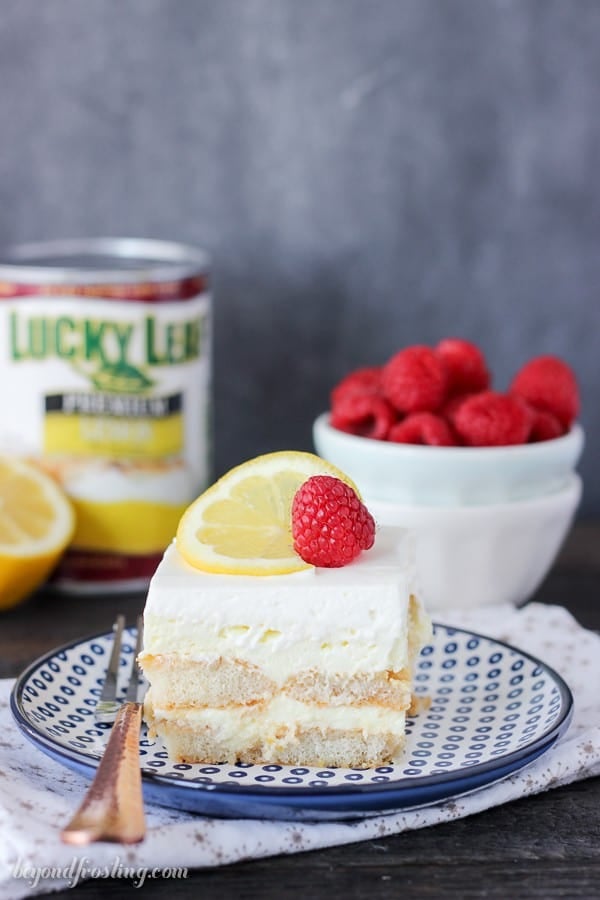 In between the layers of ladyfingers is a whipped lemon cheesecake filling. The filling is airy in texture but packs a punch of lemon flavor. It's all topped off with homemade whipped cream.
The filling starts with a hint of cream cheese mixed with Lucky Leaf Lemon Pie filling. I've added some fresh lemon zest to up the anty. This is also mixed with plenty of whipped cream.
After a few hours in the refrigerator, this baby is ready to go. Doesn't this just scream spring to you? It's garnished with a slice of lemon and some raspberries for a pop of color. You could always make this dessert even more unique by adding some of your favorite berries to the filling.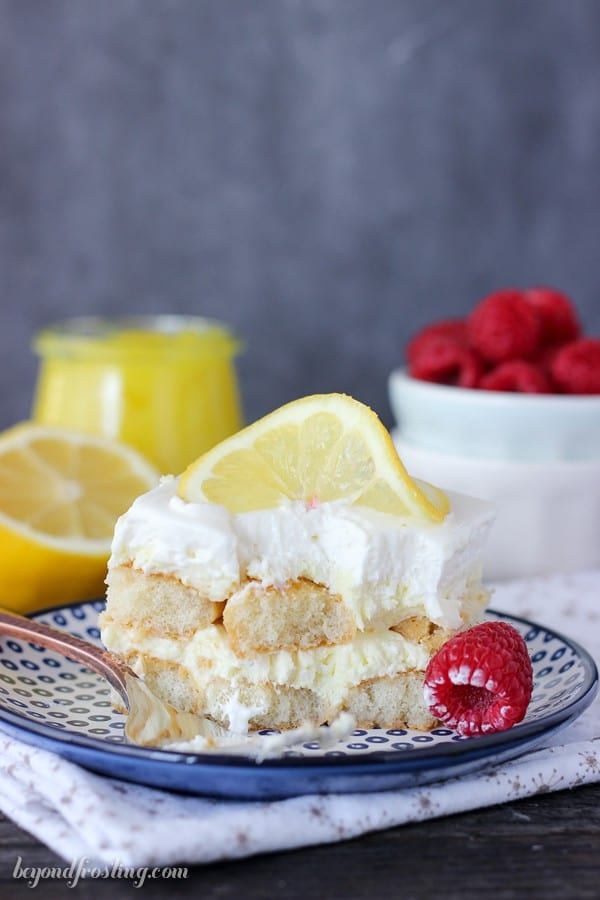 You guys will be pleasantly surprised at how quickly this dessert is to assemble. Obviously it's no-bake, and I think you guys know how I feel about that!  Go grab yourself a can of Lucky Leaf Lemon Pie filling so you can make this ASAP!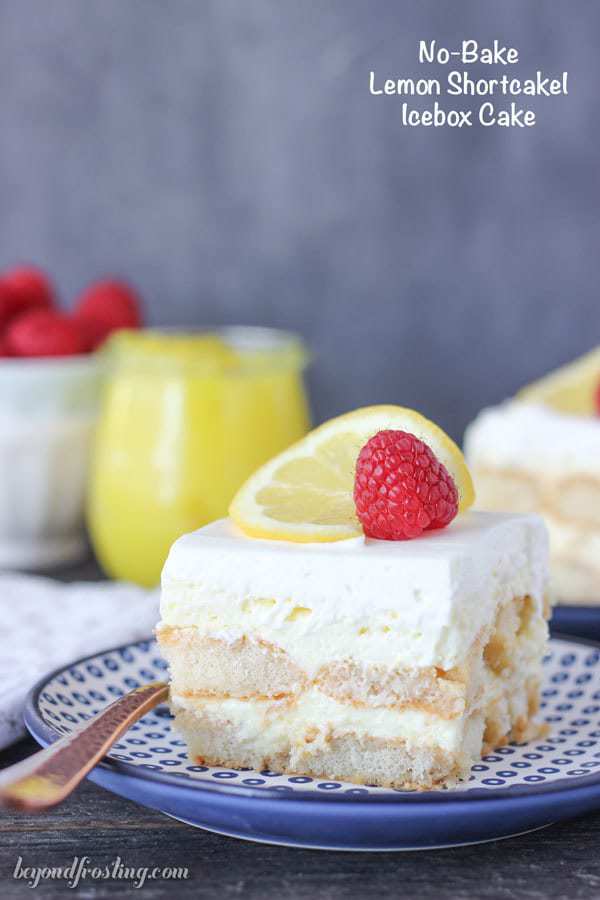 Keep up with all the happenings. Follow Beyond Frosting:
Do you love No-Bake Treats? Be sure to check out my cookbook!
Facebook | Twitter | Pinterest | Instagram | Bloglovin | Google+
Don't miss a thing, subscribe to get recipes delivered to your inbox!
Follow along with Lucky Leaf:
Facebook | Twitter | Pinterest
This recipe is sponsored by Lucky Leaf, all opinions are my own. Thank you for supporting the brands that help support Beyond Frosting.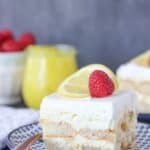 No-Bake Lemon Shortcake Icebox Cake
---
Author:

Prep Time:

20 mins

Total Time:

20 mins

Yield:

12-15 slices
Ingredients
For the mousse:
2 cups heavy whipping cream
1 ¼ cup powdered sugar
8 ounces cream cheese, softened
1 can Lucky Leaf Lemon Pie Filling
½ cup Powdered confectionary sugar
Zest of one large lemon
For the shortcake:
2 cup milk
2 teaspoon pure vanilla extract
2 packages ladyfingers (7oz size)
---
Instructions
For the mousse:
Place your mixing bowl in the freezer for 5 to 10 minutes to chill. Pour the heavy whipping cream into the chilled bowl and use an electric mixer to beat the heavy cream on medium-high speed until it's bubbly. Slowly add the powdered sugar and continue beating on high speed until stiff peaks form. Set aside in the refrigerator until needed.
To soften the cream cheese, remove the wrapper and place on a microwave-safe plate. Microwave for 15-20 seconds.
In a large mixing bowl, beat the softened cream cheese on medium-high using the paddle attachment until the cream cheese is light and fluffy, and free of lumps. Scrape down the sides of the bowl.
Next add the Lucky Leaf Lemon Pie Filling and zest from one large lemon. Continue beating on medium-high speed until all ingredients are well combined, scraping down the bowl as needed. Slowly add powdered sugar and beat until incorporated.
Take 2 cups of the prepared whipped cream and gently fold into the lemon cream cheese mixture and fold over and over until all ingredients are well mixed.
For the layers:
To assemble the dessert, line the bottom of a 9-inch square dish with parchment paper.
In a small bowl, combine the milk and vanilla extract. Dip the top and bottom of each ladyfinger in the milk mixture and line the bottom of the dish with one layer of dipped ladyfingers. You may need to cut the ladyfingers in order to fit two rows into the dish.
Once the bottom layer is built, spread half the lemon mousse over top. Then, add the next layer of dipped ladyfingers followed by the remaining mousse, spreading evenly.
Lastly, spread the remaining prepared whipped cream over the top of the mousse. Cover this and refrigerate for 4 to 6 hours to allow the layers to set. Serve with fresh berries.
Visit Beyond Frosting's profile on Pinterest.
You might also like: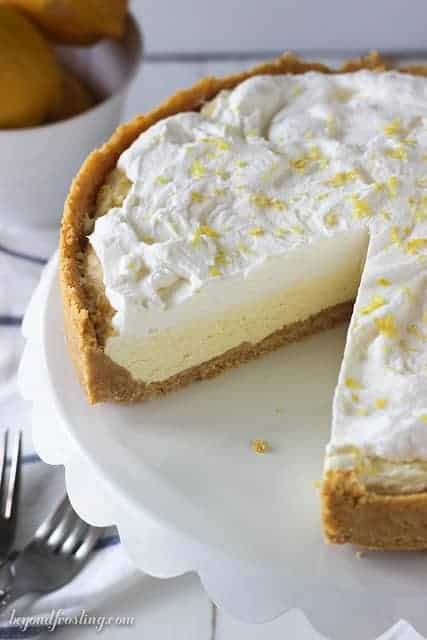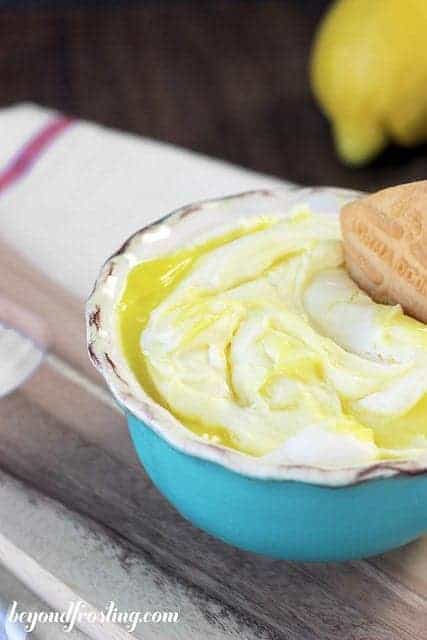 Frozen Skinny Lemon Mousse Pies