This post may contain affiliate sales links. Please see my full disclosure policy for details
This Perfect Vanilla Frosting is the best buttercream recipe! Learn how to make light and fluffy vanilla frosting, ideal for decorating cakes and cupcakes.
This is the best vanilla buttercream and one of my go-to recipes. For even more frosting inspiration, check out my round-up of Easy Homemade Frosting Recipes!
The Best Vanilla Buttercream Frosting
Today, we're going back to the basics. Basic buttercream, that is. There's nothing better than a classic, creamy American buttercream frosting that comes out perfect every time.
I've used this vanilla frosting as a base for so many recipes on my site, from Moist Vanilla Cake to Vanilla Cupcakes, lemon cakes to sugar cookies, and dozens more.
This frosting recipe is my ride-or-die. Tried and true with hundreds of reviews, it's been pinned millions of times on Pinterest, and it never fails! Below you'll find my favorite method for making the best whipped and fluffy buttercream frosting.
Why This Recipe Works
What makes this the best-ever buttercream recipe?
It starts with cold butter. My secret of all secrets. This is an uncommon practice, but using cold butter allows for better control over the consistency of the frosting so that it doesn't separate or lose its shape when piped. More on this below, and trust me, it's the best!
Quick and easy. If you've ever been intimidated by the thought of homemade buttercream frosting, don't be. This recipe is easy to follow, comes together in 10 minutes, and lets your mixer do the work.
Incredibly stable. This creamy vanilla frosting is light and fluffy, yet stable. It's the best frosting for piping onto all your favorite cakes, cupcakes, and desserts.
Make-ahead friendly. I'll often make this vanilla frosting ahead of time to store in the fridge or freeze it for later use. Don't forget to scroll for storage instructions later on!
Key Ingredients
You only need a few basic ingredients to make rich and creamy vanilla buttercream frosting. The full amounts and details can be found in the recipe card, but here is a quick overview:
Butter – Either salted or unsalted butter will work fine, but if you use salted butter, consider leaving out any added salt that comes later in the recipe.
Powdered (Confectioner's) Sugar – To sift or not to sift? Truthfully I hardly ever sift my powdered sugar, because I spend so much time mixing it, I don't ever have a grainy texture. That being said, sifting powdered sugar can absolutely help you avoid a grainy texture. However, if your powdered sugar comes in a box, then it's always a good idea to sift out any large clumps.
Vanilla Extract – For the best possible flavor, make sure you're using a high-quality pure vanilla extract, not the imitation stuff!
Heavy Whipping Cream – Another key to making perfect frosting is heavy whipping cream. You can substitute it with milk, but using heavy whipping cream tones down the sweetness and helps produce a light and fluffy texture.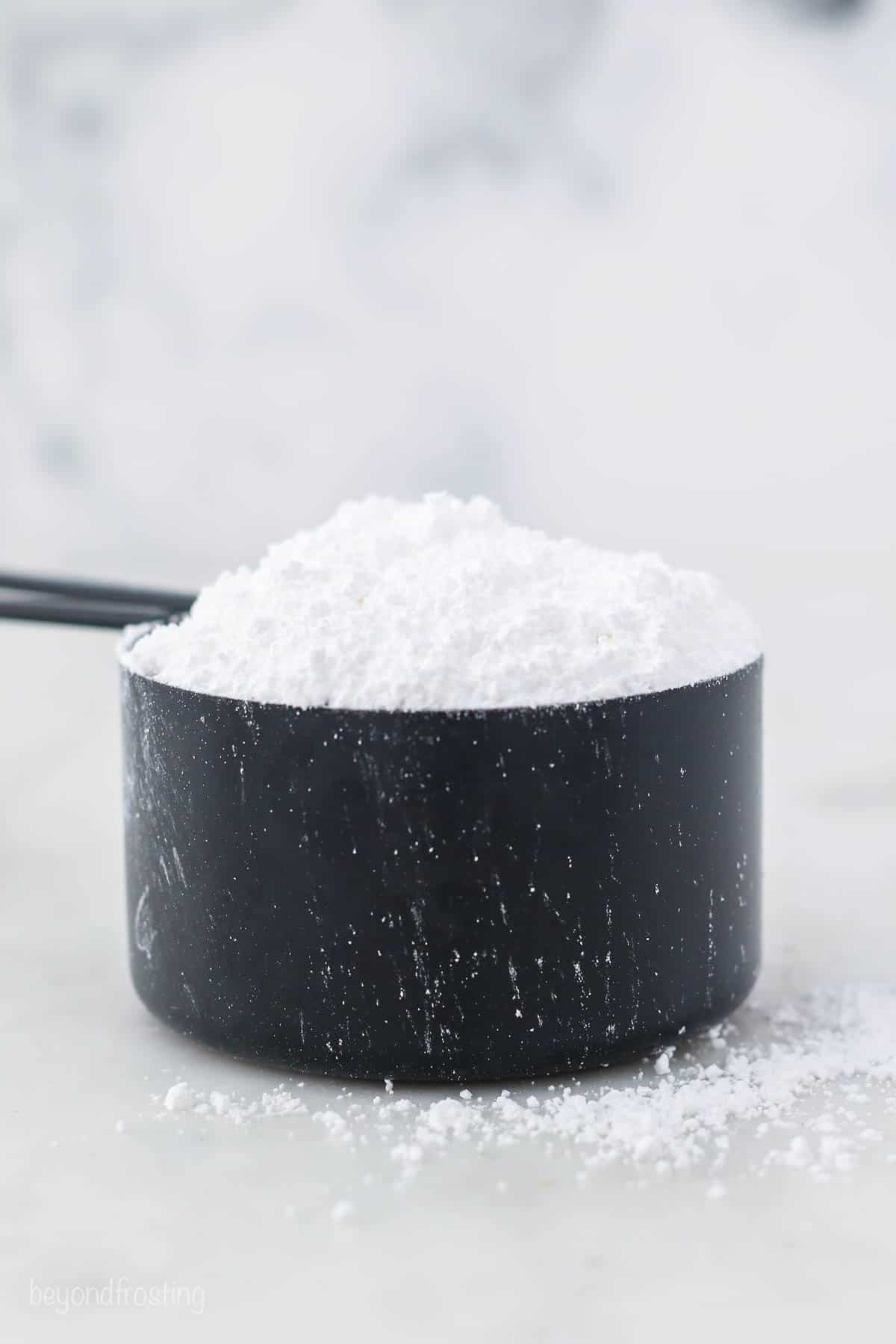 The Secret to Perfect Buttercream Frosting
My frosting recipes almost always begin with cold butter. How many times have you forgotten to take the butter out of the fridge to let it come to room temperature before making frosting? Well, now you can jump right in. The more chilled, the better.
It's a bit unconventional. However, I've always found that using room-temperature butter yields a weaker frosting that ends up needing more powdered sugar to hold its shape. The results are often overly sweet and not nearly as stable as starting with cold butter right off the bat.
In order for the cold buttercream trick to work, you have to really whip the butter in the initial step to get it to a super light and fluffy consistency. It takes a bit longer, but it's SO worth it!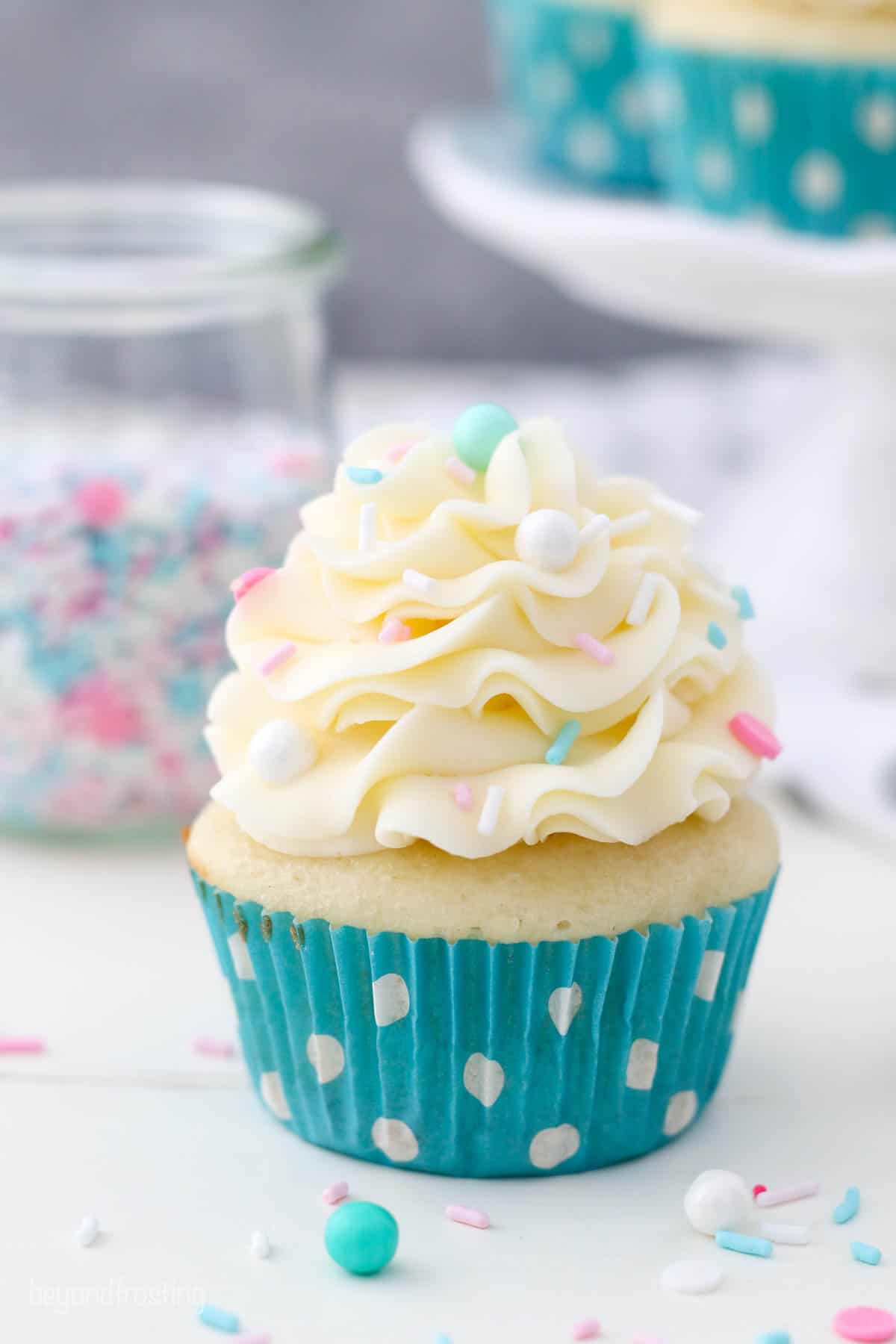 How to Make Vanilla Frosting
The more you whip the cold butter in the beginning, the better the consistency of your frosting will be. Letting your stand mixer soften the butter fluffs it up at the same time, as opposed to letting the butter reach room temperature on the counter.
This fluffy frosting recipe comes together quickly in one bowl
1. Dice cold butter. Cutting it into pieces helps the mixture to break it down quicker. Don't forget to scrap the bowl often.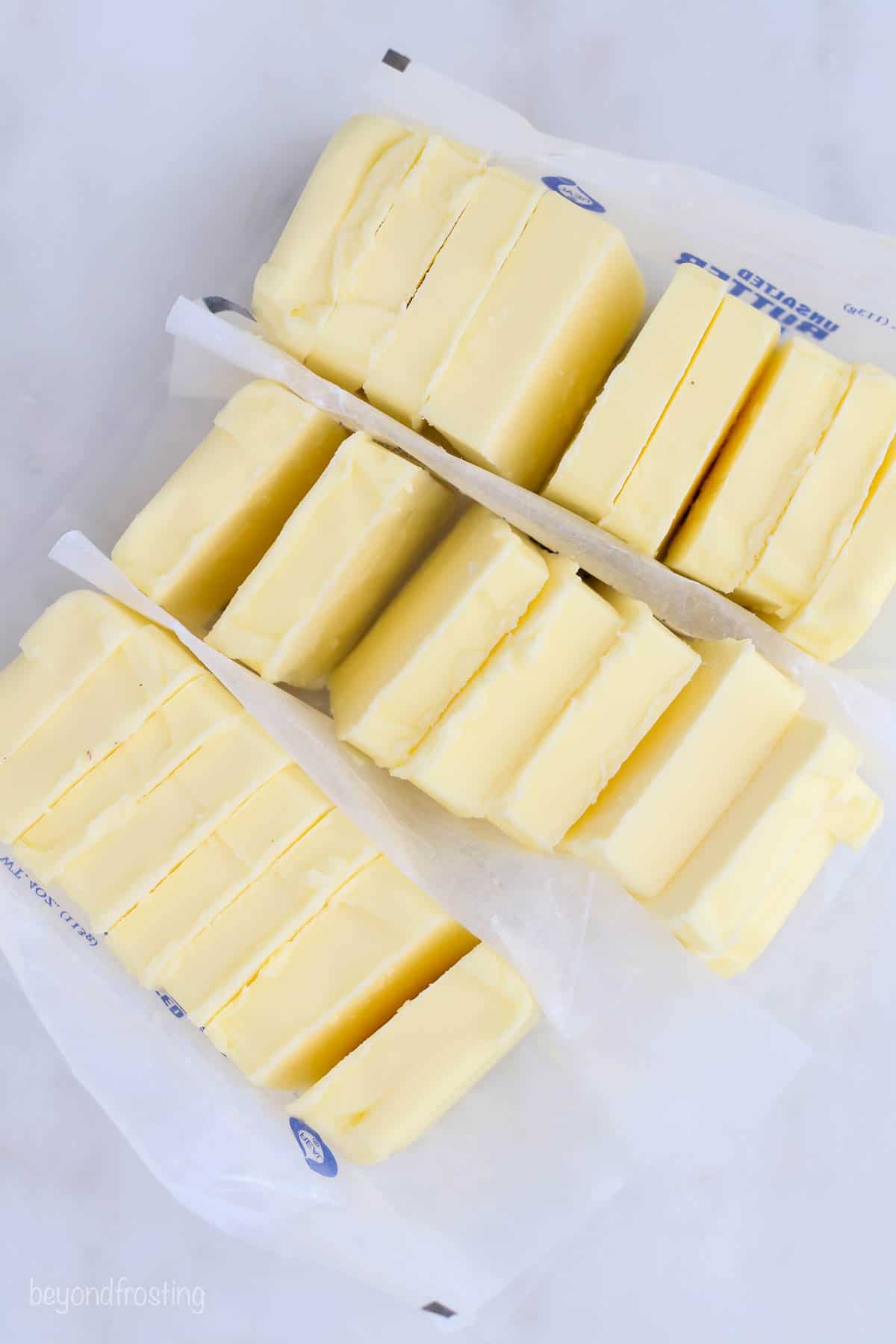 2. Whip the butter. Use the paddle attachment and work the butter for a good few minutes. It should be light and fluffy, and very spreadable. You'll notice it has grown in volume and is lighter in color.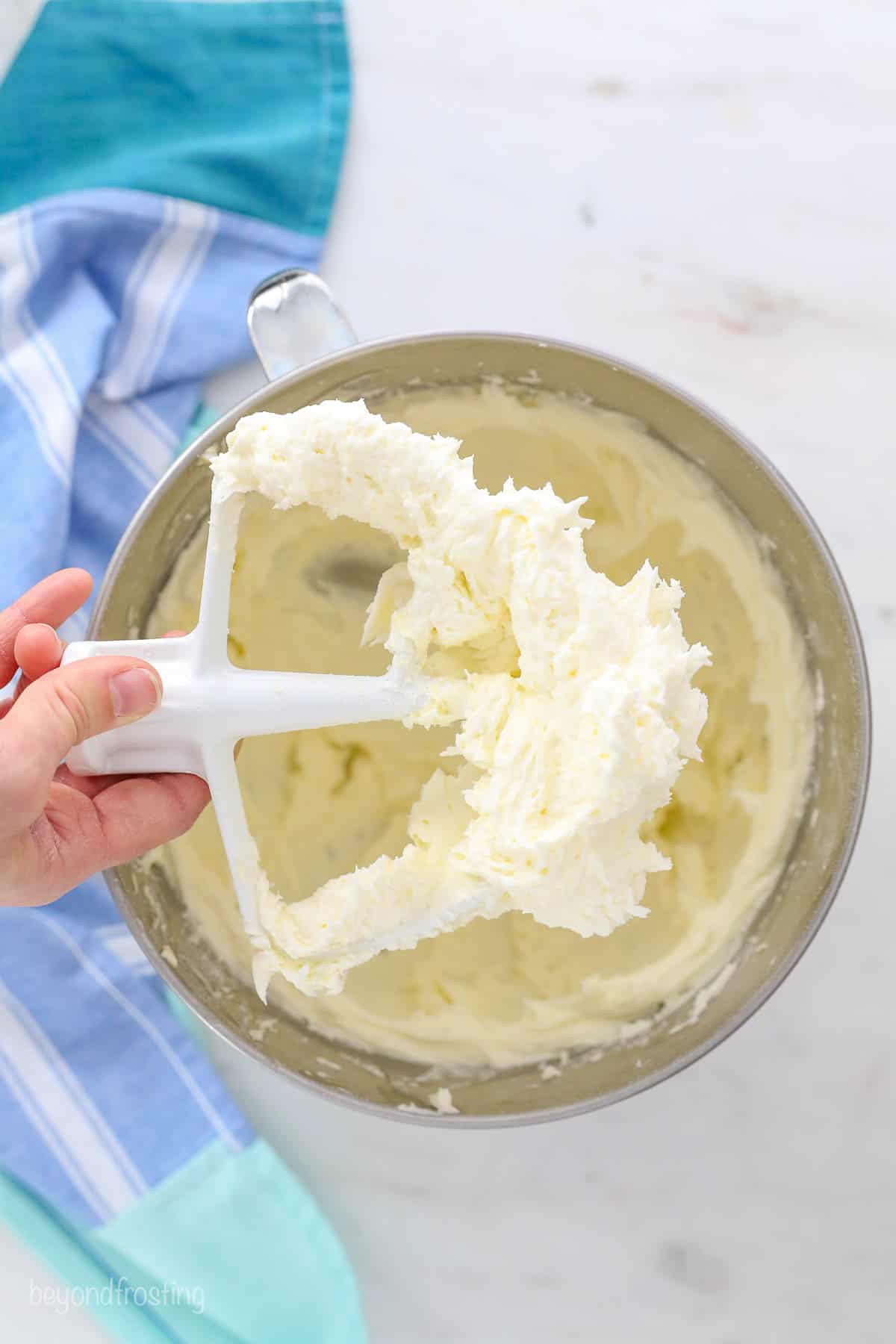 3. Beat in the remaining ingredients. Add the powdered sugar to the butter a little at a time at low speed. As your frosting thickens, you'll want to pour in the liquid ingredients (vanilla and heavy cream) while upping the mixer speed, so that they get well incorporated.
4. Whip again. Once all the ingredients are added, beat for an additional few minutes to really get air into the frosting for that final, fluffy texture.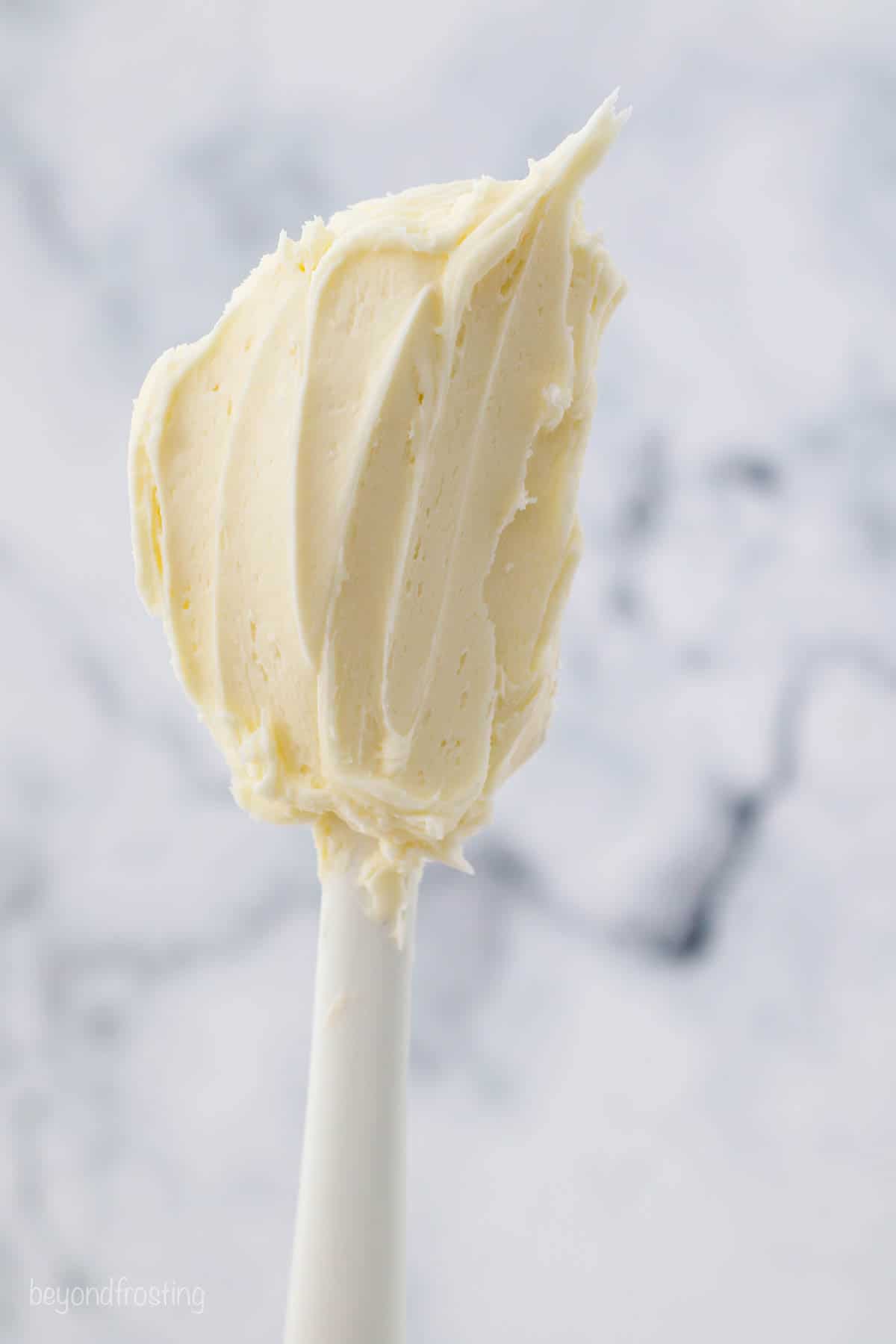 Tips for Success
Below are some additional tips and notes to have your vanilla frosting come out to bakery-worthy perfection.
Scale the recipe as needed. This frosting recipe makes enough for at least 24 cupcakes that have a hefty amount of frosting. If you are only frosting 12 cupcakes or a 9×13 inch cake, you can halve the recipe.
Can I use a handheld mixer? The short answer is yes if you have a good handheld mixer. You'll need to spend a bit more time whipping the butter both in the beginning and while adding the powdered sugar. You might even consider allowing the butter to sit for 20 minutes on the counter before you begin. It will be difficult to make large batches of frosting though, simply because the power of a hand mixer is not the same as a stand mixer.
Control the sweetness. If you'd prefer a less sweet frosting, add a little bit of salt and another teaspoon or two of heavy cream or milk. Reducing the powdered sugar will reduce the overall yield of the frosting, and make it a little more buttery tasting.
Adapt the consistency. If your frosting is too thick, beat in additional milk or heavy cream, one spoonful at a time. If it's too thin, add more powdered sugar until you reach the right consistency.
Buttercream frosting does not hold up well in high temperatures. If you're serving frosted cupcakes in a hot or humid environment, like an outdoor party, make sure to keep them out of direct sunlight. Or, better yet, keep them chilled, and remove 20-30 minutes before serving.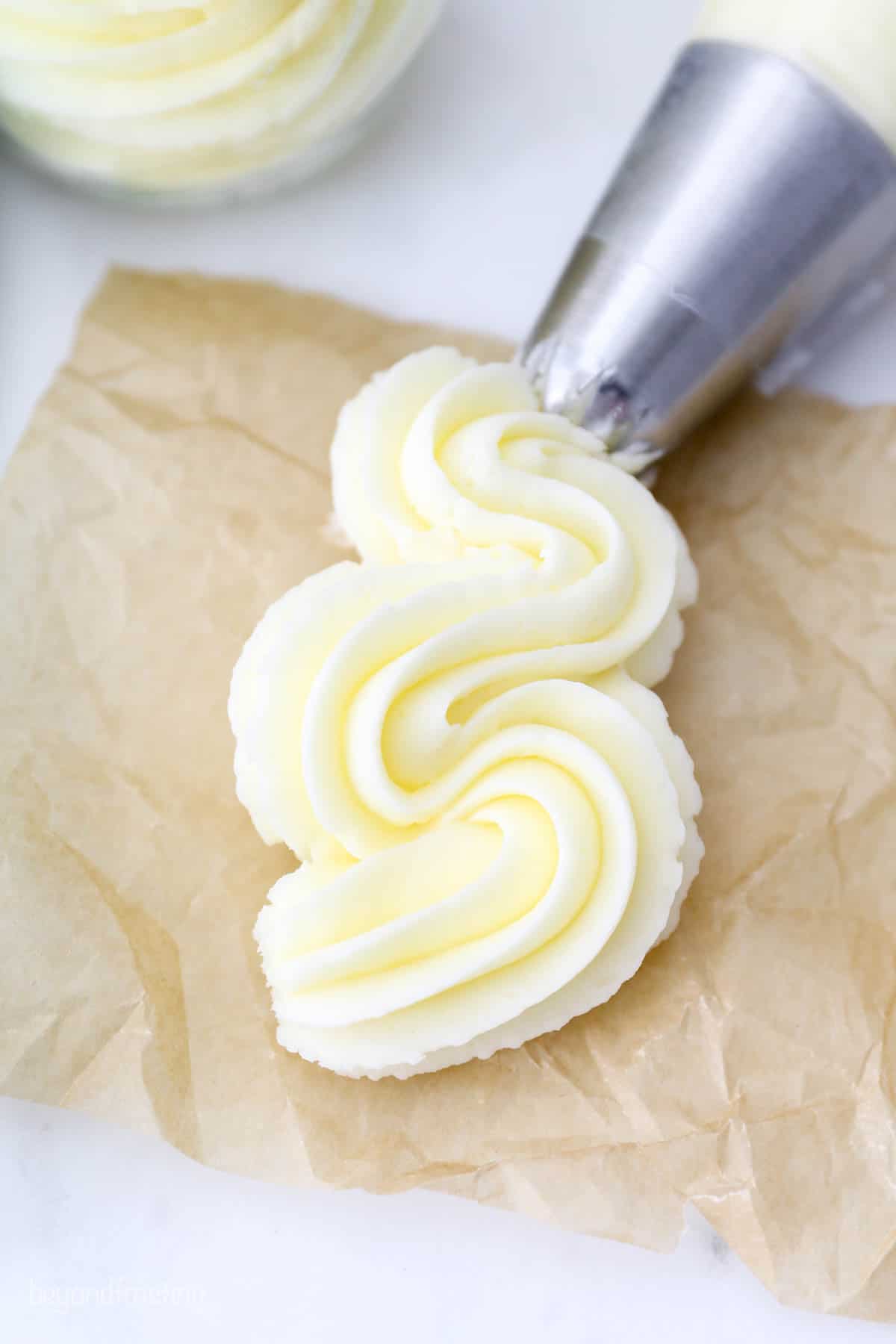 Frosting Variations
Basic vanilla buttercream can be flavored with any type of extract including almond, lemon, peppermint, mint, coconut, you name it. I also love adding fresh citrus zest, like lemon, orange, or lime, as I do in the frosting for my Lemon Cupcakes.
You can also try one or more of these fun vanilla frosting variations:
Ways to Use Vanilla Frosting
This perfect vanilla frosting is perfect for piping and decorating. It's crisp and white and holds colors really well, so you can dye it to suit different holidays, or just because.
My favorite way to color buttercream is with gel food dyes, like the Americolor or Wilton Color Right Color System, as the colors come out super vibrant. I have a tutorial on How to Color Buttercream Frosting that has loads of helpful info on the subject.
Use this homemade vanilla frosting on cupcakes, cakes, sugar cookies, or any of your favorite desserts. The possibilities are endless! Here are some easy decorating ideas to try: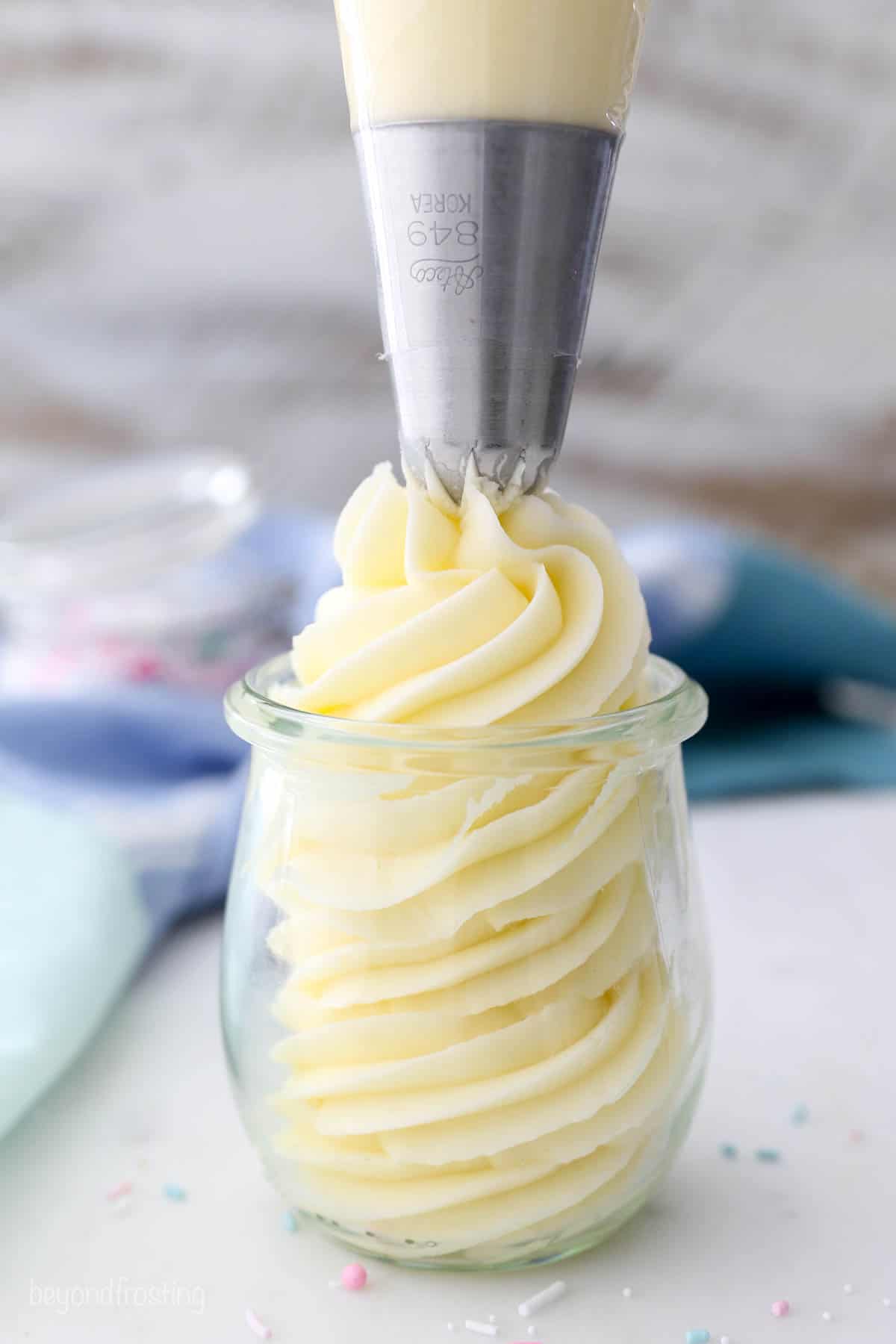 How to Store Vanilla Buttercream
If you make your frosting ahead of time, or if you're looking to store leftovers, this vanilla frosting can be kept airtight at room temperature for up to 24 hours. Just whip it up in the mixer again for a couple of minutes before you use it. Frosted cupcakes can be stored airtight in a cool, dry place for up to 3 days.
This frosting will keep in the fridge for up to 7 days. Any longer than that and I'd recommend freezing it instead (see below).
The only time I wouldn't store this frosting at room temperature is in particularly warm or humid conditions. In this case, make sure to refrigerate the buttercream as well as any frosted cupcakes to prevent the frosting from wilting and separating.
Can I Freeze Buttercream Frosting?
Yes! I like to fill a Ziploc bag with frosting, squeeze out the air, seal it, and freeze it. Vanilla buttercream will keep frozen for up to two months. You will need to allow it to soften for a couple of hours to let it return to room temperature before you use it. I recommend re-whipping it in the mixer to get the fluffy texture back.
Print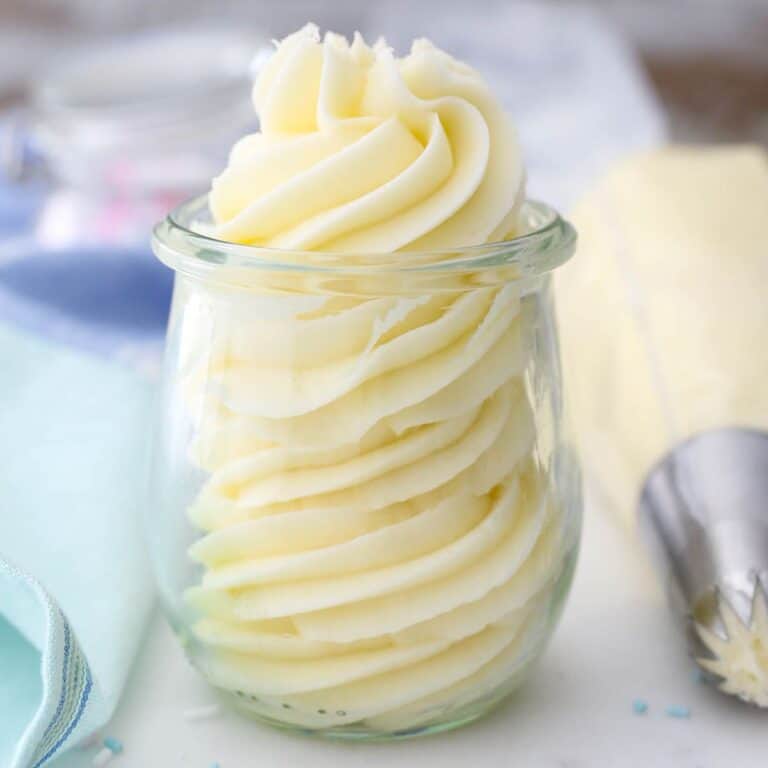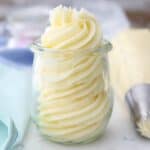 Perfect Vanilla Frosting
Author:

Prep Time:

15 minutes

Total Time:

15 minutes

Yield:

4 1/2 Cups
Description
My Perfect Vanilla Frosting is the best for a reason! This easy buttercream frosting recipe makes stable, fluffy frosting that's ideal for decorating cakes and cupcakes. Ready in 10 minutes with just 4 ingredients!
Ingredients
1 1/2 cups

(

339 g

) (3 sticks) unsalted butter, cold.

5 cups

(

650 g

) powdered sugar

2 1/2 teaspoons

(

12

ml) pure vanilla extract

2 tablespoons

(30ml) heavy whipping cream (or milk)
Pinch of salt (optional)
Instructions
Cut the butter into pieces. Using the paddle attachment, whip the butter for 5-7 minutes, scraping down the bowl occasionally, and beating until the butter looks light in color.
Add 2 cups of powdered sugar and mix on low speed until incorporated into the butter then add the vanilla extract and mix to combine. Beat for about 60 seconds.
Next, add an additional 2 cups of powdered sugar and beat on low speed until sugar is incorporated. Increase speed to medium-high and beat for 3 minutes.
Add the remaining 1 cup of powdered sugar along with the heavy whipping cream and salt. Beat on low until the ingredients start to mix together. Increase speed to medium-high and beat for another 3-5 minutes to whip additional air into the frosting.
Notes
How much does this frosting make? This makes enough to frost 24 cupcakes or a two layer 6-inch cake.
Storing and freezing:
Storing this frosting: This frosting can be kept at room temperature if serving within 24 hours and it's not too hot. It can be made ahead of time and kept refrigerated for 7 days. Frosting must come back to room temperature before piping, and I suggest to re-whip it.
Freezing this frosting: This frosting can also be frozen in an airtight bag, be sure to squeeze all the extra air of out the bag. Thaw to room temperature and I suggest to re-whip prior to piping
Adjusting the consistency:
If your frosting is too soft: Add additional heavy cream 1-2 teaspoons at a time until desired consistency is reached. I recommend continuing to beat the frosting while doing so.
If your frosting is too thin: Add an additional 1/2 cup powdered sugar at a time and continue to beat the frosting until desired consistency is reached.
How to scale the recipe
Frosting for 12 cupcakes or 9×13 inch cake

3/4 cup (170g) unsalted butter,
2–3 cups (260g-390g) powdered sugar
1 teaspoon (5ml) vanilla extract
1 tablespoon (15ml) heavy whipping cream (or milk)
Pinch of salt (optional)

Frosting for 3 layer, 8-inch cake

2 1/2 cups (567g) unsalted butter, cold
8–10 cups (1041-1301g) powdered sugar
1 tablespoon (15ml) vanilla extract
3–4 tablespoons (45-60ml) heavy whipping cream (or milk)
Pinch of salt (optional)
Additional notes- coloring and flavors
Coloring this frosting: If you are coloring this frosting, I suggest using gel colors for the best color variation.
Flavor variations: This can be made with virtually any type of extract, including almond, lemon, peppermint, mint, coconut, etc. You can also add some fresh fruit zest such as lemon, orange, or lime.
Category:

Frosting

Method:

Stand Mixer

Cuisine:

American
Keywords: buttercream frosting recipe, vanilla buttercream frosting, easy buttercream frosting
More Easy Homemade Frosting Recipes